As I mentioned in my previous post about Chongqing, we came here for the boat trip, but we stayed here for the people…my aunt's peoples, that is. Not only were we set up at my aunt's sweet apartment (she is currently living in the States with my uncle), but she had at least 3 sets of friends/family watching out for us, taking us out to dinner, paying for everything (as is the Chinese custom) despite numerous protests, and generally bending over backwards to make sure we were comfortable and having a good time. And here we thought our five-star days in China were over once my parents left! Jeremy and I have been amazed time and time again on this trip by (1) the number of extended friends and family we have around this world…who knew?!? We sure didn't!, and (2) the generosity we've been shown by people who have only the most tangential connection to us (In fact, I've only met my aunt twice! She only recently married my uncle). Note to selves: become better hosts when people come visit San Francisco. We have some serious karma to pay back. Thank you, World, for taking such good care of us.

View from my aunt's apartment of the Jialing River.

Same view at night. Chongqing is really spectacular once the sun goes down…you can't see the smog and the lights along the river are sensational.
When my aunt's friends Huang He and Jiang Su came to pick us up at the train station, I figured we'd go out to dinner once, and maybe get a few tips from them on what to do around Chongqing. We quickly came to find out that between Huang He, Jiang Su, and a few other friends/family (Qing Hong and Wan Jian), we had activities planned for each day, we would be treated to dinner every night, and our plans for the Three Gorges Yangzi River cruise would be taken care of for us. Apparently, it takes a village to care for 12FOOT3!
We spent a couple of days under the care of Qing Hong, who coordinated a driver to take us to Ciqikou, a preserved and restored village with a main drag set up with shops and food stalls for tourists. We were there on "Kid's Day," (an national holiday in China), and there were tons of adorable tykes wandering around, reveling in their special day.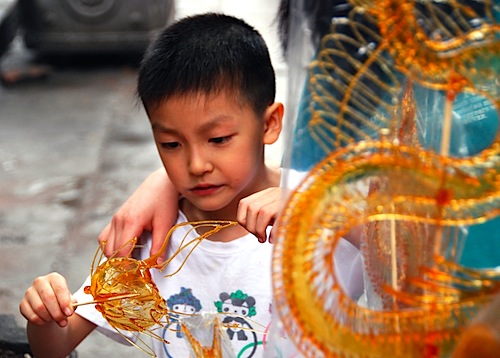 Kid at the candy vendor. You spin a wheel, and whatever animal you land on, the candy man draws that animal out for you in candy glaze. This little guy spun a cuttlefish (I think). Mmmm…cuttlefish candy…
Baolun Si is the only remaining temple in Ciqikou, and we stopped by to pay our respects and light some incense for our ancestors.

Jeremy lighting a candle at Baolun Si in Ciqikou.
For a tourist village, Ciqikou is pretty amusing…we enjoyed ourselves as we walked the main drag, gawking at all the specialty food (rice steamed inside a bamboo pole, cotton candy in the shape of a flower) and random carnival games (sweet little Chinese teenage girls shooting rifles at balloons, little kids riding mechanical elephants). The nicest part of the town, however, is the quiet back streets, where people actually live and Ciqikou is still a functioning village.
The following day, we were accompanied by Wan Jian (my aunt's younger brother), who started off the day by taking us to Chongqing's "Good Eating Street," (Hao Chi Jie) a small pedestrian street full of local food stalls. Chongqing is most famous for one flavor: spicy! In fact, their version of spicy is called ma la, or "numbingly spicy." Interestingly, it is not the chili that makes your tongue numb, but the addition of this small round spice that looks almost like a peppercorn. We weren't crazy about the feeling…imagine eating a bowl full of spicy noodles after your dentist injected your with a local anesthetic. That's pretty much what eating a bowl full of ma la noodles feels like…which is not to say the noodles weren't good, or even spicy, it's just…weird.
Wang Jian was really eager to feed us, and he ran around the food court area collecting different snacks for us to try. At some point, he came back with three skewers, which he told us were duck intestines, duck tongue, and duck heart. Awesome! Just what I was craving…some good ol' roasted duck parts on a stick.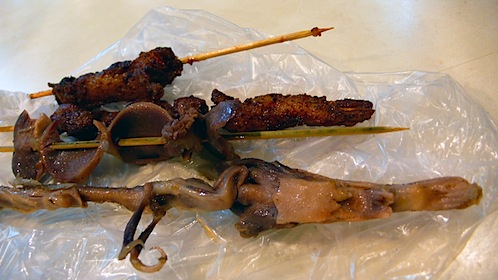 This is duck tongue. On a stick.
The duck intestine and duck heart were fine, as long as you didn't think of what you were eating. But the duck tongue. Oh man, I just…Could. Not. Do. It. The texture was waaay too much for me. I told Jeremy, "I feel like I'm frenching a duck!" But given that Wan Jian was so excited about showing us his hometown's food, we couldn't just leave the tongues sitting there. So Jeremy took it for the team and nibbled down a few tongues while I stuck to the hearts.
That night, Huang He and Jiang Su treated us to dinner. They knew that we wouldn't be able to handle truly spicy Chongqing food, so they looked for a restaurant that specialized in more mild fare. Jiang Su asked me if we ate ge zi, and I was like, "sure!" I had heard that word before, but I couldn't remember what it was…so I pulled out my handy iPod Chinese dictionary, typed in the pinyin, and what do you know, ge zi means "pidgeon or dove." I'm sitting there in the back of the car on the way to the restaurant thinking, "please let it be dove, please let it be dove…please don't tell me we're about to eat some pidgeons…" And sure enough, the restaurant is decorated with white dove icons all over the walls and ceiling. So Jeremy and I have chosen to believe that we ate doves that day, and not the pidgeons that you see running around on the street in Chongqing.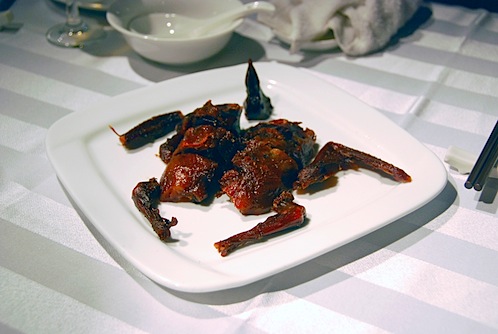 I feel like ge zi tonight!
Ge zi is apparently a Chongqing specialty, and the people here think that it is particularly nutritious and good for your body. And I have to admit, it was good…it just sort of tasted like a cross between a duck and a chicken. Again, just forget for a moment what you're eating…or try to think of it as doves instead of pidgeons.

To complete the trio of scary meals we had in Chongqing, Qing Hong and a bunch of her friends invited us out to hotpot the following night. As you can imagine, Chongqing puts the "hot" in "hotpot." As soon as you walk in the door, the hotpot is an assault on the senses. You can smell the spice. You can feel the spice (it starts stinging your eyes). And you can see the spice (an enormous, boiling vat of liquified peppers).
In spite our wussy American tongues, Jeremy and I put in a pretty good performance at this dinner. We ate almost everything that was put in front of us, without even "washing" the boiled meats in water (as Qing Hong and her friends suggested we do if the food was too spicy). I have to say, this was no small feat for us, especially since about 90% of the stuff they put into the hotpot was intestinal in nature. I'm used to eating hotpot with sliced pork, lamb, tofu, cabbage, and mushrooms. This was no soft, pansy hotpot like the stuff we eat at home…we're talking liver and entrails and pig brains (yes, pig brains!!!) here. The scariest thing for me was the green, hairy cow stomach (you can see it in the photo above on the bottom left). Someone pass the heartburn meds.
I have to admit, Chongqing was the one place so far on the trip that we were too scared to eat the street food (besides Chiang Mai, where we had issues). This had nothing to cleanliness, and everything to do with spiciness. Seriously, the people here eat stuff that would make most Americans' heads explode.
Despite all the scary food, we had a wonderful time in Chongqing. I feel like we really got a sense of the place and it's people. Even though Chongqing is not really a tourist destination, it was super interesting to see all the development here and we had a wonderful time meeting all my aunt's friends. Traveling around China can be really hard and stressful, and it was really nice to be taken care of and to feel like someone was watching your back. Jiang Su even took us to the ghetto pirated DVD store, where we got taken up into the hidden back room so we could check out the newest releases from the States. Now THAT'S what I call care!
But seriously, at a time when I was still feeling disappointed at my peoples for our Yangshuo experience, I was reminded that the best parts of Chinese culture still persist. Chinese people will still display extreme levels of generosity, all the while making you feel like it is something they are happy to do. They still want to show you the wonder and beauty of their hometown (even if that beauty is in the form of a duck's tongue or a pig's brain). And they still bend over backwards to make two vouched-for strangers feel like they have a home away from home.
Some more images from our time in Chongqing:

Hong Ya Dong, a restored "old Chongqing" housing complex, which is now a tourist shopping complex.

Liberation Monument, the cultural center of Chongqing.

Dazu Caves, an 800+ year-old Buddhist sculpture grotto outside of Chongqing. See more of our photos of the Caves here.

Jiang Su, me, J, and Huang He in front of the Yangtzi River.