Since I already wrote a book about your typical homestyle Northern Chinese fare when we were in Taiwan, I'm not so much going to explore the What (as in What is good) of Beijing cuisine, but rather, the Where (as in Where we ate). The food in Beijing is the best we had in China (though to be honest, the best Chinese food is still over in Taiwan).
First things first: China is a huge country, and there are many regional differences in speech, appearance, and yes, diet. But there is one major difference between the north and the south when it comes to cuisine: the north is all about noodles, and the south is all about rice. This is a common explanation for why people in the north tend to be taller than those in the south (take a wild guess where my freakishly tall family is from). I'm not exactly sure why a noodle-based diet would result in a taller population, but if I had to take a guess, I suppose it's the egg protein in the noodles. Anyway, because meat was more scarce in the past, and because people in the south eat rice as their carb, southern cuisine tends to be very oily. Hey, people need to get their calories somewhere.
This could be the reason why J and I preferred food in the north. Our Northern California palettes prefer light and fresh over heavy and rich. This is not to say we don't like rich foods—after all, I wouldn't exactly describe ramen as "light and fresh." Rather, we just like our food to taste like itself (we want spinach to taste like spinach and not like oil).
That being said, we ate a whole lot of stuff that tasted like Peking duck while we were in Beijing.

Our first taste of Peking duck was our meal out with my aunt and uncle at our hotel's (King Parkview Hotel) adjoining restaurant, which, surprisingly, turned out to be quite good! I've had Peking duck in the States before, but it is totally different experience in Beijing. The process begins by choosing a duck, and then a person that I can only describe as a duck surgeon comes out and carves your bird into paper-thin slices.

The duck surgeon hard at work in the King Parkview Hotel Restaurant.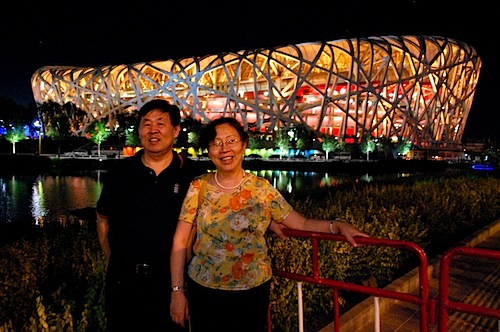 My aunt (daughter of my Nai Nai's older sister) and uncle in front of the Bird's Nest. Aren't they cute?
The paper-thin slices of Peking duck are then usually sandwiched between a small piece of bread with some hoisin sauce and additional goodies. In the States, these "additional goodies" consist of spring onion (bo-ring!). But Beijing puts the "good" in "goodies," as at Hua Jia Yi Yuan on "Ghost Street" or Gui Jie (one of the most famous eating streets in Beijing), where you get all kinds of fun treats, like cucumber, pickles, even pineapple!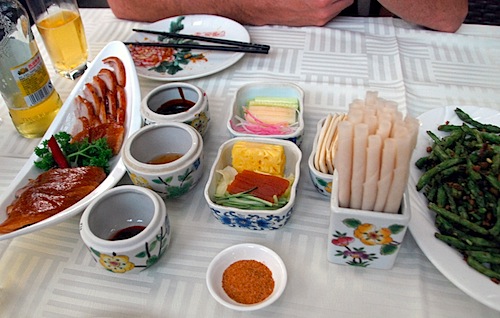 Hua Jia Yi Yuan's Peking duck toppings.
Gui Jie has a lot of courtyard restaurants, and the atmosphere is fantastic.

The interior of Hua Jia Yi Yuan.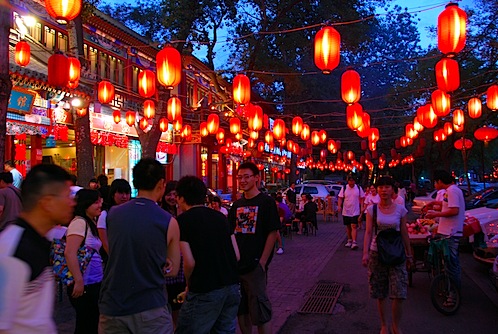 Red lanterns add to the atmosphere on Gui Jie.
We also ate at one of the most popular Peking duck restaurants in all of Beijing: Dadong Duck Restaurant. Our verdict? Unremarkable and overpriced, though you do get free drinks while you are waiting for your table. That's all we have to say about that.
We enjoyed many a meal by Qian Hai Lake (also sometimes called Hou Hai–the two lakes are adjoined so you can refer to it by either name). Very touristy, but if you look hard enough, you can find budget restaurants. The evening light on the lake is really beautiful, and you can watch locals go for a dip in the water.

Locals taking a dip in Qian Hai at sundown.
Not all of our meals out consisted of Peking duck. We also had some good, old fashioned jiao zi (dumplings). The best place we ate (by far) was a small shop called Xia'r Lao Man (translation: "Filling Always Full" or "Stuffing Always Stuffed"), where we had jiao zi with pork and fennel stuffing (yum), and an incredible liang ban (cold salad) of cabbage, bean sprouts, cilantro, sesame oil, garlic, and peanuts.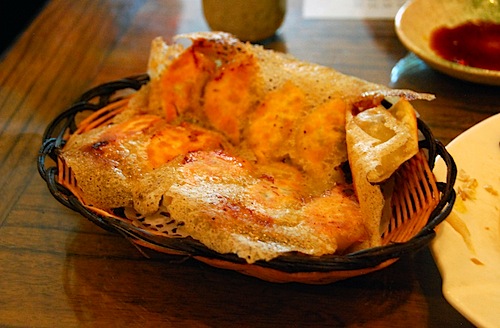 Pork and fennel guo tie (potstickers). They come out of the kitchen like this, the dumplings connected by a solid sheet of fried. Mmm…fried…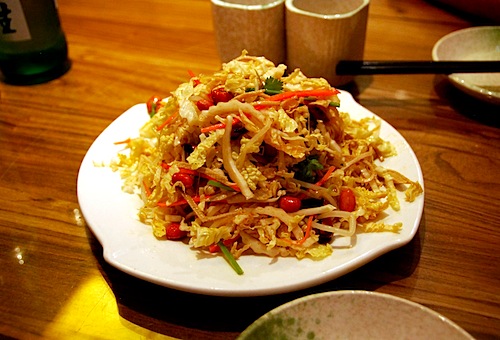 Lao man'r liang ban salad. So refreshing on a hot summer day!
Beijing food just can't compare to the weirdness of some of the food we ate in the south, or the scariness of the food in Chongqing, but they sure try hard to compete on Wangfujing snack street, where you can get LIVE scorpions on a stick (seriously, they wiggle around on there), topped off with a seahorse.
Of course, if you're longing to live on the wild side without risking a scorpion sting, you can always order "The palace explodes the diced chicken."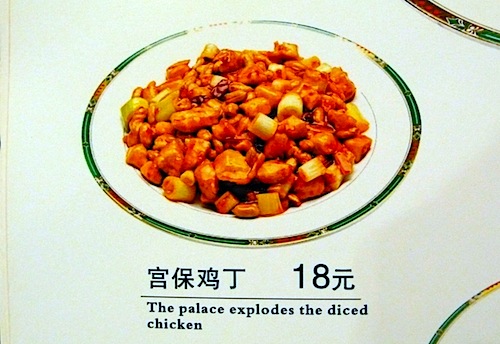 Or impress your friends by telling them you ate the little-known "Agrocgble aergerita." With fish heads, of course.