Argentina
…but we fly back to the US in a week and we're busy eating up every last morsel of our travel pie. So, this means postings might be light in the next week as we hike our way through Patagonia. If you want to know exactly where we're headed in the next 7 days (and the following few months, as we continue our travels in the US!), check out our map.
For those who haven't quite noticed yet, we're about 4 months behind on the blog. We're in Argentina right now, but we've only gotten as far as Turkey on 12FOOT3. Never fear, we'll catch up…there are some great travel stories ahead so stay with us! It will be worth it!
And since you've been so patient, here's a sneak preview of where we are RIGHT NOW (in Bariloche, a medium-size town in Argentina's Lake District):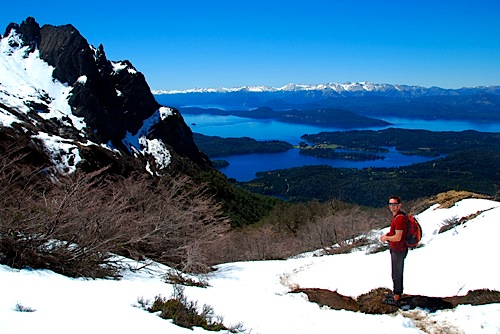 Jeremy hiking through snow on Cerro Lopez, with fabulous views of the Lake District!
Last year, we were in New Zealand looking forward to the year ahead. This year, we're in Buenos Aires (with Martina!), immensely thankful for the year we were given.
We are thankful for this experience, we are thankful for our friends and family that supported us throughout this trip, we are thankful for the technology that enabled us to keep in touch with those we love, and we are thankful for your emails and the comments you have written on this blog that make us feel like home really isn't so far away. We are thankful for this world and the people that make it such an amazing place to inhabit (that's you!).
Happy Thanksgiving!

We're also thankful for Argentinian beef! Our Thanksgiving dinner, 2009.