Archive for March, 2009
Our next stop after Vietnam was Laos. Traveling to Luang Prabang or Vientiane from Hanoi is a pretty typical route on the counterclockwise "Backpackers Tour of SE Asia," so we were surprised to learn just how difficult it was to get over to Laos—the bus ride from Hanoi to Vientiane is 24 hours of guaranteed hell on a sitting bus (no sleeping seats), and this did not sound like fun to us. Apparently, we could have traveled from Sapa by bus over to Dien Bien Phu and crossed over at the Sop Hun / Tay Trang border crossing, but we weren't aware that this route was possible (this border crossing only recently opened to international travelers). So, we headed back to Hanoi and sadly shelled out the US$190 each for a flight to Luang Prabang. This was definitely a big hit on our wallets, but when we ran into Gesina and Katrin (from our Sapa trek) in Luang Prabang, and they told us that they had spent the 3 days after our trek on a bus making the Sop Hun / Tay Trang crossing, we didn't feel so bad about our 1.5 hour direct flight.
Vientiane and Vang Vieng in Laos are also big destinations on the backpacker circuit, but we opted to skip both of these cities after hearing from other travelers that (1) Vientiane wasn't that great, and (2) Vang Vieng is overrun with party people who float down the river on inner tubes, stopping only at bars to watch Friends while high out of their minds. Like the 24 hour bus ride, this did not seem fun to us either. So, we headed straight for Luang Prabang.
LP was a huge culture shock for us after Hanoi. It is, for lack of a more accurate way to describe it, aggressively peaceful there. We couldn't believe it…as we wheeled our luggage through the streets of Luang Prabang, no one was running out of guest houses, shouting promises of discounts and good deals. No one was out on the street, trying to wave you into their restaurant. It was enough to make a person feel positively unwanted.

And, we felt the distinct absence of…something in the air; something was eerily missing. Oh! I know…the incessant pounding of hammers on sheet metal!
One thing that WAS in the air was smoke. March through May is "burning season" in Laos, when the farmers in the countryside burn vegetation off the mountains in order to clear space for their slash-and-burn crops. It's pretty bad, and Jeremy and I both suffered symptoms ranging from burning eyes to asthma to really, really dirty clothes (seriously, the smoke is that bad—so thick in the air it gets stuck in your t-shirts and pants!).

View of the Royal Palace from Phousi Hill in Luang Prabang. You can see how thick the smoke is in the air!
We spent most of our days wandering in and out of the wats that Luang Prabang is famous for. They are elaborately decorated, with murals, stencils, and gilding covering the walls and ceilings. Often, the outside of a wat would be covered in small mural scenes from ceiling to ground…with the the violent scenes closer to the ground morphing into peaceful scenes of enlightenment towards the top of the building.

One of the violent scenes painted on a wat exterior.
We spent a couple of evenings wandering around the night market, which is also a huge attraction in Luang Prabang. This, too, was a big shock for us…for the first time, we saw things that tourists might actually want to buy (rather than cheap ethnic trinkets and North Fake backpacks)! There was an artisanal quality to many of the goods for sale in the LP night market that we hadn't seen anywhere else in SE Asia.
One day, we rented bikes and went for a ride to some of the neighboring villages. I forget the name of the first village, but it was about 6km outside of LP. There wasn't much to see there, but it was a nice ride and we had fun waving to the kids and yelling, "Sabai-dii!" ("Hello!" in Laotian). Feeling emboldened, we decided to head out for a longer ride towards Ban Phanom. Near the beginning of the dirt road toward the village, there was a really lovely wat on a hill; we wandered around inside and were delighted to find 5 levels…with each level getting progressively smaller until the top-most room was only big enough to hold the two of us and a dozen or so Buddha statues.

Jeremy in the second room from the top of the multi-level wat.
Our goal on this little bike excursion was the tomb of Henri Mouhout, a French explorer who "discovered" Angkor Wat and died in Ban Phanom of malaria, where the French built a small shrine at his final resting place. Little did we know that we had pushed our biking luck, for the next several hours involved bone-rattling dirt roads full of pot holes, an irrefutably unhealthy amount of inhaled dust (along with the smoke), one flat tire, and lots of huffing and puffing. It was EPIC.

Our bikes sure were cute, but they didn't exactly make for a comfortable or effortless ride.
Luckily, Henri's tomb (which was totally anticlimactic, by the way) was located right next to the Nam Khan river, because we were so overheated and dusty by the time we got there, we didn't even stop to think how dirty the water might be (the water WAS flowing swiftly and there were other people swimming in it…how bad could it be?!?).

The next day, we took it easy and opted for boat trip up the Mekong to see the Pak Ou caves, which are stuffed full of Buddha relics. The boat trip to the caves was upriver, and it was so painfully slow that any thoughts we had of taking a boat to Thailand were completely obliterated (the boat trip back, which was downriver, was far more pleasant; it makes sense that taking a boat from Thailand into Laos is the more popular direction of travel).
The lower cave of Pak Ou was absolutely filled to the brim with Buddhas, but it was also full of tourists.

The upper cave is very deep and enclosed so it is pitch black inside (i.e., good thing we brought a flashlight!). They built an entrance right into the side of the mountain, which I thought was just lovely.

Beautiful gate built right into the cave entrance.
Luang Prabang is a really lovely, peaceful town (there's even a midnight curfew). It is also (to our surprise) quite fancy, which means that prices can be quite high here. We were expecting Laos to be cheaper than the rest of SE Asia, but in LP that is definitely not the case. We got lucky and paid US$15 for a nice room with air conditioning (and a view of the monks going for alms in the morning), but everywhere else on our block, rooms were US$30 and up. Restaurants are also quite expensive, but we eventually learned to buy our lunches and dinners at the market, where prices were closer to our budget (about US$0.50 to US$1 for a big sandwich or a plate at the vegetarian buffet).
We enjoyed our time in LP (it's hard not to—the town is just so freakin' peaceful!), but I'm not sure that we ever connected with the place. Perhaps it was the fanciness that didn't quite gel with us, or maybe, just maybe, we do need a little bit of noise and ruckus to really feel at home in this world.
There's no point in beating around the bun cha: we adore Vietnam. There are so many scenes imprinted on my mind from this beautiful country: high school girls riding their bikes home as their white ao dai (traditional Vietnamese uniform of Chinese-like dress worn over pants) flap in the wind, the toothless man rowing his boat in the river near Hoi An's Old Quarter, smiling big for the tourist cameras, the ladies at the guesthouse in Sapa who hijacked my iPod for an hour and giggled as they zoomed in and out on our wedding photos. I can't speak for Jeremy, but I was positively entranced by the people in this country. Even though some of our experiences with the locals in Vietnam occurred under contrived situations (i.e., tours), I never felt as if there were any walls between us (whereas I have felt, in other SE Asian countries, the uncomfortable bargain that has been made between Westerners and locals—tired of too many disappointing experiences, both sides have limited themselves, almost exclusively, to the interactions within the service industry). Thousands of miles and different experiences separate their culture from ours, but I really felt that the people in Vietnam were genuinely interested in knowing us and, in turn, sharing with us their lives, their difficult history, and their view of the world.

High school girls riding home from school in Nha Trang.
Day spent here: 21
Places we would like to visit next time: the Central Highlands.
Prices: We found Vietnam to be very cheap in terms of both food and accommodation. We spent between US$6-15 per night on lodging, and a meal could cost as little as US$1.50. Prices seem to be higher in the north than they are in the south, with some of our dinners in Hanoi reaching up to US$10.
Almost everything can be bargained for in Vietnam. We didn't have a ton of luck bargaining over our accommodation, but you can expect that the first price quoted to you for clothing, taxi rides, and pretty much anything except for food and drinks is going to be about 2 (or sometimes 3) times the price you will end up paying for it.
By the way, I am quoting prices in US dollars, but the Vietnamese quote prices in both dong and dollars, though all payment is made in dong (you just convert the US price over to dong). The going rate while we were in Vietnam was 17,500 VND = US$1.
Weather: Vietnam is a surprisingly big country with many different climates. While we were there (mid-February), the south was swelteringly humid, while the north was quite cold. It was cold and rainy in Hanoi and foggy in Sapa. Central Vietnam was quite pleasant; Dalat, had a very pleasant mountain climate, with warm days and cooler nights. Bottom line, you can get a little bit of everything in Vietnam, which is pretty refreshing considering all other SE Asian countries have just one temperature: HOT.
Hotels: Each country in SE Asia seems to have minor differences in their hotel protocol; in Vietnam, you have to show your passport upon check-in (and sometimes the hotel keeps it, which can be unnerving at first). We stayed in some nice budget places in Vietnam…it seems that once you get into the US$10 and up range, the hotel rooms are clean, comfortable, and spacious. And, the hotels clean your room and make up your bed every day (not necessarily true in other SE Asian countries, where they only clean the room between guests).
Transit: Getting around Vietnam is quite easy to coordinate; there are travel agencies selling plane, train, and bus tickets everywhere you look. The quality of your train or bus is another matter entirely. It's a good idea to ask a lot of questions, and if possible, ask the agency to show you photos of the train or bus. We traveled into Vietnam by boat, flew (from Hoi An to Hanoi), took the train (from Hanoi to Sapa), bussed it (including an overnight bus from Dalat to Hoi An…more on that lovely experience later), and also did some short trips aboard minibuses (basically, large vans). We found plane and train travel in Vietnam quite comfortable. Our buses were nice about half the time, and not so nice the other half. Minibuses were basically torture on wheels (mostly because they shove about 3-4 more people than is comfortable into these small vans), and after a few bad experiences in the south, we tried to avoid them. Perhaps if you are small, minibuses would be a fine way to travel (but we're 12FOOT3).
Since Vietnam is so big, it can take quite a while to get from one destination to the other. For example, in order to get from Dalat to Hoi An, we had to take a 7 hour bus from Dalat to Nha Trang, get off the bus for about 4 hours, and then get back on an overnight bus that dumps you off in Hoi An at 5AM. So, you won't be surprised to hear that when we were faced with an 18-hour bus ride from Hoi An to Hanoi, we looked into other options. The train in Vietnam can be quite nice, and it can be a historical experience (with many people riding the famous Reunification Express). We opted to fly, since, at US$36, the flight from Hoi An to Hanoi was only US$6 more expensive than a sleeper car on a train (and about 17 hours faster). It pays to do your transit homework.

Travel within a city or town is quite easy, with motorbikes and bicycles for rent for cheap. We were only brave enough to join traffic in the smaller towns, though…you might want to have your head checked if you think driving a motorcycle or riding a bike in Saigon or Hanoi is a good idea. Not only are the drivers completely insane, but they carry incredibly dangerous-looking loads on their motorbikes (and continue driving as if they are unencumbered by an extra 40 kilos of stuff strapped to their bike). We saw many travelers who looked like they had been in recent motorbike accidents (with bandaged appendages and facial bruising). Um, no thank you.

You want to strap fifteen feet of stuff to my bicycle cart? No problem!
Internet: Awesome. We never once paid for access in Vietnam. There are open wi-fi connections everywhere. It's kind of crazy that internet access in SE Asia is more available than in Australia! C'mon Aussies! Time to join the, um, 1990s.
Food and drink: Oh man, Vietnamese food is sooo good. It's definitely simple, but that doesn't detract from its general awesomeness. Of course, pho bo (beef pho) is the one dish you cannot leave Vietnam without eating (and oh, did we eat it). The key is to order it with the beef half-cooked or rare (it will fully cook in the boiling hot broth), and accessorize the broth with the various sauces on the table.
The food in the north is definitely the best; we've already professed our love for bun cha and cha ca. Vietnamese sandwiches and chinese-style buns (which we only found in the south) were also quite good.
The Vietnamese are unapologetic carnivores and will eat anything. Yes, including dog (though we only saw this on the north). You can tell if a restaurant serves dog if its sign reads, "Thit Cho." We also saw restaurant menus including strange things like, "roasted camel," "field mouse," and "musk cat." Where the heck do you get a camel in Vietnam?!?
A young Brit that we met in Hoi An told us how he went to a cobra restaurant near Hanoi. They bring out a basket full of snakes, you pick the one that is going to be your meal, and they club it to death right there in front of you. Then they squeeze the blood out of it into a shot glass full of vodka, and you shoot it down. Intense.
We didn't partake in the cobra meal, but we did see cobra wine for sale. It is supposed to make the drinker "more potent" (whatever that means).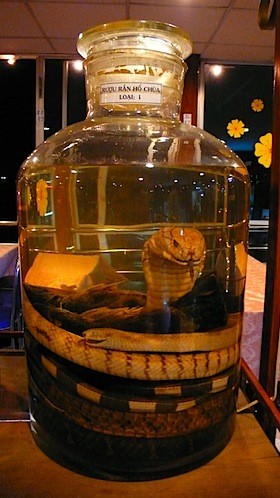 Cobra wine in Can Tho.
Another (less frightening) alcoholic drink in Vietnam is bia hoi. It is freshly-brewed Pilsener-style beer that is pretty much the cheapest pour you can find in the country (about 4000 VND, or approx. 23 cents per glass). It is quite tasty and surprisingly strong.
And we can't forget to mention Vietnamese coffee. Oh. My. God. So good and so, so strong. I usually had to dilute mine with about twice as much water. Once you've had that sweetened condensed milk in your rocket fuel, you can never go back.
Scams: We heard many other travelers complaining about problems they had in Vietnam, though we never experienced any. Most scams are related to transit. In Hanoi, it can be difficult to convince a cabbie to use the meter, but when our Aussie friends finally found a taxi driver who would use the meter, it was rigged to run about 3 times faster than it should have. They simply paid what the ride should have cost (after they got their luggage out of the cab), and left.
We've also heard stories of people agreeing on a price, and when they get to their destination, the cabbie insists that the fare was per person. There is a similar bus scam, where the driver stops in the middle of nowhere and insists on more fare to take you further. And, the most inventive scam (we think) is the one where a bus driver takes the longest and bumpiest route to a destination so that you are more likely to check into the overpriced hotel (that is no doubt "sponsoring" the bus driver) he drops you off at.
Again, we had no problems whatsoever and found Vietnamese people (except in Hanoi)

to be quite lovely, and more than willing to try to understand your silly pantomime communications. It's true that they are commerce-oriented, but we also found them to be curious and friendly even after the monetary transaction was completed.
In short: Vietnam is a gorgeous, varied country. Not only did we meet some fabulous locals here, but the travelers in Vietnam are super cool too! We would highly recommend Vietnam as a destination…it is, quite possibly, our favorite country in SE Asia.
Check out our photos from Vietnam:
Somewhere around Hanoi, we made the hard decision to skip diving in Sipidan (we had been planning on ending our tour of SE Asia by diving in eastern Malaysian Borneo, reportedly one of the best scuba sites in the world right now). On the one hand, we really, really want to dive here before it gets polluted/overvisited/crowded and the animal and plant life starts to die off. On the other hand, with flights, accommodation, and diving, it will cost us over US$1000 to dive for 3 days here. Not only would that really strain our budget, but we're currently spending that much every 2 weeks or more in SE Asia. So…two weeks of experiences or three days? It's always a trade-off while you're traveling (as you'll hear many backpackers lament)—an extra day Here means you won't see There; an airplane ride There means you miss the opportunity to hop off the bus Here.
On the plus side, NOT diving Sipidan meant we could push back our leave date and travel a little more leisurely through the rest of SE Asia, which is really, really luxurious. As it is, we are traveling much more slowly than many backpackers around here, who move from place to place every 2 days or so. I understand that—the hunger for new experiences and the fear of missing out—and I feel it tugging at me every so often, but I think Jeremy and I have found a healthy balance between wandering and staying still here in SE Asia, and it feels good to have the luxury to move slowly now that we don't have the pressure of getting to Sipidan by a certain date.
One opportunity that opened up as a result of cutting Sipidan was Sapa. Sapa is a small town in the mountains northwest of Hanoi, near the China/Vietnam border. It is famous for its wealth of ethnic tribes that live there, and most people do a one-, two-, or three-day trek in the mountains through various villages. The only way to visit Sapa is to take a 9-hour overnight train there, which turned out to be quite pleasant! Private companies purchase and maintain certain cars on the train, so if you buy a "soft-sleeper" class ticket (about US$25 or so), you spend the night in a clean, comfortable car with 4 beds (2 bunks). The only downside is that you arrive in Sapa at 5AM, which is painful any which way you look at it.
When we arrived it Sapa, it was very foggy (it would stay that way the entire time we were there), and coupled with our grogginess, I felt like we were in a dream…a dream that had us walking through a National Geographic. There are tribal people everywhere around town dressed up in their finest clothes to sell stuff to tourists. Clothing differs based on the tribe, but many men wear long petticoats over indigo-dyed pants and tunic, while women accessorize with brightly-colored headscarves, woven tapestries, and silver accessories.

Walking through the market in Sapa.
We spent our first day in Sapa wandering around local Cat Cat village (a short hike from town but not very scenic), and looking for a trekking tour. Like Halong Bay, you can book a tour of Sapa in Hanoi, but it is pretty easy to travel independently to Sapa and you'll save money booking a tour in town vs. in Hanoi. Most overnight tours include a village homestay, and after our experience in Vinh Long, we were worried about having a disappointing, "manufactured" experience if we opted to go that direction. So, at first, we were planning on just doing a day hike, especially since it was my 32nd birthday the next day. But after talking to a couple of different tour agencies, we decided on a two-day trek that would begin in Ta Van village and end with a homestay in Ban Ho village (mostly because Ban Ho village is at a much lower elevation than Sapa, which would allow us to get below the thick fog and actually see some of the countryside, but also because Ban Ho is further away from Sapa, and we thought that might mean there were fewer tourists). Though it would be lovely to spend my birthday with Jeremy, eating a nice meal and sleeping in a comfortable bed, I figured, hey, you only turn 32 once…why not spend it with a hill tribe family in the Vietnamese mountains?

We are really, really glad we chose to go this route because it ended up as one of the best experiences we've had on our trip so far. Even better, we booked our tour through our hotel (Lotus Hotel, where we had an incredible room for only US$6), and it only cost US$23 each (we would find out through some of our fellow trekkies—who did quite a bit of shopping around—that this was one of the cheapest tours around Sapa).
We were picked up in the morning by our tour guide, Thuyen (a spunky, 22-year-old Vietnamese girl who did the entire 18km hike in plastic galoshes), and we met the rest of our crew in the van that would take us to Ta Van. There were 6 of us in total: two German girls (Katrin and Gesina), a German guy (Ben), and an English girl (Jo).

The crew: Katrin, Gesina, Jo, Ben, me, and J. For some reason, we look enormous in this photo.
As soon as you leave Sapa town, you begin to see those famous rice terraces that this part of the country is known for (well, maybe you can actually see them in Sapa but it was too foggy for us to see anything in town). It is absolutely incredible how these people have transformed the mountains—it reminded me of some of the best earthworks or Goldsworthy-esque feats of environmental manipulation.
We arrived in Ta Van and were immediately swarmed by Hmong (the name of the local tribe) ladies upon exiting the van. We didn't really know what was going on, but they had decided that they would be our entourage on this trek, and followed us closely the entire hike through Ta Van village.
The ground was incredibly muddy and slippery due to heavy rains the previous night, and early on in the trek, I slipped and fell. I wasn't hurt at all, but the locals are so steady on their feet around this terrain that falling is unheard of, so throughout the rest of our hike in Ta Van, I became The Falling Girl…whenever we approached some tricky or steep part of the trail, two Hmong women grabbed my hands and practically pushed or dragged me up the hill (they are surprisingly strong). This must have been a funny sight, as they are so tiny that I am practically twice their size. To add insult to (non-)injury, they are all wearing plastic sandals and galoshes (while we are in our fancy outdoor hiking hoes). Honestly, I didn't really need their help, but still, I was grateful at some points to have someone to hold on to!

Two Hmong ladies helping The Falling Girl.
The countryside was absolutely gorgeous. We loved seeing how people live in this village, huts set amongst rice terraces.
We finished our hike through Ta Van at a waterfall, and that's when we finally figured out why we acquired an entourage. Out came the various tourist trinkets and knick knacks that were previously hidden underneath the folds of their clothes and in their basket backpacks. I really wanted to buy something to thank these ladies for all their help and company through the hike, but I just didn't like anything and didn't want it to take up space in my already heavy backpack. Ben had given one of the women 20,000 Vietnamese dong (VND), the equivalent of about US$1.15. He told her, "I don't want anything, but I don't want you to try to sell me anything either." So, we tried doing this as well…Jeremy gave one woman 20,000 VND and I gave each of the women who helped me 10,000 dong, but they begged for more. I would have given them more but the only bills we had were very large, like 200,000 VND (approx. US$23.50, which is a fortune around here). Note to self: next time you're in the Vietnamese mountains hiking with a bunch of Hmong hill tribe ladies, remember to bring small bills.
It was an uncomfortable and sad experience there near the waterfall…these women had walked the entire distance of the village with us on the small hope that maybe we would feel bad enough to buy something from them. I wished that they had something I liked. I wished that we had brought smaller bills. I wished that they knew how to make things that were more useful to trekkers (rather than wind pipes and small, woven purses). I wished that in their tribe, the people went to school so that they didn't have to rely on selling stuff to tourists. It is a sad but true state of affairs here in Sapa.
We spent the rest of our hike getting to know the rest of our trekkers and Thuyen, and asking her lots questions that she couldn't answer (what she lacked in English skills, she made up for in enthusiasm). We never acquired another entourage, which suited us just fine, because we encountered lots of people on the road to Ban Ho, and waved at little kids running loose in the countryside.
Finally, we started descending into the valley that holds Ban Ho village.
We arrived at our homestay, where a small homemade sign told us that this was Mr. Ma A. Hu's home, which offered "Homestay, Food & Drinks, and Cultural Show". Again, our Vinh Long doubts came rushing back…we were worried that we were going to have to sit through some uncomfortable display of Vietnamese ethnicity, especially since Thuyen kept talking about the "singing and dancing" that lay ahead in the evening.
The house, like most rural homes in SE Asia, is made of bamboo and built on stilts. You walk upstairs and enter a large room, which has several smaller "rooms" branching off it. This is when we got our first indication that our homestay experience here wasn't going to be like the one we had in Vinh Long. Right as you walk into the house, there was a small altar with candles, a medium-sized slaughtered pig (with incense sticks in his mouth) and 4 chickens that looked as if they had been plucked and immediately dunked straight into boiling water—with their heads and feet still attached. It turns out that someone in the family is sick and some local elderly women were invited to the home to conduct a good luck ceremony for the family (we were not allowed to take photos of this), but it was quite a sight…we weren't really expecting to see any slaughtered animals, much less inside the home, about 20 feet from where we were to sleep.
Jeremy and I slept in one room and the other 4 trekkers in another.
After chilling for a while at the house (we were pretty tired after walking 18km!), we headed off to the local hot (actually, warm) spring for a quick soak. Most homes do not have hot water in Ban Ho so this is the place where most locals bathe. Men and women sit in different pools…women go into an enclosed hut (shown on the left in the photo below), while men get two huge pools with the nice outdoor view.
After we got back to the house, Thuyen went into the kitchen to cook our dinner. Many more people had congregated at the house, and as usual, we were in the dark as to what was going on…we just sat back and enjoyed the company.

We don't know who this lady was, but she lived at the house (maybe Mrs. Hu's sister?). Her baby was adorable, and already knew how to wave and say, "bye bye!". By the way, if you're wondering what the mark on her forehead is, many of the local tribes near Sapa practice Chinese medicine. The mark is from a cupping-type procedure in which a buffalo horn is heated and placed on the forehead.
Soon, dinner was served. It was quite a feast! There was waaaay too much food for all of us, but we did our best. Mr. Hu and his eldest son sat with us at the table, each of them holding a 1.5L Aquafina bottle. When they brought out the shot glasses, we realized the bottles were filled with their homemade rice wine (not water). We also realized that Mr. Hu and his son were on a mission. A mission to get us drunk. Seriously, they did not stop pouring the entire night. We were taught how to say "cheers" in Vietnamese: "mo, ta, bai…YO!!!," a phrase that Thuyen gleefully yelled with much conviction every 3 minutes or so as they refilled our shot glasses (again).
In the middle of dinner, Thuyen ran off into the woods somewhere (Ben was theorizing that she had a boyfriend in the village, but we were skeptical). Just as we were starting to come up with more and more elaborate theories (in our drunken state), Thuyen returned…she had run into the mountains to pick me flowers for my birthday (and somehow found a little plastic clock as a birthday gift). It was an incredibly sweet and thoughtful gesture, and everyone was commenting on how she had gone above and beyond a tour guide's duties. I think it was around that time that she started calling me her "sister."

This photo captures the spirit of that night very well: chaos, shot glasses in the face, and new friendships.
Suddenly, it was a PARTY! Thuyen announced that it was time for the dancing, and we were bracing ourselves for a bunch of people being paraded out in their "traditional" costumes. Instead, quite unexpectedly, our homestay family popped in a video of some thumping Asian disco featuring a scantily-clad go-go dancer gyrating to techno music. This was our "cultural show."

The rest of the night starts to get a bit fuzzy…we played camera tag with all the adorable kids running around (they would hide as our flashes went off), Thuyen and I danced to techno music, we threw back about a million more shots with Mr. Hu and his son, and at some point we were invited to the big room in the main house for "second dinner." We didn't understand what was happening at the time, but after a while we figured out that many members of the village were invited to the Hu's house to share in the slaughtered pig and the four chickens that were sacrificed in the good luck ceremony.

Taking yet another shot of rice wine.
Needless to say, we had an incredible time. Jeremy was very concerned with Sapa being too much of a "human zoo," but this experience erased any doubts from our minds…instead of some contrived ethnic show, our homestay family showed us what they were really into: traditional animist blessing ceremonies set against the backdrop of club dancers grinding their hips to loud, cheesy techno. We were fascinated by the clash of old and new cultures and appreciated the fact that they didn't adhere to tradition just for our sake.
When we woke up the next morning, I was (surprisingly) feeling fine, but the others were quite hung over. We had a slow morning, wandering around the village to a waterfall, and then returning to Mr. Hu's house for lunch before we headed uphill back to Su Pan village to get picked up.

Mr. Hu with…his grandkids? We never could decifer how (or even if) they were related.
I am so glad we didn't opt to stay behind in Sapa to have a nice dinner and sleep in a comfortable bed. I am so glad that we were rewarded with this amazingly memorable experience after opting to skip out on another one (Sipidan). This was definitely one of the most special birthdays I've ever had…thanks birthday fairy! It's gonna be a good year.

One big happy family (how cute is it that Thuyen wanted to hold my hand for the photo?!?).
More scenes from our trek:

Thuyen's plastic galoshes and Ben's German hiking boots in the mud.

Playing camera tag with the kids.

By the waterfall in Ban Ho village.
We high-tailed it out of Hanoi and headed for the (relative) peace and quiet of Halong Bay, a very touristy (but beautiful) location about 3 hours east of The City that Broke Us. Halong Bay is known for its hundreds of islands with limestone cliff formations…it is quite an unusual place, and unlike anything we've ever seen before. It kind of made me think of Milford Sound in New Zealand—if all those big cliffs got together and multiplied like rabbits, they'd make Halong Bay.
The way that most people see Halong Bay is on a one, two, or three day cruise aboard one of the many "junks" (Chinese-style boats) that motor around the bay. The junks are built with fake sails, which are quite charming at first, and then kinda silly as you look closer (since the sails are so obviously decorative).
It takes 3 hours (one-way) to drive out to Halong Bay from Hanoi, so we opted against the day trip. The 3-day trip includes a one-night stay on the junk and one night on Cat Ba Island. One thing we've learned from our trip so far is that we really love being on boats. We sleep like babies on the sea…Jeremy has even suggested that we rig up our bed on some wires to mimic the gentle rocking you get on a boat. I hope he's joking.
Anyway, we thought a 3-day trip might be a little too long for us, so we opted for the 2-day/1-night trip with an overnight on the boat (you can also choose to stay on land if you are prone to seasickness). As I mentioned in my previous post, there are (possibly) hundreds of people selling tours to Halong Bay from Hanoi. The price for a 2-day/1-night trip can range from US$35 to US$200! Lonely Planet suggested that most people who pay a little more than the rock-bottom budget trips (US$35-45) are usually happy that they did so…the budget trips tend to serve small meals, the accommodation is a bit sketchier, etc. They had us at "small meals."
So, we set about looking for a mid-range tour of Halong Bay. We went to about 10 different tour agencies and finally settled on Vega Travel, which charged us US$72 each for the trip. This was a bit steep for us, but we couldn't find anything in the US$50-60 range—tour prices seem to make big jumps rather than small ones—from US$40 to US$70 to US$150.
It's worth noting that when Grace and Susan went to Halong Bay in 2004, they paid only US$20 for their tour. That is how much prices have risen here in the past 5 years…the rock-bottom budget tours are now twice as expensive!
A couple of realities about Halong Bay tours:
1. There are TONS of boats out in the bay. Don't expect to be alone out here, because you won't be.
2. The boats all travel (more or less) the same course (or, it seems, some of them travel the same course, but backwards).
So, the fact is, more than likely, someone who pays US$45 will get the EXACT same tour as someone who paid US$200. The only difference will be the accommodation and the food.
We thought a US$30 premium for a nicer room and good food was too steep, but we are happy that we cruised Halong Bay in the Vega boat, mostly because we met some really nice people on our tour. There were 10 other people on our boat, including a Russian family of 3, two Aussies, a Turkish/Swedish couple, two Indian girls, and a Belgian guy who teaches English in India. Everyone was super nice and we really enjoyed hearing everyone's travel stories. We spent the most amount of time getting to know the Aussies, Brad and Suzanne, who live in Melbourne (holler!).

Jeremy, Brad, and Suzanne on the upper deck of the Vega boat.
On the first day of our cruise, the boat headed for Surprising Cave (yes, that's the name). It is called "Surprising Cave" (spoiler alert!) because of a large stalagmite that looks like a penis. Classy. We weren't really surprised by this, but we were surprised by how big the cave was. We thought it was going to be a lame little cave that you stick your head inside. But no, it's huge! Like, it took us a good 15 minutes to walk through it.
The typical Halong Bay cruise also includes a hike to the top of Titop Island, where there are stunning views of the swimming beach below.
After the hike, you jump in a kayak and paddle your way to an enclosed lagoon. Jeremy and Brad decided to go for a swim after our kayaking session, and jumped from the top of the boat.
That weather wasn't great while we were in Halong Bay, but the overcast fogginess made the atmosphere kind of dramatic, and we got some thunderstorms that night, which was super cool! It was neat to see all the islands illuminated by lightning as we ate our dinner.
Once again, our experience in Halong Bay was one in which the company of two other cool travelers really made it for us. So thanks, Brad and Suzanne, for hanging out with us!
Our time on the Vega boat was totally fine. The room was quite nice and the food was great and plentiful. We still think it's overpriced at US$72, but that's the lowest "just-above-rock-bottom-budget" price we could find, and we're grateful for the cool group we met on the boat.
And Halong Bay? Definitely worth seeing, but we're glad we only did the 2 day cruise (our instincts were right…3 days would have probably been too much). If you ever make it to this part of the world, just keep your expectations in check…there are tons of motorboats out here, which inevitably leads to pollution and crowding. Vietnam is trying to get Halong Bay listed as one of the "New 7 Wonders" of the world (we don't really know what this means). Hopefully the government can do something to keep the boat traffic in check and preserve this natural beauty.
OK, I have to admit…I've been avoiding writing this post. Why? Well, I'm loathe to admit this too, but I'll just come right out and say it: we couldn't deal with Hanoi. And I feel terrible about it, because Hanoi was the one place in Vietnam where we had some insider info. Our friend Jenny White lived here for 2 (I think?) years teaching English, and she generously gave us tons of info on the best sights and food Hanoi has to offer. Plus, two other couple friends who did around-the-world trips (Grace & Susan and Brad & Jacqueline) told us they loved Hanoi. So we were all set up to adore this jewel of the north…and we did, for the first day. And then, we couldn't wait to get out of there.
So, you may be wondering…what could possibly make Hope and Jeremy dislike Hanoi so much? I mean, we liked Saigon, for Pete's sake (and nobody, apparently, likes Saigon). Well, there are three main arguments I would like to submit for the consideration of the jury.
Exhibit A: Bring your earplugs
It is freakin' LOUD here. Vietnam is a bustling, rambunctious country, so it's loud everywhere, but Hanoi really excels at this. First of all, the streets in the Old Quarter are organized by trade, so that each shop on that street basically sells the same thing. There is a "Baby Supplies Street," a "Sewing Notions Lane," a "Framed Diplomas Drive," and even a "Snack Food Alley":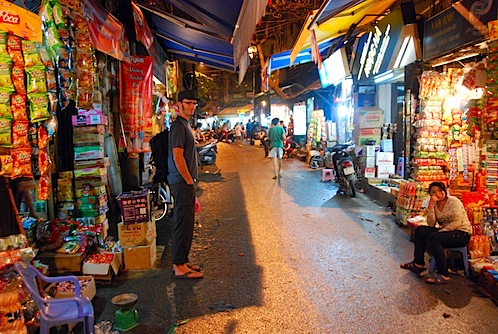 We lived on "Locks and Other Small Hardware Road," but just down the street was "Sheet Metal Way," so that every time we left our hotel, we were greeted by the sound of at least 10 people pounding sheet metal into various forms for sale: bundt pans, colanders, buckets, and chimney vents.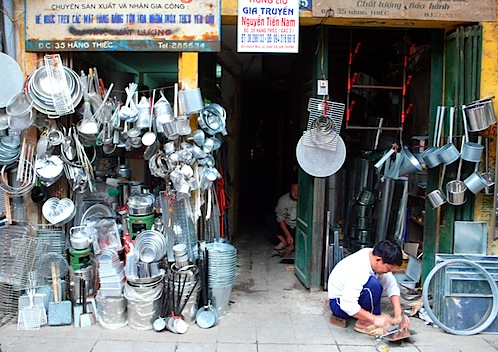 Add to this noise the overwhelming din of traffic in the city and you've got yourself one noisy city. Horns are used pretty much non-stop here (and in Vietnam in general). This is unusual for people coming from the land of "Honking means 'Watch out! Danger!'" In Vietnam, honking means "Move over," "Get out of my way!," and "I'm coming!" In other words, the horn is used non-stop. By EVERY vehicle on the road. So, walking down the street in the Old Quarter is a unending cacophony of hammering on sheet metal and honking horns.
Exhibit B: You might get run over by a motorbike carrying a slaughtered pig
I've alluded to it in a previous post, but let me now take the opportunity to explain how traffic in Vietnam works. First of all, I'm not joking when I say that traffic rules are mere suggestions here. It can be tough to cross the street, but there are two rules that anyone trying to "get to the other side" should follow:
1. The biggest fish rules the pond. That means: buses have right of way, then cars, and then motorbikes. You can cross in front of an army of motorbikes without fear…they will scoot around you (it's kind of like the parting of the Red Sea), but do not try to cross in front of a bus or car. Let them pass, and then cross when there's only a wall of motos coming at you.
2. Walk slowly. Sort of unintuitive, since Westerners want to run across the road. But walking slowly will give the motos time to react to you. Sudden movements = bad.
We had gotten the hang of this chaos by the time we left Saigon. But, the streets in Hanoi's Old Quarter are very narrow (and there are motos parked all along the narrow sidewalks), so pedestrians have to walk in the street. There were a couple of instances where I was glad I curled my toes up as a moto whizzed by.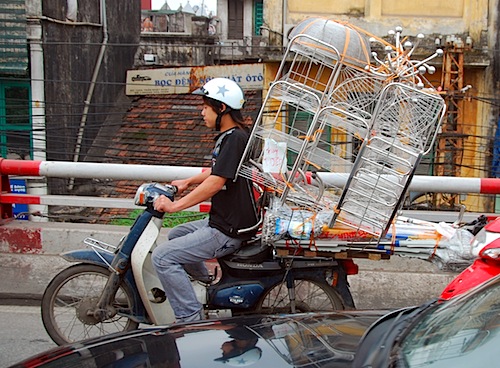 This would probably be considered a light load.
Also, it's worth noting that most of these speeding motorbikes are not just carrying passengers, but incredible amounts of stuff, in all shapes and sizes. Some of the stranger things we've seen strapped to a motorbike in SE Asia:
a large slaughtered pig
sheet glass
about 70 live chickens
circular saws
ladders (strapped to the moto vertically)
bundles of rebar and/or PVC
tables (the table was upside down and the driver was sitting on the flat portion…in other words, there was about 3 feet of table sticking out to the left, right and back of the bike)
Exhiit C: People were mean to us
But we can't just dislike a city because the traffic is bad, right? Well, here's the other reason we couldn't deal with Hanoi…the people. Again, I cringe to admit this, and I am fully willing (and quite frankly, I hope) that this was just our isolated experience of the place. But it's true what Thau in Dalat told me…the people in the north, they same same, but different. Up until we got to Hanoi, we were convinced that the Vietnamese were the friendliest, most curious, most lively people we had met on the trip so far. But in Hanoi, more than one person spoke to us rather disdainfully…we even had people rolling their eyes at us. This was not our experience with every person (and it made us that much more grateful for the people who were nice to us), but it happened enough that we noticed the pattern.
The most discouraging experiences occurred the day we were shopping around for a tour of Halong Bay, a beautiful place full of limestone cliffs jutting out of the sea. Many tourists and locals book overnight trips for Halong Bay from Hanoi, since it is only 3 hours away, and most opt to do cruise around the bay and then spend a night on one of the boats (or "junks," as they are called here). As we have discovered, in SE Asia in general and Vietnam in particular, you can pay wildly different prices for exactly the same thing (seriously, it would not be unusual for one person on a tour to pay US$40 while the person next to him/her paid US$100). So, it pays to shop around. BUT, you also want to be sure you are going with a reputable tour company so that you don't end up with unexpected charges (or, worse, getting scammed). Sounds pretty easy, right? Just sign up for a tour with one of the companies that Lonely Planet recommends.
Well, that's not really how it works in Hanoi. There is little copyright protection here in Vietnam (as evidenced by the innumerable street stands and shops selling pirated CDs and DVDs), so when a tour company becomes successful, other fly-by-night operations will just steal the name. The worst case we saw was Sinh Cafe. Literally, there were dozens of fake "Sinh Cafes" in Hanoi. How are you supposed to know which one is the original, reputable company that Lonely Planet recommended?
On one particularly difficult day, we were wandering around, not sure which tour company to trust, and I was already feeling a little sick and the noise was getting to me, three (three!) different women carrying the baskets pictured below tried to force their heavy loads on me.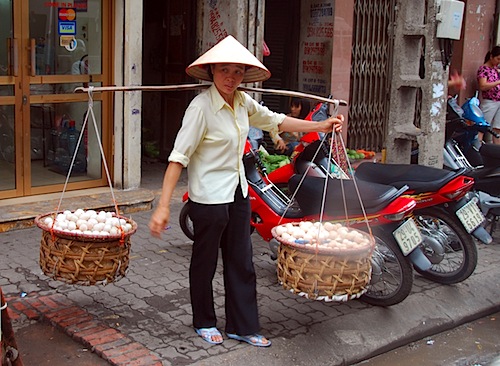 Egg vendor in Hanoi.
I guess this is something that foreigners like to do…take a picture carrying these baskets over their shoulders. But this was definitely not something I was interested in doing and I made no indication that I wanted to carry these baskets. One woman was so aggressive that I had to physically block her from putting the basket on my shoulder. That day, I came very close to losing it.
Rebuttal: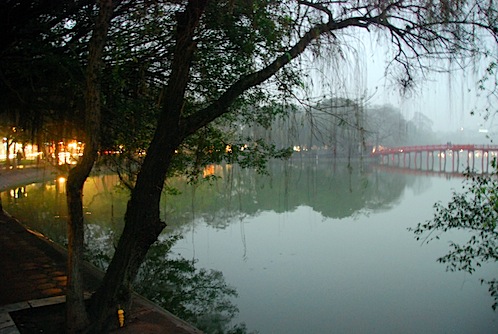 Beautiful Hoan Kiem Lake. Apparently there are very old turtles living in the lake, and spotting one brings you good fortune.
I can totally see why people love Hanoi. It is a really picturesque city, and it doesn't feel like there is a insincere display of Vietnamese-ness (if that makes any sense) put on for the tourists. Walking around the Old Quarter, people are living life as they would live it whether you were there to visit or not, and that makes the place feel really genuine. Plus, there is tons to do in Hanoi. The Temple of Literature is a really beautiful, (relatively) quiet park with a shrine to Confucius: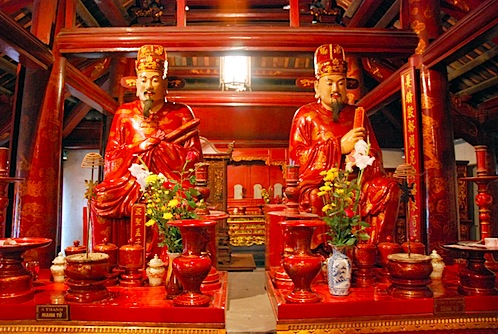 For the more morbidly-inclined, there is also Ho Chi Minh's Mausoleum, where, against his wishes (he wanted to be cremated), you can see the great leader's embalmed corpse. We can attest, he looks pretty good for being gone for a good 40 years (he "travels" to Russia every year for restoration). I don't have any photos of Uncle Ho because you are not, under any circumstances, to take photos of him in the tomb (if you are caught doing so, you are taken to a small room where you must sign a statement saying that you disrespected the great leader). But the adjacent Ho Chi Minh museum is quite fascinating, in a "why-do-they-have-dioramas-with-giant-fiberglass-apples" kind of way (seriously, the place is very strange).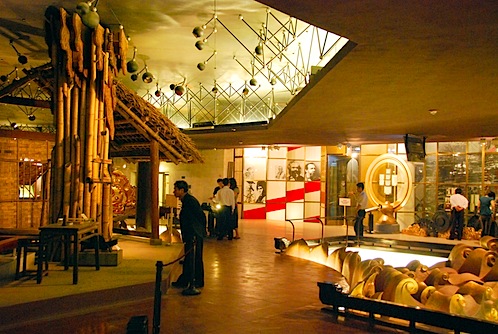 And finally, the food in Hanoi is fantastic. Although meals are much more expensive in Hanoi than the rest of Vietnam, I would venture to say its worth it. Our favorite dish was bun cha. Basically, you get a giant bowl of pork (bacon, sausages, and grilled pork) and an assortment of toppings/additions (lettuce and herbs, garlic, chilies, rice noodles, pickled veggies), and you throw it all into a bowl of thin, light sauce and eat it up. It is also customary to order fried spring rolls to go with this dish. Jeremy and I shared one serving and we still couldn't finish it. Sad.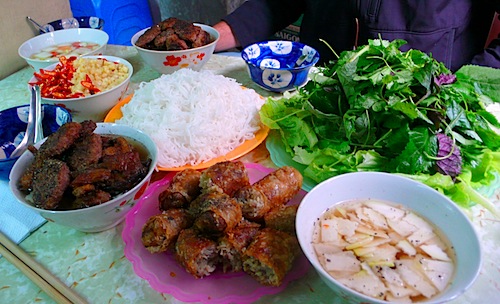 Another really good dish was cha ca, and we had it at Cha Ca La Vong (thanks for the rec, Jenny!), which is apparently the only place in town to eat cha ca (figuratively, not literally). It consists of a spiced fish, which is sauteed with fennel and various other herbs, and eaten with a yummy sauce over rice noodles.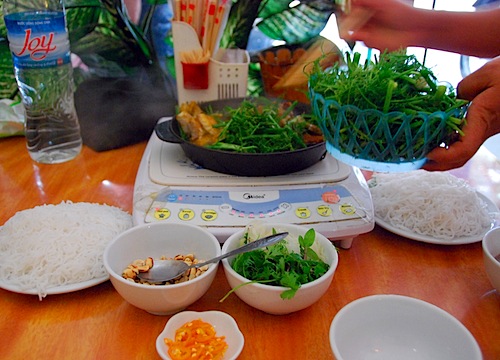 Closing Argument:
I wish that we had a better stay in Hanoi. Maybe we could have salvaged some of our time in the city, but After The Day I Almost Lost It, we spent most of our time avoiding the craziness of the Old Quarter by hiding in our hotel room (to be fair, we are trying to get our taxes in order) and hanging out in quiet places like the Sofitel (the fanciest hotel in Hanoi that does the Indochine thing better than anybody). And Hanoi has a lot more to offer too…on one sad day, we tried to see the circus and a water puppet show, but due to two separate "lost in translation" moments, we were not able to get tickets to either. So, maybe we'll be back here one day…and I'll be sure to pack my earplugs.

While Dalat is kooky, Hoi An emanates pure charm. Hoi An is a small town in central Vietnam along the coast; most people come here for the tailoring—men can get a custom-made 3-piece suit (with an extra pair of trousers and 3 dress shirts) for US$90. Actually, you can get it made even cheaper than that, though the quality and fabrics may be suspect. The streets in the Old Quarter are stacked, one after the other, with clothing shops that have their samples dressed on mannequins. Alternatively, you can also look through one of the giant catalogs they invariably have in the shop, or bring in a photo or drawing of a garment and they'll sew it up for you (though I would be wary of this unless it is a reputable place and/or you know the quality of their tailoring).

Clothing shop in Hoi An displaying their samples.
The weird thing is, almost every shop in Hoi An has exactly the same garments, with minor adjustments (perhaps a jacket will have a different pocket or zipper than the one next door). I am not sure if one shop in Hoi An started selling a wool coat with an asymmetrical collar, and then all others followed suit, or if the shops are just fronts for the same 2 or 3 sweatshops that offer the exact same garments. In any case, it's sort of hard to decide if you're going to go to this shop or that shop…it seems the Vietnamese (at least in Hoi An) have not quite discovered the competitive advantage of differentiation.
The one standout was Yaly, which light years ahead of the competition. There were true couture garments being made here. And while they were not cheap (I saw an incredible dress for US$1000), you still pay a lot less than you would back at home and the clothes were absolutely of the same quality as European designer garments (being the seamster that I am, I inspected the stitches and finishings…are you surprised?!?). They wouldn't let me take pictures of the garments, but the interior of Yaly was gorgeous too…really peaceful and professional.
Since we're traveling for so long on a tight budget, we didn't really splurge on any custom-made suits or ball gowns (and I wasn't even tempted! Who knew that travel could take the clotheshorse out or me?!?) But I did have a new pair of pants made. It wasn't that exciting…just a loose pair of travel pants to replace a pair that was starting to tear.
For those uninterested in clothing, you can also have shoes, Chinese lanterns, and even paintings made to your specifications. In case you always wanted a pair of star-spangled, glitter-studded fake Nikes or some Adidas made out of Chinese silk, you can get them here in Hoi An:
You could also buy an embroidered reproduction of a historical painting, or a portrait of Jesus Christ:
It is fitting that we purchased our first souvenirs of the trip here in Hoi An—some handmade Chinese silk lanterns from a really cute family on Tran Phu street:
We purchased 9 lanterns of various shapes and sizes (some of them were enormous) for US$40 and shipped them home via seamail for another US$40. That in and of itself was an experience…a woman from the post office came to our hotel with two small boxes, which definitely could not contain our giant lanterns (one of them was 1 meter in length when folded down). Within minutes, she had frankensteined the two boxes together and mummified them in packing tape, ready for 3 months on a boat towards SF.
There's also a pretty visceral market in town, full of smells and weird things for sale, like this (the furthest we could deduce was that it was some sort of tail…when we asked what kind of tail it was, the woman cupped her hands around her ears and said, "ba"):
There is even a beach near Hoi An. You can rent bicycles and ride 4 km to the shore, where you'll pass through beautiful countryside and see kids getting out of the local school.
When we arrived at the beach, a young girl waved us over to her beach chairs (you can sit on the beach for free, or pay about US$1 to rent a beach chair in front of one of the restaurants on the shore). Many of the women in Vietnam wear face masks, and we assumed that they did so in order to protect themselves from car exhaust and dust. I noticed that the girl was wearing not one, but THREE face masks, one on top of the other. I asked her why she did this and she told me, "I like white skin." That's when we noticed that she was also wearing a jacket over her long-sleeved shirt, GLOVES, a hat, and socks. On the beach. Believe me, the irony of this Vietnamese girl all bundled up around a bunch of half-naked Westerners looking like lobsters did not escape us. When I asked her if she was hot, she said, "I don't want to burn my skin. I like white skin. We always want what we don't have." Wise words from a young, sweaty lady.
Most people really love Hoi An, but we weren't as sure at first…while you'd have to possess a pretty hard heart to dislike the place because it's so peaceful and pleasant, we just wasn't immediately convinced. I guess we were unsure of how contrived the place was; Hoi An used to be an old shipping port, and if that's the case, how did the tailors get here? Were clothes and/or fabric shipped here so it was convenient for tailors to set up shop? Or did the tailors arrive after Hoi An had dried up as a seaport and it needed a new industry (i.e., tourists looking for custom-made clothing) to sustain itself? Additionally, the Vietnamese government has preserved the Old Quarter in Hoi An so new construction is severely regulated. Is that because they care about preserving Vietnamese culture and traditions, or because Westerners like this brand of quaint, old-world charm and will pay good money to experience it, no matter if that way of life is now irrelevant in a Vietnam moving rapidly towards globalization?
I don't know the answers to these questions, but I think it's cool that we are given the opportunity to witness this moment in Vietnam, when capitalism has taken a firm hold and the country has so much momentum and energy. Towards what, I don't really know either, but it will be interesting to watch Vietnam grow and develop now that we've been here and have seen the culture in action.
And, Hoi An did manage to work its magic on us. Each night we would cross the bridge over to An Hoi islet, where food and drink is a bit cheaper than it is on the Hoi An side, and we could watch the sun slowly color the buildings of the Old Quarter as it descended into night.
There are plenty of kooky things to keep you busy in Dalat, but the surrounding countryside is pretty incredible too. The best way to see the nearby highlands is on the back of one the Easy Riders' motorbikes. The Easy Riders are a group of about 80 men who do countryside tours around Dalat. They started in 1992, two years after Vietnam "opened" (i.e., loosened Communist restrictions on commerce), back when a Vietnamese person associating with a Westerner could still prompt suspicion from the police. The Easy Riders started doing countryside tours because that way they could stay outside of the cops' radars, and through the years, the tours became popular amongst Westerners wanting to get off the beaten track. It's pretty easy to book one of these tours…you just stand outside of the Peace Hotel (where we were staying) in Dalat, and they'll find you. Jeremy and I negotiated to do the tour on the back of Thau and Rene's motorbikes for $18 each.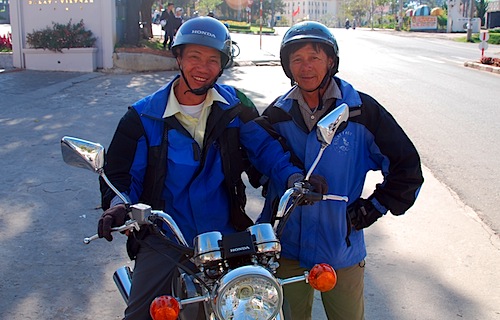 Thau, Easy Rider for 16 years, and Rene, one of the original Easy Riders (an 18 year veteran).
At first we were turned off by the Easy Riders because they really pushed us hard to book a tour, and I guess we still weren't used to the super-hard sell they do here in Vietnam. But Thau and Rene turned out to be great guys. I rode on the back of Thau's brand-new motorbike; he had just purchased it the day before. He told me he saved up for years to buy the US$2000 bike.
Easy ridin' with Thau.
Rene is a veteran of the Vietnam War, fighting with the Americans for the south. Thau went to military college and was therefore put into "re-education" (i.e., forced labor) camp after the North won the war. Both of them told us incredible stories about life during and after the Vietnam War, as well as the difficulty in adapting to Communism in the South.
Incidentally, this is kind of off-topic, but there is a still a huge rivalry in Vietnam between the north and the south, which makes a lot of sense given that people in the north grew up under Communist rule and people in the south are full-on capitalists. At the extremes, the north sees the south as frivolous, easy, and money-hungry while the south sees the north as uptight, unfriendly, and rigid. When I asked Thau about it, he said, "People in the North…they same same, but different."
I find it interesting that there is still so much animosity between the north and the south, while Americans have largely been forgiven for their role in the war. In Saigon, Brian told us that before he moved to Vietnam, lingering hatred towards Americans was one of his primary concerns, but his fears were totally unfounded. If anything, the Vietnamese are fascinated with American culture, and look up to us as a commercial role-model.
These were the topics of conversation as Thau and Rene motored us through the countryside near Dalat, which made for an interesting and informational day. But let's not forget that we are in Dalat, hmm?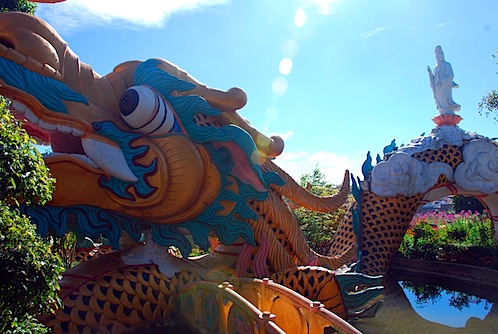 Our first stop was at a place called "Dragon Temple," and we soon understood why. In front of the temple, there is a giant 3-story dragon winding its way through the courtyard. This was also the site of the most amazing thing I have seen in all of our travels: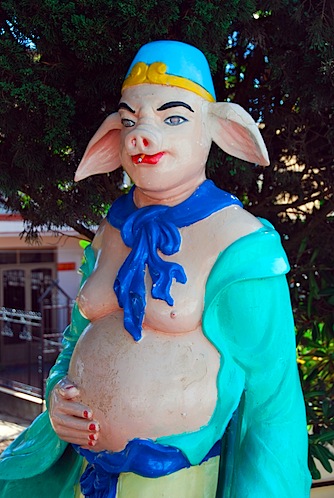 How AWESOME is this statue?!?! The fact that someone put a cigarette in his mouth is just perfection.
This temple was on the way out of town, and as soon as we got outside of Dalat, we were rewarded with gorgeous views of hillside farms. Because of its cooler climate, Dalat grows a lot of vegetables and ships them all over the country. This was a nice relief from the noodles-and-meat soup we had been eating throughout Vietnam thus far.
The Easy Riders took us on a tour of the local countryside industry. We visited a flower farm: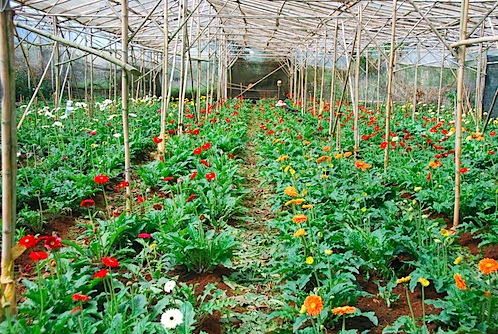 a coffee plantation: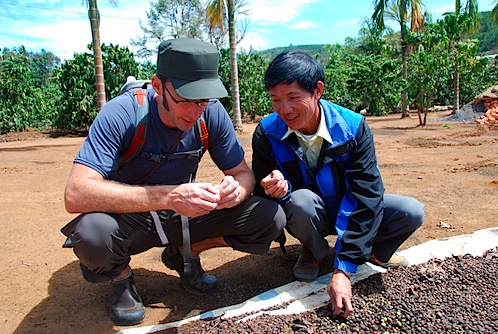 a broom factory, where they dried local grasses and wound them together by hand: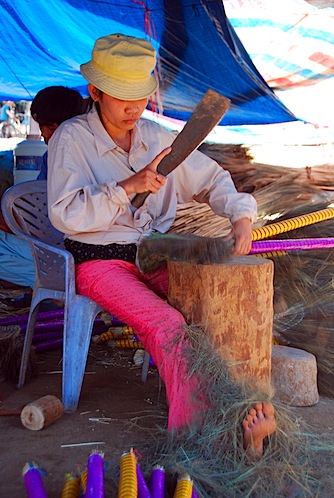 and a silk factory, where we learned that silkworm cocoons are one enormously long strand of silk. To "harvest" the silk, a worker has to find the end of the strand and they stick it to one of these giant spindles, which unwinds the cocoon: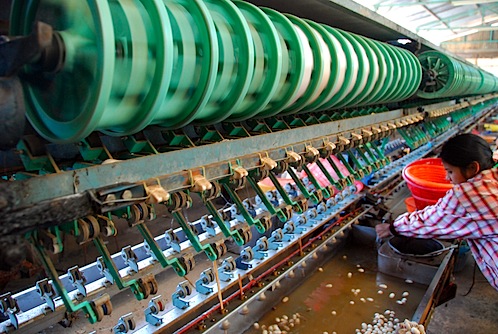 And just in case you were missing the kitschiness back in the town of Dalat, there was also the temple with a big, happy BLUE buddha statue…you could walk into his stomach and peer out his bellybutton. You know, they say the navel is the window to the soul.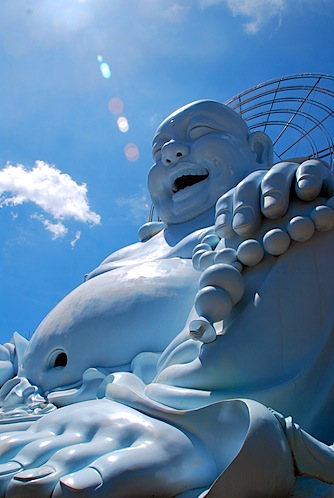 We had a great time on our day out with the Easy Riders. They've got a great program…at each stop either Rene or Thau would get off their bikes and tell us some interesting tidbits about the site and their lives. We enjoy seeing how real Vietnamese people live their lives and we got a good taste of that out in the Dalat countryside.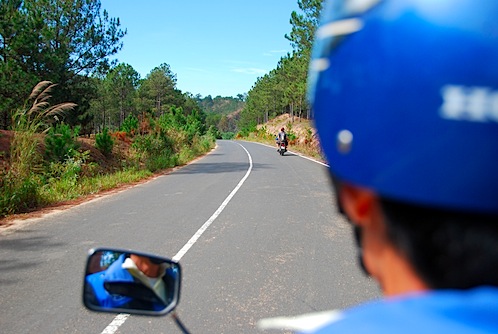 Thanks for a great day, Rene and Thau!
Note: If you want to contact Rene or Thai for a tour, their contact info is as follows: Thau (0903.745672, thaupan@yahoo.com), and Rene (mobile: 0907.836299, home: 0633828485). We also met another nice Easy Rider named Tom (mobile: 0948830083, home: 063830624, ldtoanldg@vnn.vn).

While we were in Saigon, Brian and Dominique convinced us to visit Dalat, a medium-sized town in the southern part of the Central Highlands. Dalat is located in the mountains, so it is much cooler here than other parts of southern Vietnam…for this reason, it is a big destination for HCMC residents trying to escape the heat of the city.
Dalat is a 7 hour bus ride from HCMC. We shopped around our neighborhood for a bus ticket and found an office selling rides for a dollar less (US$7) than the other agents in the neighborhood. Given some of our previous SE Asian travel experiences, we were a bit concerned that we were getting on a bus that was in some way inferior to the $8 buses. Maybe the seats were cramped or the bus was really old and rickety…why else would this company charge a dollar less than anyone else? We needn't have worried ourselves, though…the bus turned out to be one of the nicest we've been in, and we were surprisingly the only Westerners in the entire car. The AC was pumping, the seats were spacious, and the ride was smooth. We were pleased to find ourselves in such comfortable traveling conditions.
Until the karaoke started.
OK, to be fair, nobody actually sang (which would have incredibly been painful), but the music was LOUD. We had earplugs in and still it was deafening…seriously, they had the volume at 11. We had read that buses carrying locals were often moving karaoke clubs, but we never thought we would find ourselves on one. We're just grateful nobody started singing along to the dramatic Vietnamese pop ballads they were playing.
We also experienced another characteristic of bus travel with the locals in Vietnam: carsickness. I guess a lot of Vietnamese people get really sick during travel…there was a woman seated behind us who kept barfing during the ride, and then, strangely, eating at the rest stops (WTF?!?) and then getting back on the bus to repeat the entire bizarre ritual again.
Still, to be honest, it wasn't that bad of a trip (the earplugs really helped). The scenery was beautiful during the drive up into the mountains (the color is strange because I was taking these photos through a tinted bus window).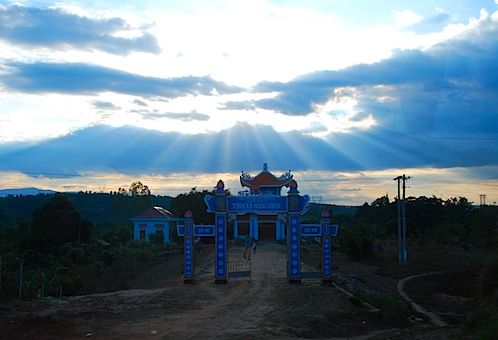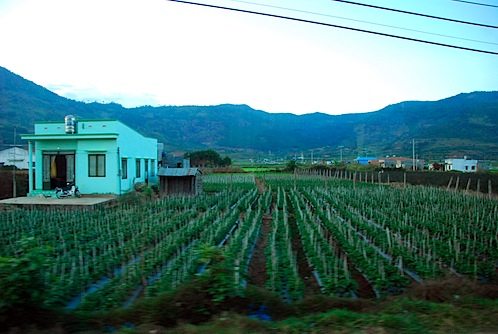 We had heard that Dalat was quite different than other places in Vietnam, but until pulled into town, we didn't realize just how different it would be. Quite frankly, it is one of the weirdest places we have ever been, and we've been to Burning Man a combined 10 times, so that's saying a lot. The place is completely absurd and you really can't help but love it for its kitschy charm. We seriously can't imagine Dalat existing any other country than in Vietnam.
During our first full day in Dalat, we rented a scooter and explored the town. Those of you who have been to Vietnam (or SE Asia in general) may be wondering if we have a death wish—the traffic in this country is absolutely insane (common traffic rules, stoplights, and even traffic direction are mere "suggestions" here)—but actually, the drivers in Dalat are not as crazy as those in the bigger cities and Jeremy felt confident that he could handle it.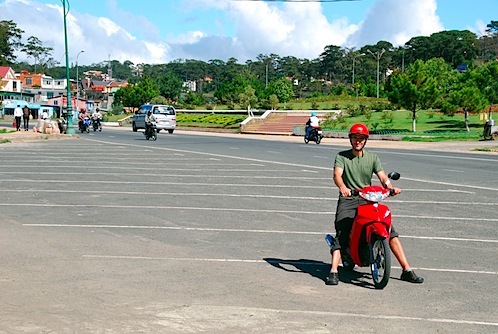 So you may be wondering what it is about Dalat that makes it so kooky. Well, first of all, there is the replica of the Eiffel Tower that overlooks the town: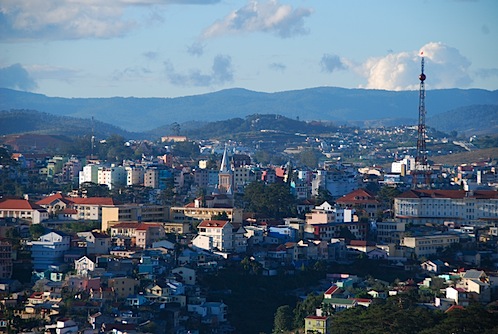 There is even a mini-"Seine" running through Dalat: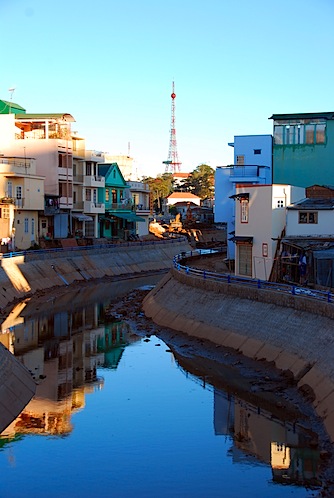 But since the French colonized Vietnam for a long time, that sort of makes sense, right? Well, what about the high-tech gondola that looks like it belongs more in Swiss Alps than in the Vietnamese mountains?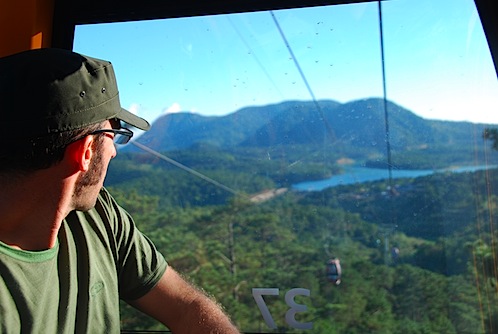 And here's where things start to get really weird. There are some strange topiaries in the Dalat flower garden…I've never seen people add cardboard facial features to a bush before: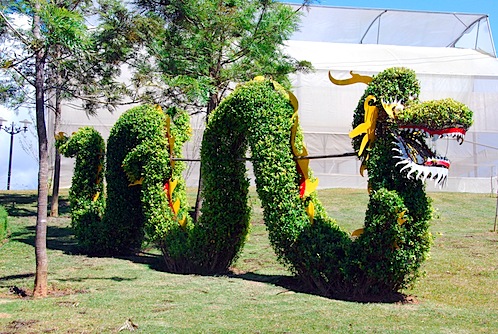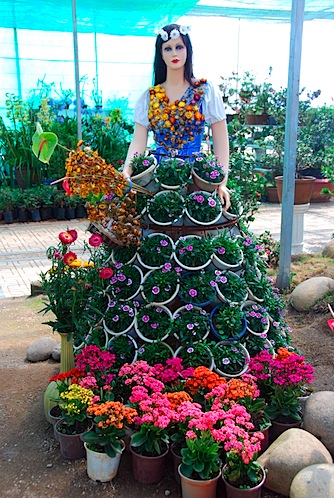 Oh, and then there are the swan paddle boats you can rent to tool around the lake in the middle of town. Of course, we just HAD to do this. Little did we know we were getting a bunk paddleboat. The thing was made of entirely of iron or something so it weighed a ton, and it had a totally inefficient paddle (we swear!). Jeremy and I pedaled furiously into the wind and made it about 20 yards before we decided that enough was enough.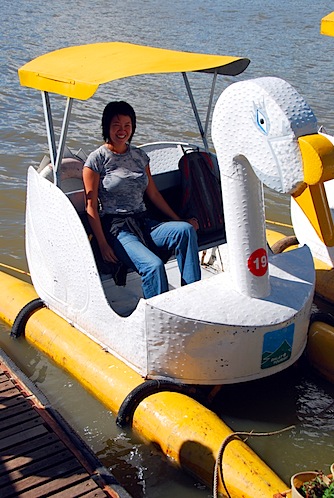 And the final kooky flower in Dalat's weird little bonnet is definitely the Hang Nga Crazy House. The thing looks like Dali on crack with a concrete giraffe head built into it. You know what, let's just let the photos explain it all: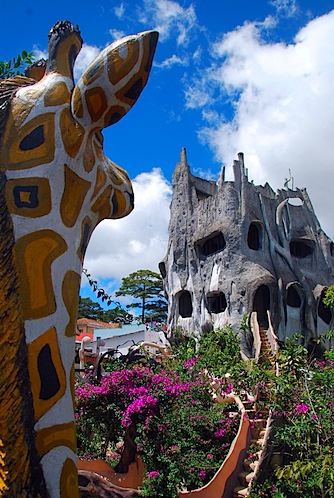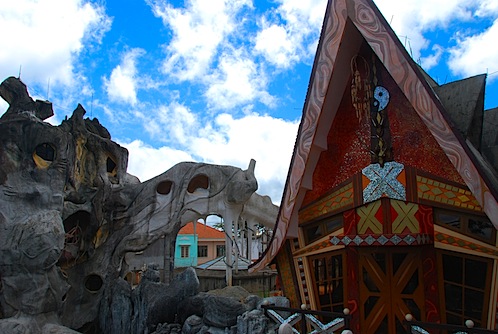 Altar to the architect's father with glitter-covered stalactites.
The place is actually a hotel (reasonably priced, too), and you can stay in any number of theme rooms.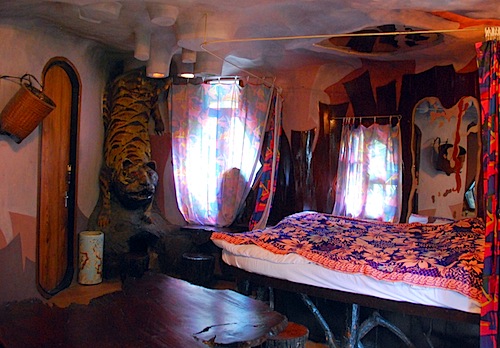 Why yes, that is a fake tiger with glowing red eyes, why do you ask?
Our favorite, by a longshot, was the "Eagle Room." The centerpiece of the room was large eagle perched atop an egg-shaped fireplace. Classy.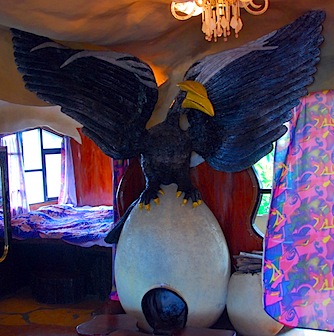 Dalat is meant to be "romantic," as it is the honeymoon capital of Vietnam, which I suppose sort of explains the kitschiness. But it's not just the tourist attractions that have the kook built into them…it seems like the people who live around here just really like kitschy stuff. Here's a photo we took while scooting around of a fence surrounding a big, expensive-looking house: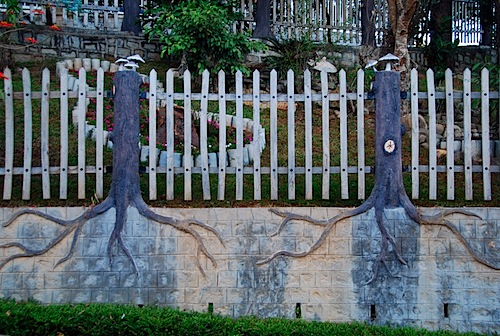 Dalat, as you can see, is AWESOME. The weirdness, the fresh mountain air, and the hills reminded us in a lot of ways of San Francisco. It's no wonder we felt so at home here.

Note: The title of this post "Same same, but different," is a reference to a t-shirt slogan that we have seen all over SE Asia. We have no idea where this phrase came from. Locals will often say that two things are "same same," and we always reply, "but different?" They don't seem to get the joke. Or maybe they just don't think we're as funny as we think we are.
When you're on the go this much, sometimes you just need a few quiet days to chill out, recuperate, and not see anything new. This was our mood when we arrived in Ho Chi Minh City (also known as HCMC or Saigon, as it was called before the North won the Vietnam War). We had a nice hotel room with a balcony, fridge, wi-fi, and AC for $14 down "Minihotel Alley" in the Pham Ngu Lao district (the backpackers district) of HCMC, so we were pretty comfortable and we just basked in the luxury of NOT doing anything for a few days.
The one thing we did do is make it to the Ben Thanh market (one of the big markets in HCMC), where, for the first time, we actually saw set prices (i.e., no negotiating)! This was totally new for us in SE Asia and we were completely baffled by it. We still didn't buy anything, though.

We did stop for a tasty lunch, however: pork kebab and imperial roll over rice noodles.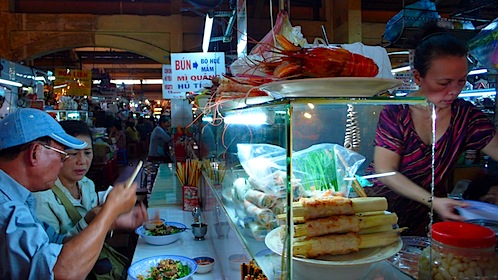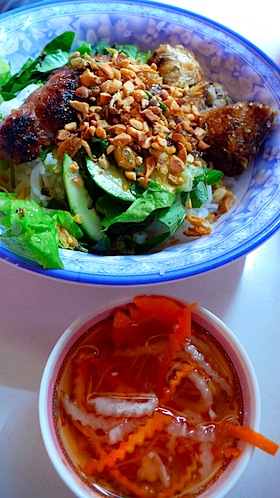 You can buy some pretty funny things in SE Asia. For instance, some "authentic" Dolce and Gabbana manties: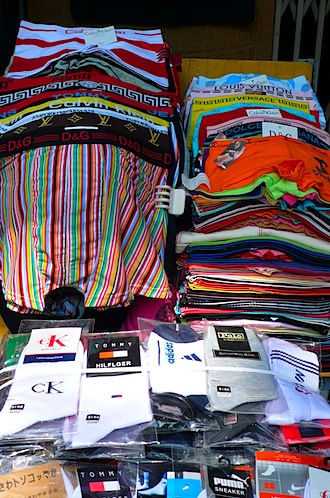 …or a hand-painted portrait of Mary-Kate and Ashley Olsen (or some white bengal tigers, if that is more to your taste):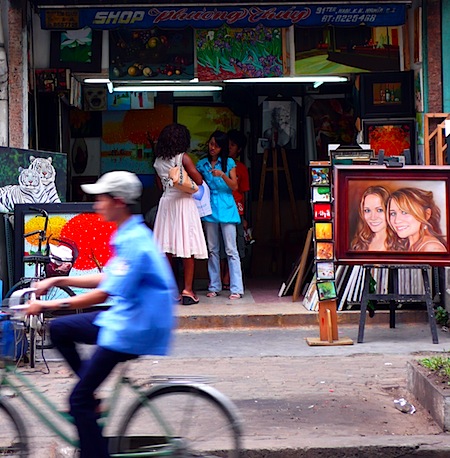 Another thing we managed to do when we were in Saigon was to meet up with Brian (and later, his wife, Dominique), friends of LisaK's (OK, LisaB now, but I will forever think of her as LisaK) from Habitat for Humanity. Brian and Lisa met on a HfH trip in India and then co-led a trip in New Zealand. Brian met his wife Dominique on an HfH trip too and now they have their own thing (similar to HfH) called Be the Change Vacations. I can't tell you how much I respect all of these people for working towards positive and meaningful interactions in their travel…I think it is such an amazing get involved in a local community and I hope that one day Jeremy and I have the opportunity to do such thing.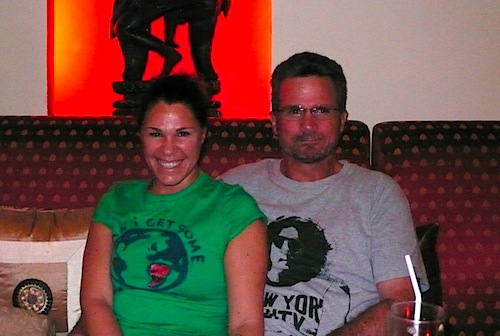 Brian and Dominique were absolutely wonderful! They invited us out for mojitos, and then back to their beautiful apartment, where we got to see how ex-pats in Saigon live. Honestly, they made it look pretty cool.

Once again, we were so moved by how generous and inviting friends of friends have been on this trip (thanks for the intro, Lisa!). This world is taking good care of us! And we hope we can "pay it forward" when we are back at home.
A lot of people warned us about Saigon being a big, noisy, crazy city, but we didn't mind it at all. There was a park across the street from our hotel and we were surprised by how much just a small city park reduced the madness and urban noise.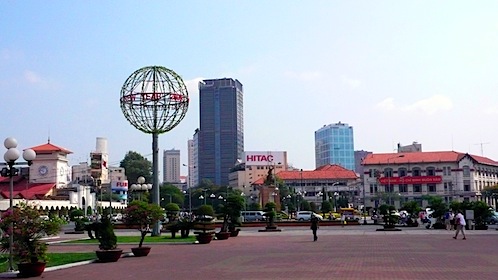 If we ever come back to Vietnam, we wouldn't mind visiting Saigon again. It has great food, good shopping, and all the comforts of city living. And maybe next time we'll actually do something.

Starting in Australia, the country we heard the most negative commentary about was Vietnam. Many travelers we encountered just didn't seem to like the place, and perhaps the people who did like it just weren't as vocal. Plus, the Lonely Planet is filled with warnings about scams, thieves, and pickpockets in the country, so we were understandably being a bit more cautious when we entered the country.
If there is one thing we have learned from traveling SE Asia, it's to expect the unexpected. I can tell you after spending almost three weeks in the country so far (sorry, I'm a little behind on the postings!) that we absolutely love it. We find the people incredibly warm, friendly, open, and curious. It is perhaps our favorite country in SE Asia so far (though we haven't been to Laos or northern Thailand yet). And all those warnings about crime and scams? Well, all prices are negotiable in Vietnam and it's true that most vendors and cab drivers will try to get the most out of you that they can. But pickpocketing? We haven't had any problems whatsoever with that. Maybe we're just lucky, but we really haven't seen what all the fuss is about.
Anyway, I'm getting a bit off topic here. My point was that the Vietnamese people are just incredible. From the moment we crossed the border, we had kids and adults alike falling over themselves, waving at us furiously and yelling, "Hallo!!! Hallo!!!" So when I read that you can arrange to do a homestay in the Mekong Delta town of Vinh Long, I had this whole elaborate fantasy of staying in a rustic riverside home with a large, loud, and loving Vietnamese family. Maybe Jeremy and I would help them cook dinner and we'd eat together, trying to communicate via pantomime or the limited English they knew (because we sure as heck don't know much Vietnamese). Perhaps we'd drink some rice wine before heading to bed, where Jeremy and I would sleep in a back room on straw mats amongst wandering chickens and ducks. We'd wake up a the crack of dawn when the roosters start crowing and help the family make breakfast before we headed back to Saigon on the bus. So when we arrived in Vinh Long (just a short bus ride over from Can Tho), we eagerly signed up for a homestay and took a boat over to the house.
Yeah, not so much.
The surprises started as soon as we stepped off the boat. First of all, Vinh Long is rural, but it's definitely not the deep countryside. There are large and rather elaborate-looking concrete houses mixed it with more simple wooden shacks. Our homestay was actually a large property with a front house (where the family lived), a large outdoor dining area, and a row of connected bungalows, where the guests stay. The bathrooms and showers were in a separate building…they even had western toilets! So much for my rural fantasy.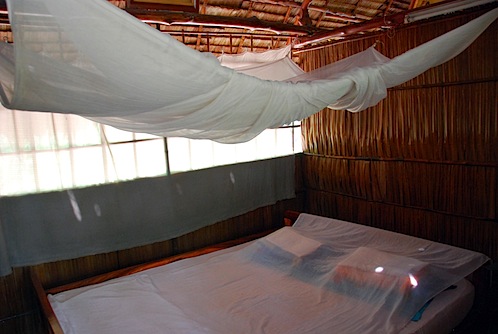 Our bungalow.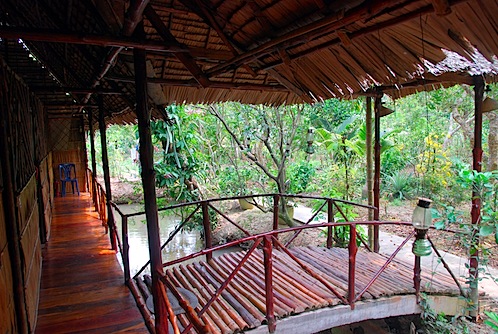 The bridge over to the rooms; the bungalows were built over a fish pond. All night long, we heard "galoop, galoop," as the fish surfaced to eat the mosquitos on the water's surface. Jeremy described this as "the circle of life: the mosquitos eat us and the fish eat them, then we eat the fish." This kinda grossed me out, actually.
So you're not exactly living or eating with a Vietnamese family, and the place is more like a bed and breakfast. You have little interaction with the family other than when they serve the meals. We thought perhaps we had just gone to a more touristy homestay, but other travelers that we met later had the same experience (at a different homestay). Also, we thought it was quite expensive (US$15 per person, not including the boat ride over).
Even though the actual homestay experience was not what we expected, we still had a really nice time exploring the neighboring town. Our homestay had free use of bikes, so we went for a ride around the village. It was pretty hot and we were in full-body sweat two minutes after we started riding, but it was so much fun to ride around and see some of the homes in the neighborhood. We couldn't ride more than two minutes before running into local people shouting and waving at us (especially the kids).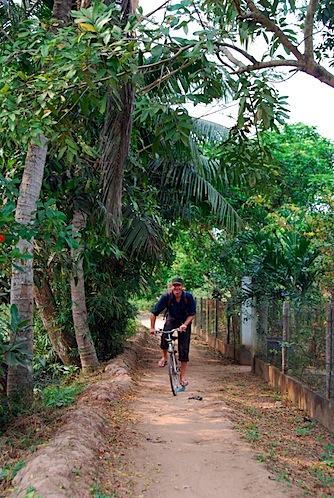 We took a little breather back at the homestay, hanging out in the hammocks for a few hours to cool off before dinner.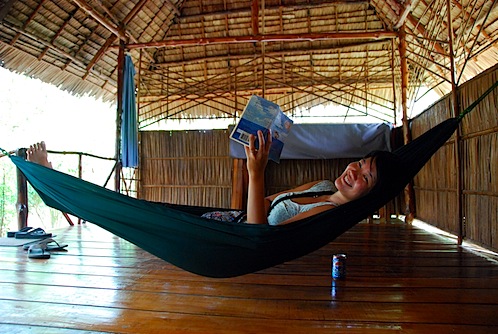 We went for a walk right at sunset and were again rewarded by super friendly people all around town. This little guy was so excited when we saw Jeremy, he tried to climb him!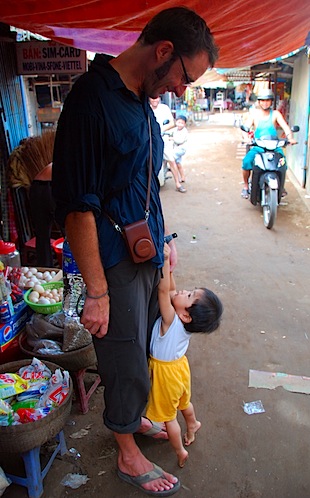 So the homestay wasn't exactly what we expected, but we still had a nice enough time and it was fun to see a more rural part of the Mekong (as opposed to Can Tho). Maybe next time I'll try to keep my imagination in check.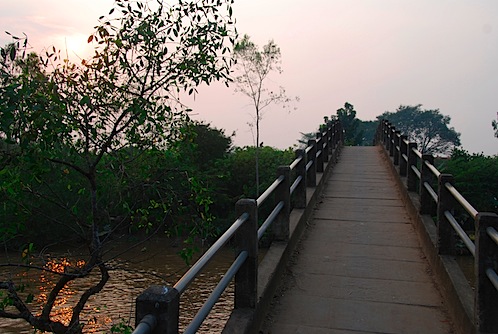 The bridge to the next island.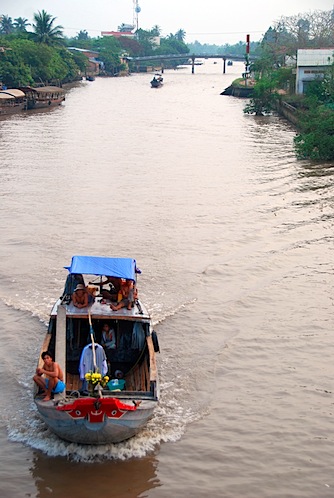 The mighty Mekong.