Posts Tagged 'Vietnam'
Somewhere around Hanoi, we made the hard decision to skip diving in Sipidan (we had been planning on ending our tour of SE Asia by diving in eastern Malaysian Borneo, reportedly one of the best scuba sites in the world right now). On the one hand, we really, really want to dive here before it gets polluted/overvisited/crowded and the animal and plant life starts to die off. On the other hand, with flights, accommodation, and diving, it will cost us over US$1000 to dive for 3 days here. Not only would that really strain our budget, but we're currently spending that much every 2 weeks or more in SE Asia. So…two weeks of experiences or three days? It's always a trade-off while you're traveling (as you'll hear many backpackers lament)—an extra day Here means you won't see There; an airplane ride There means you miss the opportunity to hop off the bus Here.
On the plus side, NOT diving Sipidan meant we could push back our leave date and travel a little more leisurely through the rest of SE Asia, which is really, really luxurious. As it is, we are traveling much more slowly than many backpackers around here, who move from place to place every 2 days or so. I understand that—the hunger for new experiences and the fear of missing out—and I feel it tugging at me every so often, but I think Jeremy and I have found a healthy balance between wandering and staying still here in SE Asia, and it feels good to have the luxury to move slowly now that we don't have the pressure of getting to Sipidan by a certain date.
One opportunity that opened up as a result of cutting Sipidan was Sapa. Sapa is a small town in the mountains northwest of Hanoi, near the China/Vietnam border. It is famous for its wealth of ethnic tribes that live there, and most people do a one-, two-, or three-day trek in the mountains through various villages. The only way to visit Sapa is to take a 9-hour overnight train there, which turned out to be quite pleasant! Private companies purchase and maintain certain cars on the train, so if you buy a "soft-sleeper" class ticket (about US$25 or so), you spend the night in a clean, comfortable car with 4 beds (2 bunks). The only downside is that you arrive in Sapa at 5AM, which is painful any which way you look at it.
When we arrived it Sapa, it was very foggy (it would stay that way the entire time we were there), and coupled with our grogginess, I felt like we were in a dream…a dream that had us walking through a National Geographic. There are tribal people everywhere around town dressed up in their finest clothes to sell stuff to tourists. Clothing differs based on the tribe, but many men wear long petticoats over indigo-dyed pants and tunic, while women accessorize with brightly-colored headscarves, woven tapestries, and silver accessories.

Walking through the market in Sapa.
We spent our first day in Sapa wandering around local Cat Cat village (a short hike from town but not very scenic), and looking for a trekking tour. Like Halong Bay, you can book a tour of Sapa in Hanoi, but it is pretty easy to travel independently to Sapa and you'll save money booking a tour in town vs. in Hanoi. Most overnight tours include a village homestay, and after our experience in Vinh Long, we were worried about having a disappointing, "manufactured" experience if we opted to go that direction. So, at first, we were planning on just doing a day hike, especially since it was my 32nd birthday the next day. But after talking to a couple of different tour agencies, we decided on a two-day trek that would begin in Ta Van village and end with a homestay in Ban Ho village (mostly because Ban Ho village is at a much lower elevation than Sapa, which would allow us to get below the thick fog and actually see some of the countryside, but also because Ban Ho is further away from Sapa, and we thought that might mean there were fewer tourists). Though it would be lovely to spend my birthday with Jeremy, eating a nice meal and sleeping in a comfortable bed, I figured, hey, you only turn 32 once…why not spend it with a hill tribe family in the Vietnamese mountains?

We are really, really glad we chose to go this route because it ended up as one of the best experiences we've had on our trip so far. Even better, we booked our tour through our hotel (Lotus Hotel, where we had an incredible room for only US$6), and it only cost US$23 each (we would find out through some of our fellow trekkies—who did quite a bit of shopping around—that this was one of the cheapest tours around Sapa).
We were picked up in the morning by our tour guide, Thuyen (a spunky, 22-year-old Vietnamese girl who did the entire 18km hike in plastic galoshes), and we met the rest of our crew in the van that would take us to Ta Van. There were 6 of us in total: two German girls (Katrin and Gesina), a German guy (Ben), and an English girl (Jo).

The crew: Katrin, Gesina, Jo, Ben, me, and J. For some reason, we look enormous in this photo.
As soon as you leave Sapa town, you begin to see those famous rice terraces that this part of the country is known for (well, maybe you can actually see them in Sapa but it was too foggy for us to see anything in town). It is absolutely incredible how these people have transformed the mountains—it reminded me of some of the best earthworks or Goldsworthy-esque feats of environmental manipulation.
We arrived in Ta Van and were immediately swarmed by Hmong (the name of the local tribe) ladies upon exiting the van. We didn't really know what was going on, but they had decided that they would be our entourage on this trek, and followed us closely the entire hike through Ta Van village.
The ground was incredibly muddy and slippery due to heavy rains the previous night, and early on in the trek, I slipped and fell. I wasn't hurt at all, but the locals are so steady on their feet around this terrain that falling is unheard of, so throughout the rest of our hike in Ta Van, I became The Falling Girl…whenever we approached some tricky or steep part of the trail, two Hmong women grabbed my hands and practically pushed or dragged me up the hill (they are surprisingly strong). This must have been a funny sight, as they are so tiny that I am practically twice their size. To add insult to (non-)injury, they are all wearing plastic sandals and galoshes (while we are in our fancy outdoor hiking hoes). Honestly, I didn't really need their help, but still, I was grateful at some points to have someone to hold on to!

Two Hmong ladies helping The Falling Girl.
The countryside was absolutely gorgeous. We loved seeing how people live in this village, huts set amongst rice terraces.
We finished our hike through Ta Van at a waterfall, and that's when we finally figured out why we acquired an entourage. Out came the various tourist trinkets and knick knacks that were previously hidden underneath the folds of their clothes and in their basket backpacks. I really wanted to buy something to thank these ladies for all their help and company through the hike, but I just didn't like anything and didn't want it to take up space in my already heavy backpack. Ben had given one of the women 20,000 Vietnamese dong (VND), the equivalent of about US$1.15. He told her, "I don't want anything, but I don't want you to try to sell me anything either." So, we tried doing this as well…Jeremy gave one woman 20,000 VND and I gave each of the women who helped me 10,000 dong, but they begged for more. I would have given them more but the only bills we had were very large, like 200,000 VND (approx. US$23.50, which is a fortune around here). Note to self: next time you're in the Vietnamese mountains hiking with a bunch of Hmong hill tribe ladies, remember to bring small bills.
It was an uncomfortable and sad experience there near the waterfall…these women had walked the entire distance of the village with us on the small hope that maybe we would feel bad enough to buy something from them. I wished that they had something I liked. I wished that we had brought smaller bills. I wished that they knew how to make things that were more useful to trekkers (rather than wind pipes and small, woven purses). I wished that in their tribe, the people went to school so that they didn't have to rely on selling stuff to tourists. It is a sad but true state of affairs here in Sapa.
We spent the rest of our hike getting to know the rest of our trekkers and Thuyen, and asking her lots questions that she couldn't answer (what she lacked in English skills, she made up for in enthusiasm). We never acquired another entourage, which suited us just fine, because we encountered lots of people on the road to Ban Ho, and waved at little kids running loose in the countryside.
Finally, we started descending into the valley that holds Ban Ho village.
We arrived at our homestay, where a small homemade sign told us that this was Mr. Ma A. Hu's home, which offered "Homestay, Food & Drinks, and Cultural Show". Again, our Vinh Long doubts came rushing back…we were worried that we were going to have to sit through some uncomfortable display of Vietnamese ethnicity, especially since Thuyen kept talking about the "singing and dancing" that lay ahead in the evening.
The house, like most rural homes in SE Asia, is made of bamboo and built on stilts. You walk upstairs and enter a large room, which has several smaller "rooms" branching off it. This is when we got our first indication that our homestay experience here wasn't going to be like the one we had in Vinh Long. Right as you walk into the house, there was a small altar with candles, a medium-sized slaughtered pig (with incense sticks in his mouth) and 4 chickens that looked as if they had been plucked and immediately dunked straight into boiling water—with their heads and feet still attached. It turns out that someone in the family is sick and some local elderly women were invited to the home to conduct a good luck ceremony for the family (we were not allowed to take photos of this), but it was quite a sight…we weren't really expecting to see any slaughtered animals, much less inside the home, about 20 feet from where we were to sleep.
Jeremy and I slept in one room and the other 4 trekkers in another.
After chilling for a while at the house (we were pretty tired after walking 18km!), we headed off to the local hot (actually, warm) spring for a quick soak. Most homes do not have hot water in Ban Ho so this is the place where most locals bathe. Men and women sit in different pools…women go into an enclosed hut (shown on the left in the photo below), while men get two huge pools with the nice outdoor view.
After we got back to the house, Thuyen went into the kitchen to cook our dinner. Many more people had congregated at the house, and as usual, we were in the dark as to what was going on…we just sat back and enjoyed the company.

We don't know who this lady was, but she lived at the house (maybe Mrs. Hu's sister?). Her baby was adorable, and already knew how to wave and say, "bye bye!". By the way, if you're wondering what the mark on her forehead is, many of the local tribes near Sapa practice Chinese medicine. The mark is from a cupping-type procedure in which a buffalo horn is heated and placed on the forehead.
Soon, dinner was served. It was quite a feast! There was waaaay too much food for all of us, but we did our best. Mr. Hu and his eldest son sat with us at the table, each of them holding a 1.5L Aquafina bottle. When they brought out the shot glasses, we realized the bottles were filled with their homemade rice wine (not water). We also realized that Mr. Hu and his son were on a mission. A mission to get us drunk. Seriously, they did not stop pouring the entire night. We were taught how to say "cheers" in Vietnamese: "mo, ta, bai…YO!!!," a phrase that Thuyen gleefully yelled with much conviction every 3 minutes or so as they refilled our shot glasses (again).
In the middle of dinner, Thuyen ran off into the woods somewhere (Ben was theorizing that she had a boyfriend in the village, but we were skeptical). Just as we were starting to come up with more and more elaborate theories (in our drunken state), Thuyen returned…she had run into the mountains to pick me flowers for my birthday (and somehow found a little plastic clock as a birthday gift). It was an incredibly sweet and thoughtful gesture, and everyone was commenting on how she had gone above and beyond a tour guide's duties. I think it was around that time that she started calling me her "sister."

This photo captures the spirit of that night very well: chaos, shot glasses in the face, and new friendships.
Suddenly, it was a PARTY! Thuyen announced that it was time for the dancing, and we were bracing ourselves for a bunch of people being paraded out in their "traditional" costumes. Instead, quite unexpectedly, our homestay family popped in a video of some thumping Asian disco featuring a scantily-clad go-go dancer gyrating to techno music. This was our "cultural show."

The rest of the night starts to get a bit fuzzy…we played camera tag with all the adorable kids running around (they would hide as our flashes went off), Thuyen and I danced to techno music, we threw back about a million more shots with Mr. Hu and his son, and at some point we were invited to the big room in the main house for "second dinner." We didn't understand what was happening at the time, but after a while we figured out that many members of the village were invited to the Hu's house to share in the slaughtered pig and the four chickens that were sacrificed in the good luck ceremony.

Taking yet another shot of rice wine.
Needless to say, we had an incredible time. Jeremy was very concerned with Sapa being too much of a "human zoo," but this experience erased any doubts from our minds…instead of some contrived ethnic show, our homestay family showed us what they were really into: traditional animist blessing ceremonies set against the backdrop of club dancers grinding their hips to loud, cheesy techno. We were fascinated by the clash of old and new cultures and appreciated the fact that they didn't adhere to tradition just for our sake.
When we woke up the next morning, I was (surprisingly) feeling fine, but the others were quite hung over. We had a slow morning, wandering around the village to a waterfall, and then returning to Mr. Hu's house for lunch before we headed uphill back to Su Pan village to get picked up.

Mr. Hu with…his grandkids? We never could decifer how (or even if) they were related.
I am so glad we didn't opt to stay behind in Sapa to have a nice dinner and sleep in a comfortable bed. I am so glad that we were rewarded with this amazingly memorable experience after opting to skip out on another one (Sipidan). This was definitely one of the most special birthdays I've ever had…thanks birthday fairy! It's gonna be a good year.

One big happy family (how cute is it that Thuyen wanted to hold my hand for the photo?!?).
More scenes from our trek:

Thuyen's plastic galoshes and Ben's German hiking boots in the mud.

Playing camera tag with the kids.

By the waterfall in Ban Ho village.
Starting in Australia, the country we heard the most negative commentary about was Vietnam. Many travelers we encountered just didn't seem to like the place, and perhaps the people who did like it just weren't as vocal. Plus, the Lonely Planet is filled with warnings about scams, thieves, and pickpockets in the country, so we were understandably being a bit more cautious when we entered the country.
If there is one thing we have learned from traveling SE Asia, it's to expect the unexpected. I can tell you after spending almost three weeks in the country so far (sorry, I'm a little behind on the postings!) that we absolutely love it. We find the people incredibly warm, friendly, open, and curious. It is perhaps our favorite country in SE Asia so far (though we haven't been to Laos or northern Thailand yet). And all those warnings about crime and scams? Well, all prices are negotiable in Vietnam and it's true that most vendors and cab drivers will try to get the most out of you that they can. But pickpocketing? We haven't had any problems whatsoever with that. Maybe we're just lucky, but we really haven't seen what all the fuss is about.
Anyway, I'm getting a bit off topic here. My point was that the Vietnamese people are just incredible. From the moment we crossed the border, we had kids and adults alike falling over themselves, waving at us furiously and yelling, "Hallo!!! Hallo!!!" So when I read that you can arrange to do a homestay in the Mekong Delta town of Vinh Long, I had this whole elaborate fantasy of staying in a rustic riverside home with a large, loud, and loving Vietnamese family. Maybe Jeremy and I would help them cook dinner and we'd eat together, trying to communicate via pantomime or the limited English they knew (because we sure as heck don't know much Vietnamese). Perhaps we'd drink some rice wine before heading to bed, where Jeremy and I would sleep in a back room on straw mats amongst wandering chickens and ducks. We'd wake up a the crack of dawn when the roosters start crowing and help the family make breakfast before we headed back to Saigon on the bus. So when we arrived in Vinh Long (just a short bus ride over from Can Tho), we eagerly signed up for a homestay and took a boat over to the house.
Yeah, not so much.
The surprises started as soon as we stepped off the boat. First of all, Vinh Long is rural, but it's definitely not the deep countryside. There are large and rather elaborate-looking concrete houses mixed it with more simple wooden shacks. Our homestay was actually a large property with a front house (where the family lived), a large outdoor dining area, and a row of connected bungalows, where the guests stay. The bathrooms and showers were in a separate building…they even had western toilets! So much for my rural fantasy.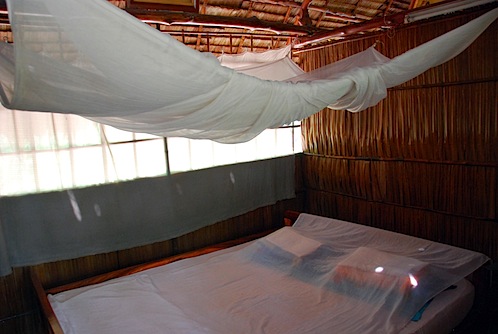 Our bungalow.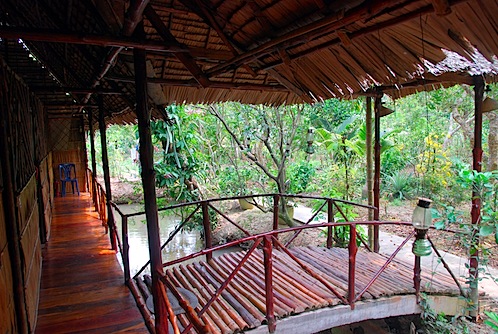 The bridge over to the rooms; the bungalows were built over a fish pond. All night long, we heard "galoop, galoop," as the fish surfaced to eat the mosquitos on the water's surface. Jeremy described this as "the circle of life: the mosquitos eat us and the fish eat them, then we eat the fish." This kinda grossed me out, actually.
So you're not exactly living or eating with a Vietnamese family, and the place is more like a bed and breakfast. You have little interaction with the family other than when they serve the meals. We thought perhaps we had just gone to a more touristy homestay, but other travelers that we met later had the same experience (at a different homestay). Also, we thought it was quite expensive (US$15 per person, not including the boat ride over).
Even though the actual homestay experience was not what we expected, we still had a really nice time exploring the neighboring town. Our homestay had free use of bikes, so we went for a ride around the village. It was pretty hot and we were in full-body sweat two minutes after we started riding, but it was so much fun to ride around and see some of the homes in the neighborhood. We couldn't ride more than two minutes before running into local people shouting and waving at us (especially the kids).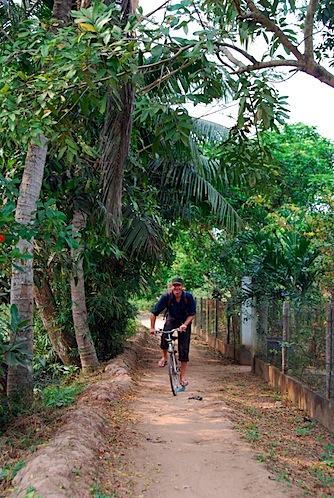 We took a little breather back at the homestay, hanging out in the hammocks for a few hours to cool off before dinner.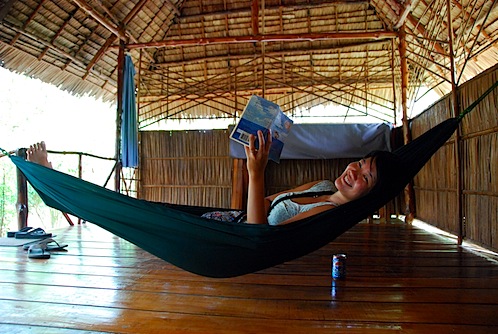 We went for a walk right at sunset and were again rewarded by super friendly people all around town. This little guy was so excited when we saw Jeremy, he tried to climb him!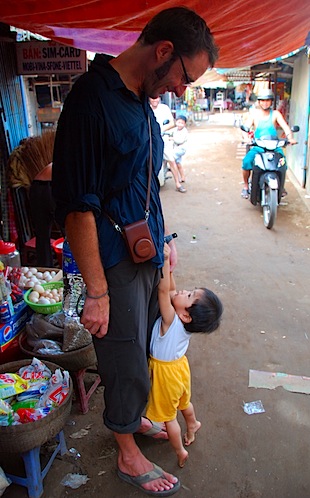 So the homestay wasn't exactly what we expected, but we still had a nice enough time and it was fun to see a more rural part of the Mekong (as opposed to Can Tho). Maybe next time I'll try to keep my imagination in check.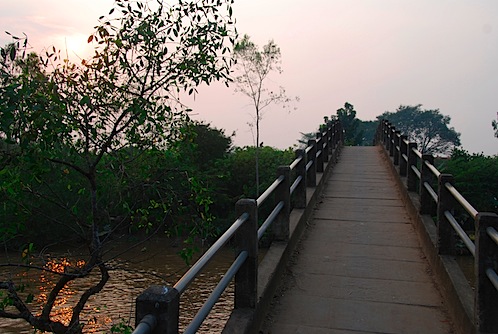 The bridge to the next island.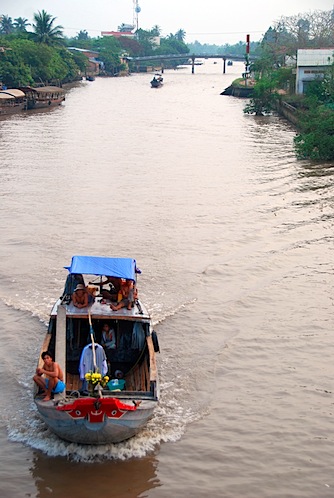 The mighty Mekong.
One of the (many) really wonderful things about traveling for an extended period of time is the freedom you have in your decision-making process. I think this is one of the main differences between vacationing vs. traveling…on a vacation, you have a limited period of time and it usually benefits you to make plans as to what places, sites, and cities you are going to visit in order to fit it all in. On the other hand, traveling provides you with the luxury of listening to your gut. Don't like a place? Leave. Really like a place? Stay a day or two longer until you feel restless again.
It was this very gut feeling that told us to cross over from Cambodia into Vietnam via a boat down the Mekong. We hadn't really met any other travelers in Cambodia that had done this, but the travel books made it sound cool so we decided to go for it. Our final destination was Can Tho, a smallish town situated along the Mekong and famous for its floating markets. This would prove to be somewhat more involved travel day, as there weren't really direct boats from Phnom Penh to Can Tho. Rather, we took a van to a slow boat, which stopped at the Cambodia/Vietnam border so we could process our passports, then hopped on a fast boat to Chau Doc, on the Vietnam side. While we were zooming down the Mekong, one of the guys on the boat asked us if we wanted to take a van from Chau Doc over to Can Tho for US$8. We were a bit worried that he was overcharging us since you usually pay a premium for convenience like this in SE Asia. So we told him we would find our own way to the bus station and figure it out. When we landed at Chau Doc, we climbed out of the boat, put our packs on and asked for directions to the bus station. Surprise, Hope and Jeremy! The bus station is on the other side of the river. I have no idea if there is any logic behind dropping you off on the wrong side of the river other than to make you more likely to buy a ticket from this guy's company. Without any other real choices (other than swimming), we hopped back on a longtail boat across the river, where we were loaded onto some two-wheeled bicycle-drawn carts (known as xe loi and apparently unique to the Mekong Delta), and ended up at the bus station, where we boarded another van towards Can Tho. For the record, that's: 3 boats, 2 vans, and a xe loi to get from Cambodia over to Vietnam. Here's Jeremy in his xe loi: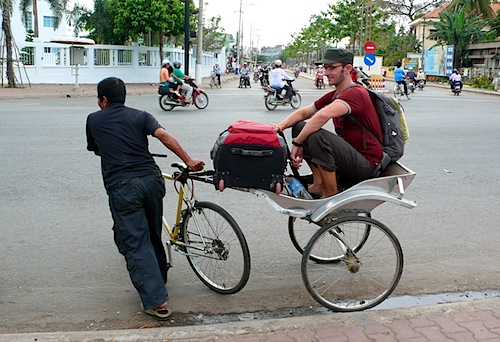 I am not sure why, but for some reason we keep irrationally expecting the countries in SE Asia to be more similar to each other than they actually are. Perhaps it is because we've met a lot of people who have traveled the entire region (as we are doing now) and so we tend to lump all the countries together under the term "Southeast Asia." The countries are, in fact, completely different, despite the fact that the terrain often looks the same. Here we are, floating along the Mekong, and boom—as soon as you cross the border into Vietnam, suddenly all the houses are on stilts and the people are wearing "rice picker" hats. By the way, I totally thought this was a Vietnamese stereotype, but the people here really do wear these hats! And it's not just one person here and there, but almost every woman (men do not seem to wear them) in the countryside seems to be wearing these cone-shaped toppers. Interestingly, women also wear these brightly colored and patterned pajama-esque Lycra pantsuits.

Jook vendor at the Cai Rang floating market near Can Tho.
The main reason why people visit Can Tho is to visit the floating markets nearby in the Mekong. We met a super cute Dutch couple (Joachim and Rianne) on the trip over from Cambodia, and we decided to look for a floating market tour together. You can book these tours through the Can Tho Tourist office but you will end up on a large boat that is not able to navigate the small canals that wind their way through the countryside and drain into the Mekong. Plus, if you book a tour directly with one of the locals, the money goes directly towards feeding their family.
In order to book a tour, you simply stand around on the main road where the boats dock and within minutes, a local Vietnamese lady will inevitably approach you about a day tour. That's how we met Phuong, an incredible Vietnamese lady with the most amazing laugh. We tried to negotiate with her for the price of our boat tour, but she wouldn't budge from US$50 for all 4 of us. But we thought she was so sweet and cute we just let it slide. What's a few bucks when you really enjoy the company?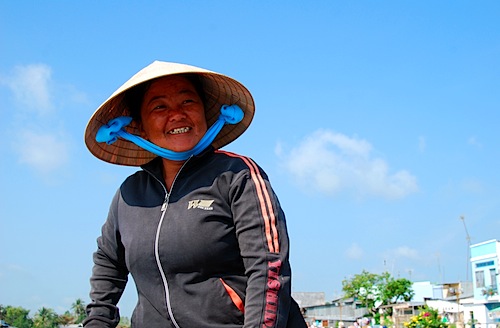 Phreaking phenomenal Phuong.
Because the floating markets are busiest early in the morning, Phuong picked us up at the ungodly hour of 5:30AM. We got to see the sunrise over the Mekong, which was not a bad way to spend our first morning in Vietnam.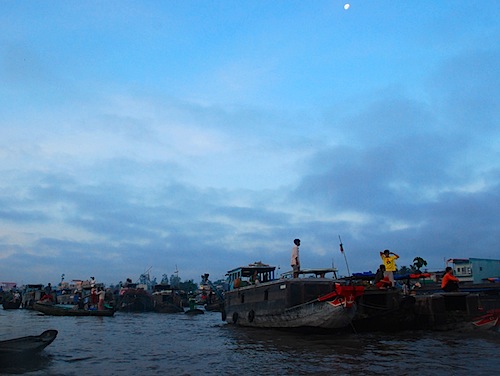 Our plan was to visit two different floating markets: Cai Rang, which is a larger market but more heavily touristed, and Phong Dien, which is famous because the people who vend and shop there do not use motors, but paddle their boats instead. Most of the people who take part in these markets are not buying for themselves, but for vegetable markets and restaurants, i.e., they are buying in bulk. Still, I wonder if they think it is strange that a bunch of tourists pay money to see them do their grocery shopping?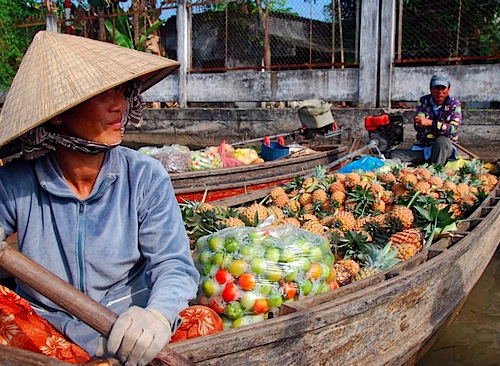 Pineapple vendor at the Phong Dien floating market.
So that buyers can easily tell what a boat is selling, vendors hang their wares on a long pole sticking straight up out of the boat. This guy was like the Costco of Cai Rang!: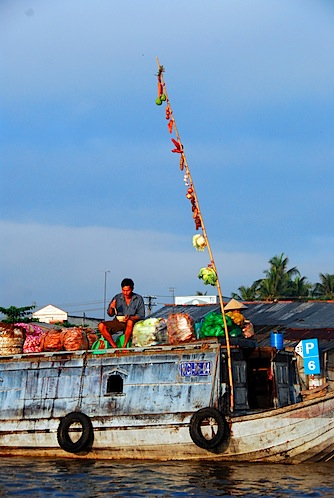 Also cool to note: the boats on the Mekong are painted with circular eyes (we would find out later that boats along the Red River up north are painted with slanted eyes). Does anyone know why this is the case?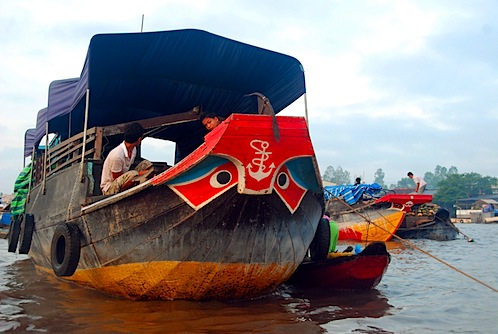 To be quite honest, we were a little disappointed with the actual markets…I guess we thought they would be bigger. In fact, they are quite small, in particular Phong Dien, which was basically a collection of about 20 boats bumping into each other as people did business. But it really didn't matter, we had so much fun on the boat with Joachim, Rianne and Phuong that the actual sights seemed almost inconsequential. We basically meandered around the Mekong, chatting and laughing and getting to know each other. by the way, Phuong also brought her teenage son on the boat, but he didn't talk much (I think he doesn't speak English).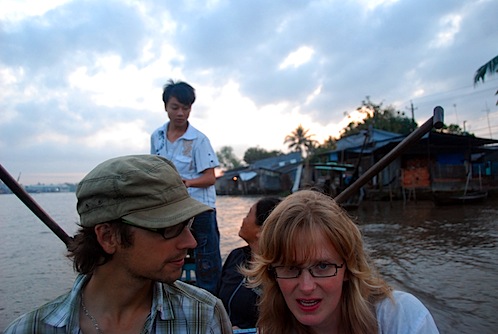 Joachim and Rianne, with Phuong's son in the background.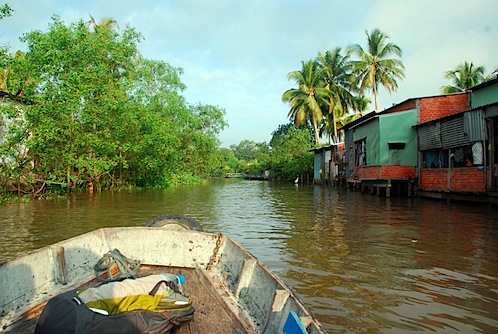 In addition to seeing the markets and the small canals, Phuong also brought us to a rice noodle "factory." It was really interesting! Now we totally know how to make rice noodles.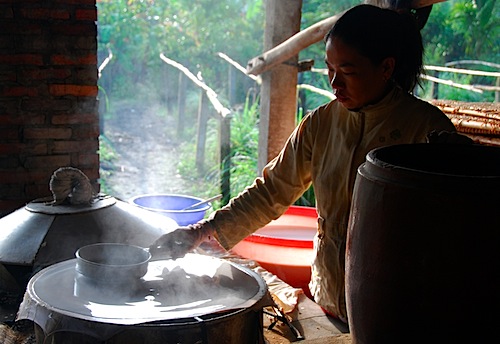 And, we got to see a bunch of the countryside, where Phuong picked a bunch of random fruits for us to taste, and we got to see those famous Vietnamese rice paddies.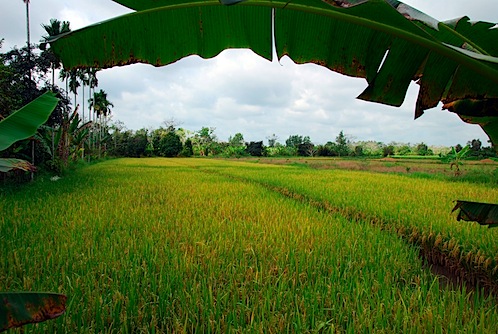 Phuong was really excited to show us something she called "the moneky bridge." She took us to what was essentially a pole with a handrail stretched across the river and I started to walk across it when she literally yanked me back and told Jeremy to go first. I figured it was a precarious crossing so she wanted a guy to go first. As Jeremy was halfway over the bridge, she started giggling like crazy…"Look! Now there's one monkey on the bridge!!!" She REALLY cracked herself up, and Jeremy was totally confused, like "am I supposed to cross this thing or not?" Which made the entire episode incredibly amusing to me.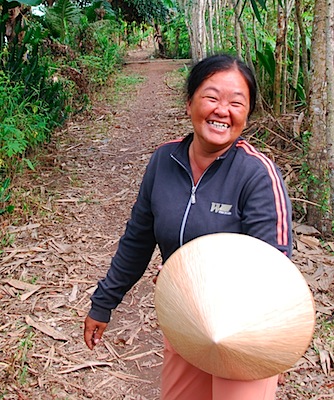 Phuong, unable to contain herself.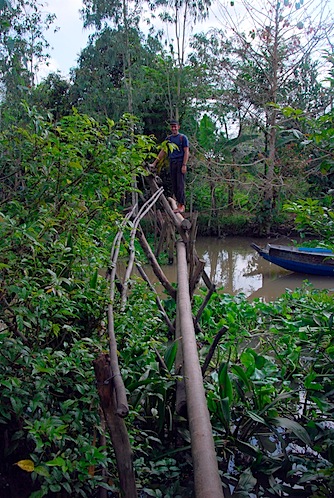 Jeremy, the monkey on the bridge.
We ended the tour by stopping for lunch at a nice place along the river, where Joachim and I played with snakes.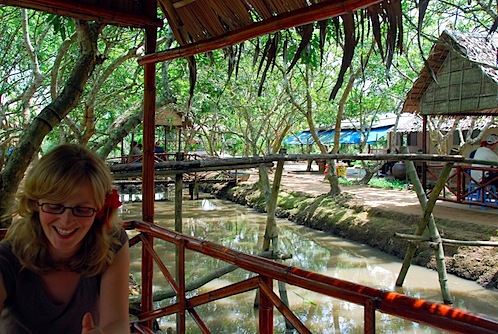 Rianne at our lunch spot along the Mekong.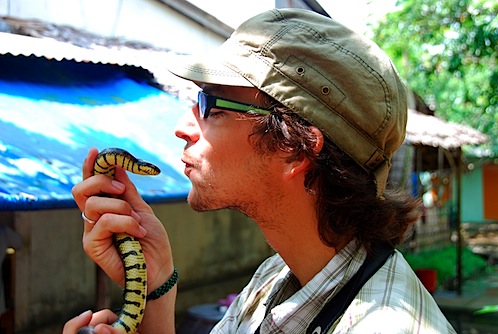 Joachim, getting fresh.
We had an awesome time in Can Tho! This was one case where the whole experience was definitely a lot greater than the sum of its tourist sites. Thanks to the cutest Dutch couple we've ever met (Joachim and Rianne, that's you) and Phuong for making our stay in Can Tho so memorable. And thanks, gut feeling, for steering us right.
P.S. As a final shout-out to Phuong, this is the contact information listed on the card she gave us (I believe the phone number and email address are her brother's): 0913 618 056, triet_quang@hotmail.com.