Archive for July, 2009
It's 6 o'clock in the AM, it's cold, I'm hungry, and my hips are sore from sitting Indian style for an hour first thing in the morning. Why am I doing this to myself? Because we're staying at Haryoin Buddhist Temple in Koyasan, a holy mountain retreat area in Japan, and we've decided to drag ourselves out of bed at the crack of dawn to witness the temple's morning prayer. Buddhism is all about suffering, isn't it?

Located south of Osaka, Koyasan has 117 subtemples stuffed into 10 square kilometers. If you think that sounds amazing, you'd be right. I have no idea if Koyasan is on the typical Japan tourist route (we heard about it from a Japanese friend—thanks Tomo!!!), but we didn't see that many other Western tourists while we were here—but we did see loads of Japanese pilgrims, dressed all in white (some wearing bells), wandering from temple to temple and chanting prayers at each stop along the way.

Japanese pilgrims praying at a temple in Koyasan.
And my goodness, what temples they are! Even more stunning than Kyoto, possibly. Even if you don't know the first thing about Buddhism, the gorgeous natural surroundings, the awe-inspiring temples and pagodas, and the peaceful disposition of the place will conspire to adjust even the most distracted psyche into a state of mindful consciousness.

Konpo Daito in Dai Gaan temple complex. There were 5 giant golden Buddhas inside, but unfortunately, you are not allowed to take photos inside Japanese temples. To get an idea of the scale of this thing, look on the steps in front of the temple—yes, that's Jeremy.

This is Jeremy's favorite pagoda. Also located within the Dai Garan temple complex. Didn't I mention that the Japanese can do amazing things with natural wood?


Unfortunately, I don't remember what this temple is called! We wandered in off the main street through Koyasan.
Up until 1916, women pilgrims were not allowed into Koyasan, so devout females had to hike a 10 km circuit around the holy mountain area with the hope of glimpsing some of it's gorgeous temples. Jeremy and I hiked the circuit, which climbs up and down three different 3000 foot mountains and includes many small shrines along the way. It was not a super tough hike, but it was no walk in the park either, and you had to respect these women pilgrims for heir tenacity and devotion. Buddhism is also about mental and physical discipline, right?


J hiking by a small shrine on Mt. Mani (the first mountain on the Women's Pilgrim route).
Today, the women's pilgrim route begins in Okunoin, the most amazing cemetery Jeremy and I have ever seen. Wandering through a cemetery may sound creepy, but it wasn't at all. Perhaps it's because Buddhists see death differently than we do in the West…or perhaps it was just the incredible forest growing in and around and over all the gravestones. With over half a million (!!!) tombs in this cemetery, that's no small feat for this forest.

Jeremy wandering part of Okunoin's 2km-long sando (entry path).

Okunoin's Torodo (Lantern Hall). There were literlally thousands of lanterns in this room organized in tall shelves with narrow walkways. It felt like a library full of souls.
There's something very comforting about seeing nature swallow up these gravestones and markers. Again, even if you didn't know the first thing about Buddhism, Okunoin is enough to convince even the most morbid mind that death can be a thing of beauty.
As I mentioned above, Jeremy and I were staying in Haryoin Temple on Koyasan, and one of the common things to do in shukubo (temple lodging) is to eat shojin ryori, a vegetarian meal that is prepared in the temple. It was tasty, though at 2100 yen (US$21) per person, it was definitely not in the budget for both nights.

Our shojin ryori dinner at Haryoin.
Our room at Haryoin was the first traditional Japanese style room we stayed in, with a tatami mat floor and futons stored in the closet, to be brought out when you are ready for bed. Though it can be a pain to put your bed away in the morning and take it out at night, we did like how versatile it made the space.
The one thing Jeremy could not deal with at all was the shoe thing. See, Japanese people do not wear their outdoor shoes inside…instead, they take off their shoes and step onto a slatted wood mat to put on their inside slippers. Most places don't mind if you just walk around in your socks, but Haryoin sort of insisted that we wear the inside slippers. But of course, you cannot wear the slippers on the tatami mat, so you have to take the slippers off before entering your room. To top it all off, there is a separate pair of slippers that you wear in the bathroom. So if you came back to your room from a day of wandering around Koyasan and then went to the bathroom, you would have to take off your outdoor shoes, put on your slippers, go to your room, take off the slippers, put the slippers on again when you leave your room, walk down the hall to the bathroom, take the slippers off, and then put on the bathroom slippers. The Japanese put the "orient" in "process oriented."
And what can I say about that morning prayer ceremony? Well, it's not what we expected, that's for sure. We sort of thought that there would be some bell-ringing and some interactive chanting involved, but Haryoin's morning prayer involves none of that. Rather, two monks pray out loud for about 30 minutes and then light various candles, eventually culminating in a roaring fire in a metal bowl (which required one monk to get up and turn on the air vent to suck the smoke out of the room). We didn't understand a word, since it was all in Japanese, and unfortunately, we couldn't see much either, since we were seated on tatami mats and the altar was raised up on a stage of sorts behind tall screens. Quite frankly, we're still sort of baffled by the whole thing.
It's ironic that the spoken ceremony did little to reveal any further insight into Buddhism, but walking around Dai Garan and Okunoin communicated volumes to us. Or…perhaps it's not ironic at all to learn about Buddhism through observation and experience rather than through the spoken? Buddhism is also about silent meditation, is it not?

Here's a convoluted statement for you: there are many reasons why Kyoto is amazing, and one of those reasons is simply because there are so many reasons! To clarify: the variety of things to do and environments to explore in this city is just astonishing. Urban life? Check. Temples? We covered that in the last post. Gardens? Yessiree. Markets? You betcha. Castles? Heck Yeah. Public parks? Yup. Good food? Well, of course, it's Japan!
One of the (many) cool things we saw in Kyoto was Nijo-jo Castle. There really is something ancient about the place, and walking through the castle and grounds makes you feel like you've traveled back through time as an old Shogun.
Nijo-jo is famous for one thing: creaky floors. Seriously, they've actually engineered the floorboards to squeak so that bandits and perhaps a bitter feudal lord couldn't sneak in to attack the Shogun housed within. It's quite interesting to be walking along the palace interior in your socks (you have to take off your shoes whenever you enter any interior space in Japan), and having the ground sing underneath your feet. In fact, they've dubbed it "The Nightingale Floor," and here's how it works:
After experiencing Kyoto of the past, you can check out it's present. Nishiki food market is a fun place to wile away an afternoon, checking out all the amazing foodstuffs that Japan has to offer. We ate tofu donuts (good!), saw hundreds of different types of Japanese pickles, and gawked at knives that cost more than some peoples' monthly rent in San Francisco.

The many faces of squash. Taken in Kyoto's Nishiki food market.

OK, this particular photo was taken in Tokyo, but we saw similar knives in Kyoto. These bad boys are specifically made to cut noodles. And at 84,000 yen a pop (about US$840), you'd have to cut a LOT of noodles to make this purchase worthwhile.
For an already green city, Kyoto also has some beautiful parks, where you can enjoy even more greenery. I can only imagine how jaw-droppingly beautiful Kyoto would be when the leaves are turning in the fall. Jeremy and I have already decided that we need to come back in the autumn (when all the Japanese maple leaves turn red), in the spring (when the cherry blossoms go off), and in the winter (when everything is covered in a blanket of white).

Strolling through the Imperial Palace Park.

There are ravens all over Japan. This one was perched at the top of a famous cherry tree in the middle of Maruyama Park—a tree that is apparently so beautiful when it blossoms that you have to view it from the hills in the back of the park because there are so many visitors mobbing the area. Unfortunately, the tree was looking kind of sad when we were there (in the summer).
Since we no longer had the benefit of a place to stay in Kyoto, we had to watch our budget a little more closely when it came to food. This turned out not to be too much of a problem, since there are some incredible (and affordable) ramen joints in Kyoto. Our favorite was a place called Santoka, which had a surprisingly hip and modern interior. But it wasn't the decor that kept us coming back for more…it was the pork cheeks. Behold this bowl full of fatty, delicious beauty!!!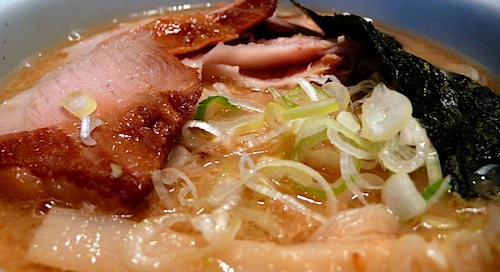 Even with the wealth of attractions in Kyoto, our favorite thing to do was just to walk. There is so much to see in the city's narrow pedestrian alleyways…

Pontocho Street, where Geisha often entertain at night in the exclusive clubs.
…or when you're strolling by the river…

The Kamo River…look at those mountains in the background!
…or wandering in and out of temples.
In short, we love Kyoto. Maybe we'll see you here next fall…or winter…or spring…or…?
Picture it: It's sundown, and Hope and Jeremy are walking down a Hanamikoji, a ridiculously picturesque cobblestone street in Kyoto. The street is lined with tea houses and exclusive restaurants, and all of the buildings are constructed in the traditional Japanese style, with thin wood slats backed by rice paper screens. Hand-dyed noren (Japanese split door curtains) flap in the slight breeze, exposing tatami-matted interiors where geisha entertain Japanese businessmen until the wee hours of the morn.
Hope: Can you believe how gorgeous Kyoto is?!?
Jeremy: Yeah, it really is.
Hope: Beautiful.
Jeremy: …
Hope: Hmm…I wonder how expensive this restaurant is? [Studies menu furiously.]
Jeremy: Hope! Hope!!!
[Geisha enters and exits scene. The sound of wooden sandals clacking against pavement fades out.]
And that's how I missed our one and only geisha sighting in Kyoto.
We were completely set up for the shot—she was walking directly towards us, and had I been paying attention, rather than looking at the menu (the stupid menu!), I would have been able to take at least 2 photos of her before she passed. Yes, it was very depressing, but I felt even more sad for the poor geisha, who had at least 5 tourists literally running after her, trying to take her photo. This made me feel better about not getting my own shot—the poor gal probably feels that she's been documented enough, thankyouverymuch.
Oh well, on the bright side, it's hard to stay depressed in Kyoto. Man, is it beautiful here! To be fair, Kyoto is a big city, so if you ever make it out this neck of the planet, don't expect to step off the train and into a scene like the one described above. You do have to deal with a bit of urban sprawl. But the delightful thing about Kyoto is that between all those congested city streets is a charming and vibrant town of cobblestoned pedestrian walkways, Japanese teahouses, and a myriad of other cultural treasures, just waiting to be discovered. For a big city, Kyoto feels like an intimate little town, and a quaint and traditional one at that.

Women in yukata (summer kimono) walking on one of Kyoto's most atmospheric streets, Sannen-zaka.
Temple-exploring is the name of the game in Kyoto, and we were happy to oblige.

One of the most famous temples in Kyoto, Kiyomizu-dera. Perched in the eastern Higashiyama mountains, it offers gorgeous views of the city.
It has been really cool to see the differences between Buddhism across Asia, and how local culture gets infused into the architecture of the temples and the way in which people worship. Japanese temples are all about natural wood highlighted with gold accents—compare this with highly decorated Chinese Buddhist temples (like Kek Lok Si Temple in Malaysia), or the gilded surfaces of Laotian temples (like those in Luang Prabang), and you'll see how differently Buddhist devotion is expressed across this continent. I have to say, the natural wood and simplicity of Japanese temples is really quite appealing, and makes the few gilded surfaces and colorful accents stand out more since there isn't SO much to look at.

Detail of a temple's roof tiles.
In Japan, we notice a few differences in the way that people worship as well. You will usually see a small fountain of running water at the entrance to a temple…you are meant to scoop the water out of the fountain to wash your hands before you enter, as these schoolkids are doing below:

Schoolkids washing their hands before entering Kiyomizudera.
Second, there seems to be some sort of bell-ringing ritual in Japan…usually a bell is hung at the top of an altar, with thick, beautiful rope running from the bell all the way to the floor. Worshippers can ring this bell (usually after they throw a coin into a slotted donation box). This is pretty different from other Buddhist worship we've seen, where bell ringing seems to be done exclusively by monks.

Worshippers ringing the bell in front of Yasaka-jinja.
We also see these folded paper strips dangling off the roofs of many temples…and they are so beautiful and simple that it seems like there must be some sort of metaphor behind them.

Folded paper strips hanging off the roof of a small shrine we encountered in the middle of the Imperial Palace Park.
Finally, we're not sure what this is all about, but Japanese people put little aprons (and sometimes wee little hats) on all the stone figures scattered around a temples' grounds. Are they trying to clothe the statues so they aren't hanging out there in the open with everything exposed? Keep them warm? We have no idea! But it's pretty cute, and delightfully Japanese.

Stone figures covered modestly in aprons near Kotoku-an.
But Kyoto isn't only about temples…there are also some incredible gardens that you can stroll through, admiring the beauty and appreciating the silence.

The gardens outside of Nijo-jo Castle.


We were in Japan while the hydrangeas were going off, shown here in the gardens of Konchi-in.
If the temples and gardens weren't enough to make your heart skip a beat, the city is freakin' gorgeous too. Most nights, we walked along the Kamo River around sunset, which has tons of outdoor restaurants/bars lining it's western bank. If, like us, you don't want to pay the inflated prices along this picturesque stretch of water, you can stroll along it's pedestrian pathway, watching egrets and crows bathe themselves in the river waters.
OK, I just wrote a book and I have barely covered half of what we did in Kyoto! But I'll happily continue on in a second post…I'm enjoying reliving our memories of this place (hopefully) as much as you are.

When you think of Japan, you probably think of sushi; and when you think of sushi in Japan you probably think of Tokyo's famous fish market. In addition to being the world's largest wholesaler of fish, Tsukiji is a full-on tourist destination, one of the few that actually lives up to the hype.
Visiting Tsukiji can feel like a pilgrimage of sorts. For one, you have to wake up at the ungodly hour of 4:30AM if you want to catch the tuna auction, which starts around 5AM and ends by 7AM. Not only that, you have to be quick on your toes in those early morning hours! You see, Tsukiji is an actual, operating fish market, so there is a lot happening in those wee hours of the morn'…most notably the three-wheeled carts whizzing by you at breakneck speeds. In some cases, it feels like they are trying to hit you (and in some cases, I bet they are. I imagine a bunch of dazed and confused tourists wandering around your workplace is really frustrating when you are trying to do your job).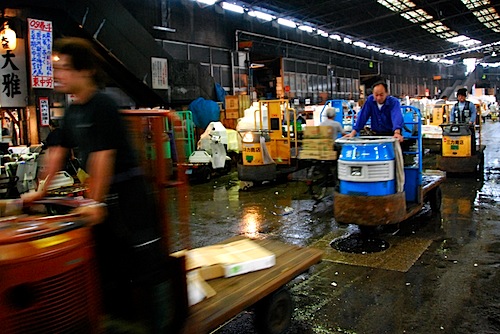 Three-wheeled carts whizzing around Tsukiji.
In fact, we sort of feel lucky that we're able to see the fish market and tuna action at all, because rude tourists have almost shut the place down to visitors. Apparently, there were tourists handling the fish—kicking them like tires and even riding them as if they were bulls! I can't even imagine how horrifying it would be to see a drunken (or not) lout sitting on top of a hundred thousand yen tuna…and particularly in Japan, a culture that revolves so completely around being reserved and respectful. Bad tourists! Bad, bad tourists!

The tuna auction hall in action.
Actually, the one time we experience anything other than courtesy from Japanese people is at the fish market. We were quietly and unobtrusively watching a guy cut up his enormous tuna with increasingly larger and larger swords when another fishmonger came by, slapped both me and Jeremy on the arm, and yelled at us to "GO HOME!!! GO!!! GO HOME!!!" Though it was rude and shocking, I can't say that I blame him…I would hate tourists too if I worked at Tsukiji.

This is the guy we were watching when we got yelled at by the fishmonger. We were really entranced by the whole tuna filleting process! He washed down both the fish and the table in between each cut and had a special tool for each slice. It was clear that he took a lot of care in preparing this huge creature for eventual consumption.
Visitors to the tuna auction are now confined to a narrow band of space within the auction hall no wider than a sidewalk (apparently you used to be able to walk amongst the fish and the buyers). But even from afar, it was totally fascinating and fun to watch the auction. Each auctioneer had his own unique, captivating style…see for yourselves:
After the tuna auction closed, we wandered around the absolutely enormous market (seriously, we visited the Sydney Fish Market back in January and Tokyo's version is easily 25 times the size of that market) and watched people carving tuna (both frozen and fresh).

Cutting frozen tuna with a bandsaw.
We also saw a huge variety of sea creatures, both recognizable and not.

Unidentified sea creature. Anyone know what this is?
Like most other visitors, we completed our visit with a sushi breakfast—another Tsukiji rite of passage, no matter that you're chowing down on raw fish at 8 o' clock in the morning. If we had to do it over again, we'd probably eat our sushi right outside of the market, where the prices are easily half of what they are inside the market stalls.

Our Tsukiji chirashi breakfast.
And, with our bellies full of raw, delicious fish, we went back to Joy's apartment to take a nap.

See all of our photos from Tsukiji Fish Market on our Flickr
One thing that has really delighted us on our travels is the fact that our assumptions about a place have very often been completely wrong (particularly in Asia). We thought Taipei would be dirty and crowded. Wrong—Taipei is a clean, modern city that holds it's 2 million residents comfortably. We thought China's streets would still be swarmed with bicycles and people wearing Mao jackets. Wrong again—the rising middle class here means there are more cars than bikes, and most people have discarded the drab Communist-era rags for any and every patterned and blinged-out piece of clothing they could get their hands on. And we thought Tokyo would be a huge, crazy metropolis. Take a wild guess if we were right or wrong on that one.
To be fair, I guess in some ways, Tokyo is sort of crazy. I mean, there are a lot of people, especially around Shibuya and Harajuku.
The difference is that Tokyo doesn't feel chaotic at all. Perhaps this lack of chaos owes itself to the fact that the Japan is such a rules-based society, and the rules here say that citizens should be orderly and polite, treat others with kindness and the utmost respect, and speak in a low tone of voice. In fact, we can't get over how quiet it is here! No honking horns, no blaring music, no clanking of wheels, no sounds of construction. Granted, our aural radars might be off a bit after China, where someone turned the volume up to 11, and then broke the knob off.
This is one of the most delightful things about Tokyo—how peaceful it is for a big, cosmopolitan city. And, similar to our reaction to Taiwan after SE Asia—it's just so civilized here! I mean, the taxi drivers wear full suits, hats, and little white gloves! There are little lace covers on the seats, some taxi drivers give you free lollipops, and the doors even open and close automatically! Now that's classy!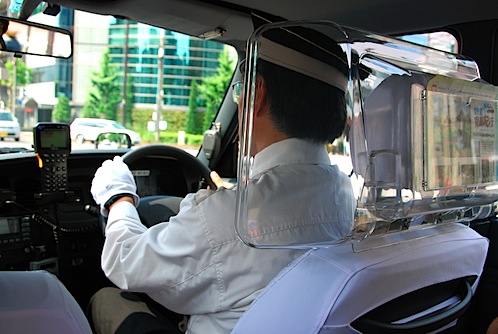 From the back seat of a Japanese taxi.
But of course, we don't like Tokyo just because it's quiet (that was just the icing on the cake). Make no mistake: Tokyo is a beautiful, vibrant city…

View of Tokyo Tower from the top of the Mori Building.
…full of little quirks and oddities…

Kappabashi dori in Tokyo, a restaurant supply street, where you can buy all manner of red paper lanterns, chopstick holders, and yes, plastic food.
A pachinko parlor in Tokyo. Pachinko is a strange gambling game that looks like a pinball machine; the player shoots a ball straight up into the machine and depending on where it lands, you can win more balls, which you can trade for tokens, which you can then trade for cash at some other location (gambling is illegal in Japan, so this is how they circumvent the laws).
…beautiful gardens…
Women walking through the gardens near Meiji jingu.
…and funky people, who take care in their appearance, whatever that style happens to be.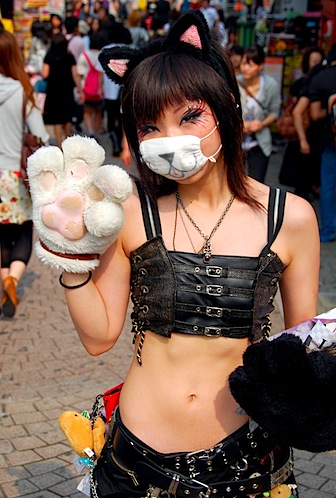 Kitty cat girl in the Harajuku area.
It is a city that delights in technology and innovation…one look at their toilets, and you know that they are light years ahead of us in the States. Toilets in Japan come with some serious functionality: automatic open opening and closing of the lid. Bidets with varying levels of pressure. Fans and heated dryers (for use after the bidet). Automatic flushing. And (our favorite): some toilets even play music, or a "flushing water" sound, so that you can do your business without worrying that the person in the stall over will be disturbed by any, um, noises.

Typical control panel on a Japanese toilet.
Despite this fascination with all things new and novel, Tokyo still manages to preserve it's traditional culture. We saw women getting on the high-speed bullet train in their kimono and dessert chefs checking their cell phones in between hand-rolling Japanese-style candies. And it seems, to the outsider, anyway, that this balance between the new and the old is preserved without tension, and without feeling contrived. It is simply Tokyo doing what it does best—embracing it's Japanese-ness with dignity and delight, and welcoming you along for the ride.

Little girls in traditional kimono and headdress at a local temple, holding on tight to their bags of cotton candy.
We step off the plane in Tokyo, and we discover something extraordinary: we have x-ray vision!
At least, that's what it felt like, seeing the world without smog. It was like someone flipped the switch on our retinas from regular broadcast to HDTV. As we get closer to the city, we discover another super sense: our hearing has turned supersonic! Tokyo is a huge, sprawling metropolis, but somehow, the city is dead quiet. Where is the constant honking? The people yelling at each other on the streets? The tour groups following a megaphone-wielding tour guide?
Even at the airport, Jeremy and I couldn't stop talking about how different Japan is from China. There were two ladies whose only discernible job was to bow at you as you got on the escalator and say "Irashaimase!" ("Welcome!"). The ticket-taker bowed at our bus as it left the curbside. And the smokers! They had to walk outside and go into what can only be described as a Smoking Box (it was like observing animals at the zoo…Oooh! Look! It's the Commonicus Smokeritus!), so that their exhalations wouldn't bother us non-smokers out on the sidewalk. How is it that Japan and China are even on the same planet, much less the same continent?!?

The Smoking Box at the airport. Smokers have to leave the terminal and enter this box in order to light up, so that their exhalations don't bother other people out on the sidewalk.
Japan can strike fear into the heart of any budget traveler, but as soon as we land, we can see that we're going to want to extend our stay, even without any solid plans for our trip here. It is just so freakin' peaceful in this country (even in the big city), and after a month of Chinese chaos, we're ready to decompress, watch the world through HD, and listen to the glorious sound of (relative) silence.
But, good lord is it expensive! Luckily, we've hooked up with an old college friend of Jeremy's named Joy, who is a Japanese-American expat working in Tokyo, and she's offered to help us plan our itinerary while putting us up in the huge, gorgeous apartment she shares with her Aussie boyfriend Alex in the Akasaka district of Tokyo. This is a real treat—I was sure that, given our budget, we were going to have to rent out a spot in Kramer's chest of drawers.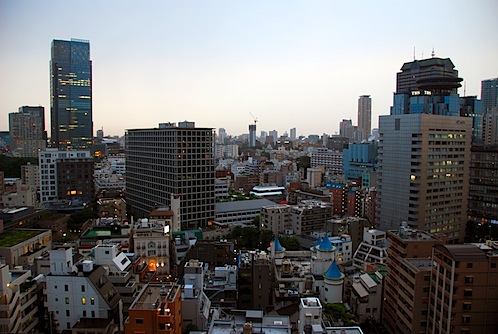 The view from Joy and Alex's apartment.
The last time Jeremy bumped into Joy was in SF, and the occasion was actually on our first date—over 6 years ago! Through a crazy Flickr coincidence involving my wedding dress and Joy's friend Jean, we've gotten back in touch with her. Joy is an AMAZING hostess…not only does she love food like we do, but she was mindful of our budget, and she swiftly went to work taking us to all these incredible midrange restaurants around Tokyo. Even better, because we're saving so much on hotels by staying with Joy and Alex, we actually have some leeway in our budget to sample some of this famously delicious Japanese cuisine.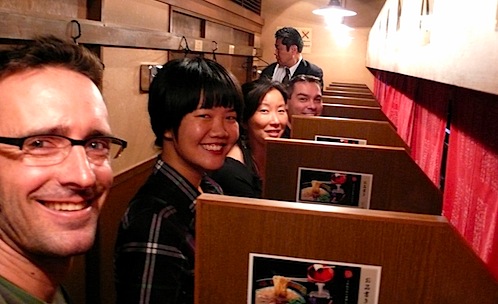 Out with Joy and Alex at our first Japanese ramen experience. You purchase tickets for your ramen via a vending machine, and you personalize your bowl of noodles by filling out a questionnaire, indicating how fatty you like your broth to be, how many green onions you want, if you want pepper flakes, etc. I felt like we were taking a ramen test! A server lifts up the red curtain in your stall, slides your ramen towards you, and you chow down in your own personal noodle-wrestling booth. No cheating allowed!
OK, but first: did you know that there are no street names in Tokyo? No, seriously. For real. Japan's capital city—a city of over 12 million people—has no street names. Why did we not know this?!? Joy kept explaining how to get to a destination with instructions like, "turn left at the love hotel that looks like a castle," "it's a few shops past the mermaid bar," or, even better, making us go out on her balcony and explaining the route with a bird's eye view of the city. We were getting increasingly frustrated and couldn't understand why she wouldn't just say "turn left at so-and-so street." Until we realized that there is no such thing as "so-and-so street."

View of Tokyo Tower from the Mori Building. At least that's easy to find—just look for the big red pointy thing.
Further, buildings are numbered in a totally random fashion—by the date they were built. So finding a restaurant or bar is usually a bit of an adventure—typically, you just get to the general area, and then you have to ask around to see if anyone can point you to your final destination. Then once you finally find your destination, the first thing you do is a grab a card (in case you ever want to come back—all business cards in Tokyo are printed with a map describing the establishment's location), and look around you, trying to sear the surroundings into your brain so you have some way of finding the place again (Is it next to a strange looking sign or statue? Is there a unique building across the street?). Jeremy and I found this process totally fascinating…I mean, what does it say about a culture when everything—including the location of your apartment—relies on context?
Making things even more difficult is the fact that very few people speak English here. Luckily, we are usually out with Joy (who speaks Japanese)…and when we're not out with Joy, we are out with Joy's instructions, which explain very clearly how to get from point A to point B. This makes the experience on finding stuff in Tokyo a lot less stressful than it could be. I have to admit, I don't miss being the only one able to speak the local language.

Despite the difficulties (which actually just make things more endearing), Jeremy and I quickly become enamored with this beautiful culture. In fact, we see a lot of similarities between Japan and Taiwan (which also hold a special place in our hearts)—particularly the fact that everyone is exceedingly polite and just plain helpful. In some ways (this is going to make my Dad have a heart attack), it almost seems like Taiwan would have an easier time (culturally, anyway) merging with Japan than it would with China.
But it's the little things that make us really fall hard for this country: the fact that most of the ice cubes in Tokyo are hand-chiseled (really, they're gorgeous). The elaborate toilets. The beautiful manhole covers. The amazingly fashionable people (women in Tokyo can give you a serious ugly duckling complex, especially when you're wearing Keens). And yes, the sweet, sweet silence. Of course, it doesn't hurt that the food is incredible.
Yes, I think we're going to like it here.

Oh Shanghai…sweet, sweet Shanghai. Actually, as a city, we weren't that fond of Shanghai (more on that later), but we were nonetheless relieved to be back. You see, Shanghai was the final stop on the first leg of our China tour. We had been in the country for almost a month, though it felt like much longer since we saw so darn much. We will return to China via to Beijing in the near future, to explore the northern and possibly western side of the country for another 3 weeks. But in the meantime, we've got a two-week stint in Japan. And quite frankly, we're ready for the break.
While it has been incredibly interesting from a cultural perspective, traveling around China isn't exactly what one might call a relaxing experience. Just the day-to-day here requires a huge amount of concentration. Making sure you don't get spit on. Keeping an eye on that lady who is clearly jockeying to cut in front of you and goddamn it, you are not going to let her slide in front because you clearly got there first! Trying to keep calm in the taxi when you're sure the driver is trying to kill you. Trying not to lose your cool when that woman trying to sell you a hotel room just won't stop following you. The constant cigarette smoke. The constant noise. Making sure you don't get robbed or ripped off. And doing it all in a language that is not native to you.
In some ways, I almost think that being able to speak Mandarin doesn't make it any easier for us than it is for someone who doesn't speak a lick of the language (though the challenges are different). At least people will try to speak the little bit of English they know if you look Western. But the thick regional accents, combined with my limited vocabulary, make every conversation a somewhat stressful experience. And of course, the fact that I am the only one who can communicate is not easy on either of us.
On top of all this, I never realized just how much my mood is affected by seeing a blue sky until I didn't see one for weeks. Out of the past 28 days, we could count on one hand the number of days we saw the sun or a blue sky. The quality of the air here is, without a doubt, dreadful. It's clear that the planet cannot continue to support whatever it is that China is doing to it. This is not a joke: if China doesn't shape up it's environmental act, this planet is doomed.

Yet another grey day in China. Taken in Chongqing, looking across the Jialing River from Jiefangbei.
So yeah, we were happy to be back in Shanghai, not only because it meant we might soon see something other than smog in the air, but also because we have family friends in the city, and there ain't nothing more comforting than a familiar face when you need a little perspective. We stayed with my grandparents' (Yeh Yeh and Nai Nai's) goddaughter Vivian Gugu, and once again, we got put up in a sweet apartment in a great location.
We also got to see my Uncle Jack and Aunt Grace, very close family friends of ours. My brother and I grew up playing with Philip and Michael (their sons), and our moms were best friends in Chula Vista. Now Uncle Jack and Aunt Grace are living in Shanghai, and they treated us to a lovely dinner. They haven't changed a bit, and it made me feel right at home to see their smiling faces.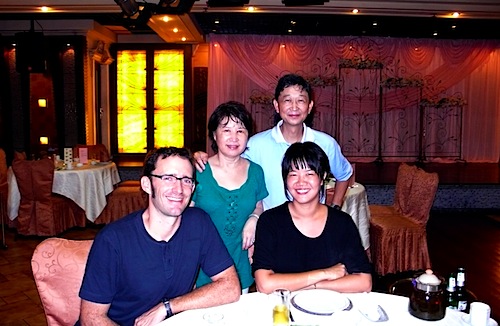 Since we had seen all the major tourist destinations around Shanghai the first time we were in the city, J and I took it easy, taking care of some business (we bought our Japan Rail Passes, which must be purchased before arriving in the country), but otherwise spending most of our time hanging out in cafes or checking out Shanghai's art scene.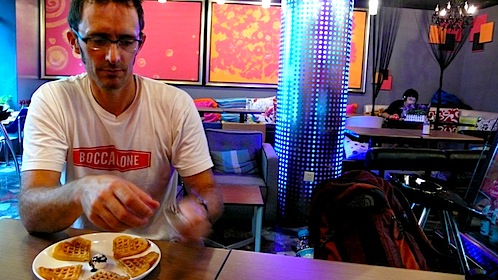 Shanghai has some great cafes, like this cool one in the French Concession area.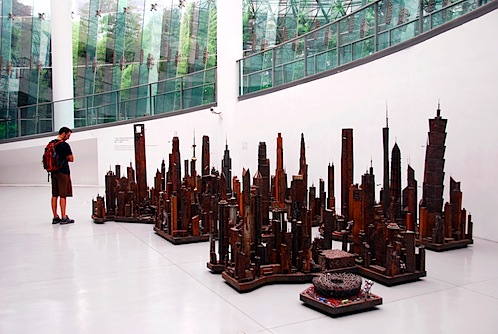 Cool walk-through sculpture consisting of all the major buildings in China, modeled using salvaged mechanical and electrical parts—it's meant to be a commentary on the environmental impact of China's rapid development.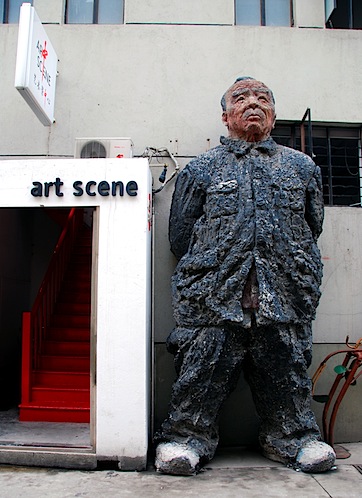 Vignette from Shanghai's 50 Moganshan Road Art Centre, a cluster of art galleries tucked away in a large, industrial complex. One friend described it as a "Disneyland for artists."
It was great to see friends and family in Shanghai, but in general, we weren't too excited about the city itself. It just sort of felt like a big, soulless metropolis to us. At this point we feel pretty adept at picking up on the "vibe" of a place quickly, but Shanghai felt a bit empty to us. It's hard to explain…it was just neither here nor there, neither rooted in the past nor a model of the future. I don't know, plenty of people like Shanghai, so maybe it just didn't gel with our personalities for whatever reason.
And China? Well, my initial reaction still holds true. Of all the countries we've been so far, China is the most relevant—it has been fascinating to witness firsthand this country's shifting economic and politic landscape. And China has definitely the most extreme culturally (at some point on our Yangzi River boat trip, Jeremy turned to me and asked, "Just what exactly IS considered rude in China?!?").
But we're a little worn out. And a little discouraged from having to keep our guards up all the time. Leave it to China to make us want just a little vacation from all this traveling.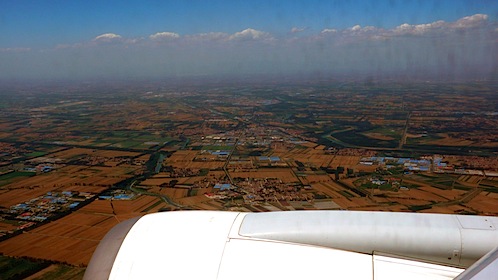 View as we fly into Beijing from Tokyo. Apologies for the dirty window!
Hiya! Just a quick note to let y'alls know that we've updated our route map! Our original plan was to fly to Jordan after China, but we just discovered that it's going to be "capital H" Hot there right now. So we've added London as a destination, mostly because we have friends there (and we've had such an amazing time visiting places where we know peeps!), but also to kill sometime while this planet cools down a bit (at least in the northern hemisphere).
Note that for all future destinations on our map, we've only added our flight points…for instance, when we're in London, we will actually be visiting Ireland and…some other mystery country (possibly Sweden because we have family there, but we are open to other suggestions if you've got 'em!), even though our map only shows that we will be in London for 3 weeks. Also, we show Madrid as a destination, but we won't be staying there long (if at all). Due to restrictions with our around-the-world tickets, we are just using Madrid as a jumping-off point to go to northern Africa (Morocco, possibly Tunisia). Our plans have been rather fluid as of late, and it feels right to make decisions as we go, so we just don't want to jump the gun and say we are going to be somewhere and then disappoint you later.

As a general guideline, here is our future travel schedule:
July 16 to August 10: London, Ireland, mystery country (possibly Sweden or Denmark)
August 10 to September 7: Turkey
September 7 to September 16: Jordan
September 16 to October 2: Egypt
October 2 to October 16: Morocco or Tunisia (via Madrid)
October 16 to October 30: Peru
October 30 to November 29: Argentina
November 29 to December 12: Chile
December 13, 2009: Home to San Francisco!
Also, we've added all our stops in Asia to the map so you can see all the places we've been so far! Enjoy!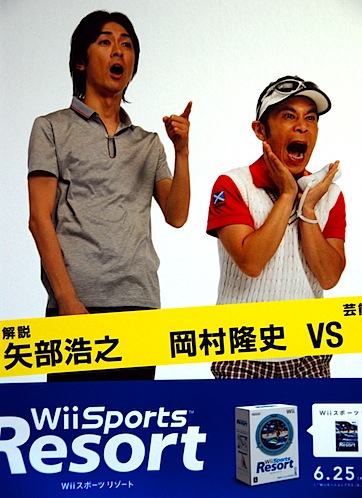 This photo has absolutely nothing to do with any of this, it's just a really funny ad we saw in Japan. Totally made my day…hopefully it will bring a smile to your face too!
"China is kind of gross."
This is what Jeremy said to me after our 64 hours on a Chinese boat followed by 5 hours on a local bus. This is not to say our cruise down the Yangzi River (which, strangely, is actually called Chang Jiang in Mandarin…you'd think it would sound more like "Yangzi") through the Three Gorges wasn't fun. In fact, in some ways it was the most memorable and amusing experience we've had thus far on the China leg of our trip, precisely because it was a crash course in Chinese sociology. It was a hilarious, frustrating, stinky, entertaining, and flat-out "this can only happen in China" kind of experience, and it's one that we won't soon forget (whether we like it or not!).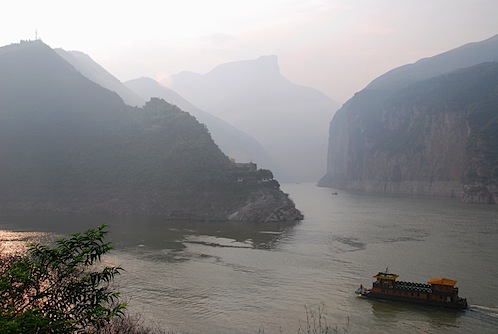 The first gorge: Qutang Gorge.
But let me start from the beginning. While we were in Chongqing, my aunt's friend Huang He helped us arrange our cruise down the Yangzi…and by "helped," I mean "did all the work." So we had even less of a clue than we usually do when it came to logistics: what would our boat look like? Where would we be going? Will there be enough food? All we knew was that we were getting on the boat in Chongqing on a Thursday night, and we'd end up in Yichang on Sunday morning, followed by a bus ride to Wuhan. Little did we know we were in for almost 70 hours of a full immersion Chinese experience.
Boat trips down the Yangzi are not cheap, and given the price we were paying (a little more that 1000 RMB each, or approx. US$150), I knew that we were going to be on a budget boat. The boat itself was not too bad…a little run down, a little grimy in the bathroom, and a lot gross when it came to the carpet, but the sheets were clean, the AC was pumping, and there was a nice sun deck on the top floor of the boat, so we weren't impressed, but we weren't disappointed either. The one thing that would prove to be a problem was that the boat was clearly built for people are about 5′2″…both of us had problems fitting on the bed and Jeremy grew a full inch in the days we spent floating down the Yangzi because he hit his head so often on the doors, the shower head, even the ceiling (repeat: THE CEILING)! For the three days we were on the Chinese boat, we were 12FOOT4.
But for the dozens of other middle class Chinese tourists we were traveling with, the boat trip had very little to do with the boat, or even the Yangzi River. It seemed that the Three Gorges were just something to pass the time in between bouts of chain smoking, playing mahjong, and walking around in their underwear…you know, stuff Chinese people usually do on vacation.
But seriously, China has a way of making you realize just how socialized you are to the Western form of behavior. It challenges your ideas of what right and wrong are on a daily basis. And the country can demand respect—or at the very least, acceptance—of certain Chinese conventions and habits. In other words, China forces you to accept the fact that just because it's different doesn't mean it's bad.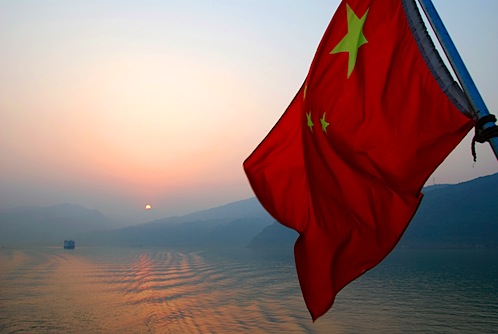 Yeah China! The sun sets on our second night.
On the boat, you can't hide from these quirks of Chinese culture, as we found out our first morning, when we were woken up bright and early by our tour guide…this is a Chinese tour after all, gotta have time to squeeze those 472 events into the day! As we came to find out, we had purchased entry tickets to all the sights along the cruise route (and additional 300 RMB or so, approx. US$44 each), but they weren't mandatory…many people opted to sleep in rather than get up at 6 AM to see this temple or that ghost town. Of course, those who didn't buy tickets to the morning excursions soon found that they couldn't sleep in anyway, since breakfast in the boat's dining room is announced with an ear-blasting, "GE WEI LU KE, WO MEN CAN TING ZHENG ZAI YU BEI ZAO CAN, WO MEN CAN TING ZHENG ZAI YU BEI ZAO CAN!!!," repeated over and over and over again on the loudspeaker (Translation: "GREETINGS GUESTS, OUR DINING ROOM IS NOW PREPARING BREAKFAST, OUR DINING ROOM IS NOW PREPARING BREAKFAST!!!).

Chinese tourists on a mahjong break. One of the many off-boat excursions we had…this one was a hike through a narrow gorge area.
Noise is pretty much a part of any Chinese activity, so that was to be expected. What can I say? Chinese people like a ruckus. Many of them would go nuts in a place like New Zealand, or in the American suburbs. What we didn't expect was so much underwear. Now let me get one thing clear: we got on the boat at 9PM on a Thursday night. By 8AM the next morning, there was already laundry hanging on the top floor sun deck. Yup, there it was: a whole family's underwear, flapping in the Yangzi breeze, on the shared upper deck of the boat. How is it possible that we have been on the boat for less than 12 hours and an entire family of four has already had to wash their underwear? When did they wear this underwear? Did they only bring one pair each? Or did they wait to do their laundry during their vacation? So many questions…and so much underwear! And it kept multiplying as the trip went on—there was underwear hanging in windows, on the railings, and of course…around the hips of many Chinese men with giant Buddha bellies. You gottta hand it to them—the Chinese sure know how to make themselves at home!

Underwear and other assorted laundry hanging on the upper deck of the boat.
Another aspect Chinese life transferred over to the boat as well: spitting. The spitting itself is not so much the issue, but the deep, sonorous snort that precedes it, followed by the hacking up of the fluids in question, culminating in the final (often messy) expulsion of the offending matter. And they spit everywhere, even places that seem like they should be off limits—in nice restaurants, on the carpet, and yes, on the Yangzi River boat.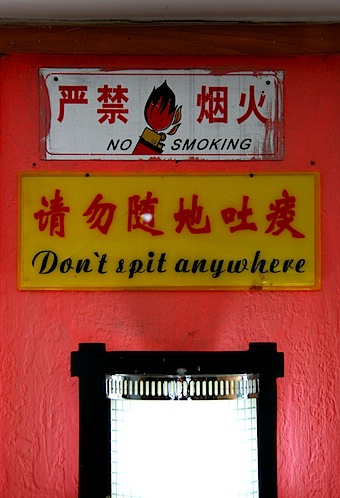 Signs on our Yangzi River boat. Hmm…I'm not sure they really needed to post those in English…
Thankfully, we weren't the only ones amused by the Chinese boat. There were a couple other Westerners on the tour as well…a nice couple from Denmark who were also on a year-long excursion (Michael and Janne), a cute German couple, and an 86-year old American who was backpacking his way through China (Richard)! The Chinese tour guides really wanted us to stay together so that I could translate for them…I think they were a little freaked out by all the Westerners on the Chinese boat, since a lot Westerners opt for the more luxurious cruise lines. We had a wonderful time hearing about Michael and Janne's year-long trip (their second! The took a year off when their kids were young to camper van around he US and Mexico), and Richard's wild adventures (the man has been to 123 countries in his lifetime!).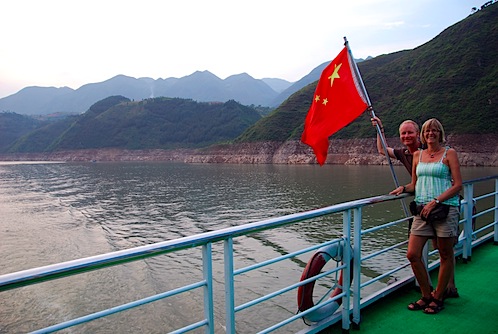 Michael and Janne, around-the-world travelers from Denmark.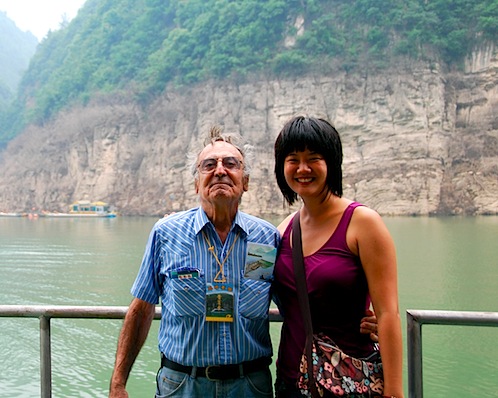 Me with Richard, the spunky 86-year old backpacker!
So many of you are probably wondering: OK, enough about the Chinese (and non-Chinese) people, what about the actual boat trip? Honestly, the Three Gorges became almost secondary for us too, as we soaked up this Chinese immersion experience. But some aspects of the trip are definitely worth mentioning, so here goes.
As you've probably heard, the Three Gorges Dam project was extremely controversial…it basically displaced 1 million Chinese people (which, quite frankly, is a drop in the bucket for a country of 1.3 billion), not to mention the environmental impact. We were really interested to see if the gorges could still be considered stunning, even if they were essentially 500 feet shorter than they used to be.
The short answer? Yes and no. The long answer? Yes, they are still stunning, particularly the Little Three Gorges (despite the copious amounts of litter we observed). But our favorite was Xiling Gorge, the last and longest gorge, even though Lonely Planet describes this as the least impressive of the gorges. I suspect our experience with Xiling had more to do with the fact that the atmosphere was quite clear and the sun was setting as we went through this gorge (cloaking the surrounding mountains in a beautiful, misty light), rather than with the actual topography of this area.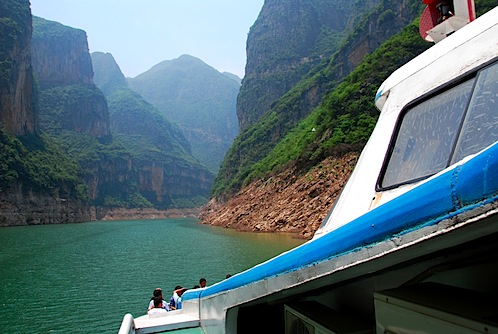 Traveling through the Little Three Gorges.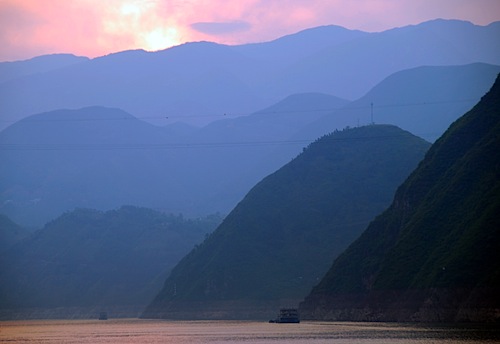 Xiling Gorge at sunset.
Despite the beauty of Xiling and the Little Three Gorges, there were some not-so-beautiful aspects of the trip that you couldn't ignore (besides the underwear). I thought that as we drifter further away from Chongqing and deeper into the countryside that the air quality would improve. Not so. A heavy smog followed us the entire trip, and only lifted for a few brief moments as we passed through Xiling Gorge. And even though the water in the Little Three Gorges was much cleaner than it was elsewhere along the Yangzi, you couldn't ignore the trash floating on the surface, or the dead fish (I am not sure if this was due to pollution, or if a fishing boat had recently passed through the area). There were huge coal repositories on either side of the river, waiting to load up passing barges, and also depositing huge amounts of coal into the river. And lastly, new, generic towns had sprung up all along the Yangzi riverbanks, I guess to replace the villages that were underwater. But it seemed to us that these towns, filled exclusively with bathroom-tiled high rises, were completely empty. Perhaps they were rejected by the Yangzi's previous residents? Or maybe these towns are an "if you build it they will come" type of experiment by the Chinese government? In any case, we found it odd to see so much construction, and yet so few residents.

Trash floating in the (comparatively) clear waters of the Little Three Gorges.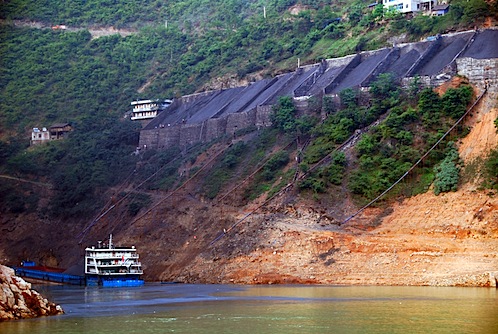 Barge getting filled with coal.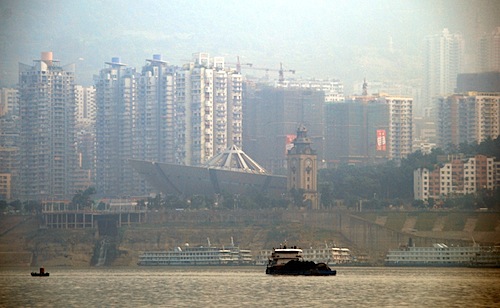 Anonymous town along the Yangzi River.
The Three Gorges river cruise was definitely worth the time and expense for us. We met some wonderful new friends and got a crash-course in Chinese culture. But we did hit our limit…Jeremy on the final morning of our boat trip, when the thick layer of cigarette smoke at 6 AM just got to be too much, and me on the 5 hour bus ride to Wuhan, when the locals kept closing all the windows despite the 90 degree heat…and then coughing without covering their mouths (Hello! Ever hear of a little thing called swine flu?!?). But let's not forget that the highs and the lows are what make any travel experience memorable, and we got more than our fair share of dips and peaks (and spitting and underwear) on this excursion.
A couple more images from our trip: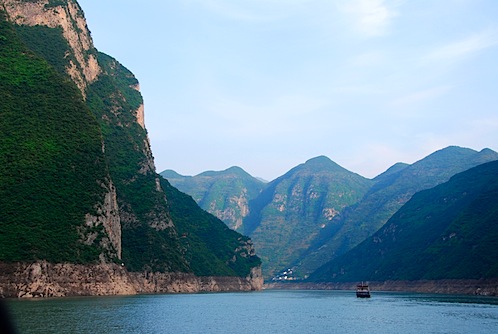 An extremely rare blue-sky moment as we pass through Xiling Gorge. The water level has been quite low recently…you can see how high the water line normally is on the mountains surrounding the river.

Our first off-boat excursion was to a "ghost town," named Fengdu or Gui Cheng. It had an extremely strange set of statutes, like the one pictured above.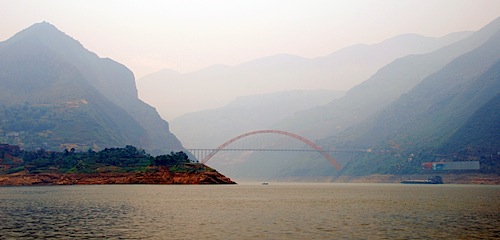 The entrance to the Little Three Gorges.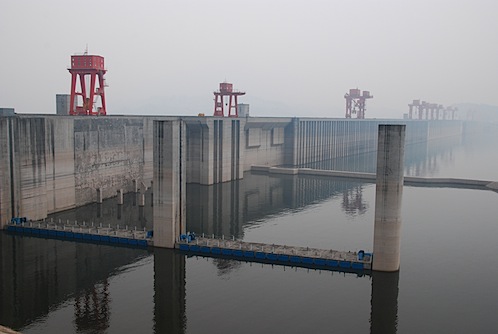 The actual Three Gorges Dam. Somewhat disappointing in person, because you cannot get close to the dam for security reasons. Plus, the smog and fog were extremely thick that day…we couldn't even see the other end of the dam!
As I mentioned in my previous post about Chongqing, we came here for the boat trip, but we stayed here for the people…my aunt's peoples, that is. Not only were we set up at my aunt's sweet apartment (she is currently living in the States with my uncle), but she had at least 3 sets of friends/family watching out for us, taking us out to dinner, paying for everything (as is the Chinese custom) despite numerous protests, and generally bending over backwards to make sure we were comfortable and having a good time. And here we thought our five-star days in China were over once my parents left! Jeremy and I have been amazed time and time again on this trip by (1) the number of extended friends and family we have around this world…who knew?!? We sure didn't!, and (2) the generosity we've been shown by people who have only the most tangential connection to us (In fact, I've only met my aunt twice! She only recently married my uncle). Note to selves: become better hosts when people come visit San Francisco. We have some serious karma to pay back. Thank you, World, for taking such good care of us.

View from my aunt's apartment of the Jialing River.

Same view at night. Chongqing is really spectacular once the sun goes down…you can't see the smog and the lights along the river are sensational.
When my aunt's friends Huang He and Jiang Su came to pick us up at the train station, I figured we'd go out to dinner once, and maybe get a few tips from them on what to do around Chongqing. We quickly came to find out that between Huang He, Jiang Su, and a few other friends/family (Qing Hong and Wan Jian), we had activities planned for each day, we would be treated to dinner every night, and our plans for the Three Gorges Yangzi River cruise would be taken care of for us. Apparently, it takes a village to care for 12FOOT3!
We spent a couple of days under the care of Qing Hong, who coordinated a driver to take us to Ciqikou, a preserved and restored village with a main drag set up with shops and food stalls for tourists. We were there on "Kid's Day," (an national holiday in China), and there were tons of adorable tykes wandering around, reveling in their special day.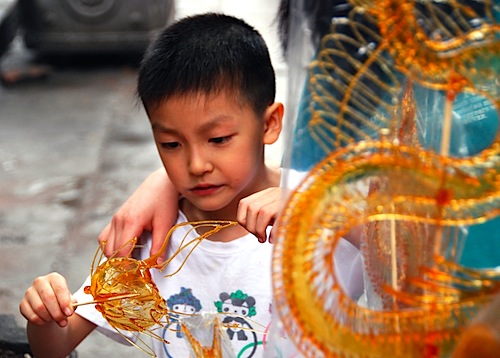 Kid at the candy vendor. You spin a wheel, and whatever animal you land on, the candy man draws that animal out for you in candy glaze. This little guy spun a cuttlefish (I think). Mmmm…cuttlefish candy…
Baolun Si is the only remaining temple in Ciqikou, and we stopped by to pay our respects and light some incense for our ancestors.

Jeremy lighting a candle at Baolun Si in Ciqikou.
For a tourist village, Ciqikou is pretty amusing…we enjoyed ourselves as we walked the main drag, gawking at all the specialty food (rice steamed inside a bamboo pole, cotton candy in the shape of a flower) and random carnival games (sweet little Chinese teenage girls shooting rifles at balloons, little kids riding mechanical elephants). The nicest part of the town, however, is the quiet back streets, where people actually live and Ciqikou is still a functioning village.
The following day, we were accompanied by Wan Jian (my aunt's younger brother), who started off the day by taking us to Chongqing's "Good Eating Street," (Hao Chi Jie) a small pedestrian street full of local food stalls. Chongqing is most famous for one flavor: spicy! In fact, their version of spicy is called ma la, or "numbingly spicy." Interestingly, it is not the chili that makes your tongue numb, but the addition of this small round spice that looks almost like a peppercorn. We weren't crazy about the feeling…imagine eating a bowl full of spicy noodles after your dentist injected your with a local anesthetic. That's pretty much what eating a bowl full of ma la noodles feels like…which is not to say the noodles weren't good, or even spicy, it's just…weird.
Wang Jian was really eager to feed us, and he ran around the food court area collecting different snacks for us to try. At some point, he came back with three skewers, which he told us were duck intestines, duck tongue, and duck heart. Awesome! Just what I was craving…some good ol' roasted duck parts on a stick.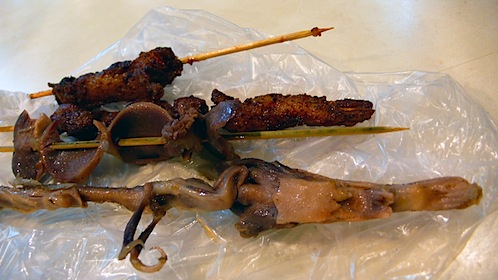 This is duck tongue. On a stick.
The duck intestine and duck heart were fine, as long as you didn't think of what you were eating. But the duck tongue. Oh man, I just…Could. Not. Do. It. The texture was waaay too much for me. I told Jeremy, "I feel like I'm frenching a duck!" But given that Wan Jian was so excited about showing us his hometown's food, we couldn't just leave the tongues sitting there. So Jeremy took it for the team and nibbled down a few tongues while I stuck to the hearts.
That night, Huang He and Jiang Su treated us to dinner. They knew that we wouldn't be able to handle truly spicy Chongqing food, so they looked for a restaurant that specialized in more mild fare. Jiang Su asked me if we ate ge zi, and I was like, "sure!" I had heard that word before, but I couldn't remember what it was…so I pulled out my handy iPod Chinese dictionary, typed in the pinyin, and what do you know, ge zi means "pidgeon or dove." I'm sitting there in the back of the car on the way to the restaurant thinking, "please let it be dove, please let it be dove…please don't tell me we're about to eat some pidgeons…" And sure enough, the restaurant is decorated with white dove icons all over the walls and ceiling. So Jeremy and I have chosen to believe that we ate doves that day, and not the pidgeons that you see running around on the street in Chongqing.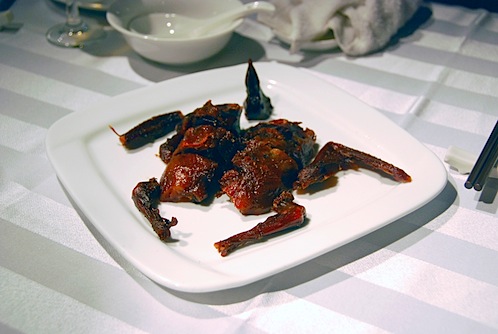 I feel like ge zi tonight!
Ge zi is apparently a Chongqing specialty, and the people here think that it is particularly nutritious and good for your body. And I have to admit, it was good…it just sort of tasted like a cross between a duck and a chicken. Again, just forget for a moment what you're eating…or try to think of it as doves instead of pidgeons.

To complete the trio of scary meals we had in Chongqing, Qing Hong and a bunch of her friends invited us out to hotpot the following night. As you can imagine, Chongqing puts the "hot" in "hotpot." As soon as you walk in the door, the hotpot is an assault on the senses. You can smell the spice. You can feel the spice (it starts stinging your eyes). And you can see the spice (an enormous, boiling vat of liquified peppers).
In spite our wussy American tongues, Jeremy and I put in a pretty good performance at this dinner. We ate almost everything that was put in front of us, without even "washing" the boiled meats in water (as Qing Hong and her friends suggested we do if the food was too spicy). I have to say, this was no small feat for us, especially since about 90% of the stuff they put into the hotpot was intestinal in nature. I'm used to eating hotpot with sliced pork, lamb, tofu, cabbage, and mushrooms. This was no soft, pansy hotpot like the stuff we eat at home…we're talking liver and entrails and pig brains (yes, pig brains!!!) here. The scariest thing for me was the green, hairy cow stomach (you can see it in the photo above on the bottom left). Someone pass the heartburn meds.
I have to admit, Chongqing was the one place so far on the trip that we were too scared to eat the street food (besides Chiang Mai, where we had issues). This had nothing to cleanliness, and everything to do with spiciness. Seriously, the people here eat stuff that would make most Americans' heads explode.
Despite all the scary food, we had a wonderful time in Chongqing. I feel like we really got a sense of the place and it's people. Even though Chongqing is not really a tourist destination, it was super interesting to see all the development here and we had a wonderful time meeting all my aunt's friends. Traveling around China can be really hard and stressful, and it was really nice to be taken care of and to feel like someone was watching your back. Jiang Su even took us to the ghetto pirated DVD store, where we got taken up into the hidden back room so we could check out the newest releases from the States. Now THAT'S what I call care!
But seriously, at a time when I was still feeling disappointed at my peoples for our Yangshuo experience, I was reminded that the best parts of Chinese culture still persist. Chinese people will still display extreme levels of generosity, all the while making you feel like it is something they are happy to do. They still want to show you the wonder and beauty of their hometown (even if that beauty is in the form of a duck's tongue or a pig's brain). And they still bend over backwards to make two vouched-for strangers feel like they have a home away from home.
Some more images from our time in Chongqing:

Hong Ya Dong, a restored "old Chongqing" housing complex, which is now a tourist shopping complex.

Liberation Monument, the cultural center of Chongqing.

Dazu Caves, an 800+ year-old Buddhist sculpture grotto outside of Chongqing. See more of our photos of the Caves here.

Jiang Su, me, J, and Huang He in front of the Yangtzi River.