Galleries
Ever since I caught the travel bug on my first trip to Central America, I have wanted to visit Thailand. Something about the place held my fascination, though I had but a few expectations before we arrived: that the land would be beautiful (it is), that the people would be peaceful (they are, though the protests right now may suggest otherwise), and that the food would be good (well, you know where we stand on that issue). It's funny, though…traveling to a new country can be just like shopping from a catalog, you never know if something is going to fit unless you try it on. Despite the beautiful landscape and the gracious people, I have to admit that we left a bit disheartened by some (definitely not all) of our experiences in Thailand. I think it has to do with the fact that there are so many Western tourists in the country…but before you throw up your hands and say, "Oh, Hope and Jeremy didn't like Thailand because it's too touristy," let me explain. It's not the fact that there are so many Westerners here, I mean, if that's the case, then shame on us for only adding to the problem, right? Rather, it is tourism's effect upon the local people that didn't sit right with us. Perhaps it's because so many party people and sex tourists come to Thailand, or maybe Thais are just tired of working so hard to embrace the hordes of travelers coming to their country and not getting anything out of it. We found it difficult (in some places) to connect with locals beyond the standard service-industry interactions, leaving us discouraged and a little depressed. To be clear, I don't blame Thai people at all…they are more than polite and accommodating towards travelers in their country. Rather, I think it is just a social condition that has manifested itself as a result of a few wayward Westerners treating parts of Thailand like their own personal playground.
That being said, I do want to point out that we had a wonderful time with Oak and his wife in Bangkok. I mean, this is a guy who told us (as we were leaving his house for the airport), "You know where your home in Bangkok is." We know that it's not every day you encounter that kind of open-heartedness and generosity. So even if Thailand could taste a bit sour at times, we were also left with a sweet taste in our mouths from the experience.
Days spent here: 19
Places we visited: Bangkok, Krabi, Ko Lipe, Chiang Mai
Places we would like to go next time: Similan Islands
Prices: With the exception of Chiang Mai (which is super cheap), we found Thailand to be quite expensive, especially in terms of accommodation. One of the worst rooms we stayed in in SE Asia (in Krabi) was also one of the spendier ones (at US$18.50 per night), and the most expensive room we stayed in all of SE Asia was in Ko Lipe (at US$26 per night). Food in Thailand can be quite cheap, however, as long as you like pad thai and fruit shakes.

Weather: The weather was beautiful while we were in Thailand. It was hot and dry in the south (at the end of January), and hot and humid in the north (mid-March).

Sunrise over Ton Sai beach in Krabi.
In order to deal with the heat, Thais (apparently) bathe several times a day. They also use baby powder to keep themselves dry, and the options are amazingly broad. There are baby powders with cooling agents, baby powders that help control acne, baby powders that shimmer, baby powders with deodorant…the list goes on. We tried the baby powder thing and we have to say, it is quite refreshing!
Transit: We traveled in Thailand on plane, mini-bus, boat, and train. Mini-buses in Thailand are not the holy terrors that they are in Vietnam…we enjoyed a very comfortable 5-hour ride from Chiang Khong to Chiang Mai via mini-bus transport. Similarly, the train from Chiang Mai to Bangkok was very comfortable, but try to get a bottom bed, as they are much wider than the top berths.

Settling in for the night. On the overnight train from Chiang Mai to Bangkok.
Internet: Wi-fi connections in Thailand are plentiful, though we always had to pay for access (usually between 30 and 50 baht per hour: approx. US$0.85 to US$1.50).
Culture: Thailand is a very Buddhist country, which accounts for the peaceful nature of its people. There are many opportunities to do 10-day introductory meditation retreats at Buddhist monasteries here (which we really wanted to do but alas did not have time for). If you do decide to take part in one of these courses, be prepared to sleep on a concrete bed with a wooden pillow, wake up at 4AM, and deal with rats, snakes, and mosquitos (Buddhist monks do not believe in killing any living creatures, so rodents of all sizes can take safe shelter at their local monastery). Also, you are not allowed to eat after noon (this tenet in particular scared Jeremy).
The other person (besides the Buddha) that Thais worship is their King. Oh my god, do they love their King. You cannot walk a block without seeing his face. Every little hole-in-the-wall restaurant has a small shrine devoted to him with shells and flowers and stickers decoupaged around his portrait. His face is all over their coins and bills, and it Thailand it is against the law to step on money, since to do so is to disrespect the King. By the way, as far as we could gather, the King's role is sort of like the Queen of England—purely ceremonial.

One of our taxi drivers stapled a portrait of the king to his car's visor. So cute!
The final bit of Thai culture that I wanted to mention is the wai, the standard way of greeting people in Thailand. Basically, you hold your hands together in front of your face and say, "sawatdee" ("hello" in Thai). If someone wai's you, it is polite to wai back, though the position of your hands does matter. It seems that wai'ing so that your fingertips are touching your forehead is a sign of utmost respect, but when in doubt, just make sure your fingertips are right underneath your nose. Hold your hands too low in relation to your face, and you risk offending someone.
In short: I don't mean to be too negative about Thailand…in fact, if I think back to the places we visited, we liked all of them and had a really nice time in each location (especially Ko Lipe). It's just that you can feel the effect of tourism in Thailand more than in other SE Asian countries. I guess it was the surprise of encountering this reality that threw us a bit off balance.
Check out our photos from Thailand:
If there is one thing you won't want to do in Laos, it's rush. We really didn't get to spend enough time here or see that much of the country, but we were in Laos long enough to get the flavor of the place. And what exactly does Laos taste like? Dust. Sticky rice. Tranquility. Shyness. Noodle soup. Divinity. Poverty. Beerlao. Golden sunsets. And, if it is possible to taste such a thing, the flavor of time standing still.
Day spent here: 7
Places we visited: Luang Prabang, Luang Nam Tha
Places we would like to visit next time: Southern Laos, especially Champasak and Si Phan Don
Prices: We found the prices in Luang Prabang to be quite high. It is possible to find cheap accommodation and food, but it's no fun eating at the market every night. Every so often, you want to eat in a restaurant, and in LP, that can set you back about US$5-10 per person. On the other hand, Luang Nam Tha was quite cheap…we paid 60,000 kip (approx. US$7) for our room, and dinners at the local restaurant were only about US$3-5 each (even cheaper for a bowl of noodles at the LNT night market).
Similar to Vietnam, prices in Laos are often quoted in US dollars, though you can pay with dollars, kip, or even Thai baht. The exchange rate was US$1 = 8,500 kip.
Weather: While we were in Laos (early March), it was nothing but HOT. There was not a whisper of wind to speak of, and combined with the smoke in the air, it made the heat very oppressive.
Transit: We traveled only by public bus in Laos…there were no other options to the areas we were headed (Luang Prabang to Luang Nam Tha, and Luang Nam Tha to the border town of Huay Xai).

Village kids running to gawk at us on the public bus. Somwhere between Luang Nam Tha and Huay Xai.
Laotian public buses are old are they are notorious for breaking down, though luckily, this never happened to us. The roads are not exactly in the best condition, so bus rides are typically very long and bumpy. Also, Laotian public buses do not have air conditioning, so the windows are left open, leaving you and your lungs covered in layers of Laotian dust.
Internet: Our free Internet spree ended once we boarded the plane in Hanoi. Wireless internet was available in Luang Prabang, usually for about 10,000 kip per hour. Connection speeds were quite slow, however. There was no wireless in Luang Nam Tha.
Food and drink: You have not had Laotian food until you have had sticky rice. It is served in a woven bamboo basket and eaten with the hands (you pull out a chunk, and pinch your meat/vegetables between the sticky rice).

Jeremy walking by some sticky rice cakes drying in the sun, Luang Prabang.
Otherwise, Laotian food is very similar to Thai food. Their rice noodle soups are tasty! Also, the bread in Laos is incredible. Vietnamese French bread is very airy, but Laotian bread is dense, more similar to the bread in France. For lack of a better way of describing it, the bread in Laos seemed more "gourmet." In Luang Prabang, we found these Laotian sandwiches at the market that were stuffed with grilled chicken, tofu, lettuce, cucumber, and then drizzled with sweet chili sauce. At 10,000 kip (approx. US$1.20) per sandwich, these sandwiches were our tasty, cheap, and filling lunch treats on many LP days.
Similarly, you cannot leave Laos without drinking Beerlao. That's not a command, it's an actuality…I am not sure if you an even get any other beers in small Laotian towns! It's cheap, too…about 12,000 kip for a big bottle which you can split amongst two (or not, depending on how much you drink).

Culture: Laotians are a very shy and reserved (but sweet) people. Coming from Vietnam, it can be both a positive and negative culture shock; positive because everyone pretty much leaves you alone (which is nice after being constantly harassed to spend your money on this or that in Vietnam), but negative because it is harder to get to know the people here. I think that's why it's a good idea to linger a while in Laos, it seems like the kind of place that grows on you (and vice versa). Unfortunately, we just didn't have enough time to spend here.
That reserved nature carries itself into the culture in other interesting ways…for instance, all around town (in both LP and LNT), there are signs posted in English explaining how Westerners should behave in Laos (i.e., don't point the bottom of your feet at Buddhas, public displays of affection are frowned upon, women should not touch monks, etc.). Laotians (or at least the government) seem very interested in preserving Laotian culture (though we've heard rumblings that this could be due to paranoia rather than any lofty cultural goals—apparently the government is ever-wary of the US invading its social, cultural, and governmental structures, even though most Americans would most likely not be able to point Laos out on a map).
In other ways, though, we found Laos to be quite progressive. Certainly the artisan culture is very alive here and we were pleasantly surprised by the quality and variety of souvenirs and trinkets aimed at the tourist market. Whereas in other SE Asian countries the offerings were limited to cheap plastic sunglasses and logo t-shirts, in Luang Prabang, we saw beautiful embroidered quilts, woven tapestries, and handmade books.

Textile weaver in Ban Phanom village outside of Luang Prabang.
In short: Most travelers probably love Laos because, unlike other SE Asian countries, the people will just leave you be and let you enjoy the country without their intervention. I will admit that Laos' peaceful nature is really seductive, but on the other hand, chance encounters with locals is what makes a place really special (for me anyway)—I treasure the opportunity to learn about their world through their eyes. Since Laotians are naturally more reserved, it can take a while to figure out how to get them to open up to you. I wish we had more time to spend in this lovely country, a week was not enough time to lure Laos out of its shell.
There's no point in beating around the bun cha: we adore Vietnam. There are so many scenes imprinted on my mind from this beautiful country: high school girls riding their bikes home as their white ao dai (traditional Vietnamese uniform of Chinese-like dress worn over pants) flap in the wind, the toothless man rowing his boat in the river near Hoi An's Old Quarter, smiling big for the tourist cameras, the ladies at the guesthouse in Sapa who hijacked my iPod for an hour and giggled as they zoomed in and out on our wedding photos. I can't speak for Jeremy, but I was positively entranced by the people in this country. Even though some of our experiences with the locals in Vietnam occurred under contrived situations (i.e., tours), I never felt as if there were any walls between us (whereas I have felt, in other SE Asian countries, the uncomfortable bargain that has been made between Westerners and locals—tired of too many disappointing experiences, both sides have limited themselves, almost exclusively, to the interactions within the service industry). Thousands of miles and different experiences separate their culture from ours, but I really felt that the people in Vietnam were genuinely interested in knowing us and, in turn, sharing with us their lives, their difficult history, and their view of the world.

High school girls riding home from school in Nha Trang.
Day spent here: 21
Places we would like to visit next time: the Central Highlands.
Prices: We found Vietnam to be very cheap in terms of both food and accommodation. We spent between US$6-15 per night on lodging, and a meal could cost as little as US$1.50. Prices seem to be higher in the north than they are in the south, with some of our dinners in Hanoi reaching up to US$10.
Almost everything can be bargained for in Vietnam. We didn't have a ton of luck bargaining over our accommodation, but you can expect that the first price quoted to you for clothing, taxi rides, and pretty much anything except for food and drinks is going to be about 2 (or sometimes 3) times the price you will end up paying for it.
By the way, I am quoting prices in US dollars, but the Vietnamese quote prices in both dong and dollars, though all payment is made in dong (you just convert the US price over to dong). The going rate while we were in Vietnam was 17,500 VND = US$1.
Weather: Vietnam is a surprisingly big country with many different climates. While we were there (mid-February), the south was swelteringly humid, while the north was quite cold. It was cold and rainy in Hanoi and foggy in Sapa. Central Vietnam was quite pleasant; Dalat, had a very pleasant mountain climate, with warm days and cooler nights. Bottom line, you can get a little bit of everything in Vietnam, which is pretty refreshing considering all other SE Asian countries have just one temperature: HOT.
Hotels: Each country in SE Asia seems to have minor differences in their hotel protocol; in Vietnam, you have to show your passport upon check-in (and sometimes the hotel keeps it, which can be unnerving at first). We stayed in some nice budget places in Vietnam…it seems that once you get into the US$10 and up range, the hotel rooms are clean, comfortable, and spacious. And, the hotels clean your room and make up your bed every day (not necessarily true in other SE Asian countries, where they only clean the room between guests).
Transit: Getting around Vietnam is quite easy to coordinate; there are travel agencies selling plane, train, and bus tickets everywhere you look. The quality of your train or bus is another matter entirely. It's a good idea to ask a lot of questions, and if possible, ask the agency to show you photos of the train or bus. We traveled into Vietnam by boat, flew (from Hoi An to Hanoi), took the train (from Hanoi to Sapa), bussed it (including an overnight bus from Dalat to Hoi An…more on that lovely experience later), and also did some short trips aboard minibuses (basically, large vans). We found plane and train travel in Vietnam quite comfortable. Our buses were nice about half the time, and not so nice the other half. Minibuses were basically torture on wheels (mostly because they shove about 3-4 more people than is comfortable into these small vans), and after a few bad experiences in the south, we tried to avoid them. Perhaps if you are small, minibuses would be a fine way to travel (but we're 12FOOT3).
Since Vietnam is so big, it can take quite a while to get from one destination to the other. For example, in order to get from Dalat to Hoi An, we had to take a 7 hour bus from Dalat to Nha Trang, get off the bus for about 4 hours, and then get back on an overnight bus that dumps you off in Hoi An at 5AM. So, you won't be surprised to hear that when we were faced with an 18-hour bus ride from Hoi An to Hanoi, we looked into other options. The train in Vietnam can be quite nice, and it can be a historical experience (with many people riding the famous Reunification Express). We opted to fly, since, at US$36, the flight from Hoi An to Hanoi was only US$6 more expensive than a sleeper car on a train (and about 17 hours faster). It pays to do your transit homework.

Travel within a city or town is quite easy, with motorbikes and bicycles for rent for cheap. We were only brave enough to join traffic in the smaller towns, though…you might want to have your head checked if you think driving a motorcycle or riding a bike in Saigon or Hanoi is a good idea. Not only are the drivers completely insane, but they carry incredibly dangerous-looking loads on their motorbikes (and continue driving as if they are unencumbered by an extra 40 kilos of stuff strapped to their bike). We saw many travelers who looked like they had been in recent motorbike accidents (with bandaged appendages and facial bruising). Um, no thank you.

You want to strap fifteen feet of stuff to my bicycle cart? No problem!
Internet: Awesome. We never once paid for access in Vietnam. There are open wi-fi connections everywhere. It's kind of crazy that internet access in SE Asia is more available than in Australia! C'mon Aussies! Time to join the, um, 1990s.
Food and drink: Oh man, Vietnamese food is sooo good. It's definitely simple, but that doesn't detract from its general awesomeness. Of course, pho bo (beef pho) is the one dish you cannot leave Vietnam without eating (and oh, did we eat it). The key is to order it with the beef half-cooked or rare (it will fully cook in the boiling hot broth), and accessorize the broth with the various sauces on the table.
The food in the north is definitely the best; we've already professed our love for bun cha and cha ca. Vietnamese sandwiches and chinese-style buns (which we only found in the south) were also quite good.
The Vietnamese are unapologetic carnivores and will eat anything. Yes, including dog (though we only saw this on the north). You can tell if a restaurant serves dog if its sign reads, "Thit Cho." We also saw restaurant menus including strange things like, "roasted camel," "field mouse," and "musk cat." Where the heck do you get a camel in Vietnam?!?
A young Brit that we met in Hoi An told us how he went to a cobra restaurant near Hanoi. They bring out a basket full of snakes, you pick the one that is going to be your meal, and they club it to death right there in front of you. Then they squeeze the blood out of it into a shot glass full of vodka, and you shoot it down. Intense.
We didn't partake in the cobra meal, but we did see cobra wine for sale. It is supposed to make the drinker "more potent" (whatever that means).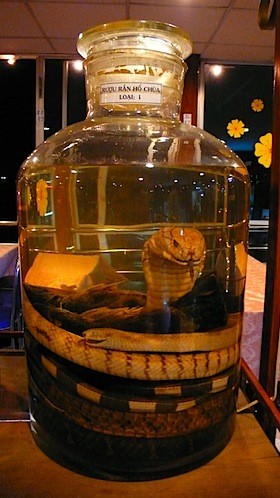 Cobra wine in Can Tho.
Another (less frightening) alcoholic drink in Vietnam is bia hoi. It is freshly-brewed Pilsener-style beer that is pretty much the cheapest pour you can find in the country (about 4000 VND, or approx. 23 cents per glass). It is quite tasty and surprisingly strong.
And we can't forget to mention Vietnamese coffee. Oh. My. God. So good and so, so strong. I usually had to dilute mine with about twice as much water. Once you've had that sweetened condensed milk in your rocket fuel, you can never go back.
Scams: We heard many other travelers complaining about problems they had in Vietnam, though we never experienced any. Most scams are related to transit. In Hanoi, it can be difficult to convince a cabbie to use the meter, but when our Aussie friends finally found a taxi driver who would use the meter, it was rigged to run about 3 times faster than it should have. They simply paid what the ride should have cost (after they got their luggage out of the cab), and left.
We've also heard stories of people agreeing on a price, and when they get to their destination, the cabbie insists that the fare was per person. There is a similar bus scam, where the driver stops in the middle of nowhere and insists on more fare to take you further. And, the most inventive scam (we think) is the one where a bus driver takes the longest and bumpiest route to a destination so that you are more likely to check into the overpriced hotel (that is no doubt "sponsoring" the bus driver) he drops you off at.
Again, we had no problems whatsoever and found Vietnamese people (except in Hanoi)

to be quite lovely, and more than willing to try to understand your silly pantomime communications. It's true that they are commerce-oriented, but we also found them to be curious and friendly even after the monetary transaction was completed.
In short: Vietnam is a gorgeous, varied country. Not only did we meet some fabulous locals here, but the travelers in Vietnam are super cool too! We would highly recommend Vietnam as a destination…it is, quite possibly, our favorite country in SE Asia.
Check out our photos from Vietnam:
Note: If you're wondering why we did not do wrap-ups for Thailand and Malaysia yet, it's because we are planning on returning to both countries towards the end of our SE Asia tour.
Days spent here: 7 (February 6-12, 2009)
Prices: We've heard a lot of backpackers complain that Cambodia was expensive relative to the rest of SE Asia, and we agree, though we didn't feel it was outrageously so. In Siem Reap, our hotel (Mandalay Inn) was one of the nicest we stayed in, and one of the cheapest. However, food was on the pricey side (US$3-8 for mains) and the pass to visit Temples of Angkor was definitely expensive (US$40 for a 3-day pass), plus it costs an additional US$12 to hire a tuk-tuk driver to take you into the park (for a full day). In Phnom Penh, our accommodation was moderately priced but not that nice (we paid US$14 for a room without a window)…we got less for our money here. Food was on the spendy side as well.
Places we visited: Siem Reap and the Temples of Angkor, Phnom Penh.
Places we would happily visit again: We LOVED the town of Siem Reap, and the temples just speak for themselves. Even beyond the majesty of Angkor Wat, the town itself was really charming and the people were so nice. Phnom Penh, on the other hand, did not share the same charm; it was sort of a generic SE Asian capital city (in our limited experience of it), and there were a lot of Western tourists, which created a limited set of interactions between foreigners and the local people.
Places we want to see next time: Kratie, where you can see river dolphins, and Sihanoukville, the one big Cambodian beach destination.
Food: Khmer food is good! It has the richness of Thai food but the freshness of Vietnamese food. We sort of tired of it by the end of our visit, but we basically ate Khmer dishes for an entire week so I don't think that reflects badly on the food. The one standout dish was "green soup" (not terribly descriptive, but that's what the menu called it), which we had at a food stall in Phnom Penh.
Dust: It's freakin' dusty in Siem Reap! When you're in the back of a tuk-tuk on the way to the temples, do as the locals do and tie a checkered Cambodian scarf around your face to keep out the dust and exhaust. You can buy these for about US$1 at the local markets.
Cambodia wins the "most family members on a motorbike award": It is VERY common to see an entire family of four or five on a motorbike in Cambodia. The typical configuration is this: oldest child (usually a toddler) in between the driver's (usually Dad's) legs, second oldest child wedged between Mom and Dad, and a baby in Mom's arms. These people grow up on motorbikes so they are very comfortable with the arrangement, though it is very shocking to us safety-conscious Americans.
Check out our Cambodia Flickr album