Posts Tagged 'summary'
I've been trying to find words that can capture the incredible affection we've developed for Turkey, and I'm afraid that nothing I write can adequately describe how amazing this place is. Like our three other favorite countries (New Zealand, Taiwan, and Japan), Turkey feels magical somehow. Maybe it's the jaw-dropping landscape, maybe it's the kind and generous people, maybe it's all that incredible art and architecture. Or maybe it's all three of those things. All I know is: this planet is a better place because of Turkey. Need we find more words than that?

Jaw-dropping landscape. Check.

Kind and generous people. Check.

Incredible art and architecture. Check and double check.
Days spent here: 28 (August 11-September 8, 2009)
Highlights: Heads up, mouths agape in Istanbul, boat trips in the Turkish Mediterranean, exploring surreal landscapes in Pamukkale and Cappadocia, getting off the beaten path in Eastern Turkey.
Places we would like to visit next time: Mardin, and more of Eastern Turkey. Also, we'd love to explore the Black Sea coast in depth.
Average daily expenditures (for two people): US$120/day
Prices: There are rumors floating around that Turkey is not really the bargain basement European destination it once was, and while that's probably true, once you get out of Istanbul, prices can drop dramatically. After a false start in Istanbul with THE WORST HOSTEL EVER, we moved to a much more pleasant place for €45 (US$60) per night. €45!!! (And that room was one of the cheapest we found.) As a comparison, we averaged about half that much for similar rooms in the rest of Turkey.
Food is also cheaper once you get out of Istanbul, but not as dramatically so. We averaged around $5-7 each for lunch and about $10-12 each for dinner. Breakfasts are usually included in the room price (see "Food" section below).
Museum and entry fees can pack quite a punch in Turkey (apparently all ticket prices doubled in 2008), particularly when you are charged to enter the complex as well as individual buildings within a site (ex. entering the Harem in Topkapi Palace), so choose your carefully!

Pattern overload in the Harem, Topkapi Palace.
Transport in Turkey is not dirt cheap, but it is an extremely good deal—you can bus halfway across the country (a 15 hour ride) in a comfortable, clean vehicle with stewards serving you tea and cakes for 55 TL (US$40).
Guidebooks we used: Lonely Planet Turkey and Tom Brosnahan's Turkey Travel Planner. After finding the LP indispensable throughout Southeast Asia, we were disappointed with our Turkey guide. It's perfectly passable if you are sticking to the country's most heavily touristed areas: Istanbul and the Aegean and Mediterranean coasts. But once you venture off that well-beaten path, information in the LP is either incorrect, incomplete, or (in some cases) incompetent.
Luckily, Turkey Travel Planner was able to fill in the gaps where the LP failed. Tom Brosnahan has amassed excellent information on destinations that are not quite as heavily touristed. We also found his posts on the best Turkish bus companies and travel during Ramazan very helpful.
Weather: We were in Turkey late summer/early fall, and the west and central parts of the country were HOT. There were rumors that the Mediterranean coast hit 40°C (104°F) after we left. Yowza!!! I can't imagine how stifling it must get in the dead of summer.

The Mediterranean coast's relentless sun.
The eastern side of Turkey was quite temperate, however, and at times downright cold (And rainy. And foggy. Oh yeah, and hail-y).
Overall, it was an excellent time to visit, since the temperatures were relatively moderate during this time of the year.
Food: Traveling through west and central Turkey, we found the food to be tasty, but quite repetitive. Three weeks of doner kebap with a side of lettuce, tomato, and cucumber two times a day will do that to you. Turkish breakfast is more of the same, minus the kebap. You can imagine how hard it was to go from an English breakfast every day to this!:

A typical Turkish breakfast: cucumber, tomato, feta cheese, olives (if you're lucky), and bread.
As soon as we hit the east, however, Turkish food improved dramatically, both in taste and in variety. We ate Turkish fondue in the Kaçkar Mountains (at a lovely little family-run place named Yilmaz Cafeterya—if you're ever in Ayder, you must go!), incredible lamb, yogurt, and eggplant dishes in Kars, and spiced ground beef with pine nuts stuffed inside a pastry shell in Van. So there you have it: east beats west. At least in Turkish cuisine.
Accommodation: We stayed in double rooms ensuite in budget guesthouses and pensions throughout Turkey and averaged about US$30 per night. Rooms and hotels in the east tend to be a little grungier than in west and central Turkey, but they are still adequately clean.
As I mentioned in a previous post, for the first time on the trip, we started going with the hotel touts whenever we arrived in a town (only in western Turkey—there were no touts in the central and eastern part of the country). Part of the reason is that touting in Turkey appears to be much more relaxed and low pressure (especially when compared to SE Asia)! We were never disappointed.
Transit: Turkish buses are amazing! Not only are they comfortable and clean, but little dudes in bow ties and cummerbunds serve you Turkish tea and cakes throughout the ride. Classy!

Turkish buses are nicer than this. We promise.
Internet: Every guesthouse we stayed in had wi-fi internet access either in the hotel or close enough to pilfer. The one exception was Ayder, though we were able to find a connection in the middle of town.
Culture: We've heard other people who've visited Turkey complain about how oppressed Muslim women are. We've heard solo women travelers complain about being sexually harassed. And we've heard tourists complain about being hassled at the markets.
I am sure all of those things are true. But if it wasn't already clear by now, let me spell it out for you: our experiences with the Turks left us confident that they are the nicest, most generous, most hospitable people on the planet. Turkish people are AWESOME. Capital A. Capital W. Capital E. Capital SOME. AWESOME.
In short: It bears repeating: the world is a better place because of Turkey. 'Nuff said.
We were totally charmed by Ireland, but for very different reasons than we expected. We thought we would be taken by the Irish landscape—Jeremy loves himself some rolling hills dotted with sheep—but it turns out we were even more taken by the feel of the place. We loved the strong musical culture. We loved the extreme differences between the severe weather and the warm pubs. We loved the people. And most of all, we loved those delicious, frosty pints. All of it conspires to create the most comfortable, cozy atmosphere that keeps you crossing your fingers for lousy weather so you can spend your days in the warm embrace of Ireland's fantastic pub culture (luckily, the weather delivers, most of the time).

Days spent here: 7 (August 2-9, 2009)
Highlights: We had a good time in all three places that we visited in Ireland, but the most charming moments to us involved a warm pub, jamming musicians, and a delicious pint of Guinness.
Places we would like to visit next time: County Cork
Average daily expenditures (for two people): US$205/day
Prices: No doubt about it, Ireland is expensive. Pub meals are spendier than simple meals in Japan. JAPAN! Accommodation prices are pretty much on par with the rest of Europe (expect to pay between €45-60 for a double ensuite at the budget end of the spectrum), but that doesn't make it hurt any less. And, of course, a pint of Guinness will put you back about €5—that's US$7.50 for a pint!
Guidebooks we used: None
Weather: It was cold and rainy in Galway, but pretty pleasant in Dublin. Of course, severe weather makes the pubs seem that much more cozy (after all, you probably wouldn't want to hang out in a dark pub all day if it was sunny and glorious out), so rain really isn't that much of a bummer!

The Burren: a cold, rainy, rocky landscape.
Food: Meat and potatoes baby! It's all about the carvery lunches: you get your choice of meat (usually a roast of beef, lamb, or ham), potatoes, and veggies, all smothered in gravy. It's like Thanksgiving everyday!

This guy has had one too many carvery lunches.
Accommodation: As you would expect, Ireland's accommodation is on par with the rest of Europe in terms of comfort and cleanliness. Just watch out for the late night partiers in Dublin. Outside of Dublin, homestays and B&B's are good value—but this type of accommodation is easier to find if you have a car.
Transit: We were very happy with the bus system across the country (having tried both GoBus and CityLink on the Dublin to Galway circuit)—just be sure to book ahead for the cheapest rate. Our one experience with Dublin's public transport train (DART) was excellent. Once you get out of Dublin, however, you'll probably want to rent a car to explore some of the Irish countryside. Too bad rental cars are so unreasonably expensive in Ireland!
Internet: We had wi-fi at Dunaras Village in Galway and at the Christchurch Apartments in Dublin (but not at the Jackson Court Hotel), so we had no problems staying connected.
Culture: The Irish are laid back, funny, and easy to talk to. You know what? I think the photo below says it all:
In short: You really don't need to try to "see" too much—all the best parts of Ireland are right there in the pub.
Color me humbled. Here I was thinking the UK wasn't exotic enough for two around-the-world travelers who just spent 6 months in Asia. But the beauty of cosmopolitan London, the romanticism of the English countryside, and the history and general awesomeness of North Wales did a lot to change my mind. Just goes to show, you can find whatever it is you're looking for in any country, as long as you remember to keep your mind open and your curiosity healthy.

We don't know what this building in the background is (we even asked some Londoners and they didn't know either), but it's pretty isn't it? Taken in Hyde Park, London.
Days spent here: 16 (July 16-August 1, 2009)
Highlights: hanging out with friends in beautiful London, storming castles in North Wales.
Places we would like to visit next time: Scotland, especially Edinburgh
Average daily expenditures (for two people): US$95/day in London (note that we did not pay for housing because we stayed with a friend); US$200 the rest of the time we were in the UK (including our rental car)
Guidebooks we used: Eyewitness London and Rick Steves' Great Britain. Honestly, we probably wouldn't have chosen these books for ourselves, but our generous host in London (Chi-Chi) had them sitting on her bookshelf so we were able to borrow them for free. Up until now, we have primarily used Lonely Planet guidebooks, and I guess we've grown accustomed to the LP's format, because we found all the photos and illustrations in Eyewitness London distracting. Just give us the quick and dirty info we need, Eyewitness! Rick Steves' book was much more useful, but it is obviously slanted towards older travelers. In one case, he recommended making a hotel reservation via phone, fax, or letter. Letter?!? Who writes letters?!?
Prices: No bones about it, the UK (and especially London) is expensive. Even with the sterling pound down in the currency markets, it still reigns over the crappy dollar. In particular, dining out will really hurt your pocketbook, with a pub meal in London running at minimum £10 (US$15). In London, you can keep costs down by (1) going to museums (which are free) and avoiding outrageously expensive tourist sights like the London Tower, and (2) making friends with someone who has a spare couch.

The excellent (and gorgeous!) Natural History Museum in London.
Accommodation can also hurt the budget. We spent between £55-60 (approx. US$90-100) for double rooms with bathroom ensuite.
Surprisingly, renting a car in the UK is quite cheap. Our week driving around England and Wales set us back a reasonable US$34 per day.
Weather: We were in the UK during summer, which we found quite pleasant! Of course, bear in mind that we came from China, where the heat and humidity pretty much defeated us, so we found the cooler temps in the UK quite refreshing. We had some rain but also some gloriously clear weather, and the days were nice and long (we imagine that winter in the UK might be a bit depressing, with darkness starting at 4PM and all).
Food: Nobody seems to believe us, but we swear it's true: British food is good now! It is still the case that walking into any old sandwich shop is not going to get you the best grub, but there are really excellent restaurants out there now (at all price ranges) that serve food on par with any other cosmopolitan city. In fact, we had some of the best salmon we've ever tasted at Chi-Chi's local pub in Chiswick (The Roebuck) for only £5 (about US7.50)!
And of course, despite the UK's bad culinary reputation, the English breakfast has always reigned supreme:

The glorious English breakfast: ham, sausage, fried eggs, fried mushroom, fried tomatoes, and beans.
Accommodation: We can't comment on accommodation in London, since we stayed with a friend, but it seems that B&Bs are the best value in the English and Welsh countryside. We stayed in a youth hostel in Wales and had to pay extra for breakfast and towels, which would have been included in the price if we stayed at a B&B.

Little Broom, our cute B&B in Maugersbury, near Stow-in-the-Wold, the Cotswolds.
Transit: In London, we got around on the Tube, and we generally found it to be excellent, with good coverage and easy transfers. Our one complaint: there seems to be no ventilation in the cars other than tiny windows at the beginning and end of each car. I know London's weather is typically pretty dreary, but we found the Tube stifling on days when the mercury barely busted 70 degrees!
For the rest of our week exploring England and Wales, we rented a car, which, at only US$34 per day, was quite reasonable considering how much everything else costs in the UK.
Internet: Like most developed countries, wi-fi is either locked or expensive, and sometimes both.
Culture: We only visited England and Wales, but there are pretty big cultural differences between the two home nations. In general, people in London tend to be like people in most big cities: rushed and at times dismissive (though Londoners have the added joy of being aggressive drunks). We also noticed that Londoners tend to think of everyone north of London as backcountry hicks. In general, we found the people in the English countryside and Wales nicer and friendlier than the people in London…but I don't mean to give Londoners a bad name. Our friend-of-a-friend Jonah and his girlfriend were really, really cool and they took us out to all these excellent off-the-beaten-path bars and clubs the night we went out with them. So while the average Londoner on the street might not strike you as overly friendly, they are excellent hosts and their distance might just be a function of the big city.

The ladies with the big hats going to a function at Buckingham Palace.
In short: Incredible architecture, historic sites, beautiful countryside, AND good food (yes, really)! We had a wonderful time in the UK!
Oh, the highs and lows of traveling through China! There were definitely some lows (see Qingdao: Confronting Identity in a German Town in China and Yangshuo: Anatomy of a Scam), but the peaks and the valleys seem to flow into one another so that you're no longer sure what hurts so bad and what hurts so good. Our Yangzi Three Gorges River Cruise is the perfect metaphor: we spent three days on a 4th class river boat with a bunch of half-naked Chinese people who only stopped smoking cigarettes, spitting, and playing mahjong long enough to follow a megaphone-wielding tour guide around in 100 degree heat. Yes, it was unpleasant at the time. But even now, almost 3 months after the fact, we bring it up in conversation almost every week and giggle at the absurdity of it all. It's sort of like running a marathon: when you're in the moment, you can feel blinded by the pain, but once it's over, you're really glad you did it.

Ladies at the market near Hakka House.

View of Jiefangbei from across the Jialing River in Chongqing.
As Jeremy put it, "of all the countries we've been so far, China is the one I would have most regretted missing." China is relevant, y'all. It is freaking fascinating there right now, a place where nothing stays the same for more than a few weeks, the government is still messing with people's civil liberties in exchange for making them rich, and people are spitting on the street in their US$500 Gucci heels. We think every Westerner should go. Observe. Learn. And see what a country of 1.3 billion people all working together to pull their country up by its bootstraps looks like. There's no place like it.
Days spent here: 43 (26 days in Southern and Central China, 17 days in the North)
Highlights: Huangshan, Yangshuo (for Jeremy), Yangzi River Three Gorges Cruise (somewhat painful, but also unforgettable), Beijing
Places we would like to visit next time: Western China (i.e., Tibet, Xinjiang, Jiuzaigou) and Mongolia
Average daily expenditures (for two people): US$213 for 13 days on our 5 star hotel/fancy eating tour with my parents (heavily supplemented by Jack and Wendy—thanks Mom and Dad!), US$120 for the remaining 30 days on our usual 1 star hotel/street food backpackers tour
Prices: China's pretty reasonable. Food is very inexpensive (from US$5-10 per person per meal) and accommodation can be pretty cheap too. On average, we paid about 200 RMB (approx. US$30) per night for a double room ensuite. We used hostelbookers.com and Ctrip.com to book our accommodation, and we got great deals using both websites.
Weather: Do yourself a favor and don't visit northern China in June or July, unless you like your searing heat with a dash of crushing humidity. Don't say we didn't warn you.
Language: There are 300 million people in China learning English right now—that's the same number of people that live in the US! But you wouldn't know it from traveling in this country. If you don't speak Mandarin, polish your pantomiming skills before you go. On the other hand, if you are a wai guo ren with Mandarin speaking skills, prepare to be worshipped. The people will fall all over themselves with delight.
If you do speak Chinese, be warned that you will need to overcome not only regional accents, but regional phrases as well (ex. if you are from Taiwan, you will call a spoon a tiao gen, but a Beijinger will refer to it as a shao zi). For instance, I had the following conversation with a person in Taishan (in Chinese, of course):
Hope: Excuse me, do you know if there is a pharmacy around here?
Random Person: A what?!? A pharmacy?
H: Yes, a pharmacy.
RP: I don't know. Why don't you go ask over there [points to a pharmacy], at the medicine store?
Oh yeah, and if you've ever been interested in visiting China, go now, before all the Chinglish gets wiped out.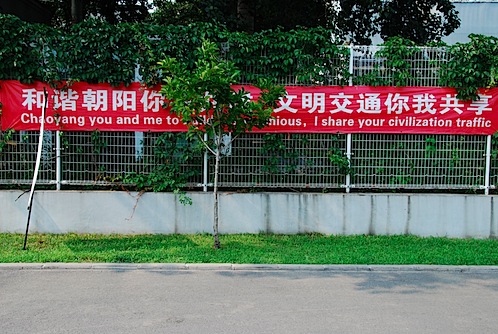 One day, China will be void of gems like this (reads: Chaoyang you and me to build harmonious, I share your civilization traffic)
Food: Outside of our eating tour with my parents and the food in Beijing, we weren't too impressed with Chinese cuisine. We said it before and we'll say it again: if you want the best Chinese food in the world, go to Taiwan.
That being said, China is a great place if your culinary hero is Anthony Bourdain. We got over ourselves really fast in Chongqing, where my aunt's friends took us out to meals involving pig brains, duck tongues, cow rumen, and various other intestinal elements. You can also try snake, turtle, or live scorpions. Yum?
Transit: China's got a pretty good rail system for such a big country. Chinese trains are not quite as nice as the trains in Taiwan or Japan, but they're not as bad as the trains in Vietnam, either. For long journeys, you can purchase tickets for a soft sleeper (most expensive), hard sleeper, soft seat, or hard seat (cheapest). Soft sleeper trains are pretty nice, with 4 beds in each room, AC, clean sheets, and relatively clean bathrooms. "Hard sleeper" sounds scary, but it's worth noting that hard sleeper beds aren't hard—the mattress is just a little bit thinner. The biggest difference is that there are 6 beds in the hard sleeper rooms rather than 4. Since J and I are tall, we usually traveled in the soft sleeper trains, which are still relatively cheap, even though tickets are 1.5-2 times as much as the hard sleeper carriages.
For information on routes, schedules, and prices, check out ChinaTravelGuide.com's fabulous online train schedule database.
The bigger cities like Shanghai and Beijing have subways, but Shanghai's subway system has pretty bad signage and confusing connections. Beijing's subway did not reach most of the sites in the city center, so we did a LOT of walking or took taxis. Luckily, taxis are very cheap in China's capital city, but you're going to have to speak Mandarin in order to get where you want to go.
Internet: Web access is great all over China—as long as the government isn't blocking the site you want to surf. YouTube, Flickr, Facebook, Twitter, and all blogspot sites got blocked for periods of 3-10 days while we were in China due to the 20th anniversary of Tiananmen Square and the deadly Uighur protests in Xinjiang. Annoying.
Culture: Get ready for a culture shock. Get ready for people constantly cutting in front of you in line. Get ready for men walking around in inappropriate places with their shirts hiked up above their nipples. Get ready for spitting. Get ready for half-naked babies pooping in the street. Get ready for smoking. Get ready for LOUD. That being said, once you figure out how things work, it's easy enough to deal with them.

Baby at the Summer Palace wearing the poop pants.
One fascinating thing about traveling through Taiwan and China is that we got a firsthand look at how differently these two countries developed culturally. The Taiwanese are exceedingly polite, aggressively helpful, and overly concerned about safety. The Chinese on the other hand, are rude and pushy, frequently uninterested in helping you, and some of the craziest drivers in the world. Now, you could point to many reasons for this cultural gap: the fact that it was the intellectuals and people of the upper classes that moved to Taiwan in 1949 to escape Communist persecution, the effect of 60 years of Communist rule on the people of China, etc. But I'd like to propose a different hypothesis: It's the sheer numbers. There are 57 times as many people in China as Taiwan. You would get CRUSHED in China if you were nice and helpful to people all the time. The result is, if someone vouches for you in China (as my aunt did, in our case), you get extreme, excessive kindness from people that you may only marginally know you. But those same people on the street may wave you off if you ask for help. Yes, it's a contradiction. But it's a fact of life here. All I can say is, try to make friends with a local. If you do, you will get the red carpet rolled out for you.
In short: It's not always pleasant, but that doesn't mean it's not a great time.
If you like your culture with a dash of comfort, or your peace with a little quiet, then Japan is the name of your travel game. Japan felt like an oasis in the middle of crazy, chaotic Asia, and we found a lot of similarities between the culture here and the one we fell in love with in Taiwan.
Over here at 12FOOT3, Jeremy is the nature lover and I'm the culture vulture, and Japan has got enough to keep us both happy. From fashion, art, style, and design in Tokyo to forests, flowers, and bamboo in Koyasan, (or the intersection of nature and culture in Naoshima), Japan has got it all. Go, and let us know what you think. We're pretty sure you'll love it too.

View of Tokyo Tower from the Mori building.

The Japanese countryside, somewhere between Osaka and Naoshima.

Days spent here: 19
Highlights: There wasn't a place we didn't like: Tokyo, Kyoto, Koyasan, Naoshima, Takayama—each big city or little town was fabulous in its* own way. Shirahama was a bit resort-y for our tastes, but since we were there before the start of the "official" beach season, it was empty and quiet. That, and the fabulous onsen on the beach, made it worth the trip.
* Hi Adam!

Sakino-yu onsen in Shirahama. The Pacific Ocean crashes over the wall into the cold pool.
Places we would like to visit next time: For us, it's less about where we'll go next time and more about when we'll go. We'll gladly return to Japan in spring (cherry blossom season), autumn (fall colors painting the Japanese maples), or winter (snow sitting on temple rooftops).

A taste of what autumn in Japan might look like. Taken in Okunoin cemetery, Koyasan.
Average daily expenditures: US$240 (Ouch! Though a good US$50 a day was due to our JR Rail passes.)
Prices: Yup, Japan is expensive. Food is expensive, accommodation is expensive (see the accommodation section below to find out why), and public transport is…guess what? Expensive. In return for parting with your hard-earned cash, you get fabulous food, a high level of comfort and cleanliness in the guest houses, and some of the fastest, easiest, and most convenient transport experiences you can find in this world. In other words, you get what you pay for in Japan. But be prepared to pay a lot.
Weather: We were traveling in Japan during the supposed "rainy season" (June), though it only rained hard twice (and then boy did it rain!). Most days were overcast, humid, but not too hot (maybe mid-70s to 80s?).
Language: Hey you out there! Yeah, you…the one who thinks all Asians look alike and wouldn't be able to tell a Beijing babe from a Tokyo Tomo. Well, guess what? You're off the hook for cultural insensitivity, because apparently Asians think all Asians look alike too. EVERYONE in Japan thought I was Japanese and would rattle on to me for several minutes before they caught on to my blank stare. I would have the following conversation with at least one Japanese person every day:
Japanese Person: Irashaimase! Tekka tekka tekka tekka tekka HAI! Tekka HAI! Tekka tekka tekka HAI!
Hope: Uh, watashi wa…
JP: [waiting patiently]
H: …nihongo ga…
JP: [still waiting patiently]
H: …wakari masen*. (Translation: "Um…I don't understand Japanese")
JP: Oooaawwaahh**! HAI!
* I had to learn this phrase immediately upon leaving Tokyo.
** Japanese people make the most amazing sound effects.
Food: Yo, it's good.
One thing I forgot to mention in my food post—some of you are probably wondering what the deal is with the $40 melon or the $60 grapes you hear so much about. It's not like Japanese people have to take out a second mortgage in order to eat fruit. Rather, these are gift items—a $40 melon is a token that shows your appreciation for the receiver of said fruit. See, everyone knows that THAT is the $40 melon, and the receiver will know it too.
Accommodation: A big chunk of your travel budget in Japan will go towards accommodation. Why? Well, in Japan, rather than paying for a room, you pay by the person. So if you are a single person traveling, you might get a room to yourself for ¥4000 (about US$40). But a couple staying in a similar room will have to pay ¥8000. That's just the way they do things in Japan. Them's the breaks.
Budget places tend to run between ¥3000 to ¥4000 (US$30-40) per person per night. So even a budget hotel will cost a couple US$80 per night. For that reason, Tokyo and Kyoto are a good place to try to use miles on hotels if your mileage program will let you do so, because housing is extra expensive in the big cities. You can also try JAPANiCAN, which often has great deals on accommodation.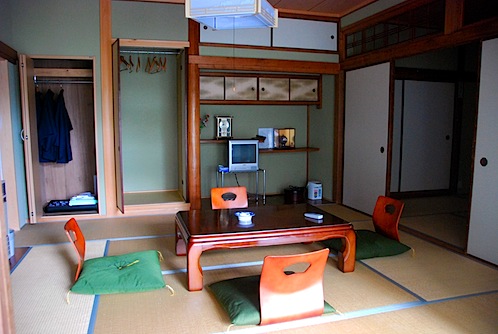 A typical Japanese-style room (though this one is quite spacious).

If you're traveling on a budget, you'll want to look for shukubo (temple lodgings), kokumin shukusha ("people's lodges"), and minshuku (the Japanese version of bed and breakfast, downmarket from the fabulous ryokan). Sometimes a minshuku will offer you a choice of Western or Japanese-style room. We always opted for the Japanese-style accommodation, which means your room will have tatami mats, a small coffee table surrounded by cushions or chairs (like the one pictured above), your bed will be a futon mattress stored in the closet and brought out at night, and your pillow will be stuffed with buckwheat.
Again, despite the high costs, you will get quality from Japanese hotels and guest houses—your room will come with a cute kimono-style robe, a tea set and hot water heater, and (if you stay in the Super Hotel in Kyoto) your choice of pillows (buckwheat, memory foam, or feather, of different densities and thicknesses). Plus a little Japanese atmosphere to boot if you choose the local style accommodation.
Transit: Japan's national rail system is really, really amazing. You can get to every corner of the country…and often at no additional cost if you spring for the JR Rail Pass. Granted, the pass is not cheap, but you definitely get what you pay for. The trains are super fast, efficient, ultra clean, and comfortable.


On the train from Takayama to Tokyo.
I know that Tokyo's Metro is supposedly a transit lover's dream come true, but we found it hard to navigate at times (seriously, the maps look like a pile of multi-colored noodles!).
Internet: As we've come to find on our travels so far, Japan adheres to the unwritten international commandment of "developed countries shall be stingy with their wifi." If our guest house did not have wifi, we could sometimes find an unlocked connection on the street. Of course, my iPod Touch chose to break down in this country, which made it even harder to keep up with friends and family back home. I ended up buying a new iTouch in Tokyo (interestingly, one of the cheapest places in the world to get one…but only by a little bit).
Culture: What you've heard about Japan is true—people are exceedingly polite. But Japan is also a rules-based society, and as our hosts Joy and Alex explained, you can ask a person for directions and they are so polite that they walk you to your destination—but ask them to do anything (ANYTHING!) that is against the rules or the process, and you're in for a long struggle. Put the mustard on the side? Substitute lettuce for tomato? I don't think so, Mr. Big Shot Rule-Breaker Man! The problem is, again, Japanese people are so polite that they won't just come right out and say "no." Instead, they'll talk around it…you'll get answers like: "that might be difficult" or "um, I will need to ask if that is possible." This cultural trait generally does not affect visitors much, but I imagine if you are a Westerner working in Japan (as Joy and Alex are), this can be really frustrating.

Schoolkids in Koyasan. Don't they already look like good citizens?

The other insight our ex-pat friends shared with us: you don't want to be around when a repressed Japanese person finally goes postal. Japan is exceedingly safe, but Joy admitted that the one time she ever feels scared in Japan is when someone is losing it. We saw a guy in Tokyo try to run another guy over at least 3 times (they were having some sort of argument).
The following video is really only tangentially related to the above topic, but it's pretty funny so I thought I'd share:

The point of this "game" is to pop the other kids' balloons mounted on their side of their helmet. WITH A STICK. About 12 seconds into the video, you can see one kid fall down and then all all the other kids start wailing on him/her.
The other well-documented aspect of Japanese culture is their obsession with the absurd. You've probably seen many examples of this, from Japanese game shows to useless inventions, etc. But the cutest example of Japanese weirdness has to be the raccoon dog. These little statues are everywhere, and they are called tanuki, a mythical creature that is jolly and mischievous. Our campsite in Naoshima even had a sign telling the raccoon dogs not to eat shoes or steal food (wish I took a picture of that)
Tanuki are characterized by their big pot bellies and get this—their humorously large testicles. I am not joking—there is even a schoolyard song about them:
Tan Tan Tanuki no kintama wa,
Kaze mo nai no ni,
Bura bura
Roughly translated, this means "Tan-tan-tanuki's testicles, there isn't even any wind but still go swing-swing-swing."
I got all this from the Wiki entry so it MUST be true.
In short: It's really, really lovely in Japan.
When we told people that we were spending two months of our trip in Taiwan, a lot of them had the same reaction: "WHY?!?" Many people couldn't understand why we would want to spend such a large portion of our of trip on such a tiny little island. Well, guess what? After two months on Isla Formosa, I can't think of a single reason why someone wouldn't want to spend two months or a year or maybe five in the Republic of China. I know that we've been effusive about several countries so far (New Zealand and Vietnam in particular), but I have to say that tiny Taiwan packs a big enough punch to (maybe, just maybe) take the "favoritest country" award. We LOVE Taiwan. Taipei is the only place so far on out trip where we can actually (realistically) see ourselves living for an extended period of time (as long as we bring a bike for Jeremy when we return), which says a lot about how highly we regard the place.

Sunset view from our apartment in Taipei.
At first I thought that I was perhaps a tad bit biased due to the fact that my parents grew up here, but given Jeremy, Kara, and Patrick's reactions to the RoC, I have come to a conclusion: It's Not Just Me. For a good month into our stay in Taipei, Jeremy was still turning to me daily to exclaim, "I didn't realize how good it was going to be here!" And he's right…the food is out of control, the people are incredible, and there is amazing natural beauty right in middle of Taipei. Most of all, Taiwanese people truly seem to live according to their values, and they work together to achieve a peaceful, orderly, and safe society. In short, we respect the way of life here, and the population that cooperates (without coercion) to make that way of life a reality.
But beyond all the high-minded talk about social values, Taiwan was a special experience for me in a personal way, too. I paid respects to my great-grandmother on Tomb Sweeping Day. I saw the town where my mother was born (Chiayi). I visited the city where my Dad went to college (Keelung). It's hard to explain, but I feel like I understand so many more details about my family now: where they get their habits, what motivates their decisions, why they taught me the lessons they taught me. Being in Taiwan was a big turning point for us, not only because we celebrated 6 months of travel here, and not only because we spent enough time here to really get to know the place, but also because we found another place on this big blue marble where we felt like we actually belonged.
Days spent here: 54
Highlights: Well, quite frankly, everything. But in particular, Alishan, Taroko Gorge, and Taipei. Oh yeah, and let's not forget the food.

In the Green Tunnel bamboo forest, Rueili.
Places we would like to visit next time: The south, and the islands.
Average daily expenditures: approx. US$75 (note that we did not pay for housing, though our classes were a big chunk of our daily expenditures)
Prices: Taiwan cannot be considered cheap by Asian standards. Food and transport are quite affordable, but clothing and other necessities can rival American prices. If you're not lucky enough to have grandparents who own an apartment in Taipei, housing can be spendy. Even the cheap hostels in Taipei charge at least US$30 for a double room (which is expensive given that similar rooms in SE Asia are between US$6-15). Once you get to the tourist towns outside of Taipei, however, homestays are an option, and are typically good value for the money.
Weather: In two words: totally schizophrenic. The first day we arrived in Taiwan, we pumped the AC in the apartment because it was so hot and humid outside. Two days later, we were wearing long underwear and down jackets. It seems that spring in Taiwan is not a gradual change from winter to summer as it is in other countries. Rather, the weather gods just decide that it's summer one day and winter the next, which can be quite confusing to both your body and your wardrobe!
Also, the weather forecast (in particular the forecasts from American sources like Google and Yahoo) are just straight-up wrong. If the Google forecast says that it there is a 100% chance of rain, prepare for heat. If it says that it will be sunny and warm, bring your umbrella and your long underwear. The nightly news forecasts are a bit more accurate, but they are still only right about 60% of the time.
Language: I won't lie, it would be somewhat difficult for a non-Chinese speaker to get around Taiwan, especially once you get out of Taipei. Kids here learn English for their college entrance exams, but when it comes to actual conversational English, well, let's just say communication can be difficult. Still, Taiwanese people are incredibly, aggressively helpful, so if you can't speak Chinese, they'll probably go looking for someone who does, even if they have to go way out of their way to do it.

T-shirts with funny Engrish. I've always thought girl is like honor design, don't you agree?
Transit: Taipei is a transit nerd's (ahem, Eddo) heaven. The bus system is cheap (NT$15 or approx. US$0.45 per ride), and routes cover the entire Taipei metro area (though they may be a tad slow for those in a hurry). The bus routes in Taipei can be a little bit difficult to figure out, as there are no English bus route guides. But if you know the name of the place you want to go, someone can help you figure it out. The seats in the front of the bus are reserved for the elderly, pregnant, or otherwise needy, and at times I found it quite stressful trying to figure out who was too old to stand and who was just fine without a seat. So, if you're overly-neurotic about being nice to old people like I am, just head towards the back of the bus.
An alternative to the bus in Taipei is the MRT (subway), which is fast as a whip, modern, super affordable, and ultra clean. Even the public toilets in Taipei Metro stations are impeccable, which we find astonishing (imagine going to the bathroom in BART or the NYC subway…ew). . MRT routes are not as extensive as the bus routes, but they are building new lines all the time (the line that will run on Nanjing East Road near my grandparents' apartment is scheduled to be completed in 2012).

Train schedule posted at Taipei main station.
If you want to get out of Taipei, a train ticket is, well, your ticket. Taiwan has two train systems: the high-speed rail (which can whisk you from the north end of the island to the south in 3 hours), and the regular train, which is still pretty fast but stops more often. We never rode the high-speed train in Taiwan, partially because tickets cost twice as much as the regular train, and partially because the high-speed train stations are often out in the middle of nowhere (which means a high-speed rail trip could end up taking the same or even more time once you factor in cab/bus rides to your final destination). The high-speed rail is built for a Taiwan that doesn't exist yet, one that looks towards the future, when urban sprawl finally reaches those fancy train stations out in the boondocks. In the meantime (meaning the next 10-15 years), the regular train will be just for us, thankyouverymuch.
Shopping: Taiwanese peeps sure like to get their shop on! Indeed, it seems more like a hobby here than just "something you need to do in order to get stuff."

Ximending, Taipei, where you can observe teenagers in their natural habitat.
The Taiwanese system of discounts can be quite confusing to Westerners. When Taiwanese shops have sales, they do not say "30% off!" In fact, the discount is marked in the exact opposite manner, as "70% of the price." I know, it's confusing! To add to the confusion, discounts are denoted with the character "折," which means 1/10th, or 10%. So a 30% off sale will be announced with a sign that says "7折."
And, good luck finding your size. Women in Taiwan are tiny; not just short, but skin and bones. I wear a 6/8 in the States, but an XL in Taiwan. A lot of cheap clothing sold at the night markets is "one size fits all," which is totally accurate if by "all" you mean "size 0." Still, there are good deals to be had for "big" girls like me, you just have to look.
Internet: Internet coverage in Taipei is great, as long as you purchase a WiFly card from any one of the 17 gagillion 7-Eleven stores they have in the city. You can get a card for NT$500 (approx US$15), which gives you access for a full month; WiFly has blanket coverage in Taipei (even in the subway!) so it's very convenient. Outside of Taipei, we had no problems with coverage either; our hotels/guesthouses usually offered access.
Food: I know, I know, I've already written a novel about the food. But I just have one more thing to add, OK? So just bear with me.
Wanna know why the food is so good in Taiwan? I mean, besides the fact that the climate makes for some of the freshest veggies and the juiciest, sweetest fruits we've ever tasted. It's because of the Communists. Seriously. All those people that fled the mainland during the Cultural Revolution? Well, they brought the best of their regional cuisines to Taiwan. Take all that variation in flavor, mix in some amazingly fresh produce (and meat) (and while we're at it, fish), and simmer until you've got a culinary explosion. Add soy sauce and vinegar to taste.

Fresh fish (with roe) for sale at the local market.
Hot springs: The hot springs in Taiwan are ah-mazing! But watch out…they can be ridiculously hot (the hottest pools often get up to 110°F), though most hot springs have several different pools of differing temperatures so you don't have to be cooked like a human lobster (unless you want to).
There are so many hot springs in Taiwan that there is really one to please everyone. We've been to hot springs that cost US$1 and seen hot springs that cost US$50; hot springs where people are wearing wetsuits, and hot springs where everyone is naked (except for shower caps, for some reason); we've even been to hot springs with tea and bamboo infused waters, giant water slides, and pools with tiny fish that eat the dead skin off your feet!
Hotel Alert: Taiwanese like their beds hard! Not just firm, but straight-up hard. Jeremy and I like a firm bed, but it can get pretty ridiculous in Taiwan. In fact, I found out (about 1.5 months too late) that I had been sleeping on a wooden board in my grandma's apartment. Apparently, the beds weren't hard enough for my her, so she put some batting on top of a wooden board and slept on that. Needless to say, I was pretty upset when I found out.
Also, this is kind of perplexing to me, but Taiwanese people use hand towels as bath towels. I have no idea why, but we couldn't find a towel larger than a square meter in my grandma's apartment or in either of the hotels we stayed in while we were in Alishan.
In short: Taiwan RoCs! We haven't been this sad to leave a country since New Zealand. We *will* come back here one day soon, perhaps with our little pups in tow so they can learn Chinese in the motherland too.

'Nuff said.
Note: I had intended to do mini-recaps for each country we visited in SE Asia, and then tie it all up with one big, pretty SE Asia recap bow, but the country-specific recaps turned out to be quite in-depth, so I'll keep this one short too.
Wow, where to even begin? Well, if the measure of an experience is what you are left with after it is over, let's examine what gifts traveling in SE Asia bestowed upon us, shall we? An intense love for swimming in the ocean. Consciousness, complexity, and compassion. A new pair of flip-flops. The most amazing thing I have ever seen. An unforgettable birthday experience. The ability to peel and eat a bamboo shoot. New friends. And perhaps most telling: the desire to travel to more undeveloped countries (seriously, there are changes a'coming to our travel itinerary…stay tuned). New Zealand and Australia were amazing experiences in their own right, but it was only through our travels in SE Asia that our Internal Normality Indicators (INI) were recalibrated: a family of 5 on a single motorbike? No problem. People walking their pet elephants on the street? OK. Children who just barely learned to walk trying to sell you tourist trinkets? I don't like it but I understand it. Congealed pig's blood cakes? Yes. These are things that you just won't encounter in the Western world, either because they aren't necessary or because we have other options. And that's why we travel, right? To challenge our familiar; to make sure our understanding is always growing wider and not narrower; to hit that INI reset button.
Days spent here: 59
Countries visited: Thailand (recap), Malaysia, Cambodia (recap), Vietnam (recap), Laos (recap)
Highlights: Ko Lipe, Penang, Siem Reap, Dalat, Sapa
Pre Rup at sunset. The Temples of Angkor, Siem Reap.
Places we would like to visit next time: Southern Laos, Myanmar/Burma, Indonesia
Average daily expenditures: US$80
Prices: The word is out…SE Asia is no longer the super-cheap destination it once was. Don't get us wrong—it's still very affordable, but we were expecting to spend about US$50 per day (between the two of us) and we ended up at US$80 per day. We still don't understand how we managed to do this…our typical accommodation cost about US$15 per night and our meals averaged between US$2-10 (for the two of us). We moved around quite a bit so perhaps all the transportation costs hurt our bottom line more than we expected.
Guide books: We've already mentioned how indispensable Lonely Planet's Southeast Asia on a Shoestring is to traveling in SE Asia…but it can be quite thin if you want to get off the beaten path. Here's one way to remedy the situation: there are lots of copy books for sale in SE Asia (basically, a printer just Xeroxes a book and binds it). The copies are typically of very poor quality (it will be difficult to read the maps), but they are cheap (between US$2-5). You can buy these copy books to supplement the info in your original copy of Southeast Asia on a Shoestring. Not that we would ever buy pirated books. No sir.
Internet: Coming from Australia, where we had to spend the better part of the afternoon at the public library if we wanted a wireless connection, we were shocked by how widely available wireless access was in SE Asia. In many countries, guest houses and restaurants have wireless, but access is password locked. Here's a hint: try "123456790." Seriously, we were able to access at least 10 wireless connections using this password. Let us know if you want to hire us as hackers when we get back to the States, we obviously have very advanced technological skills that cannot be replicated by mere mortals.
Children: It's not just us, because we heard it from many other travelers: the kids in SE Asia with break your heart. Even if you are a card-carrying member of the Anti-Breeder Association of Steel-Hearted Non-Procreators, these kids will get to you. And there are a lot of them! In Vietnam, something like 75% of its population is under the age of 30 (that may not be the exact figure, but it's ridiculously high like that).
Little Laotian troublemakers.
The deal with TP: Remember how I complained that Khao San guesthouses did not provide TP in their rooms? Well, we figured out why: most people in SE Asia don't use it. Now before you get all grossed out, here's the deal: next to every toilet, there is a hand-held spray nozzle. SE Asians use this to clean themselves instead of toilet paper. Not to get into too many details, but we learned to really prefer this method too (though we didn't eschew TP altogether). It is much more hygienic than just using TP. Jeremy swears that he is building a bidet into the next house we live in.
In case you're confused as to the specifics of using one of these hoses, our guest house in Chiang Mai posted a rather humorous but helpful sign on the bathroom wall:
Also, note that you should carry toilet tissue with you at all times since most public restrooms do not provide it.
In short: Just go.
Ever since I caught the travel bug on my first trip to Central America, I have wanted to visit Thailand. Something about the place held my fascination, though I had but a few expectations before we arrived: that the land would be beautiful (it is), that the people would be peaceful (they are, though the protests right now may suggest otherwise), and that the food would be good (well, you know where we stand on that issue). It's funny, though…traveling to a new country can be just like shopping from a catalog, you never know if something is going to fit unless you try it on. Despite the beautiful landscape and the gracious people, I have to admit that we left a bit disheartened by some (definitely not all) of our experiences in Thailand. I think it has to do with the fact that there are so many Western tourists in the country…but before you throw up your hands and say, "Oh, Hope and Jeremy didn't like Thailand because it's too touristy," let me explain. It's not the fact that there are so many Westerners here, I mean, if that's the case, then shame on us for only adding to the problem, right? Rather, it is tourism's effect upon the local people that didn't sit right with us. Perhaps it's because so many party people and sex tourists come to Thailand, or maybe Thais are just tired of working so hard to embrace the hordes of travelers coming to their country and not getting anything out of it. We found it difficult (in some places) to connect with locals beyond the standard service-industry interactions, leaving us discouraged and a little depressed. To be clear, I don't blame Thai people at all…they are more than polite and accommodating towards travelers in their country. Rather, I think it is just a social condition that has manifested itself as a result of a few wayward Westerners treating parts of Thailand like their own personal playground.
That being said, I do want to point out that we had a wonderful time with Oak and his wife in Bangkok. I mean, this is a guy who told us (as we were leaving his house for the airport), "You know where your home in Bangkok is." We know that it's not every day you encounter that kind of open-heartedness and generosity. So even if Thailand could taste a bit sour at times, we were also left with a sweet taste in our mouths from the experience.
Days spent here: 19
Places we visited: Bangkok, Krabi, Ko Lipe, Chiang Mai
Places we would like to go next time: Similan Islands
Prices: With the exception of Chiang Mai (which is super cheap), we found Thailand to be quite expensive, especially in terms of accommodation. One of the worst rooms we stayed in in SE Asia (in Krabi) was also one of the spendier ones (at US$18.50 per night), and the most expensive room we stayed in all of SE Asia was in Ko Lipe (at US$26 per night). Food in Thailand can be quite cheap, however, as long as you like pad thai and fruit shakes.

Weather: The weather was beautiful while we were in Thailand. It was hot and dry in the south (at the end of January), and hot and humid in the north (mid-March).

Sunrise over Ton Sai beach in Krabi.
In order to deal with the heat, Thais (apparently) bathe several times a day. They also use baby powder to keep themselves dry, and the options are amazingly broad. There are baby powders with cooling agents, baby powders that help control acne, baby powders that shimmer, baby powders with deodorant…the list goes on. We tried the baby powder thing and we have to say, it is quite refreshing!
Transit: We traveled in Thailand on plane, mini-bus, boat, and train. Mini-buses in Thailand are not the holy terrors that they are in Vietnam…we enjoyed a very comfortable 5-hour ride from Chiang Khong to Chiang Mai via mini-bus transport. Similarly, the train from Chiang Mai to Bangkok was very comfortable, but try to get a bottom bed, as they are much wider than the top berths.

Settling in for the night. On the overnight train from Chiang Mai to Bangkok.
Internet: Wi-fi connections in Thailand are plentiful, though we always had to pay for access (usually between 30 and 50 baht per hour: approx. US$0.85 to US$1.50).
Culture: Thailand is a very Buddhist country, which accounts for the peaceful nature of its people. There are many opportunities to do 10-day introductory meditation retreats at Buddhist monasteries here (which we really wanted to do but alas did not have time for). If you do decide to take part in one of these courses, be prepared to sleep on a concrete bed with a wooden pillow, wake up at 4AM, and deal with rats, snakes, and mosquitos (Buddhist monks do not believe in killing any living creatures, so rodents of all sizes can take safe shelter at their local monastery). Also, you are not allowed to eat after noon (this tenet in particular scared Jeremy).
The other person (besides the Buddha) that Thais worship is their King. Oh my god, do they love their King. You cannot walk a block without seeing his face. Every little hole-in-the-wall restaurant has a small shrine devoted to him with shells and flowers and stickers decoupaged around his portrait. His face is all over their coins and bills, and it Thailand it is against the law to step on money, since to do so is to disrespect the King. By the way, as far as we could gather, the King's role is sort of like the Queen of England—purely ceremonial.

One of our taxi drivers stapled a portrait of the king to his car's visor. So cute!
The final bit of Thai culture that I wanted to mention is the wai, the standard way of greeting people in Thailand. Basically, you hold your hands together in front of your face and say, "sawatdee" ("hello" in Thai). If someone wai's you, it is polite to wai back, though the position of your hands does matter. It seems that wai'ing so that your fingertips are touching your forehead is a sign of utmost respect, but when in doubt, just make sure your fingertips are right underneath your nose. Hold your hands too low in relation to your face, and you risk offending someone.
In short: I don't mean to be too negative about Thailand…in fact, if I think back to the places we visited, we liked all of them and had a really nice time in each location (especially Ko Lipe). It's just that you can feel the effect of tourism in Thailand more than in other SE Asian countries. I guess it was the surprise of encountering this reality that threw us a bit off balance.
Check out our photos from Thailand:
If there is one thing you won't want to do in Laos, it's rush. We really didn't get to spend enough time here or see that much of the country, but we were in Laos long enough to get the flavor of the place. And what exactly does Laos taste like? Dust. Sticky rice. Tranquility. Shyness. Noodle soup. Divinity. Poverty. Beerlao. Golden sunsets. And, if it is possible to taste such a thing, the flavor of time standing still.
Day spent here: 7
Places we visited: Luang Prabang, Luang Nam Tha
Places we would like to visit next time: Southern Laos, especially Champasak and Si Phan Don
Prices: We found the prices in Luang Prabang to be quite high. It is possible to find cheap accommodation and food, but it's no fun eating at the market every night. Every so often, you want to eat in a restaurant, and in LP, that can set you back about US$5-10 per person. On the other hand, Luang Nam Tha was quite cheap…we paid 60,000 kip (approx. US$7) for our room, and dinners at the local restaurant were only about US$3-5 each (even cheaper for a bowl of noodles at the LNT night market).
Similar to Vietnam, prices in Laos are often quoted in US dollars, though you can pay with dollars, kip, or even Thai baht. The exchange rate was US$1 = 8,500 kip.
Weather: While we were in Laos (early March), it was nothing but HOT. There was not a whisper of wind to speak of, and combined with the smoke in the air, it made the heat very oppressive.
Transit: We traveled only by public bus in Laos…there were no other options to the areas we were headed (Luang Prabang to Luang Nam Tha, and Luang Nam Tha to the border town of Huay Xai).

Village kids running to gawk at us on the public bus. Somwhere between Luang Nam Tha and Huay Xai.
Laotian public buses are old are they are notorious for breaking down, though luckily, this never happened to us. The roads are not exactly in the best condition, so bus rides are typically very long and bumpy. Also, Laotian public buses do not have air conditioning, so the windows are left open, leaving you and your lungs covered in layers of Laotian dust.
Internet: Our free Internet spree ended once we boarded the plane in Hanoi. Wireless internet was available in Luang Prabang, usually for about 10,000 kip per hour. Connection speeds were quite slow, however. There was no wireless in Luang Nam Tha.
Food and drink: You have not had Laotian food until you have had sticky rice. It is served in a woven bamboo basket and eaten with the hands (you pull out a chunk, and pinch your meat/vegetables between the sticky rice).

Jeremy walking by some sticky rice cakes drying in the sun, Luang Prabang.
Otherwise, Laotian food is very similar to Thai food. Their rice noodle soups are tasty! Also, the bread in Laos is incredible. Vietnamese French bread is very airy, but Laotian bread is dense, more similar to the bread in France. For lack of a better way of describing it, the bread in Laos seemed more "gourmet." In Luang Prabang, we found these Laotian sandwiches at the market that were stuffed with grilled chicken, tofu, lettuce, cucumber, and then drizzled with sweet chili sauce. At 10,000 kip (approx. US$1.20) per sandwich, these sandwiches were our tasty, cheap, and filling lunch treats on many LP days.
Similarly, you cannot leave Laos without drinking Beerlao. That's not a command, it's an actuality…I am not sure if you an even get any other beers in small Laotian towns! It's cheap, too…about 12,000 kip for a big bottle which you can split amongst two (or not, depending on how much you drink).

Culture: Laotians are a very shy and reserved (but sweet) people. Coming from Vietnam, it can be both a positive and negative culture shock; positive because everyone pretty much leaves you alone (which is nice after being constantly harassed to spend your money on this or that in Vietnam), but negative because it is harder to get to know the people here. I think that's why it's a good idea to linger a while in Laos, it seems like the kind of place that grows on you (and vice versa). Unfortunately, we just didn't have enough time to spend here.
That reserved nature carries itself into the culture in other interesting ways…for instance, all around town (in both LP and LNT), there are signs posted in English explaining how Westerners should behave in Laos (i.e., don't point the bottom of your feet at Buddhas, public displays of affection are frowned upon, women should not touch monks, etc.). Laotians (or at least the government) seem very interested in preserving Laotian culture (though we've heard rumblings that this could be due to paranoia rather than any lofty cultural goals—apparently the government is ever-wary of the US invading its social, cultural, and governmental structures, even though most Americans would most likely not be able to point Laos out on a map).
In other ways, though, we found Laos to be quite progressive. Certainly the artisan culture is very alive here and we were pleasantly surprised by the quality and variety of souvenirs and trinkets aimed at the tourist market. Whereas in other SE Asian countries the offerings were limited to cheap plastic sunglasses and logo t-shirts, in Luang Prabang, we saw beautiful embroidered quilts, woven tapestries, and handmade books.

Textile weaver in Ban Phanom village outside of Luang Prabang.
In short: Most travelers probably love Laos because, unlike other SE Asian countries, the people will just leave you be and let you enjoy the country without their intervention. I will admit that Laos' peaceful nature is really seductive, but on the other hand, chance encounters with locals is what makes a place really special (for me anyway)—I treasure the opportunity to learn about their world through their eyes. Since Laotians are naturally more reserved, it can take a while to figure out how to get them to open up to you. I wish we had more time to spend in this lovely country, a week was not enough time to lure Laos out of its shell.
There's no point in beating around the bun cha: we adore Vietnam. There are so many scenes imprinted on my mind from this beautiful country: high school girls riding their bikes home as their white ao dai (traditional Vietnamese uniform of Chinese-like dress worn over pants) flap in the wind, the toothless man rowing his boat in the river near Hoi An's Old Quarter, smiling big for the tourist cameras, the ladies at the guesthouse in Sapa who hijacked my iPod for an hour and giggled as they zoomed in and out on our wedding photos. I can't speak for Jeremy, but I was positively entranced by the people in this country. Even though some of our experiences with the locals in Vietnam occurred under contrived situations (i.e., tours), I never felt as if there were any walls between us (whereas I have felt, in other SE Asian countries, the uncomfortable bargain that has been made between Westerners and locals—tired of too many disappointing experiences, both sides have limited themselves, almost exclusively, to the interactions within the service industry). Thousands of miles and different experiences separate their culture from ours, but I really felt that the people in Vietnam were genuinely interested in knowing us and, in turn, sharing with us their lives, their difficult history, and their view of the world.

High school girls riding home from school in Nha Trang.
Day spent here: 21
Places we would like to visit next time: the Central Highlands.
Prices: We found Vietnam to be very cheap in terms of both food and accommodation. We spent between US$6-15 per night on lodging, and a meal could cost as little as US$1.50. Prices seem to be higher in the north than they are in the south, with some of our dinners in Hanoi reaching up to US$10.
Almost everything can be bargained for in Vietnam. We didn't have a ton of luck bargaining over our accommodation, but you can expect that the first price quoted to you for clothing, taxi rides, and pretty much anything except for food and drinks is going to be about 2 (or sometimes 3) times the price you will end up paying for it.
By the way, I am quoting prices in US dollars, but the Vietnamese quote prices in both dong and dollars, though all payment is made in dong (you just convert the US price over to dong). The going rate while we were in Vietnam was 17,500 VND = US$1.
Weather: Vietnam is a surprisingly big country with many different climates. While we were there (mid-February), the south was swelteringly humid, while the north was quite cold. It was cold and rainy in Hanoi and foggy in Sapa. Central Vietnam was quite pleasant; Dalat, had a very pleasant mountain climate, with warm days and cooler nights. Bottom line, you can get a little bit of everything in Vietnam, which is pretty refreshing considering all other SE Asian countries have just one temperature: HOT.
Hotels: Each country in SE Asia seems to have minor differences in their hotel protocol; in Vietnam, you have to show your passport upon check-in (and sometimes the hotel keeps it, which can be unnerving at first). We stayed in some nice budget places in Vietnam…it seems that once you get into the US$10 and up range, the hotel rooms are clean, comfortable, and spacious. And, the hotels clean your room and make up your bed every day (not necessarily true in other SE Asian countries, where they only clean the room between guests).
Transit: Getting around Vietnam is quite easy to coordinate; there are travel agencies selling plane, train, and bus tickets everywhere you look. The quality of your train or bus is another matter entirely. It's a good idea to ask a lot of questions, and if possible, ask the agency to show you photos of the train or bus. We traveled into Vietnam by boat, flew (from Hoi An to Hanoi), took the train (from Hanoi to Sapa), bussed it (including an overnight bus from Dalat to Hoi An…more on that lovely experience later), and also did some short trips aboard minibuses (basically, large vans). We found plane and train travel in Vietnam quite comfortable. Our buses were nice about half the time, and not so nice the other half. Minibuses were basically torture on wheels (mostly because they shove about 3-4 more people than is comfortable into these small vans), and after a few bad experiences in the south, we tried to avoid them. Perhaps if you are small, minibuses would be a fine way to travel (but we're 12FOOT3).
Since Vietnam is so big, it can take quite a while to get from one destination to the other. For example, in order to get from Dalat to Hoi An, we had to take a 7 hour bus from Dalat to Nha Trang, get off the bus for about 4 hours, and then get back on an overnight bus that dumps you off in Hoi An at 5AM. So, you won't be surprised to hear that when we were faced with an 18-hour bus ride from Hoi An to Hanoi, we looked into other options. The train in Vietnam can be quite nice, and it can be a historical experience (with many people riding the famous Reunification Express). We opted to fly, since, at US$36, the flight from Hoi An to Hanoi was only US$6 more expensive than a sleeper car on a train (and about 17 hours faster). It pays to do your transit homework.

Travel within a city or town is quite easy, with motorbikes and bicycles for rent for cheap. We were only brave enough to join traffic in the smaller towns, though…you might want to have your head checked if you think driving a motorcycle or riding a bike in Saigon or Hanoi is a good idea. Not only are the drivers completely insane, but they carry incredibly dangerous-looking loads on their motorbikes (and continue driving as if they are unencumbered by an extra 40 kilos of stuff strapped to their bike). We saw many travelers who looked like they had been in recent motorbike accidents (with bandaged appendages and facial bruising). Um, no thank you.

You want to strap fifteen feet of stuff to my bicycle cart? No problem!
Internet: Awesome. We never once paid for access in Vietnam. There are open wi-fi connections everywhere. It's kind of crazy that internet access in SE Asia is more available than in Australia! C'mon Aussies! Time to join the, um, 1990s.
Food and drink: Oh man, Vietnamese food is sooo good. It's definitely simple, but that doesn't detract from its general awesomeness. Of course, pho bo (beef pho) is the one dish you cannot leave Vietnam without eating (and oh, did we eat it). The key is to order it with the beef half-cooked or rare (it will fully cook in the boiling hot broth), and accessorize the broth with the various sauces on the table.
The food in the north is definitely the best; we've already professed our love for bun cha and cha ca. Vietnamese sandwiches and chinese-style buns (which we only found in the south) were also quite good.
The Vietnamese are unapologetic carnivores and will eat anything. Yes, including dog (though we only saw this on the north). You can tell if a restaurant serves dog if its sign reads, "Thit Cho." We also saw restaurant menus including strange things like, "roasted camel," "field mouse," and "musk cat." Where the heck do you get a camel in Vietnam?!?
A young Brit that we met in Hoi An told us how he went to a cobra restaurant near Hanoi. They bring out a basket full of snakes, you pick the one that is going to be your meal, and they club it to death right there in front of you. Then they squeeze the blood out of it into a shot glass full of vodka, and you shoot it down. Intense.
We didn't partake in the cobra meal, but we did see cobra wine for sale. It is supposed to make the drinker "more potent" (whatever that means).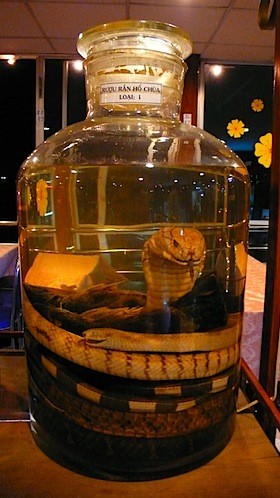 Cobra wine in Can Tho.
Another (less frightening) alcoholic drink in Vietnam is bia hoi. It is freshly-brewed Pilsener-style beer that is pretty much the cheapest pour you can find in the country (about 4000 VND, or approx. 23 cents per glass). It is quite tasty and surprisingly strong.
And we can't forget to mention Vietnamese coffee. Oh. My. God. So good and so, so strong. I usually had to dilute mine with about twice as much water. Once you've had that sweetened condensed milk in your rocket fuel, you can never go back.
Scams: We heard many other travelers complaining about problems they had in Vietnam, though we never experienced any. Most scams are related to transit. In Hanoi, it can be difficult to convince a cabbie to use the meter, but when our Aussie friends finally found a taxi driver who would use the meter, it was rigged to run about 3 times faster than it should have. They simply paid what the ride should have cost (after they got their luggage out of the cab), and left.
We've also heard stories of people agreeing on a price, and when they get to their destination, the cabbie insists that the fare was per person. There is a similar bus scam, where the driver stops in the middle of nowhere and insists on more fare to take you further. And, the most inventive scam (we think) is the one where a bus driver takes the longest and bumpiest route to a destination so that you are more likely to check into the overpriced hotel (that is no doubt "sponsoring" the bus driver) he drops you off at.
Again, we had no problems whatsoever and found Vietnamese people (except in Hanoi)

to be quite lovely, and more than willing to try to understand your silly pantomime communications. It's true that they are commerce-oriented, but we also found them to be curious and friendly even after the monetary transaction was completed.
In short: Vietnam is a gorgeous, varied country. Not only did we meet some fabulous locals here, but the travelers in Vietnam are super cool too! We would highly recommend Vietnam as a destination…it is, quite possibly, our favorite country in SE Asia.
Check out our photos from Vietnam: