There's no point in beating around the bun cha: we adore Vietnam. There are so many scenes imprinted on my mind from this beautiful country: high school girls riding their bikes home as their white ao dai (traditional Vietnamese uniform of Chinese-like dress worn over pants) flap in the wind, the toothless man rowing his boat in the river near Hoi An's Old Quarter, smiling big for the tourist cameras, the ladies at the guesthouse in Sapa who hijacked my iPod for an hour and giggled as they zoomed in and out on our wedding photos. I can't speak for Jeremy, but I was positively entranced by the people in this country. Even though some of our experiences with the locals in Vietnam occurred under contrived situations (i.e., tours), I never felt as if there were any walls between us (whereas I have felt, in other SE Asian countries, the uncomfortable bargain that has been made between Westerners and locals—tired of too many disappointing experiences, both sides have limited themselves, almost exclusively, to the interactions within the service industry). Thousands of miles and different experiences separate their culture from ours, but I really felt that the people in Vietnam were genuinely interested in knowing us and, in turn, sharing with us their lives, their difficult history, and their view of the world.

High school girls riding home from school in Nha Trang.
Day spent here: 21
Places we would like to visit next time: the Central Highlands.
Prices: We found Vietnam to be very cheap in terms of both food and accommodation. We spent between US$6-15 per night on lodging, and a meal could cost as little as US$1.50. Prices seem to be higher in the north than they are in the south, with some of our dinners in Hanoi reaching up to US$10.
Almost everything can be bargained for in Vietnam. We didn't have a ton of luck bargaining over our accommodation, but you can expect that the first price quoted to you for clothing, taxi rides, and pretty much anything except for food and drinks is going to be about 2 (or sometimes 3) times the price you will end up paying for it.
By the way, I am quoting prices in US dollars, but the Vietnamese quote prices in both dong and dollars, though all payment is made in dong (you just convert the US price over to dong). The going rate while we were in Vietnam was 17,500 VND = US$1.
Weather: Vietnam is a surprisingly big country with many different climates. While we were there (mid-February), the south was swelteringly humid, while the north was quite cold. It was cold and rainy in Hanoi and foggy in Sapa. Central Vietnam was quite pleasant; Dalat, had a very pleasant mountain climate, with warm days and cooler nights. Bottom line, you can get a little bit of everything in Vietnam, which is pretty refreshing considering all other SE Asian countries have just one temperature: HOT.
Hotels: Each country in SE Asia seems to have minor differences in their hotel protocol; in Vietnam, you have to show your passport upon check-in (and sometimes the hotel keeps it, which can be unnerving at first). We stayed in some nice budget places in Vietnam…it seems that once you get into the US$10 and up range, the hotel rooms are clean, comfortable, and spacious. And, the hotels clean your room and make up your bed every day (not necessarily true in other SE Asian countries, where they only clean the room between guests).
Transit: Getting around Vietnam is quite easy to coordinate; there are travel agencies selling plane, train, and bus tickets everywhere you look. The quality of your train or bus is another matter entirely. It's a good idea to ask a lot of questions, and if possible, ask the agency to show you photos of the train or bus. We traveled into Vietnam by boat, flew (from Hoi An to Hanoi), took the train (from Hanoi to Sapa), bussed it (including an overnight bus from Dalat to Hoi An…more on that lovely experience later), and also did some short trips aboard minibuses (basically, large vans). We found plane and train travel in Vietnam quite comfortable. Our buses were nice about half the time, and not so nice the other half. Minibuses were basically torture on wheels (mostly because they shove about 3-4 more people than is comfortable into these small vans), and after a few bad experiences in the south, we tried to avoid them. Perhaps if you are small, minibuses would be a fine way to travel (but we're 12FOOT3).
Since Vietnam is so big, it can take quite a while to get from one destination to the other. For example, in order to get from Dalat to Hoi An, we had to take a 7 hour bus from Dalat to Nha Trang, get off the bus for about 4 hours, and then get back on an overnight bus that dumps you off in Hoi An at 5AM. So, you won't be surprised to hear that when we were faced with an 18-hour bus ride from Hoi An to Hanoi, we looked into other options. The train in Vietnam can be quite nice, and it can be a historical experience (with many people riding the famous Reunification Express). We opted to fly, since, at US$36, the flight from Hoi An to Hanoi was only US$6 more expensive than a sleeper car on a train (and about 17 hours faster). It pays to do your transit homework.

Travel within a city or town is quite easy, with motorbikes and bicycles for rent for cheap. We were only brave enough to join traffic in the smaller towns, though…you might want to have your head checked if you think driving a motorcycle or riding a bike in Saigon or Hanoi is a good idea. Not only are the drivers completely insane, but they carry incredibly dangerous-looking loads on their motorbikes (and continue driving as if they are unencumbered by an extra 40 kilos of stuff strapped to their bike). We saw many travelers who looked like they had been in recent motorbike accidents (with bandaged appendages and facial bruising). Um, no thank you.

You want to strap fifteen feet of stuff to my bicycle cart? No problem!
Internet: Awesome. We never once paid for access in Vietnam. There are open wi-fi connections everywhere. It's kind of crazy that internet access in SE Asia is more available than in Australia! C'mon Aussies! Time to join the, um, 1990s.
Food and drink: Oh man, Vietnamese food is sooo good. It's definitely simple, but that doesn't detract from its general awesomeness. Of course, pho bo (beef pho) is the one dish you cannot leave Vietnam without eating (and oh, did we eat it). The key is to order it with the beef half-cooked or rare (it will fully cook in the boiling hot broth), and accessorize the broth with the various sauces on the table.
The food in the north is definitely the best; we've already professed our love for bun cha and cha ca. Vietnamese sandwiches and chinese-style buns (which we only found in the south) were also quite good.
The Vietnamese are unapologetic carnivores and will eat anything. Yes, including dog (though we only saw this on the north). You can tell if a restaurant serves dog if its sign reads, "Thit Cho." We also saw restaurant menus including strange things like, "roasted camel," "field mouse," and "musk cat." Where the heck do you get a camel in Vietnam?!?
A young Brit that we met in Hoi An told us how he went to a cobra restaurant near Hanoi. They bring out a basket full of snakes, you pick the one that is going to be your meal, and they club it to death right there in front of you. Then they squeeze the blood out of it into a shot glass full of vodka, and you shoot it down. Intense.
We didn't partake in the cobra meal, but we did see cobra wine for sale. It is supposed to make the drinker "more potent" (whatever that means).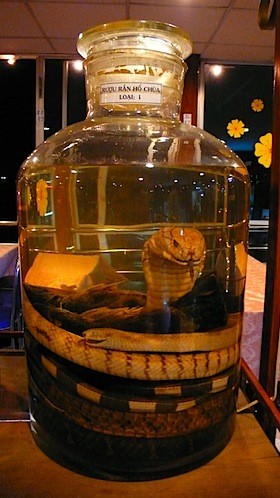 Cobra wine in Can Tho.
Another (less frightening) alcoholic drink in Vietnam is bia hoi. It is freshly-brewed Pilsener-style beer that is pretty much the cheapest pour you can find in the country (about 4000 VND, or approx. 23 cents per glass). It is quite tasty and surprisingly strong.
And we can't forget to mention Vietnamese coffee. Oh. My. God. So good and so, so strong. I usually had to dilute mine with about twice as much water. Once you've had that sweetened condensed milk in your rocket fuel, you can never go back.
Scams: We heard many other travelers complaining about problems they had in Vietnam, though we never experienced any. Most scams are related to transit. In Hanoi, it can be difficult to convince a cabbie to use the meter, but when our Aussie friends finally found a taxi driver who would use the meter, it was rigged to run about 3 times faster than it should have. They simply paid what the ride should have cost (after they got their luggage out of the cab), and left.
We've also heard stories of people agreeing on a price, and when they get to their destination, the cabbie insists that the fare was per person. There is a similar bus scam, where the driver stops in the middle of nowhere and insists on more fare to take you further. And, the most inventive scam (we think) is the one where a bus driver takes the longest and bumpiest route to a destination so that you are more likely to check into the overpriced hotel (that is no doubt "sponsoring" the bus driver) he drops you off at.
Again, we had no problems whatsoever and found Vietnamese people (except in Hanoi)

to be quite lovely, and more than willing to try to understand your silly pantomime communications. It's true that they are commerce-oriented, but we also found them to be curious and friendly even after the monetary transaction was completed.
In short: Vietnam is a gorgeous, varied country. Not only did we meet some fabulous locals here, but the travelers in Vietnam are super cool too! We would highly recommend Vietnam as a destination…it is, quite possibly, our favorite country in SE Asia.
Check out our photos from Vietnam: