Posts Tagged 'food'
Since I already wrote a book about your typical homestyle Northern Chinese fare when we were in Taiwan, I'm not so much going to explore the What (as in What is good) of Beijing cuisine, but rather, the Where (as in Where we ate). The food in Beijing is the best we had in China (though to be honest, the best Chinese food is still over in Taiwan).
First things first: China is a huge country, and there are many regional differences in speech, appearance, and yes, diet. But there is one major difference between the north and the south when it comes to cuisine: the north is all about noodles, and the south is all about rice. This is a common explanation for why people in the north tend to be taller than those in the south (take a wild guess where my freakishly tall family is from). I'm not exactly sure why a noodle-based diet would result in a taller population, but if I had to take a guess, I suppose it's the egg protein in the noodles. Anyway, because meat was more scarce in the past, and because people in the south eat rice as their carb, southern cuisine tends to be very oily. Hey, people need to get their calories somewhere.
This could be the reason why J and I preferred food in the north. Our Northern California palettes prefer light and fresh over heavy and rich. This is not to say we don't like rich foods—after all, I wouldn't exactly describe ramen as "light and fresh." Rather, we just like our food to taste like itself (we want spinach to taste like spinach and not like oil).
That being said, we ate a whole lot of stuff that tasted like Peking duck while we were in Beijing.

Our first taste of Peking duck was our meal out with my aunt and uncle at our hotel's (King Parkview Hotel) adjoining restaurant, which, surprisingly, turned out to be quite good! I've had Peking duck in the States before, but it is totally different experience in Beijing. The process begins by choosing a duck, and then a person that I can only describe as a duck surgeon comes out and carves your bird into paper-thin slices.

The duck surgeon hard at work in the King Parkview Hotel Restaurant.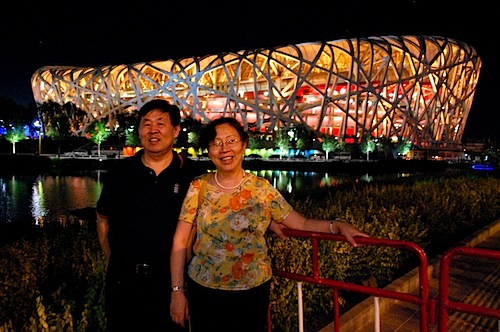 My aunt (daughter of my Nai Nai's older sister) and uncle in front of the Bird's Nest. Aren't they cute?
The paper-thin slices of Peking duck are then usually sandwiched between a small piece of bread with some hoisin sauce and additional goodies. In the States, these "additional goodies" consist of spring onion (bo-ring!). But Beijing puts the "good" in "goodies," as at Hua Jia Yi Yuan on "Ghost Street" or Gui Jie (one of the most famous eating streets in Beijing), where you get all kinds of fun treats, like cucumber, pickles, even pineapple!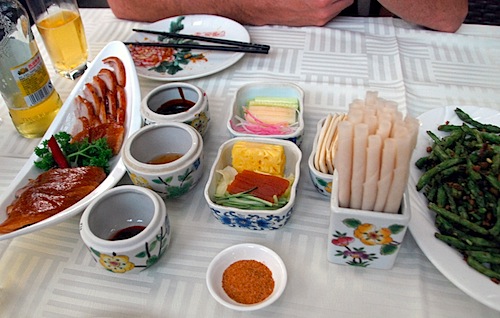 Hua Jia Yi Yuan's Peking duck toppings.
Gui Jie has a lot of courtyard restaurants, and the atmosphere is fantastic.

The interior of Hua Jia Yi Yuan.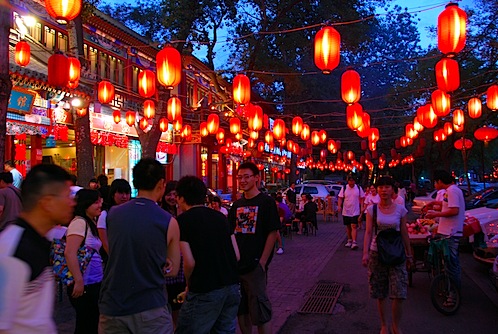 Red lanterns add to the atmosphere on Gui Jie.
We also ate at one of the most popular Peking duck restaurants in all of Beijing: Dadong Duck Restaurant. Our verdict? Unremarkable and overpriced, though you do get free drinks while you are waiting for your table. That's all we have to say about that.
We enjoyed many a meal by Qian Hai Lake (also sometimes called Hou Hai–the two lakes are adjoined so you can refer to it by either name). Very touristy, but if you look hard enough, you can find budget restaurants. The evening light on the lake is really beautiful, and you can watch locals go for a dip in the water.

Locals taking a dip in Qian Hai at sundown.
Not all of our meals out consisted of Peking duck. We also had some good, old fashioned jiao zi (dumplings). The best place we ate (by far) was a small shop called Xia'r Lao Man (translation: "Filling Always Full" or "Stuffing Always Stuffed"), where we had jiao zi with pork and fennel stuffing (yum), and an incredible liang ban (cold salad) of cabbage, bean sprouts, cilantro, sesame oil, garlic, and peanuts.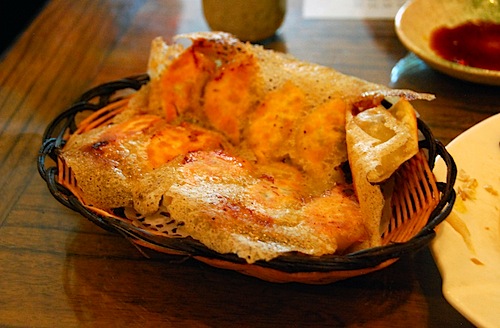 Pork and fennel guo tie (potstickers). They come out of the kitchen like this, the dumplings connected by a solid sheet of fried. Mmm…fried…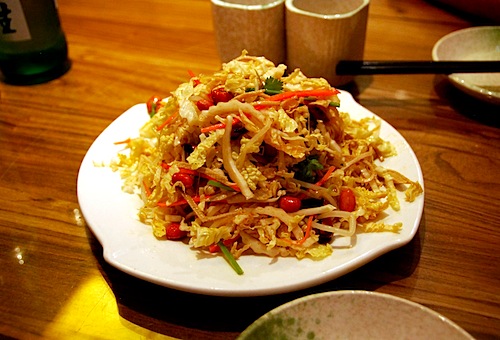 Lao man'r liang ban salad. So refreshing on a hot summer day!
Beijing food just can't compare to the weirdness of some of the food we ate in the south, or the scariness of the food in Chongqing, but they sure try hard to compete on Wangfujing snack street, where you can get LIVE scorpions on a stick (seriously, they wiggle around on there), topped off with a seahorse.
Of course, if you're longing to live on the wild side without risking a scorpion sting, you can always order "The palace explodes the diced chicken."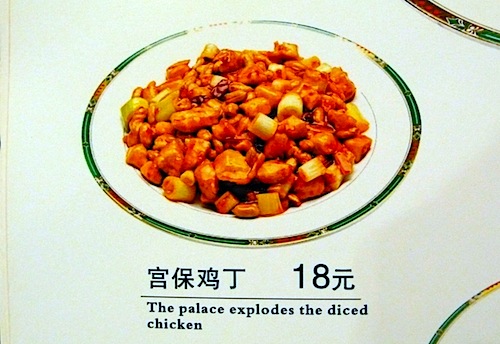 Or impress your friends by telling them you ate the little-known "Agrocgble aergerita." With fish heads, of course.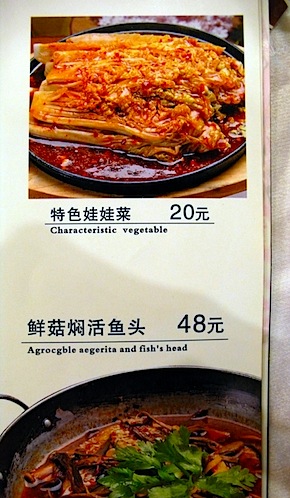 Let's get one thing straight right off the bat: Japanese food is amazing. For any foodie whose palette prefers the fresh over the rich and the pleasure of a perfectly ripe vegetable over the heaviness of a cream sauce, Japan is your culinary heaven. (Though they do have some pretty rich dishes too…ramen, I'm looking at you…). Sure, Jeremy and I love Japanese food in the States too, but before coming to the Land of the Rising Sun, we didn't realize just how bad the Japanese food in San Francisco was. Seriously, compared to the real thing on the other side of the Pacific, San Francisco's Japanese food is just…sad. And limited too! Who knew there was more to Japanese food than sushi and some salty noodles in broth? Well, we do, now.
Kushi Katsu

This is possibly our favorite type of meal (after sushi) in Japan. Quite simply, it's fried stuff on sticks. More eloquently, kushi katsu consists of vegetables, fish, and meat, rolled in panko breadcrumbs and fried to a golden perfection for not a minute too long or a second too short. On sticks.
The eating of said stuff-on-sticks is no county-fair dine-and-dash. No, no…kushi katsu dining is quite an experience. A typical menu might look something like this:
Pumpkin: ¥400
Eggplant: ¥800
Squid: ¥1400
Sea Eel: ¥2000
Asparagus: ¥2400
Green onion wrapped in pancetta: ¥3200
etc.
Now, this doesn't mean that a green onion wrapped in pancetta is US$32, despite what you've heard about prices in Japan. Rather, this is a set menu: you start with pumpkin and wherever you stop eating, that's what you pay for dinner (i.e., if you eat all the items listed above, you pay ¥3200). Along the way, you dip the stuff-on-sticks into a number of different sauces and spices, including parsley salt, mustard, shoyu, some sort of paprika/cayenne mix, and Worcestershire (the Japanese LOVE Worcestershire sauce!). Salad, pickles, and sliced veggies get the same dip treatment and are a refreshing source of roughage for the meal. But the star of the show is the veggies' fried companions—Jeremy and I just can't get over how perfectly everything is cooked. We all know how easy it is to overcook something when you're frying it, but in kushi katsu, the veggies stay crisp and fresh inside their breadcrumb casing, and meat/fish is perfectly tender and done. And, IT'S ON STICKS.
Tonkatsu
This is a pork cutlet rolled in panko breadcrumbs, and then (like kushi kastu), fried to absolute perfection. It comes with a side of finely shredded cabbage, rice, and pickles. Along with the usual shoyu and Worcestershire sauce, you also get a small mortar filled with sesame seeds, which you grind with a pestle and then dump into a sauce mixture. Said sauce mixture is them used to either flavor your deep fried pork, or to dress that finely shredded cabbage.
Sushi and sashimi
This might be the most obvious statement ever made by (wo)mankind, but sushi is really good in Japan. We just didn't realize how good it as going to be. Saying that the fish is like buttah is actually an insult to the fish. It's better than butter…it's more like eating the most perfectly clean, perfectly firm, perfectly tender, creamy, delicious piece of the ocean. And here's the best-kept secret in Tokyo: sushi for lunch is the best deal you can get. For a few bucks more than a bowl of ramen, (about ¥1100, or US$11), you can get a gorgeous 12-piece sushi set lunch. Your taste buds and you wallet will be equally psyched.
Japanese Wagyu Beef
I think all we need to say about wagyu is that it's marbled, fatty goodness. We sort of fell in love with Hida beef in Takayama…the photo above shows a special dish from the region wherein some chunks of fatty Hida beef get grilled on top of a magnolia leaf spread with miso paste.
We also had some delicious Kobe in Tokyo, with fresh lime squeezed on top and dipped in salt.
Tempura
Here's the biggest shock of them all: tempura is serious culinary business in Japan. No, really: it's considered an art form, and it's expensive. Any self-respecting tempura chef would want to commit some hari-kari if he saw the limp and batter-sunken veggies that we get in the States. Also, you don't just get the same old dipping sauce for every piece of tempura. Some items (like the squid I ordered), come with chili powder, salt, and lime. Others come with a curry powder as your dip. It's all matched to the item in a way that complements the fried interior.
In conclusion: blah blah blah perfectly fried. Blah blah blah crisp veggies blah. Blah tender meat and fish blah blah. Bob Loblaw. You get it, right?
Ramen
Once we left Tokyo (and had to pay for housing), ramen became the meal we ate at least once a day, because it's cheap and filling. And yet, we never tired of that rich, fatty, salt-bomb. Some ramen shops let you "customize" your bowl of noodles…choosing the doneness of the noodles, the fattiness of the broth, the number of spring onions you want, and the amount of chili powder they throw in on top. Hey it's Japan, and you can have it your way. We visited a ramen shop in Tokyo where each diner was given a questionnaire when they sat down in their eating booth (imagine an exam stall or a phone booth). It felt like we were taking a ramen test! Spoiler alert: we passed with flying colors.
Even if you don't get to customize all the different elements of your ramen bowl, you can at least choose the broth. Most self-respecting ramen shops have at least four kinds: shio (salt), tonkotsu (pork bone), shoyu (soy sauce), or miso. By far the best bowl of ramen we had was at Santoka in Kyoto. I had the shoyu broth and Jeremy had the shio…but what made this bowl of noodles a standout was the fatty pork cheek meat. Yes, I said pork cheeks. You can wipe the drool off your keyboard now.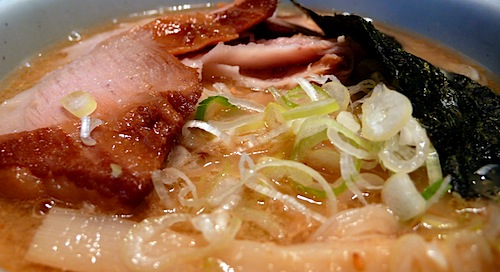 Izakaya
If kushi katsu was our favorite dish (after sushi, which is in a category all it's own), then izakaya is our favorite type of meal. If ramen is the dish you eat at 3AM after a night of drinking sake, then izakaya is what you eat while you're drinking said sake. Basically it's pub food, but of course, the Japanese take it to a whole other level, with inventive dishes like pork stew drizzled with radish puree, or sesame tofu.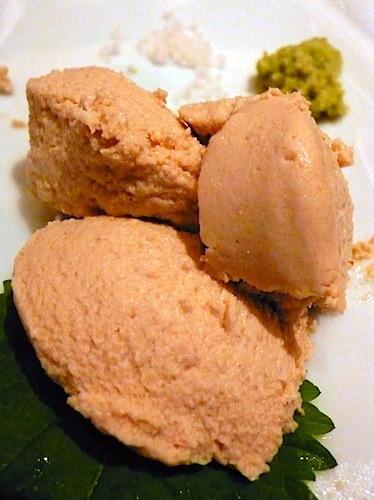 Homemade sesame tofu. Eaten at a fantastic restaurant that may or may not be called Ichi (website is in Japanese, so I can't tell).

Deep-fried fish, impressively presented. Eaten at yet another amazing izakaya named Kinsai.

OK, this is just a plate of roasted pork, but we were so impressed with the size of this dish, I just had to include this picture. Eaten at Vinpicoeur.
The point is, it's varied (so you get to taste a bunch of different stuff), it's good, and you wash it all down with a cold beer, a shot of sake, or (Joy's favorite drink) a glass of plum wine mixed with soda water (very refreshing!).
Shabu shabu
I grew up eating Taiwanese-style hot pot for holiday dinners, but I have to say, shabu shabu is different. First of all, the ingredients are cooked in stages: the meat is thrown in the pot first, in order to create a soup base for the vegetables, noodles, and tofu (in Chinese/Taiwanese hot pot, you just throw everything in all at the same time). Second, the meat used is super fatty wagyu beef, which creates a rich, delicious broth very quickly. And finally, instead of dipping your boiled goodies in a raw egg and soy sauce mix (like you do with Taiwanese hotpot), Japanese people grate a radish and add Ponzu sauce as their dipping mixture. I have to admit…Taiwanese hot pot will always hold a special place in my heart, but on taste alone, I think I might prefer the Japanese version (eek…don't tell the Taiwanese food police!).
In a fit of complete decadence, we ate the above meal as a second dinner in Joy's apartment while simultaneously watching Tampopo. Is it possible to get more gluttonous? I think not.
Japanese Pickles
Anyone who knows me knows that I love a good pickle. So believe me when I say this: the Japanese KNOW how to pickle. It's not just that the veggies are perfectly crisp and salted…but there are other, unexpected flavors in the mix too, like a hint of shiso, or a touch of spice. A lovely surprise coming from the land of "we-only-know-how-to-use-dill."

It's a pickle. On a stick! Taken in Kyoto, Japan.
Japanese Desserts
Japan is famous for it's Kyoto candies, but we hear they're usually not actually very good (just pretty). In general, Asians prefer much less sugar in their desserts than Americans do (growing up, the biggest compliment my family could give to a cake was "it's not too sweet!"). So, Japanese desserts were perfect for my tastebuds.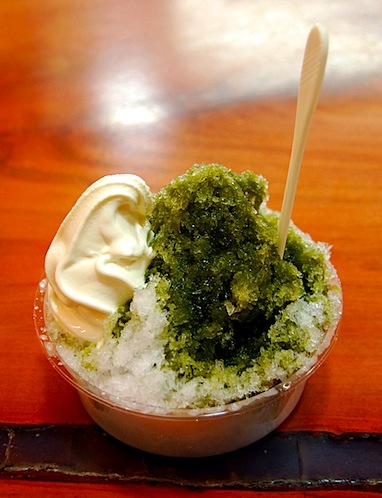 Green tea shaved ice.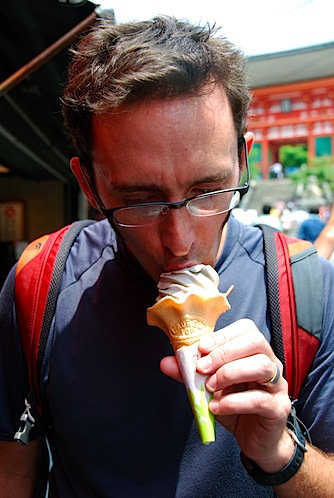 Jeremy eating black sesame ice cream.

Apologies for the bad photo quality, but this thing was too good not to share. It's called pan-ice, and it's vanilla ice cream *inside* some slices of french bread. [Drool.] Eaten at Ichi.
The stuff we didn't take pictures of
Kushiyaki: Grilled stuff on sticks. It's good, and it's inventive. Think enoki mushrooms wrapped in pork, spring onions wrapped in pancetta, grilled soy nuts, etc.
Okonomiyaki: The most un-Japanese dish we tried, mostly because it's really messy. Okonomiyaki is basically an omelette or a pancake, filled with stuff, and then finished with a bunch of toppings, sauces (ahem, Worcestershire), and bonito flakes. We weren't crazy about this dish, but I don't think we gave it a fair shot—we only had it at a festival fair booth.
The weird stuff
OK, not everything in Japan is haute cuisine. This one made me scratch my head and think, really?!? Really, Japan?!? Like, for real?

Noodle sandwich with mayo. Yum?
Maybe you can wash it down with some protein water? Or some shiso-flavored Pepsi?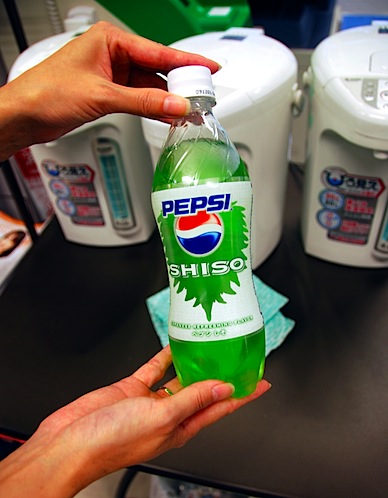 Here's a convoluted statement for you: there are many reasons why Kyoto is amazing, and one of those reasons is simply because there are so many reasons! To clarify: the variety of things to do and environments to explore in this city is just astonishing. Urban life? Check. Temples? We covered that in the last post. Gardens? Yessiree. Markets? You betcha. Castles? Heck Yeah. Public parks? Yup. Good food? Well, of course, it's Japan!
One of the (many) cool things we saw in Kyoto was Nijo-jo Castle. There really is something ancient about the place, and walking through the castle and grounds makes you feel like you've traveled back through time as an old Shogun.
Nijo-jo is famous for one thing: creaky floors. Seriously, they've actually engineered the floorboards to squeak so that bandits and perhaps a bitter feudal lord couldn't sneak in to attack the Shogun housed within. It's quite interesting to be walking along the palace interior in your socks (you have to take off your shoes whenever you enter any interior space in Japan), and having the ground sing underneath your feet. In fact, they've dubbed it "The Nightingale Floor," and here's how it works:
After experiencing Kyoto of the past, you can check out it's present. Nishiki food market is a fun place to wile away an afternoon, checking out all the amazing foodstuffs that Japan has to offer. We ate tofu donuts (good!), saw hundreds of different types of Japanese pickles, and gawked at knives that cost more than some peoples' monthly rent in San Francisco.

The many faces of squash. Taken in Kyoto's Nishiki food market.

OK, this particular photo was taken in Tokyo, but we saw similar knives in Kyoto. These bad boys are specifically made to cut noodles. And at 84,000 yen a pop (about US$840), you'd have to cut a LOT of noodles to make this purchase worthwhile.
For an already green city, Kyoto also has some beautiful parks, where you can enjoy even more greenery. I can only imagine how jaw-droppingly beautiful Kyoto would be when the leaves are turning in the fall. Jeremy and I have already decided that we need to come back in the autumn (when all the Japanese maple leaves turn red), in the spring (when the cherry blossoms go off), and in the winter (when everything is covered in a blanket of white).

Strolling through the Imperial Palace Park.

There are ravens all over Japan. This one was perched at the top of a famous cherry tree in the middle of Maruyama Park—a tree that is apparently so beautiful when it blossoms that you have to view it from the hills in the back of the park because there are so many visitors mobbing the area. Unfortunately, the tree was looking kind of sad when we were there (in the summer).
Since we no longer had the benefit of a place to stay in Kyoto, we had to watch our budget a little more closely when it came to food. This turned out not to be too much of a problem, since there are some incredible (and affordable) ramen joints in Kyoto. Our favorite was a place called Santoka, which had a surprisingly hip and modern interior. But it wasn't the decor that kept us coming back for more…it was the pork cheeks. Behold this bowl full of fatty, delicious beauty!!!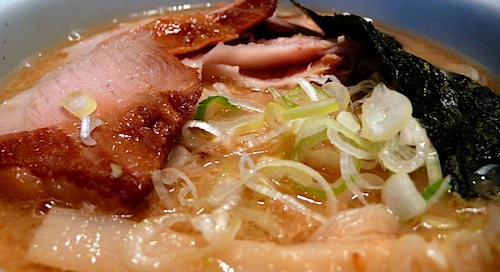 Even with the wealth of attractions in Kyoto, our favorite thing to do was just to walk. There is so much to see in the city's narrow pedestrian alleyways…

Pontocho Street, where Geisha often entertain at night in the exclusive clubs.
…or when you're strolling by the river…

The Kamo River…look at those mountains in the background!
…or wandering in and out of temples.
In short, we love Kyoto. Maybe we'll see you here next fall…or winter…or spring…or…?
As I mentioned in my previous post about Chongqing, we came here for the boat trip, but we stayed here for the people…my aunt's peoples, that is. Not only were we set up at my aunt's sweet apartment (she is currently living in the States with my uncle), but she had at least 3 sets of friends/family watching out for us, taking us out to dinner, paying for everything (as is the Chinese custom) despite numerous protests, and generally bending over backwards to make sure we were comfortable and having a good time. And here we thought our five-star days in China were over once my parents left! Jeremy and I have been amazed time and time again on this trip by (1) the number of extended friends and family we have around this world…who knew?!? We sure didn't!, and (2) the generosity we've been shown by people who have only the most tangential connection to us (In fact, I've only met my aunt twice! She only recently married my uncle). Note to selves: become better hosts when people come visit San Francisco. We have some serious karma to pay back. Thank you, World, for taking such good care of us.

View from my aunt's apartment of the Jialing River.

Same view at night. Chongqing is really spectacular once the sun goes down…you can't see the smog and the lights along the river are sensational.
When my aunt's friends Huang He and Jiang Su came to pick us up at the train station, I figured we'd go out to dinner once, and maybe get a few tips from them on what to do around Chongqing. We quickly came to find out that between Huang He, Jiang Su, and a few other friends/family (Qing Hong and Wan Jian), we had activities planned for each day, we would be treated to dinner every night, and our plans for the Three Gorges Yangzi River cruise would be taken care of for us. Apparently, it takes a village to care for 12FOOT3!
We spent a couple of days under the care of Qing Hong, who coordinated a driver to take us to Ciqikou, a preserved and restored village with a main drag set up with shops and food stalls for tourists. We were there on "Kid's Day," (an national holiday in China), and there were tons of adorable tykes wandering around, reveling in their special day.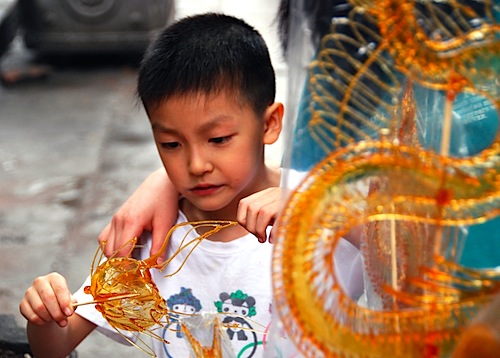 Kid at the candy vendor. You spin a wheel, and whatever animal you land on, the candy man draws that animal out for you in candy glaze. This little guy spun a cuttlefish (I think). Mmmm…cuttlefish candy…
Baolun Si is the only remaining temple in Ciqikou, and we stopped by to pay our respects and light some incense for our ancestors.

Jeremy lighting a candle at Baolun Si in Ciqikou.
For a tourist village, Ciqikou is pretty amusing…we enjoyed ourselves as we walked the main drag, gawking at all the specialty food (rice steamed inside a bamboo pole, cotton candy in the shape of a flower) and random carnival games (sweet little Chinese teenage girls shooting rifles at balloons, little kids riding mechanical elephants). The nicest part of the town, however, is the quiet back streets, where people actually live and Ciqikou is still a functioning village.
The following day, we were accompanied by Wan Jian (my aunt's younger brother), who started off the day by taking us to Chongqing's "Good Eating Street," (Hao Chi Jie) a small pedestrian street full of local food stalls. Chongqing is most famous for one flavor: spicy! In fact, their version of spicy is called ma la, or "numbingly spicy." Interestingly, it is not the chili that makes your tongue numb, but the addition of this small round spice that looks almost like a peppercorn. We weren't crazy about the feeling…imagine eating a bowl full of spicy noodles after your dentist injected your with a local anesthetic. That's pretty much what eating a bowl full of ma la noodles feels like…which is not to say the noodles weren't good, or even spicy, it's just…weird.
Wang Jian was really eager to feed us, and he ran around the food court area collecting different snacks for us to try. At some point, he came back with three skewers, which he told us were duck intestines, duck tongue, and duck heart. Awesome! Just what I was craving…some good ol' roasted duck parts on a stick.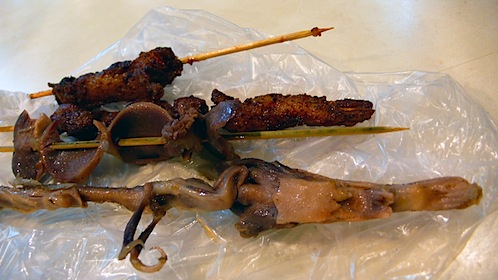 This is duck tongue. On a stick.
The duck intestine and duck heart were fine, as long as you didn't think of what you were eating. But the duck tongue. Oh man, I just…Could. Not. Do. It. The texture was waaay too much for me. I told Jeremy, "I feel like I'm frenching a duck!" But given that Wan Jian was so excited about showing us his hometown's food, we couldn't just leave the tongues sitting there. So Jeremy took it for the team and nibbled down a few tongues while I stuck to the hearts.
That night, Huang He and Jiang Su treated us to dinner. They knew that we wouldn't be able to handle truly spicy Chongqing food, so they looked for a restaurant that specialized in more mild fare. Jiang Su asked me if we ate ge zi, and I was like, "sure!" I had heard that word before, but I couldn't remember what it was…so I pulled out my handy iPod Chinese dictionary, typed in the pinyin, and what do you know, ge zi means "pidgeon or dove." I'm sitting there in the back of the car on the way to the restaurant thinking, "please let it be dove, please let it be dove…please don't tell me we're about to eat some pidgeons…" And sure enough, the restaurant is decorated with white dove icons all over the walls and ceiling. So Jeremy and I have chosen to believe that we ate doves that day, and not the pidgeons that you see running around on the street in Chongqing.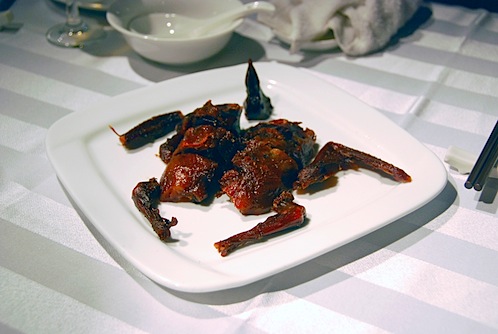 I feel like ge zi tonight!
Ge zi is apparently a Chongqing specialty, and the people here think that it is particularly nutritious and good for your body. And I have to admit, it was good…it just sort of tasted like a cross between a duck and a chicken. Again, just forget for a moment what you're eating…or try to think of it as doves instead of pidgeons.

To complete the trio of scary meals we had in Chongqing, Qing Hong and a bunch of her friends invited us out to hotpot the following night. As you can imagine, Chongqing puts the "hot" in "hotpot." As soon as you walk in the door, the hotpot is an assault on the senses. You can smell the spice. You can feel the spice (it starts stinging your eyes). And you can see the spice (an enormous, boiling vat of liquified peppers).
In spite our wussy American tongues, Jeremy and I put in a pretty good performance at this dinner. We ate almost everything that was put in front of us, without even "washing" the boiled meats in water (as Qing Hong and her friends suggested we do if the food was too spicy). I have to say, this was no small feat for us, especially since about 90% of the stuff they put into the hotpot was intestinal in nature. I'm used to eating hotpot with sliced pork, lamb, tofu, cabbage, and mushrooms. This was no soft, pansy hotpot like the stuff we eat at home…we're talking liver and entrails and pig brains (yes, pig brains!!!) here. The scariest thing for me was the green, hairy cow stomach (you can see it in the photo above on the bottom left). Someone pass the heartburn meds.
I have to admit, Chongqing was the one place so far on the trip that we were too scared to eat the street food (besides Chiang Mai, where we had issues). This had nothing to cleanliness, and everything to do with spiciness. Seriously, the people here eat stuff that would make most Americans' heads explode.
Despite all the scary food, we had a wonderful time in Chongqing. I feel like we really got a sense of the place and it's people. Even though Chongqing is not really a tourist destination, it was super interesting to see all the development here and we had a wonderful time meeting all my aunt's friends. Traveling around China can be really hard and stressful, and it was really nice to be taken care of and to feel like someone was watching your back. Jiang Su even took us to the ghetto pirated DVD store, where we got taken up into the hidden back room so we could check out the newest releases from the States. Now THAT'S what I call care!
But seriously, at a time when I was still feeling disappointed at my peoples for our Yangshuo experience, I was reminded that the best parts of Chinese culture still persist. Chinese people will still display extreme levels of generosity, all the while making you feel like it is something they are happy to do. They still want to show you the wonder and beauty of their hometown (even if that beauty is in the form of a duck's tongue or a pig's brain). And they still bend over backwards to make two vouched-for strangers feel like they have a home away from home.
Some more images from our time in Chongqing:

Hong Ya Dong, a restored "old Chongqing" housing complex, which is now a tourist shopping complex.

Liberation Monument, the cultural center of Chongqing.

Dazu Caves, an 800+ year-old Buddhist sculpture grotto outside of Chongqing. See more of our photos of the Caves here.

Jiang Su, me, J, and Huang He in front of the Yangtzi River.
Next stop on the Meng(hermann) Tour of China…Hangzhou, a large city most famous for its large lake, Xihu (West Lake). We met up with the Frank and the rest of the tour group here, who had already been traveling together for a few days. We got off to a great start—our first meal together was at a restaurant where every dish featured an ingredient used in Chinese medicine, which made for a delicious, healthy, and interesting meal.
We started off the following day with a cruise on West Lake. This is one of China's most heavily touristed sites, but we had more fun taking pictures of each other in Groucho Marx glasses that I bought for 5RMB each (about US$0.50). Not only were they hilarious, but a hidden blowhole made two streamers pop out either side of your mouth like a mustache.
We all took photos with the glasses, except for Jeremy…seems that the specs are for flat little Asian faces only; the fake nose wouldn't fit over Jeremy's Western nose.

If you want to see the ONE photo I uploaded of East West Lake, look here.
Next we toured an old Chinese house, built by a rich, famous Hangzhou merchant. It was quite opulent, with blue glass windows (unusual in China) and an enormous garden with a koi pond. This estate was very different from the houses we saw in Hongcun and Xidi. Similar to today, it seems that the closer you are to the ocean in China, the richer you can be (though with all the money the Chinese government is currently pouring into the inland cities of Chengdu and Chongqing, this is changing).
As I mentioned previously, on these organized tours, your days are jam-packed with activities. By noon, we had already accomplished what Jeremy and I would consider a full day of sight-seeing activities. But we had much more in store. Next up was a visit to a local, government-owned teahouse. Hangzhou is famous for its Dragonwell green tea, and we were all ushered into a tasting room to learn about the different health-inducing properties of this tea. The woman conducting the tasting was an AMAZING salesperson…she explained the difference between spring, summer, and autumn-harvested tea (spring is best; summer and autumn-harvest leaves are the crappy ones used in teabags), and even let us see and smell the difference for ourselves  (spring tea is actually lighter in color than summer and autumn tea).
She explained the difference between A, AA, and AAA grade leaves (they are all spring-harvest leaves, but AA leaves are the small leaves picked from the top of the bush, and AAA leaves are picked from bushes that grow in the wild). AA leaves are about twice as much per kilo as A leaves, and AAA leaves are 4 times as much…but according to the saleslady, you need twice as many A leaves as AA leaves to make a single glass of tea, so the increase in price is moot (a convenient sales tactic).
We learned a lot about tea at this tasting, but it was far more interesting was watching this saleslady do her thing. I have never seen a salesperson with powers as fierce as hers…she knew EXACTLY what to say to convince everyone of the powers of this Dragonwell tea. The pinnacle of her pitch was a demo where she coated some grains of rice with iodine and then tried to wash the iodine off with water (of course, the sludgy brown stuff would not budge). Then, she poured a glass of Dragonwell tea into the cup with the sludgy grains, and the rice turned completely white again (the implication being that this is what the tea will do inside your body—remove the toxins and scrub your insides as clean as a grain of shiny white rice). We learned that with Dragonwell, we should use cold water to make the tea; hot water kills all the polyphenols. She flowed imperceptibly between the demo and the selling portions of the afternoon, and by the time she was ready to sell, everyone was eagerly whipping out their wallets.
The force was strong in her, but she was no match for Chou Mama, the eldest lady on our tour. Chou Mama had about 60 years of bargaining skills on the saleslady, and she used her considerable skills to slowly but surely bargain the sale price down lower and lower. It was like the Clash of the Titans, and we had front row seats!
After we all left with kilos of tea, we took a boat tour of a swampland area, which was quite beautiful and relaxing:
And then toured the beautiful Leifeng Pagoda near West Lake:
But wait, there's more…we also had an amazing dinner that featured a BACON pyramid, and we celebrated four different May birthdays: my Mom and Dad's and two other people on the tour with us (Mark and Dolores).
And finally, we ended the looong day by seeing the Impressions West Lake show, directed by Zhang Yimou (the famous Chinese film director who also created the Beijing Opening Ceremonies). The show was the performed ON West Lake (actually on the water), and it retold the tale of a ancient Chinese love story.
The show was visually stunning, but if you are not familiar with the Chinese myth, it can be hard to follow the story, as it is told in a very abstract way. Also, I guess because Jeremy and I had been blown away by the Olympics Opening Ceremony, we thought that the West Lake show would be a lot tighter. Still, it was an excellent experience and you can't beat seeing a show that is performed ON a body of water.
SCHWOO! It was a long but fulfilling day, and we went to bed happy to have gotten a lot out of Hangzhou.
While we were in Chiang Mai suffering over the food, I comforted myself with the thought that in a week we would be in Taipei, feasting like a King and Queen—the Royal Couple of Noodle-vania, as it were—and even though I'm in Taipei right now I still salivate at the mere thought of those chewy, glutinous flour noodles. SE Asia's rice noodles are good and all, but in a noodle-to-noodle throwdown you know who would come out on top.
But really, "comfort" is exactly the right word, because this is the type of food I grew up eating. I may not know how to say "politics" or "municipality" in Chinese, but I sure as heck know my xiao long bao from by jiao zi.
Here is a primer on some of the best simple dishes that Taipei has to offer.
Dumplings (Jiao Zi)
This is a staple of Taiwanese cuisine, and you probably known them as gyoza. Jiao zi can be stuffed with all different kinds of fillings (xiar), but the most popular is minced pork or pork and leek. We've also tried a "Korean filling" version that is a little bit spicy, but we don't like them as much as the good, old-fashioned pork or pork and leek versions. They can be steamed, boiled in water, or pan-fried (in which case, they are called potstickers). I like to dip them in a mixture of soy sauce, vinegar, chili sauce, and sesame oil.
Beef Noodle Soup (Niu Rou Mian)
One of my all-time favorite meals in a bowl! The beef used in this dish is quite tendinous, so it is stewed for hours on end, creating an ultra-rich broth and meat that falls apart in your mouth. Spinach or lettuce (they cook lettuce here) is added to your bowl along with noodles (your choice of thickness), and you can choose to add chili sauce and suan cai, a type of sour pickled vegetable that I just can't get enough on.
Spring Onion Pancake (Cong You Bing)
This is exactly what it sounds like—a fried pancake mixed with spring onions. The dough is hand-rolled and the best cong you bing is somewhat flaky—they achieve this by scrunching up the pancake during the cooking process. It is so simple, but so, so good. It can be served with an egg fried on top.
Sesame-paste noodles (Ma Jiang Mian or Liang Mian)
This is a noodle dish served cold, tossed with a sauce of sesame paste (the black kind, like the stuff in the middle of mochis). It might seem a little strange to Americans since black sesame is often associated with sweet things, rather than a salty dish. But trust me, it's good. There are usually some raw vegetables shredded on top…you mix it all up and eat it down.
Pork Buns (Zhu Rou Bao)
You are probably familiar with buns like these, filled with char siew, or barbecued pork. Char siew (or cha sao in Mandarin) buns are actually a Hong Kongnese thing; the buns in Taiwan are usually stuffed with the same pork filling as jiao zi, but the outer shell is made of soft, fluffy, and semi-sweet bread-like dough. We've also discovered a really delicious vegetable version filled with cabbage and spring onion (pictured on the right side in the photo below).
Soy Milk (Dou Jiang)
A very common Taiwanese breakfast consists of a bowl soy milk, served either sweet or salty. Yes, I said salty. And yes, it sounds weird, and for a long time, I wouldn't eat it this way, but I've grown to like the salty version (though I still usually order it sweet). Salty soy milk usually includes some pieces of you tiao (which is Chinese fried dough), spring onions, pickles vegetables, and ginger. Chinese soy milk tastes almost nothing like American soy milk; it is chalkier and has more of the bean flavor than its American counterpart. It is often eaten with cong you bing (in this case, fried with an egg) or something called sao bing-you tiao. Sao bing is a flaky pastry covered in sesame seeds; it is shaped like a small envelope and indeed, you split it open and sandwich a you tiao in the middle of it. You tiao is often referred to as a "Chinese doughnut," but I disagree with this assessment, as they are not sweet at all. Basically, it's just fried dough.
Za Jiang Mian
Za jiang is like the bolognese of Taiwanese food, but obviously with a Chinese slant. The sauce is made with minced meat, soy sauce, and fermented beans. This version also has some baked tofu and steamed bean sprouts added. Also note that this particular version of the dish is made with dao xiao mian, or knife-cut noodles. A guy stands over a boiling pot of water, holding a huge block of dough in one hand and a special knife in the other, shaving off noodles off the block straight into the boiling water. He might as well just shave them straight into my belly, given how fast we gobble this stuff up.
Little Dragon Dumplings (Xiao Long Bao, aka XLB)
Kind of like jiao zi, except with a soupy surprise inside! Xiao long bao are stuffed with minced pork and they are ALWAYS wrapped in this way (with a little twist at the top). The chef wraps a frozen chunk of soup stock into the center of each bao before they are steamed to perfection, so when they come out of the bamboo steamer all piping hot, each bao will explode into your mouth with porky, soupy goodness. If for some ungodly reason I am given only one more meal to sustain me for the rest of my life, please let it consist of XLBs.
Cold Appetizers (Xiao Chi)
Most places that sell simple meals revolving around noodles or jiao zi will also offer cold appetizers so you can, you know, get some nutrition along with your carbs (what a concept!). You can order any number of things from sliced meats to intestines to pig's ears. Since we are wusses and are too afraid to eat things like pig snouts, our favorites are the cucumber salad (small mini-cucumbers crushed up and tossed with chili, sesame oil, and vinegar), and the plate on the left, which consists of baked tofu, seaweed, and cha ye dan, or tea-leaf eggs. Basically, the eggs are hard-boiled in a tea-leaf concoction, turning them dark brown. They sell tea-leaf eggs in the 7-Elevens around here and rumor has it that each store (and they are ubiquitous here, like one every block) sells two huge boiler pots full of them every day. I guesstimate that each boiler pot holds about 60 eggs…that's 120 eggs for EACH store!!! They must sell tens of thousands of tea-leaf eggs each day in Taipei alone!
Tomato and Shredded Pork Soup (Fan Chie Rou Si Tang)
I'm not sure if this can be considered a common dish in Taiwan, as I have never had it in a restaurant before I came here. We grew up eating this kind of tomato soup, though my mom didn't usually add noodles—Wendy's version had only tomatoes and poached scrambled egg (like the kind that comes in egg drop soup). I don't know if it is the stock that they use, or if they stew the tomatoes in the soup for an extra long time, but the flavor is really particular; so much so that when I first tasted it, I turned to Jeremy and said, "this soup tastes like my childhood!"
Bakery Goodies
Taiwan's bakeries are amazing too, and it seems that you are never more than half a block away from a bakery (or a 7-Eleven) in Taipei. Jeremy and I have definitely visited the bakery one too many times, and just this week, we were noticing that our waistlines we complaining a bit about our bakery habit (though our stomachs made nary a peep).
Zong Zi
This is a sticky rice cake, stuffed with various things like shredded pork, mushrooms, bamboo shoots, and peanuts. Then the whole thing is wrapped in a bamboo leaf (always in this tetrahedral shape) and steamed. When I was growing up, I preferred them with plain white rice (dipped in sugar), but now I like the salty ones (though we've recently eaten a few that have a weird white glob of fat in the middle of them, which we don't like). They make a great hiking food since they're self-contained!
Hot Pot (Huo Guo)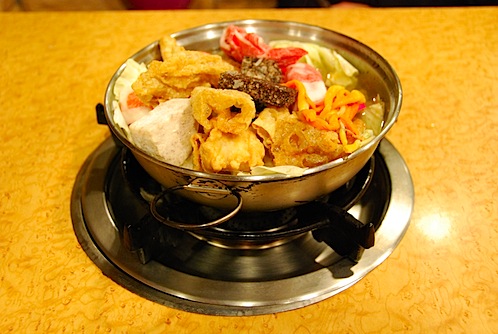 Taiwanese LOVE their hot pot! I counted five hot-pot restaurants within a 2-block radius of our apartment alone. Hot pot restaurants usually have tables with burners built right into them. You choose whatever thinly-sliced meat you want (you can even choose bacon!) and it is brought to your table raw, along with some frozen veggies. The hot-pot pictured above contains of wild boar meat—a specialty in the central-Taipei region of Alishan. Growing up, we just filled our hot pot with plain water, but all the hot-pot restaurants here fill the pot with soup stock. You drop your meat and veggies into the boiling liquid in order to cook it, and then you fish it out into another, smaller bowl filled with sauce.
In my family, hot-pot nights always begin with the whole sauce-making ritual: dozens of jars of strange and stinky pastes and sauces were laid out on the table…you add a small smidge of whatever looks/smells good into your bowl, and crack a raw egg into it before scrambling the egg/sauce mixture. When you fish your meat and/or goodies out of the hot pot, you transfer them into the raw egg concoction, and eat it up. The raw egg thing might scare some people, but I promise you, it is really delicious.
****************

This is just a small sample of the stuff we're in eating in while we're in Taiwan, and I bet most people in Taipei wouldn't even think to mention these dishes since they are so common (in fact, I bet my parents are thinking, "THIS is the type of food you find special?!?"). But to me, these dishes are special; with each bite I think of my Nai Nai (paternal grandma) lovingly rolling out the dough for jiao zi, my Po Po (maternal grandma) force-feeding me more za jiang mian despite protests that I was already full, or family dinners ending with that tomato soup. So while most of this stuff tastes like my childhood, it also tastes like family, and that's the best flavor when you're so far away from home.
If there is one thing you won't want to do in Laos, it's rush. We really didn't get to spend enough time here or see that much of the country, but we were in Laos long enough to get the flavor of the place. And what exactly does Laos taste like? Dust. Sticky rice. Tranquility. Shyness. Noodle soup. Divinity. Poverty. Beerlao. Golden sunsets. And, if it is possible to taste such a thing, the flavor of time standing still.
Day spent here: 7
Places we visited: Luang Prabang, Luang Nam Tha
Places we would like to visit next time: Southern Laos, especially Champasak and Si Phan Don
Prices: We found the prices in Luang Prabang to be quite high. It is possible to find cheap accommodation and food, but it's no fun eating at the market every night. Every so often, you want to eat in a restaurant, and in LP, that can set you back about US$5-10 per person. On the other hand, Luang Nam Tha was quite cheap…we paid 60,000 kip (approx. US$7) for our room, and dinners at the local restaurant were only about US$3-5 each (even cheaper for a bowl of noodles at the LNT night market).
Similar to Vietnam, prices in Laos are often quoted in US dollars, though you can pay with dollars, kip, or even Thai baht. The exchange rate was US$1 = 8,500 kip.
Weather: While we were in Laos (early March), it was nothing but HOT. There was not a whisper of wind to speak of, and combined with the smoke in the air, it made the heat very oppressive.
Transit: We traveled only by public bus in Laos…there were no other options to the areas we were headed (Luang Prabang to Luang Nam Tha, and Luang Nam Tha to the border town of Huay Xai).

Village kids running to gawk at us on the public bus. Somwhere between Luang Nam Tha and Huay Xai.
Laotian public buses are old are they are notorious for breaking down, though luckily, this never happened to us. The roads are not exactly in the best condition, so bus rides are typically very long and bumpy. Also, Laotian public buses do not have air conditioning, so the windows are left open, leaving you and your lungs covered in layers of Laotian dust.
Internet: Our free Internet spree ended once we boarded the plane in Hanoi. Wireless internet was available in Luang Prabang, usually for about 10,000 kip per hour. Connection speeds were quite slow, however. There was no wireless in Luang Nam Tha.
Food and drink: You have not had Laotian food until you have had sticky rice. It is served in a woven bamboo basket and eaten with the hands (you pull out a chunk, and pinch your meat/vegetables between the sticky rice).

Jeremy walking by some sticky rice cakes drying in the sun, Luang Prabang.
Otherwise, Laotian food is very similar to Thai food. Their rice noodle soups are tasty! Also, the bread in Laos is incredible. Vietnamese French bread is very airy, but Laotian bread is dense, more similar to the bread in France. For lack of a better way of describing it, the bread in Laos seemed more "gourmet." In Luang Prabang, we found these Laotian sandwiches at the market that were stuffed with grilled chicken, tofu, lettuce, cucumber, and then drizzled with sweet chili sauce. At 10,000 kip (approx. US$1.20) per sandwich, these sandwiches were our tasty, cheap, and filling lunch treats on many LP days.
Similarly, you cannot leave Laos without drinking Beerlao. That's not a command, it's an actuality…I am not sure if you an even get any other beers in small Laotian towns! It's cheap, too…about 12,000 kip for a big bottle which you can split amongst two (or not, depending on how much you drink).

Culture: Laotians are a very shy and reserved (but sweet) people. Coming from Vietnam, it can be both a positive and negative culture shock; positive because everyone pretty much leaves you alone (which is nice after being constantly harassed to spend your money on this or that in Vietnam), but negative because it is harder to get to know the people here. I think that's why it's a good idea to linger a while in Laos, it seems like the kind of place that grows on you (and vice versa). Unfortunately, we just didn't have enough time to spend here.
That reserved nature carries itself into the culture in other interesting ways…for instance, all around town (in both LP and LNT), there are signs posted in English explaining how Westerners should behave in Laos (i.e., don't point the bottom of your feet at Buddhas, public displays of affection are frowned upon, women should not touch monks, etc.). Laotians (or at least the government) seem very interested in preserving Laotian culture (though we've heard rumblings that this could be due to paranoia rather than any lofty cultural goals—apparently the government is ever-wary of the US invading its social, cultural, and governmental structures, even though most Americans would most likely not be able to point Laos out on a map).
In other ways, though, we found Laos to be quite progressive. Certainly the artisan culture is very alive here and we were pleasantly surprised by the quality and variety of souvenirs and trinkets aimed at the tourist market. Whereas in other SE Asian countries the offerings were limited to cheap plastic sunglasses and logo t-shirts, in Luang Prabang, we saw beautiful embroidered quilts, woven tapestries, and handmade books.

Textile weaver in Ban Phanom village outside of Luang Prabang.
In short: Most travelers probably love Laos because, unlike other SE Asian countries, the people will just leave you be and let you enjoy the country without their intervention. I will admit that Laos' peaceful nature is really seductive, but on the other hand, chance encounters with locals is what makes a place really special (for me anyway)—I treasure the opportunity to learn about their world through their eyes. Since Laotians are naturally more reserved, it can take a while to figure out how to get them to open up to you. I wish we had more time to spend in this lovely country, a week was not enough time to lure Laos out of its shell.
There's no point in beating around the bun cha: we adore Vietnam. There are so many scenes imprinted on my mind from this beautiful country: high school girls riding their bikes home as their white ao dai (traditional Vietnamese uniform of Chinese-like dress worn over pants) flap in the wind, the toothless man rowing his boat in the river near Hoi An's Old Quarter, smiling big for the tourist cameras, the ladies at the guesthouse in Sapa who hijacked my iPod for an hour and giggled as they zoomed in and out on our wedding photos. I can't speak for Jeremy, but I was positively entranced by the people in this country. Even though some of our experiences with the locals in Vietnam occurred under contrived situations (i.e., tours), I never felt as if there were any walls between us (whereas I have felt, in other SE Asian countries, the uncomfortable bargain that has been made between Westerners and locals—tired of too many disappointing experiences, both sides have limited themselves, almost exclusively, to the interactions within the service industry). Thousands of miles and different experiences separate their culture from ours, but I really felt that the people in Vietnam were genuinely interested in knowing us and, in turn, sharing with us their lives, their difficult history, and their view of the world.

High school girls riding home from school in Nha Trang.
Day spent here: 21
Places we would like to visit next time: the Central Highlands.
Prices: We found Vietnam to be very cheap in terms of both food and accommodation. We spent between US$6-15 per night on lodging, and a meal could cost as little as US$1.50. Prices seem to be higher in the north than they are in the south, with some of our dinners in Hanoi reaching up to US$10.
Almost everything can be bargained for in Vietnam. We didn't have a ton of luck bargaining over our accommodation, but you can expect that the first price quoted to you for clothing, taxi rides, and pretty much anything except for food and drinks is going to be about 2 (or sometimes 3) times the price you will end up paying for it.
By the way, I am quoting prices in US dollars, but the Vietnamese quote prices in both dong and dollars, though all payment is made in dong (you just convert the US price over to dong). The going rate while we were in Vietnam was 17,500 VND = US$1.
Weather: Vietnam is a surprisingly big country with many different climates. While we were there (mid-February), the south was swelteringly humid, while the north was quite cold. It was cold and rainy in Hanoi and foggy in Sapa. Central Vietnam was quite pleasant; Dalat, had a very pleasant mountain climate, with warm days and cooler nights. Bottom line, you can get a little bit of everything in Vietnam, which is pretty refreshing considering all other SE Asian countries have just one temperature: HOT.
Hotels: Each country in SE Asia seems to have minor differences in their hotel protocol; in Vietnam, you have to show your passport upon check-in (and sometimes the hotel keeps it, which can be unnerving at first). We stayed in some nice budget places in Vietnam…it seems that once you get into the US$10 and up range, the hotel rooms are clean, comfortable, and spacious. And, the hotels clean your room and make up your bed every day (not necessarily true in other SE Asian countries, where they only clean the room between guests).
Transit: Getting around Vietnam is quite easy to coordinate; there are travel agencies selling plane, train, and bus tickets everywhere you look. The quality of your train or bus is another matter entirely. It's a good idea to ask a lot of questions, and if possible, ask the agency to show you photos of the train or bus. We traveled into Vietnam by boat, flew (from Hoi An to Hanoi), took the train (from Hanoi to Sapa), bussed it (including an overnight bus from Dalat to Hoi An…more on that lovely experience later), and also did some short trips aboard minibuses (basically, large vans). We found plane and train travel in Vietnam quite comfortable. Our buses were nice about half the time, and not so nice the other half. Minibuses were basically torture on wheels (mostly because they shove about 3-4 more people than is comfortable into these small vans), and after a few bad experiences in the south, we tried to avoid them. Perhaps if you are small, minibuses would be a fine way to travel (but we're 12FOOT3).
Since Vietnam is so big, it can take quite a while to get from one destination to the other. For example, in order to get from Dalat to Hoi An, we had to take a 7 hour bus from Dalat to Nha Trang, get off the bus for about 4 hours, and then get back on an overnight bus that dumps you off in Hoi An at 5AM. So, you won't be surprised to hear that when we were faced with an 18-hour bus ride from Hoi An to Hanoi, we looked into other options. The train in Vietnam can be quite nice, and it can be a historical experience (with many people riding the famous Reunification Express). We opted to fly, since, at US$36, the flight from Hoi An to Hanoi was only US$6 more expensive than a sleeper car on a train (and about 17 hours faster). It pays to do your transit homework.

Travel within a city or town is quite easy, with motorbikes and bicycles for rent for cheap. We were only brave enough to join traffic in the smaller towns, though…you might want to have your head checked if you think driving a motorcycle or riding a bike in Saigon or Hanoi is a good idea. Not only are the drivers completely insane, but they carry incredibly dangerous-looking loads on their motorbikes (and continue driving as if they are unencumbered by an extra 40 kilos of stuff strapped to their bike). We saw many travelers who looked like they had been in recent motorbike accidents (with bandaged appendages and facial bruising). Um, no thank you.

You want to strap fifteen feet of stuff to my bicycle cart? No problem!
Internet: Awesome. We never once paid for access in Vietnam. There are open wi-fi connections everywhere. It's kind of crazy that internet access in SE Asia is more available than in Australia! C'mon Aussies! Time to join the, um, 1990s.
Food and drink: Oh man, Vietnamese food is sooo good. It's definitely simple, but that doesn't detract from its general awesomeness. Of course, pho bo (beef pho) is the one dish you cannot leave Vietnam without eating (and oh, did we eat it). The key is to order it with the beef half-cooked or rare (it will fully cook in the boiling hot broth), and accessorize the broth with the various sauces on the table.
The food in the north is definitely the best; we've already professed our love for bun cha and cha ca. Vietnamese sandwiches and chinese-style buns (which we only found in the south) were also quite good.
The Vietnamese are unapologetic carnivores and will eat anything. Yes, including dog (though we only saw this on the north). You can tell if a restaurant serves dog if its sign reads, "Thit Cho." We also saw restaurant menus including strange things like, "roasted camel," "field mouse," and "musk cat." Where the heck do you get a camel in Vietnam?!?
A young Brit that we met in Hoi An told us how he went to a cobra restaurant near Hanoi. They bring out a basket full of snakes, you pick the one that is going to be your meal, and they club it to death right there in front of you. Then they squeeze the blood out of it into a shot glass full of vodka, and you shoot it down. Intense.
We didn't partake in the cobra meal, but we did see cobra wine for sale. It is supposed to make the drinker "more potent" (whatever that means).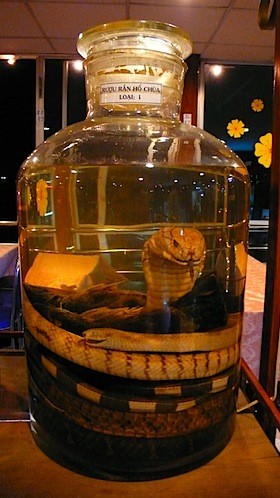 Cobra wine in Can Tho.
Another (less frightening) alcoholic drink in Vietnam is bia hoi. It is freshly-brewed Pilsener-style beer that is pretty much the cheapest pour you can find in the country (about 4000 VND, or approx. 23 cents per glass). It is quite tasty and surprisingly strong.
And we can't forget to mention Vietnamese coffee. Oh. My. God. So good and so, so strong. I usually had to dilute mine with about twice as much water. Once you've had that sweetened condensed milk in your rocket fuel, you can never go back.
Scams: We heard many other travelers complaining about problems they had in Vietnam, though we never experienced any. Most scams are related to transit. In Hanoi, it can be difficult to convince a cabbie to use the meter, but when our Aussie friends finally found a taxi driver who would use the meter, it was rigged to run about 3 times faster than it should have. They simply paid what the ride should have cost (after they got their luggage out of the cab), and left.
We've also heard stories of people agreeing on a price, and when they get to their destination, the cabbie insists that the fare was per person. There is a similar bus scam, where the driver stops in the middle of nowhere and insists on more fare to take you further. And, the most inventive scam (we think) is the one where a bus driver takes the longest and bumpiest route to a destination so that you are more likely to check into the overpriced hotel (that is no doubt "sponsoring" the bus driver) he drops you off at.
Again, we had no problems whatsoever and found Vietnamese people (except in Hanoi)

to be quite lovely, and more than willing to try to understand your silly pantomime communications. It's true that they are commerce-oriented, but we also found them to be curious and friendly even after the monetary transaction was completed.
In short: Vietnam is a gorgeous, varied country. Not only did we meet some fabulous locals here, but the travelers in Vietnam are super cool too! We would highly recommend Vietnam as a destination…it is, quite possibly, our favorite country in SE Asia.
Check out our photos from Vietnam:
OK, I have to admit…I've been avoiding writing this post. Why? Well, I'm loathe to admit this too, but I'll just come right out and say it: we couldn't deal with Hanoi. And I feel terrible about it, because Hanoi was the one place in Vietnam where we had some insider info. Our friend Jenny White lived here for 2 (I think?) years teaching English, and she generously gave us tons of info on the best sights and food Hanoi has to offer. Plus, two other couple friends who did around-the-world trips (Grace & Susan and Brad & Jacqueline) told us they loved Hanoi. So we were all set up to adore this jewel of the north…and we did, for the first day. And then, we couldn't wait to get out of there.
So, you may be wondering…what could possibly make Hope and Jeremy dislike Hanoi so much? I mean, we liked Saigon, for Pete's sake (and nobody, apparently, likes Saigon). Well, there are three main arguments I would like to submit for the consideration of the jury.
Exhibit A: Bring your earplugs
It is freakin' LOUD here. Vietnam is a bustling, rambunctious country, so it's loud everywhere, but Hanoi really excels at this. First of all, the streets in the Old Quarter are organized by trade, so that each shop on that street basically sells the same thing. There is a "Baby Supplies Street," a "Sewing Notions Lane," a "Framed Diplomas Drive," and even a "Snack Food Alley":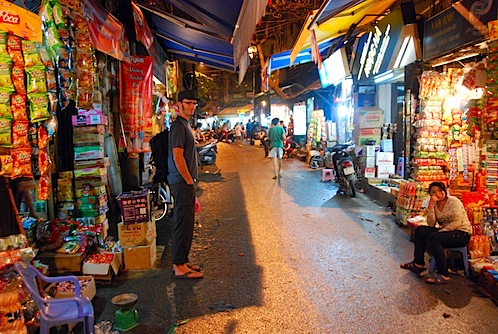 We lived on "Locks and Other Small Hardware Road," but just down the street was "Sheet Metal Way," so that every time we left our hotel, we were greeted by the sound of at least 10 people pounding sheet metal into various forms for sale: bundt pans, colanders, buckets, and chimney vents.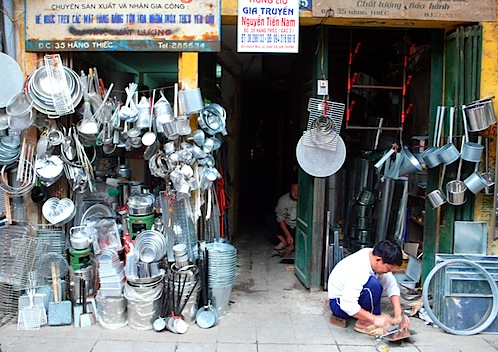 Add to this noise the overwhelming din of traffic in the city and you've got yourself one noisy city. Horns are used pretty much non-stop here (and in Vietnam in general). This is unusual for people coming from the land of "Honking means 'Watch out! Danger!'" In Vietnam, honking means "Move over," "Get out of my way!," and "I'm coming!" In other words, the horn is used non-stop. By EVERY vehicle on the road. So, walking down the street in the Old Quarter is a unending cacophony of hammering on sheet metal and honking horns.
Exhibit B: You might get run over by a motorbike carrying a slaughtered pig
I've alluded to it in a previous post, but let me now take the opportunity to explain how traffic in Vietnam works. First of all, I'm not joking when I say that traffic rules are mere suggestions here. It can be tough to cross the street, but there are two rules that anyone trying to "get to the other side" should follow:
1. The biggest fish rules the pond. That means: buses have right of way, then cars, and then motorbikes. You can cross in front of an army of motorbikes without fear…they will scoot around you (it's kind of like the parting of the Red Sea), but do not try to cross in front of a bus or car. Let them pass, and then cross when there's only a wall of motos coming at you.
2. Walk slowly. Sort of unintuitive, since Westerners want to run across the road. But walking slowly will give the motos time to react to you. Sudden movements = bad.
We had gotten the hang of this chaos by the time we left Saigon. But, the streets in Hanoi's Old Quarter are very narrow (and there are motos parked all along the narrow sidewalks), so pedestrians have to walk in the street. There were a couple of instances where I was glad I curled my toes up as a moto whizzed by.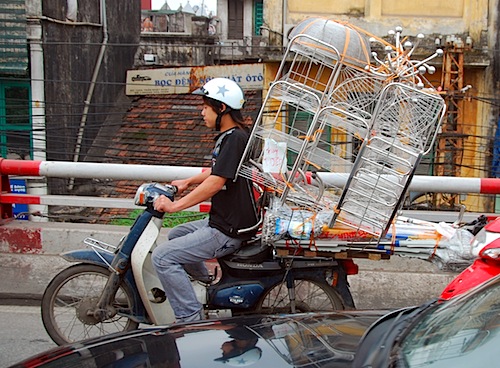 This would probably be considered a light load.
Also, it's worth noting that most of these speeding motorbikes are not just carrying passengers, but incredible amounts of stuff, in all shapes and sizes. Some of the stranger things we've seen strapped to a motorbike in SE Asia:
a large slaughtered pig
sheet glass
about 70 live chickens
circular saws
ladders (strapped to the moto vertically)
bundles of rebar and/or PVC
tables (the table was upside down and the driver was sitting on the flat portion…in other words, there was about 3 feet of table sticking out to the left, right and back of the bike)
Exhiit C: People were mean to us
But we can't just dislike a city because the traffic is bad, right? Well, here's the other reason we couldn't deal with Hanoi…the people. Again, I cringe to admit this, and I am fully willing (and quite frankly, I hope) that this was just our isolated experience of the place. But it's true what Thau in Dalat told me…the people in the north, they same same, but different. Up until we got to Hanoi, we were convinced that the Vietnamese were the friendliest, most curious, most lively people we had met on the trip so far. But in Hanoi, more than one person spoke to us rather disdainfully…we even had people rolling their eyes at us. This was not our experience with every person (and it made us that much more grateful for the people who were nice to us), but it happened enough that we noticed the pattern.
The most discouraging experiences occurred the day we were shopping around for a tour of Halong Bay, a beautiful place full of limestone cliffs jutting out of the sea. Many tourists and locals book overnight trips for Halong Bay from Hanoi, since it is only 3 hours away, and most opt to do cruise around the bay and then spend a night on one of the boats (or "junks," as they are called here). As we have discovered, in SE Asia in general and Vietnam in particular, you can pay wildly different prices for exactly the same thing (seriously, it would not be unusual for one person on a tour to pay US$40 while the person next to him/her paid US$100). So, it pays to shop around. BUT, you also want to be sure you are going with a reputable tour company so that you don't end up with unexpected charges (or, worse, getting scammed). Sounds pretty easy, right? Just sign up for a tour with one of the companies that Lonely Planet recommends.
Well, that's not really how it works in Hanoi. There is little copyright protection here in Vietnam (as evidenced by the innumerable street stands and shops selling pirated CDs and DVDs), so when a tour company becomes successful, other fly-by-night operations will just steal the name. The worst case we saw was Sinh Cafe. Literally, there were dozens of fake "Sinh Cafes" in Hanoi. How are you supposed to know which one is the original, reputable company that Lonely Planet recommended?
On one particularly difficult day, we were wandering around, not sure which tour company to trust, and I was already feeling a little sick and the noise was getting to me, three (three!) different women carrying the baskets pictured below tried to force their heavy loads on me.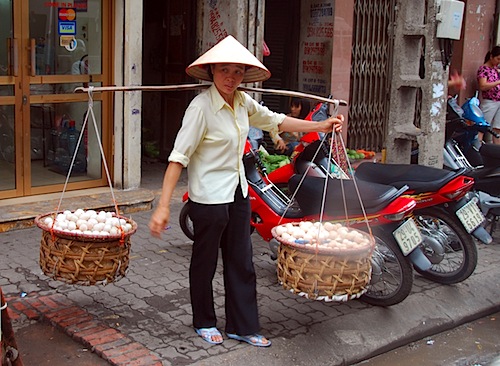 Egg vendor in Hanoi.
I guess this is something that foreigners like to do…take a picture carrying these baskets over their shoulders. But this was definitely not something I was interested in doing and I made no indication that I wanted to carry these baskets. One woman was so aggressive that I had to physically block her from putting the basket on my shoulder. That day, I came very close to losing it.
Rebuttal: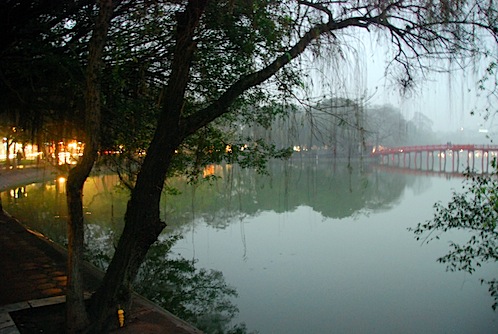 Beautiful Hoan Kiem Lake. Apparently there are very old turtles living in the lake, and spotting one brings you good fortune.
I can totally see why people love Hanoi. It is a really picturesque city, and it doesn't feel like there is a insincere display of Vietnamese-ness (if that makes any sense) put on for the tourists. Walking around the Old Quarter, people are living life as they would live it whether you were there to visit or not, and that makes the place feel really genuine. Plus, there is tons to do in Hanoi. The Temple of Literature is a really beautiful, (relatively) quiet park with a shrine to Confucius: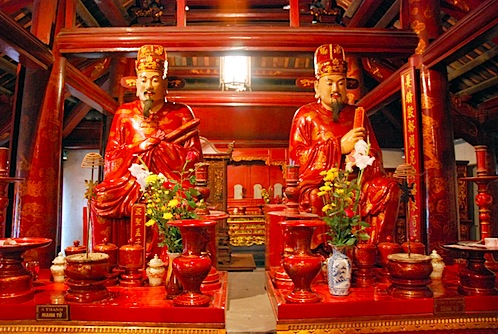 For the more morbidly-inclined, there is also Ho Chi Minh's Mausoleum, where, against his wishes (he wanted to be cremated), you can see the great leader's embalmed corpse. We can attest, he looks pretty good for being gone for a good 40 years (he "travels" to Russia every year for restoration). I don't have any photos of Uncle Ho because you are not, under any circumstances, to take photos of him in the tomb (if you are caught doing so, you are taken to a small room where you must sign a statement saying that you disrespected the great leader). But the adjacent Ho Chi Minh museum is quite fascinating, in a "why-do-they-have-dioramas-with-giant-fiberglass-apples" kind of way (seriously, the place is very strange).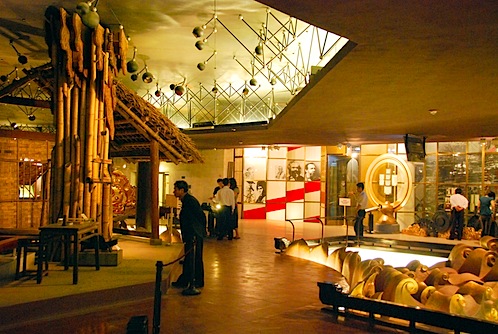 And finally, the food in Hanoi is fantastic. Although meals are much more expensive in Hanoi than the rest of Vietnam, I would venture to say its worth it. Our favorite dish was bun cha. Basically, you get a giant bowl of pork (bacon, sausages, and grilled pork) and an assortment of toppings/additions (lettuce and herbs, garlic, chilies, rice noodles, pickled veggies), and you throw it all into a bowl of thin, light sauce and eat it up. It is also customary to order fried spring rolls to go with this dish. Jeremy and I shared one serving and we still couldn't finish it. Sad.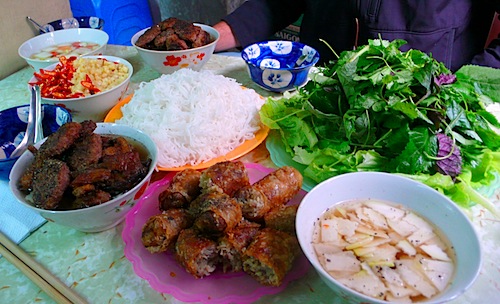 Another really good dish was cha ca, and we had it at Cha Ca La Vong (thanks for the rec, Jenny!), which is apparently the only place in town to eat cha ca (figuratively, not literally). It consists of a spiced fish, which is sauteed with fennel and various other herbs, and eaten with a yummy sauce over rice noodles.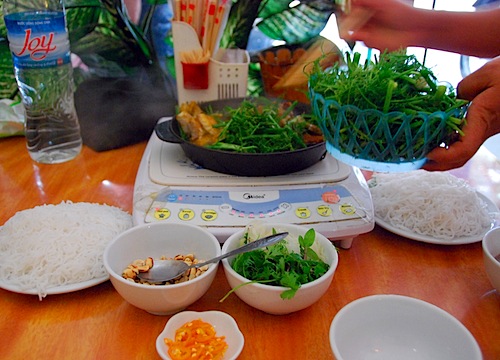 Closing Argument:
I wish that we had a better stay in Hanoi. Maybe we could have salvaged some of our time in the city, but After The Day I Almost Lost It, we spent most of our time avoiding the craziness of the Old Quarter by hiding in our hotel room (to be fair, we are trying to get our taxes in order) and hanging out in quiet places like the Sofitel (the fanciest hotel in Hanoi that does the Indochine thing better than anybody). And Hanoi has a lot more to offer too…on one sad day, we tried to see the circus and a water puppet show, but due to two separate "lost in translation" moments, we were not able to get tickets to either. So, maybe we'll be back here one day…and I'll be sure to pack my earplugs.

When you're on the go this much, sometimes you just need a few quiet days to chill out, recuperate, and not see anything new. This was our mood when we arrived in Ho Chi Minh City (also known as HCMC or Saigon, as it was called before the North won the Vietnam War). We had a nice hotel room with a balcony, fridge, wi-fi, and AC for $14 down "Minihotel Alley" in the Pham Ngu Lao district (the backpackers district) of HCMC, so we were pretty comfortable and we just basked in the luxury of NOT doing anything for a few days.
The one thing we did do is make it to the Ben Thanh market (one of the big markets in HCMC), where, for the first time, we actually saw set prices (i.e., no negotiating)! This was totally new for us in SE Asia and we were completely baffled by it. We still didn't buy anything, though.

We did stop for a tasty lunch, however: pork kebab and imperial roll over rice noodles.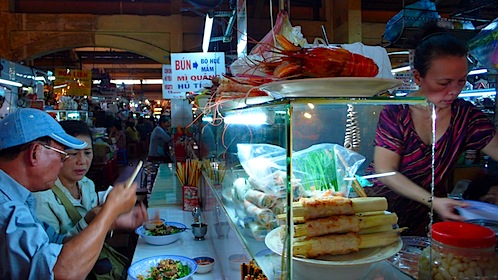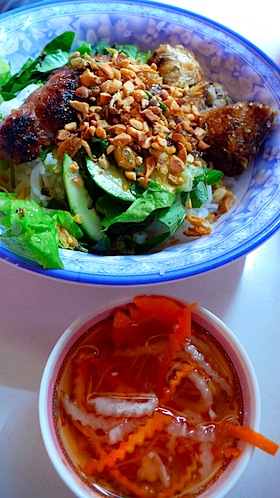 You can buy some pretty funny things in SE Asia. For instance, some "authentic" Dolce and Gabbana manties: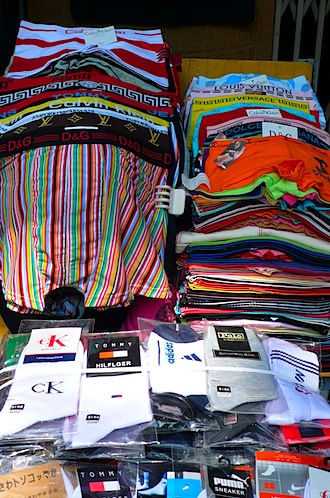 …or a hand-painted portrait of Mary-Kate and Ashley Olsen (or some white bengal tigers, if that is more to your taste):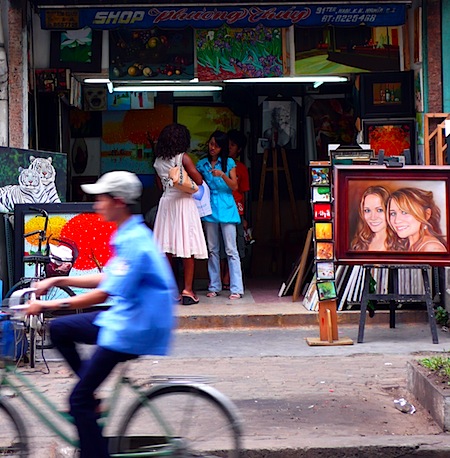 Another thing we managed to do when we were in Saigon was to meet up with Brian (and later, his wife, Dominique), friends of LisaK's (OK, LisaB now, but I will forever think of her as LisaK) from Habitat for Humanity. Brian and Lisa met on a HfH trip in India and then co-led a trip in New Zealand. Brian met his wife Dominique on an HfH trip too and now they have their own thing (similar to HfH) called Be the Change Vacations. I can't tell you how much I respect all of these people for working towards positive and meaningful interactions in their travel…I think it is such an amazing get involved in a local community and I hope that one day Jeremy and I have the opportunity to do such thing.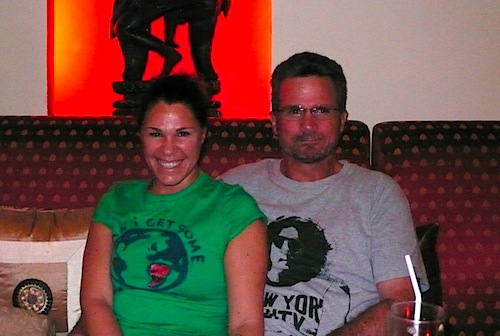 Brian and Dominique were absolutely wonderful! They invited us out for mojitos, and then back to their beautiful apartment, where we got to see how ex-pats in Saigon live. Honestly, they made it look pretty cool.

Once again, we were so moved by how generous and inviting friends of friends have been on this trip (thanks for the intro, Lisa!). This world is taking good care of us! And we hope we can "pay it forward" when we are back at home.
A lot of people warned us about Saigon being a big, noisy, crazy city, but we didn't mind it at all. There was a park across the street from our hotel and we were surprised by how much just a small city park reduced the madness and urban noise.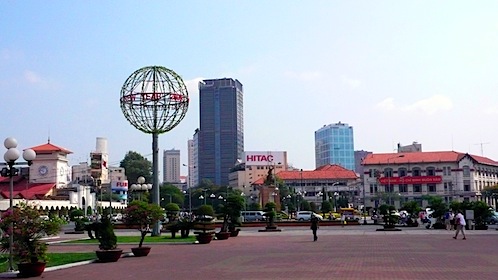 If we ever come back to Vietnam, we wouldn't mind visiting Saigon again. It has great food, good shopping, and all the comforts of city living. And maybe next time we'll actually do something.