When you're on the go this much, sometimes you just need a few quiet days to chill out, recuperate, and not see anything new. This was our mood when we arrived in Ho Chi Minh City (also known as HCMC or Saigon, as it was called before the North won the Vietnam War). We had a nice hotel room with a balcony, fridge, wi-fi, and AC for $14 down "Minihotel Alley" in the Pham Ngu Lao district (the backpackers district) of HCMC, so we were pretty comfortable and we just basked in the luxury of NOT doing anything for a few days.
The one thing we did do is make it to the Ben Thanh market (one of the big markets in HCMC), where, for the first time, we actually saw set prices (i.e., no negotiating)! This was totally new for us in SE Asia and we were completely baffled by it. We still didn't buy anything, though.

We did stop for a tasty lunch, however: pork kebab and imperial roll over rice noodles.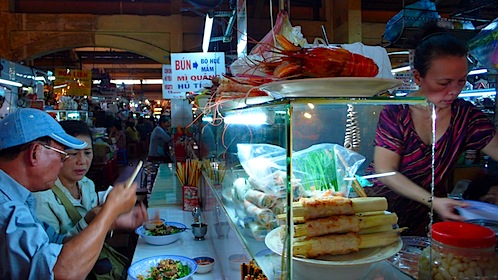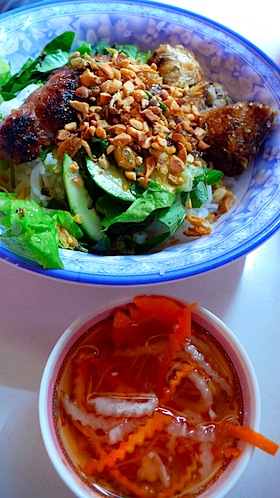 You can buy some pretty funny things in SE Asia. For instance, some "authentic" Dolce and Gabbana manties: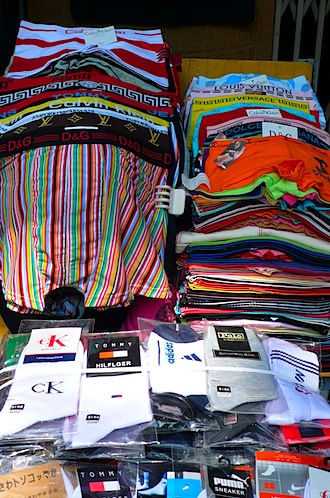 …or a hand-painted portrait of Mary-Kate and Ashley Olsen (or some white bengal tigers, if that is more to your taste):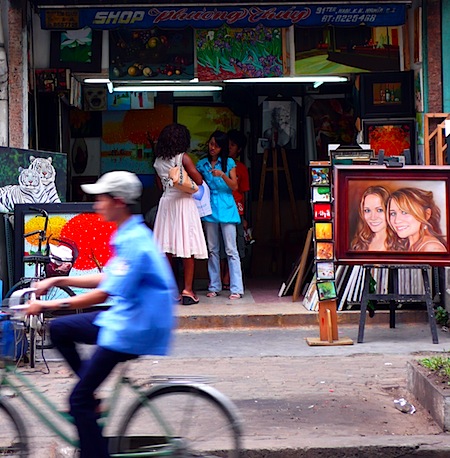 Another thing we managed to do when we were in Saigon was to meet up with Brian (and later, his wife, Dominique), friends of LisaK's (OK, LisaB now, but I will forever think of her as LisaK) from Habitat for Humanity. Brian and Lisa met on a HfH trip in India and then co-led a trip in New Zealand. Brian met his wife Dominique on an HfH trip too and now they have their own thing (similar to HfH) called Be the Change Vacations. I can't tell you how much I respect all of these people for working towards positive and meaningful interactions in their travel…I think it is such an amazing get involved in a local community and I hope that one day Jeremy and I have the opportunity to do such thing.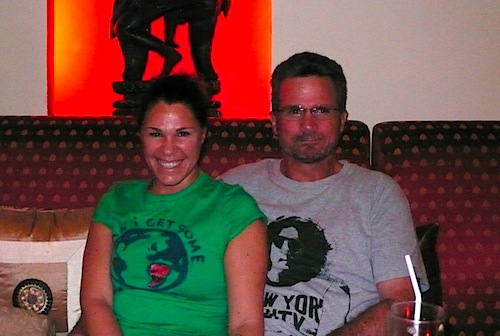 Brian and Dominique were absolutely wonderful! They invited us out for mojitos, and then back to their beautiful apartment, where we got to see how ex-pats in Saigon live. Honestly, they made it look pretty cool.

Once again, we were so moved by how generous and inviting friends of friends have been on this trip (thanks for the intro, Lisa!). This world is taking good care of us! And we hope we can "pay it forward" when we are back at home.
A lot of people warned us about Saigon being a big, noisy, crazy city, but we didn't mind it at all. There was a park across the street from our hotel and we were surprised by how much just a small city park reduced the madness and urban noise.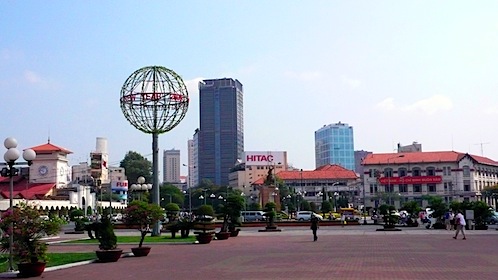 If we ever come back to Vietnam, we wouldn't mind visiting Saigon again. It has great food, good shopping, and all the comforts of city living. And maybe next time we'll actually do something.