United Kingdom
Color me humbled. Here I was thinking the UK wasn't exotic enough for two around-the-world travelers who just spent 6 months in Asia. But the beauty of cosmopolitan London, the romanticism of the English countryside, and the history and general awesomeness of North Wales did a lot to change my mind. Just goes to show, you can find whatever it is you're looking for in any country, as long as you remember to keep your mind open and your curiosity healthy.

We don't know what this building in the background is (we even asked some Londoners and they didn't know either), but it's pretty isn't it? Taken in Hyde Park, London.
Days spent here: 16 (July 16-August 1, 2009)
Highlights: hanging out with friends in beautiful London, storming castles in North Wales.
Places we would like to visit next time: Scotland, especially Edinburgh
Average daily expenditures (for two people): US$95/day in London (note that we did not pay for housing because we stayed with a friend); US$200 the rest of the time we were in the UK (including our rental car)
Guidebooks we used: Eyewitness London and Rick Steves' Great Britain. Honestly, we probably wouldn't have chosen these books for ourselves, but our generous host in London (Chi-Chi) had them sitting on her bookshelf so we were able to borrow them for free. Up until now, we have primarily used Lonely Planet guidebooks, and I guess we've grown accustomed to the LP's format, because we found all the photos and illustrations in Eyewitness London distracting. Just give us the quick and dirty info we need, Eyewitness! Rick Steves' book was much more useful, but it is obviously slanted towards older travelers. In one case, he recommended making a hotel reservation via phone, fax, or letter. Letter?!? Who writes letters?!?
Prices: No bones about it, the UK (and especially London) is expensive. Even with the sterling pound down in the currency markets, it still reigns over the crappy dollar. In particular, dining out will really hurt your pocketbook, with a pub meal in London running at minimum £10 (US$15). In London, you can keep costs down by (1) going to museums (which are free) and avoiding outrageously expensive tourist sights like the London Tower, and (2) making friends with someone who has a spare couch.

The excellent (and gorgeous!) Natural History Museum in London.
Accommodation can also hurt the budget. We spent between £55-60 (approx. US$90-100) for double rooms with bathroom ensuite.
Surprisingly, renting a car in the UK is quite cheap. Our week driving around England and Wales set us back a reasonable US$34 per day.
Weather: We were in the UK during summer, which we found quite pleasant! Of course, bear in mind that we came from China, where the heat and humidity pretty much defeated us, so we found the cooler temps in the UK quite refreshing. We had some rain but also some gloriously clear weather, and the days were nice and long (we imagine that winter in the UK might be a bit depressing, with darkness starting at 4PM and all).
Food: Nobody seems to believe us, but we swear it's true: British food is good now! It is still the case that walking into any old sandwich shop is not going to get you the best grub, but there are really excellent restaurants out there now (at all price ranges) that serve food on par with any other cosmopolitan city. In fact, we had some of the best salmon we've ever tasted at Chi-Chi's local pub in Chiswick (The Roebuck) for only £5 (about US7.50)!
And of course, despite the UK's bad culinary reputation, the English breakfast has always reigned supreme:

The glorious English breakfast: ham, sausage, fried eggs, fried mushroom, fried tomatoes, and beans.
Accommodation: We can't comment on accommodation in London, since we stayed with a friend, but it seems that B&Bs are the best value in the English and Welsh countryside. We stayed in a youth hostel in Wales and had to pay extra for breakfast and towels, which would have been included in the price if we stayed at a B&B.

Little Broom, our cute B&B in Maugersbury, near Stow-in-the-Wold, the Cotswolds.
Transit: In London, we got around on the Tube, and we generally found it to be excellent, with good coverage and easy transfers. Our one complaint: there seems to be no ventilation in the cars other than tiny windows at the beginning and end of each car. I know London's weather is typically pretty dreary, but we found the Tube stifling on days when the mercury barely busted 70 degrees!
For the rest of our week exploring England and Wales, we rented a car, which, at only US$34 per day, was quite reasonable considering how much everything else costs in the UK.
Internet: Like most developed countries, wi-fi is either locked or expensive, and sometimes both.
Culture: We only visited England and Wales, but there are pretty big cultural differences between the two home nations. In general, people in London tend to be like people in most big cities: rushed and at times dismissive (though Londoners have the added joy of being aggressive drunks). We also noticed that Londoners tend to think of everyone north of London as backcountry hicks. In general, we found the people in the English countryside and Wales nicer and friendlier than the people in London…but I don't mean to give Londoners a bad name. Our friend-of-a-friend Jonah and his girlfriend were really, really cool and they took us out to all these excellent off-the-beaten-path bars and clubs the night we went out with them. So while the average Londoner on the street might not strike you as overly friendly, they are excellent hosts and their distance might just be a function of the big city.

The ladies with the big hats going to a function at Buckingham Palace.
In short: Incredible architecture, historic sites, beautiful countryside, AND good food (yes, really)! We had a wonderful time in the UK!
We all have a little kid inside of us, don't we? Hey, I'll admit it: my inner child still loves playing dress-up and eating the heads off of gummy bears. Well, Jeremy showed me exactly what his inner child always dreamed of when, on a whim, we decided to head up to Northern Wales for a few days. The promise of castles and old city walls around a town called Conwy had Jeremy's inner child squealing with delight. Even better: we would be sleeping in bunk beds at our youth hostel (and I let him have the top bunk). Castles, swords, city walls, AND bunk beds? I am pretty sure that 10 year old inside of Jeremy just had his mind blown.
Conwy is a lovely little town located on the coast of North Wales. We rolled into town in the late afternoon, with enough time to walk the old city walls, which enclose this little fishing village by the sea.

The view from atop Conwy's old city walls.
The following day, we prepared to invade not one but two castles. The first, in a little town called Caernarfon, is (like Conwy) another picturesque little town by the sea famous for its lovely views from atop its lovely castle.
Entering the castle, I noticed that most visitors had kids with them. I felt a bit silly when we got up to the ticket gate and asked for "two adults." That is, until I saw the look of glee in Jeremy's eyes. The joy in his inner child's heart was just priceless. I even felt like a proud parent as he ran around shooting fake arrows through the castle's many "murder holes" (yes, that's what they're called).

View through one of Caernarfon Castle's murder holes.
Though not as large, Conwy's castle is equally impressive. Tucked into a corner of the square created by the city walls, the castle allows beautiful views of the town and the sea.

Conwy castle, with views of the surrounding city and countryside.
We learned quite a bit about the United Kingdom from our visits to Conwy and Caernarfon. In fact, these castles were built not to protect the Welsh from invaders, but to project English King Edward I's power into Wales. Charles was crowned Prince of Wales at Caernarfon Castle (as all that are next in line for the throne), a kind of reassertion of the UK's dominance over Wales. See, like Northern Ireland, Wales wants it's independence. And it makes sense why they would—the Welsh have their own traditions, their own food, and of course, their own language. Speaking of which, Welsh is crazy! One look at the written word and you know that Welsh has absolutely no relationship to Latin. The Welsh language looks like it was created when someone accidentally rested their elbow on the keyboard. Ddwylodd. That's probably a word in Welsh.
All joking aside, even though they do not express their desire for independence in a violent manner, this is a pretty serious issue for many Welsh people. Quite frankly, before our visit, I knew very little about Wales. Perhaps this was ignorant of me, but my impression of the UK was most closely associated with England: you know, Big Ben, powdered wigs, and bucolic countryside scenes like those we saw in the Cotswolds. I knew that Scotland and Northern Ireland were quite different culturally from England, but I didn't have a sense of Wales. I certainly didn't realize how distinctly different the four "home nations" of the UK (England, Scotland, Wales, and Northern Ireland) would be. I am humbled and continually amazed by the number of things we learn from our travels. Without this experience, there are so many details and intimacies I never would have known about this world!

The Prince of Wales' Feathers, a royal badge which is controversially used by the royal family to symbolize Wales.
Not only is Wales it's own animal culturally, but physically the landscape is quite different too. Of course, it is much wetter in Wales than in England (though luck was on our side in Wales—we had rain only one morning during breakfast and it was glorious sun the rest of the time we were there!), but the North Wales area is also home to the tallest mountain in both England and Wales: Mount Snowdon. Whereas we saw gentle, rolling hills in the Cotswolds and Oxford, Northern Wales has some pretty dramatic mountain scenery.

The Welsh countryside near Snowdonia National Park.
But Northern Wales isn't just about big mountains and castles. As part of our entrance ticket to Conwy castle, we also saw an old Elizabethan house called Plas Mawr, which had fascinating displays detailing life in the Middle Ages. They had info on everything from the sewer system to strange medical procedures to toilets to diet. It was incredibly interesting, and the house wasn't too bad looking, either!

I was totally obsessed with the decorative plaster work covering the walls and ceiling in Plas Mawr.
What a wonderful time we had in Conwy and Caernarfon! Old city walls, castles, verdant mountain scenery, and old Elizabethan houses…turns out North Wales had more than a few things to appeal to my inner child as well.

How we got from the Cotswolds to Conwy: Conway is a 5 hour drive northwest of the Cotswolds, and this had many people in our B&B on edge. "Oh, Conwy's very far, you'd better get a move on!" "Be careful, you can always pull off to the side of the road if you're tired!" We were like, "Um, we're from California…we do 5 hour drives in our sleep!"
Where we slept in Conwy: We stayed at the Conwy YHA, which was located up the hill outside of the city walls. Even though it was kind of hike out of town to get back to the hostel, the views were stupendous! The hostel itself was clean and comfortable, thought our room was very tiny, and they charged extra for towels. I think staying at a B&B in town might have been better value…though you certainly won't get the same vistas.
[ring ring]
Cotswolds B&B Keeper: Six-five-zero-seven-seven-three? [Author's note: I spoke to at least three B&B owners in the Cotswolds who answered the phone like this—by reciting their phone number. Weird!]
Hope: Hello? Is this Warwick House Bed and Breakfast?
CB&BK: Indeed it is.
H: I was calling to see if you had any double rooms available for tomorrow night and if so, how much it costs.
CB&BK: Why yes we do. It's £60 for a double room, including breakfast. Would you like me to reserve the room for you?
H: Let me call you back in a bit, I'm just asking around right now.
CB&BK: Right you are.
H: Thank you!
CB&BK: Cheerio!
"Right you are"? "Cheerio"? Really?!? People really talk like this?!? AWESOME!!!
The United Kingdom continues to surprise. First it was London, which I mistakenly thought of as too vanilla. Thousands of Middle Easterners, Europeans, and Africans living in the city proved me wrong on that assumption. This time it's the Cotswolds, a region about 2 hours northwest of London in the countryside, showing me just how English England can get. Now I understand where they those halcyon scenes of the English countryside you see in the movies come from. Rolling hills? Check. Little old ladies pushing carts to the market? Check. Stone cottages with thatched roofs? Check and double check. It's all right here, in the Cotswolds.

House with a thatched roof in the Cotswolds. This one in particular has a nice "haircut."

A traditional silversmith hard at work. Doesn't this photo look like it came come straight from some PBS show or something?
The Cotswolds is a collection of little villages with awesome names like "Bourton-on-the-Water" and "Stow-on-the-Wold," scattered between acres of lush green hills and rolling terrain. Most of the buildings in this area are built with "Cotswolds stone," which is the most gorgeous golden yellow color:
By far the cutest village is Bibury, with adorable slate-roof houses set upon a babbling river. Unfortunately, it was raining pretty hard while we were there, so we didn't really get to explore.
Our first night in the area, we stayed in Moreton-in-Marsh so that we could check out their local market the following morning (Tuesday). The market itself wasn't too interesting (mostly a bunch of factory seconds and random electronics), but it was definitely a culture shock for us…after six months in Asia, we were agape at the sea of silver hair! I was totally charmed by all the little old men in their cute English outfits. Even the ironmonger (yes, there was an ironmonger) was wearing tie and sweater vest underneath his work apron.
After lunch in one of the local pubs, we headed out for a day in the countryside. We visited Hidcote Gardens, a vast network of "outdoor rooms," where you can see the English garden in all its overgrown glory.

Hidcote Gardens, with the manor in the background.

Just as breathtaking: the wheat fields right outside Hidcote Gardens.
But the highlight of our visit was Snowshill Lavendar Farm. It's a pretty stunning sight to go from golden hills of wheat to acres and acres of vivid purple farmland. And the fragrance was incredible! You can pay a small entrance fee (£3?) to enter the farms and pick your own lavender, or you can just enjoy the lovely sight and aroma from the highway (like we did!).

Snowshill Lavender: if only pictures could capture smell, too…
If you ever feel like walking straight into movies like Pride and Prejudice or Remains of the Day, now you know know exactly where to go.

Note: You may notice a few changes in the way I post about our travel experiences. Since so much of traveling is about the actual traveling part (and others may find this useful), I'll be including a "How We Got from Point A to Point B" section at the end of each post. I'll also be including info on where we stayed in each destination. Like a good (online) citizen, I've been updating Wikitravel, Tripadvisor, and Hostelbookers with reviews of the hotels and hostels where we've laid our heads, and I thought it might be a good idea to include those words here too. Hope it helps in your future travels!
How we got from Oxford to the Cotswolds: We drove our rental car along the A44 from Oxford to Moreton-in-Marsh, our first destination in the Cotswolds. It was a relatively straightforward drive (only about 1 hour), but we felt very fortunate to have Chi-Chi's satellite navigation device with us—all those one-way streets and roundabouts in the England can throw you for a loop!
Where we slept in the Cotswolds: The first night, we stayed at Warwick House B&B (£60 for a double ensuite, including breakfast) in Moreton-in-Marsh. The owner, Charlie, is really sweet and totally crazy in that way that all B&B owners seem to be. We had the largest room in the house, with an attached ensuite bathroom (with a bathtub!). The room was great but the beds were a bit too soft for us.
The second night, we stayed at Little Broom (£55 for a double room ensuite, including breakfast) in Maugersbury, near Stow-in-the-Wold. It was a beautiful little cottage out in the countryside with incredible grounds and yet another crazy B&B owner. Our room was smaller (and pinker) than our room at the Warwick. Great breakfast!
After 10 days in London, we rented a car to explore the English and Welsh countryside. First stop: Oxford, where our friends Nas and Jen (who we know through Grace and Susan), agreed to host us for the evening, which was very generous, considering they have a (very cute) 9-month-old (Nya) to run around after!
I'm sure I can't do Oxford justice, since we were there a mere 24 hours, but I'm pretty certain no one will argue that it is a beautiful place. Nas, Jen, and Nya walked us into town along the River Thames, and the countryside around their home was just stunning!

You might find this picture next to the word "idyllic" in the dictionary.

Ducks and geese vying for food in front of the Lockkeeper's Cottage.
Once you get into town, the views are just as mesmerizing. If the gorgeous architecture doesn't win you over, then the cobblestone streets surely will.

The Radcliffe Camera, probably the most photographed building in Oxford.
Speaking of gorgeous architecture, we thought the Natural History Museum in London was beautiful, but the equivalent in Oxford blows London out of the water! Sadly, the photos will not do the stunning Gothic structure justice.
Many people (including Jeremy and I) are surprised to hear that Oxford does not have a unified college campus, but rather, is made up of a number of independent colleges, each with its own identity and unique campus. By far the most popular is Christ Church College, since it houses The Dining Hall Where they Filmed Harry Potter. There were a lot of kids and teenagers touring Christ Church, each one probably imagining that they were flying around these hallowed halls on their own personal broomsticks.
To which I say: dining hall, schmining hall. Check out the ceiling!!! [SWOON.]

The ceiling in Christ Church College.
If you're ever in Oxford, we highly recommend you check out the University Church of St. Mary the Virgin. The views of Oxford from the top are stunning! They recently upped the entry fee from £1 to £3, but it's still worth it.
Our stopover in Oxford, although brief, was very enjoyable. Not only did we get to see England in all its glory (punting on the River Thames, historic university halls, people playing cricket, calves nursing in the grassy fields, old timey guys riding wooden bicycles in coattails…does it get more "English than that?!?), but Nas, who is a master photographer, filled our little brains up with all the f-stop and aperture info we could handle! We even had time for a late-night photo-shoot in his studio (check out the rest of his work here).

Nas, Jen, Nya, Jeremy, and Hope.
Thanks to Nas, Jen, and Nya for showing us such a beautiful part of the world!
I was mistaken when I thought that London wasn't exotic enough. Though after 6 months in Asia, I suppose even white bread and vanilla ice cream can seem like curiosities. I just couldn't get over the diversity—Europeans, Africans, Russians, people from the Middle East…all of them rushing around in this busy city. One of our most fascinating outings in London was our visit to Harrods (the famous department store), where we watched women in full burka shopping for designer threads and expensive lingerie (which begs the question…why bother spending $500 on a shirt if no one is going to see it?).
In fact, our friends in London are a mini-United Nations in and of themselves: Chi-Chi (our fabulous and generous Chinese American host), Conall and Mariam (Irish and French-Caribbean), Brendan and Eela (American and Persian), and Corre Marie and Matt (Japanese American and Irish/English). And we made new friends with an English/Argentinian couple.

Brendan, Jeremy, Conall, Mariam, Chi-Chi, and Hope enjoying pints at The Cow.

Matt, Jeremy, Corre Marie, and me.
Most of our buddies just moved to London in the past year, but Corre Marie (who Jeremy has known since she was in diapers) and her boyfriend Matt have lived in London for a while, so they helped explain all that confusing passive aggressiveness to us (Matt: "The English, man, they're dour! They're dour!). Matt's opinion was confirmed after a late night out with the English/Argentinian couple: some guy tried to pick a fight with Jeremy after the two accidentally collided, despite the fact that he was a head shorter than either of us (he threatened both of us with "I punch you in the face!"). I'm sure the pint or ten he threw back at the pub didn't help matters. Hey, Americans may be annoying tourists, but at least we're loving drunks.
But I suppose any big city is going to have its share of cranky people, and luckily, we didn't have any further run-ins with drunken killjoys. In fact, we had a great time enjoying this fabulous city…wandering around different neighborhoods by day and going out with friends at night.

Street performer, Piccadilly circus.
Many of the sights around London charge exorbitant entry fees, which can be as high as £20 or almost US$32 per person! So we didn't do a lot of the "typical" London sightseeing like the London Tower, Westminster Abbey, or London Eye. We did, however, visit Buckingham Palace, even though the Queen charges a royal fee for the privilege (£16.50 or US$26 per person)! The audio tour is narrated by members of the royal family, and it was a good thing to do once in our lives, though if/when we return to London, we'll probably save our pounds for a pint.
Luckily, all the of the museums in London are free, and very impressive. I adored the V&A and its fascinating display of the historic and the futuristic. I was particularly enamored with the fashion and footwear collection (is anyone surprised?), which had 18th century corsets on display next to work by current student designers at the Royal Academy of Art. The V&A also had a fabulous temporary exhibition called Telling Tales, which was all about the role of fairy tales in contemporary industrial design. AWESOME.
Surprisingly, I was a bit disappointed with the Tate Modern. Mostly because the curation seemed a bit chaotic to me, and the pieces seemed too close to each other. Let the art breathe, Tate Modern!
Both Jeremy and I loved the Natural History Museum, though mostly for the stunning building, with its Romanesque archway entry and the collection of stone animal sculptures decorating the exterior of the building.

Exterior of the Natural History Museum.

A skeletal scene inside the museum.
The parks in London are also a budget-friendly way to pass the time. Richmond Park is by far the biggest and most fabulous in the city. With deer!

The spotted deer in Richmond Park.
We also wandered around some of the markets. Spitalfields, billed as a market for up-and-coming fashion designers, actually has a bunch of cheap made-in-China clothing for a sale. Needless to say, it was a disappointment. Portabello Market was a bit more "English authentic", but so crowded that it was not enjoyable (unless you like that sort of thing).
Speaking of crowds, the Tube is fabulous, but can someone please do something about the ventilation in there?
We spent 10 days in London, enjoying the cool weather, eating fun Western foods that we hadn't eaten in six months (like hamburgers and bacon), and going out with friends. London is a gorgeous city with fabulous things to do and see. Just try not to bump into any drunk English blokes.


Gordon's (London's oldest wine bar), housed in an underground cave.
Did you know?
The UK ≠ Great Britain ≠ England. The United Kingdom is made up of three distinct "home nations": England, Scotland, Wales, and Northern Ireland. Note that England is only one "home nation" within the United Kingdom. Great Britain consists of the "continental" home nations of England, Scotland, and Wales. Therefore, Great Britain + Northern Ireland = United Kingdom.
The queen "owns" all the animals in London's parks. So if you accidentally kill a duck or a deer, you can be tried for treason. Really.
Brits do not pronounce the "ce" or "w" in the middle of a sentence. So "Chiswick" becomes "Chizzick" and "Worcester" becomes "Wurster."
English food is good now. No really. Seriously. No, I mean it. I know it will be hard for most people to believe, but I swear it's true. No, you're not going to get good grub if you walk into the average sandwich shop on the street. But the rise of gastropubs means that most of the time, you can get a good meal with your pint without even looking that hard for it.
Check out our photos from London:
I didn't want to go to London.

Can this photo scream "London" any louder?
It's not that I wasn't interested—I've never been there (Jeremy has) and I was curious about the place, but just not now. I didn't feel like it was very exotic—the UK is a place we could travel with kids later on in life, and I was gung ho to continue roughing it.
Two months in China changed my mind.
More accurately, two months of intense heat in China changed my mind. Originally, our around-the-world tickets had us flying from Beijing to Amman, Jordan. Call that poor research on our part—flying to the middle of the desert in July? Not smart. We needed to kill some time while the planet cooled down a bit before heading to the Middle East, and we had a friend offer us her place in London (which is the only way it would have been affordable for us to visit). So why not? We chose Qingdao based on the climate, why not London?

Ominous-looking clouds over the National Gallery. If you ever feel like complaining about the miserable weather in the UK, just spend two months in the oppressive heat of China. Then London will feel like heaven on earth. A nice, cool, sometimes rainy heaven on earth.
Plus, China was tough, and we were kind of over it by the end (it's worth noting, however, that the misery has diminished with time—we think of China fondly now). As London loomed closer in our calendars, I started positively salivating at the thought of indulging in Western "comforts" like throwing toilet paper in the toilet and drinking tap water. And, I felt there was a kinship between Americans and Brits. I imagined landing at the airport and feeling like I was in a home away from home. They'll welcome us with open arms and we'll all make jokes in English and maybe they'll offer us a spot of tea and crumpet. Right?
Not so much.
Of all the immigration checkpoints we've been through, I've never been grilled as hard as I was entering London. Why was I here? (Tourism.) Where am I staying? (With a friend.) How long am I planning on staying? (Three weeks.) What was I planning on doing? (I don't know yet.) You are going to be here for 3 weeks and you don't know yet? (Um, I guess I'll go see Buckingham Palace?) After about 5 minutes of rapid questioning, the immigration officer was finally satisfied and let me through. I found out later that they go through this whole rigamarole to see if there are any inconsistencies in your story. You know, just in case your occupation starts with the letter "T." And rhymes with "herrorist."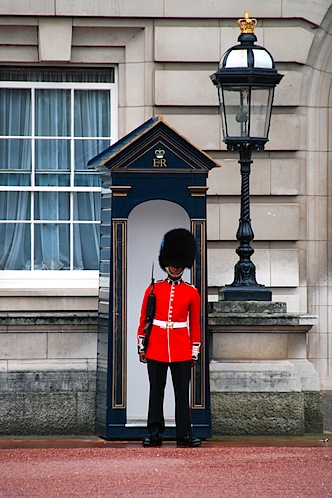 Um, excuse me, but I think your hat is a little crooked.
I quickly found out that Jeremy too got yelled at by the immigration officer for not going up to the window with me (I guess families are supposed to go through together). And then some lady bumped into me and said "Watch where you're going." Suddenly the chaos of China isn't looking so bad…
Despite the shaky start, we ended up having a great time in London. It didn't hurt that we have a lot of friends here (and made new ones). Our friend Chi-Chi generously let us crash in her guest room for a whopping 10 days, so we felt right at home. Minus the passive aggression.