Posts Tagged 'Chongqing'
Oh, the highs and lows of traveling through China! There were definitely some lows (see Qingdao: Confronting Identity in a German Town in China and Yangshuo: Anatomy of a Scam), but the peaks and the valleys seem to flow into one another so that you're no longer sure what hurts so bad and what hurts so good. Our Yangzi Three Gorges River Cruise is the perfect metaphor: we spent three days on a 4th class river boat with a bunch of half-naked Chinese people who only stopped smoking cigarettes, spitting, and playing mahjong long enough to follow a megaphone-wielding tour guide around in 100 degree heat. Yes, it was unpleasant at the time. But even now, almost 3 months after the fact, we bring it up in conversation almost every week and giggle at the absurdity of it all. It's sort of like running a marathon: when you're in the moment, you can feel blinded by the pain, but once it's over, you're really glad you did it.

Ladies at the market near Hakka House.

View of Jiefangbei from across the Jialing River in Chongqing.
As Jeremy put it, "of all the countries we've been so far, China is the one I would have most regretted missing." China is relevant, y'all. It is freaking fascinating there right now, a place where nothing stays the same for more than a few weeks, the government is still messing with people's civil liberties in exchange for making them rich, and people are spitting on the street in their US$500 Gucci heels. We think every Westerner should go. Observe. Learn. And see what a country of 1.3 billion people all working together to pull their country up by its bootstraps looks like. There's no place like it.
Days spent here: 43 (26 days in Southern and Central China, 17 days in the North)
Highlights: Huangshan, Yangshuo (for Jeremy), Yangzi River Three Gorges Cruise (somewhat painful, but also unforgettable), Beijing
Places we would like to visit next time: Western China (i.e., Tibet, Xinjiang, Jiuzaigou) and Mongolia
Average daily expenditures (for two people): US$213 for 13 days on our 5 star hotel/fancy eating tour with my parents (heavily supplemented by Jack and Wendy—thanks Mom and Dad!), US$120 for the remaining 30 days on our usual 1 star hotel/street food backpackers tour
Prices: China's pretty reasonable. Food is very inexpensive (from US$5-10 per person per meal) and accommodation can be pretty cheap too. On average, we paid about 200 RMB (approx. US$30) per night for a double room ensuite. We used hostelbookers.com and Ctrip.com to book our accommodation, and we got great deals using both websites.
Weather: Do yourself a favor and don't visit northern China in June or July, unless you like your searing heat with a dash of crushing humidity. Don't say we didn't warn you.
Language: There are 300 million people in China learning English right now—that's the same number of people that live in the US! But you wouldn't know it from traveling in this country. If you don't speak Mandarin, polish your pantomiming skills before you go. On the other hand, if you are a wai guo ren with Mandarin speaking skills, prepare to be worshipped. The people will fall all over themselves with delight.
If you do speak Chinese, be warned that you will need to overcome not only regional accents, but regional phrases as well (ex. if you are from Taiwan, you will call a spoon a tiao gen, but a Beijinger will refer to it as a shao zi). For instance, I had the following conversation with a person in Taishan (in Chinese, of course):
Hope: Excuse me, do you know if there is a pharmacy around here?
Random Person: A what?!? A pharmacy?
H: Yes, a pharmacy.
RP: I don't know. Why don't you go ask over there [points to a pharmacy], at the medicine store?
Oh yeah, and if you've ever been interested in visiting China, go now, before all the Chinglish gets wiped out.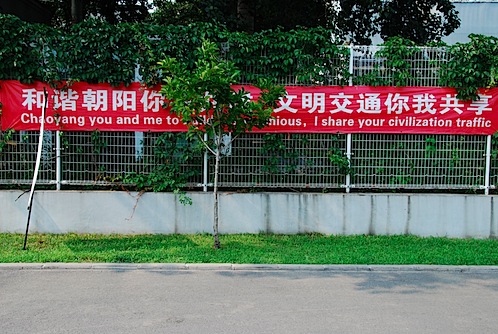 One day, China will be void of gems like this (reads: Chaoyang you and me to build harmonious, I share your civilization traffic)
Food: Outside of our eating tour with my parents and the food in Beijing, we weren't too impressed with Chinese cuisine. We said it before and we'll say it again: if you want the best Chinese food in the world, go to Taiwan.
That being said, China is a great place if your culinary hero is Anthony Bourdain. We got over ourselves really fast in Chongqing, where my aunt's friends took us out to meals involving pig brains, duck tongues, cow rumen, and various other intestinal elements. You can also try snake, turtle, or live scorpions. Yum?
Transit: China's got a pretty good rail system for such a big country. Chinese trains are not quite as nice as the trains in Taiwan or Japan, but they're not as bad as the trains in Vietnam, either. For long journeys, you can purchase tickets for a soft sleeper (most expensive), hard sleeper, soft seat, or hard seat (cheapest). Soft sleeper trains are pretty nice, with 4 beds in each room, AC, clean sheets, and relatively clean bathrooms. "Hard sleeper" sounds scary, but it's worth noting that hard sleeper beds aren't hard—the mattress is just a little bit thinner. The biggest difference is that there are 6 beds in the hard sleeper rooms rather than 4. Since J and I are tall, we usually traveled in the soft sleeper trains, which are still relatively cheap, even though tickets are 1.5-2 times as much as the hard sleeper carriages.
For information on routes, schedules, and prices, check out ChinaTravelGuide.com's fabulous online train schedule database.
The bigger cities like Shanghai and Beijing have subways, but Shanghai's subway system has pretty bad signage and confusing connections. Beijing's subway did not reach most of the sites in the city center, so we did a LOT of walking or took taxis. Luckily, taxis are very cheap in China's capital city, but you're going to have to speak Mandarin in order to get where you want to go.
Internet: Web access is great all over China—as long as the government isn't blocking the site you want to surf. YouTube, Flickr, Facebook, Twitter, and all blogspot sites got blocked for periods of 3-10 days while we were in China due to the 20th anniversary of Tiananmen Square and the deadly Uighur protests in Xinjiang. Annoying.
Culture: Get ready for a culture shock. Get ready for people constantly cutting in front of you in line. Get ready for men walking around in inappropriate places with their shirts hiked up above their nipples. Get ready for spitting. Get ready for half-naked babies pooping in the street. Get ready for smoking. Get ready for LOUD. That being said, once you figure out how things work, it's easy enough to deal with them.

Baby at the Summer Palace wearing the poop pants.
One fascinating thing about traveling through Taiwan and China is that we got a firsthand look at how differently these two countries developed culturally. The Taiwanese are exceedingly polite, aggressively helpful, and overly concerned about safety. The Chinese on the other hand, are rude and pushy, frequently uninterested in helping you, and some of the craziest drivers in the world. Now, you could point to many reasons for this cultural gap: the fact that it was the intellectuals and people of the upper classes that moved to Taiwan in 1949 to escape Communist persecution, the effect of 60 years of Communist rule on the people of China, etc. But I'd like to propose a different hypothesis: It's the sheer numbers. There are 57 times as many people in China as Taiwan. You would get CRUSHED in China if you were nice and helpful to people all the time. The result is, if someone vouches for you in China (as my aunt did, in our case), you get extreme, excessive kindness from people that you may only marginally know you. But those same people on the street may wave you off if you ask for help. Yes, it's a contradiction. But it's a fact of life here. All I can say is, try to make friends with a local. If you do, you will get the red carpet rolled out for you.
In short: It's not always pleasant, but that doesn't mean it's not a great time.
As I mentioned in my previous post about Chongqing, we came here for the boat trip, but we stayed here for the people…my aunt's peoples, that is. Not only were we set up at my aunt's sweet apartment (she is currently living in the States with my uncle), but she had at least 3 sets of friends/family watching out for us, taking us out to dinner, paying for everything (as is the Chinese custom) despite numerous protests, and generally bending over backwards to make sure we were comfortable and having a good time. And here we thought our five-star days in China were over once my parents left! Jeremy and I have been amazed time and time again on this trip by (1) the number of extended friends and family we have around this world…who knew?!? We sure didn't!, and (2) the generosity we've been shown by people who have only the most tangential connection to us (In fact, I've only met my aunt twice! She only recently married my uncle). Note to selves: become better hosts when people come visit San Francisco. We have some serious karma to pay back. Thank you, World, for taking such good care of us.

View from my aunt's apartment of the Jialing River.

Same view at night. Chongqing is really spectacular once the sun goes down…you can't see the smog and the lights along the river are sensational.
When my aunt's friends Huang He and Jiang Su came to pick us up at the train station, I figured we'd go out to dinner once, and maybe get a few tips from them on what to do around Chongqing. We quickly came to find out that between Huang He, Jiang Su, and a few other friends/family (Qing Hong and Wan Jian), we had activities planned for each day, we would be treated to dinner every night, and our plans for the Three Gorges Yangzi River cruise would be taken care of for us. Apparently, it takes a village to care for 12FOOT3!
We spent a couple of days under the care of Qing Hong, who coordinated a driver to take us to Ciqikou, a preserved and restored village with a main drag set up with shops and food stalls for tourists. We were there on "Kid's Day," (an national holiday in China), and there were tons of adorable tykes wandering around, reveling in their special day.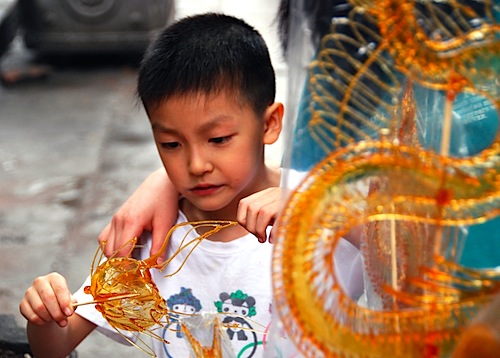 Kid at the candy vendor. You spin a wheel, and whatever animal you land on, the candy man draws that animal out for you in candy glaze. This little guy spun a cuttlefish (I think). Mmmm…cuttlefish candy…
Baolun Si is the only remaining temple in Ciqikou, and we stopped by to pay our respects and light some incense for our ancestors.

Jeremy lighting a candle at Baolun Si in Ciqikou.
For a tourist village, Ciqikou is pretty amusing…we enjoyed ourselves as we walked the main drag, gawking at all the specialty food (rice steamed inside a bamboo pole, cotton candy in the shape of a flower) and random carnival games (sweet little Chinese teenage girls shooting rifles at balloons, little kids riding mechanical elephants). The nicest part of the town, however, is the quiet back streets, where people actually live and Ciqikou is still a functioning village.
The following day, we were accompanied by Wan Jian (my aunt's younger brother), who started off the day by taking us to Chongqing's "Good Eating Street," (Hao Chi Jie) a small pedestrian street full of local food stalls. Chongqing is most famous for one flavor: spicy! In fact, their version of spicy is called ma la, or "numbingly spicy." Interestingly, it is not the chili that makes your tongue numb, but the addition of this small round spice that looks almost like a peppercorn. We weren't crazy about the feeling…imagine eating a bowl full of spicy noodles after your dentist injected your with a local anesthetic. That's pretty much what eating a bowl full of ma la noodles feels like…which is not to say the noodles weren't good, or even spicy, it's just…weird.
Wang Jian was really eager to feed us, and he ran around the food court area collecting different snacks for us to try. At some point, he came back with three skewers, which he told us were duck intestines, duck tongue, and duck heart. Awesome! Just what I was craving…some good ol' roasted duck parts on a stick.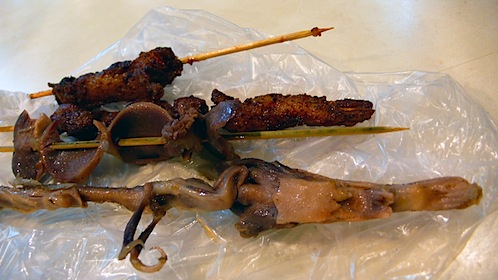 This is duck tongue. On a stick.
The duck intestine and duck heart were fine, as long as you didn't think of what you were eating. But the duck tongue. Oh man, I just…Could. Not. Do. It. The texture was waaay too much for me. I told Jeremy, "I feel like I'm frenching a duck!" But given that Wan Jian was so excited about showing us his hometown's food, we couldn't just leave the tongues sitting there. So Jeremy took it for the team and nibbled down a few tongues while I stuck to the hearts.
That night, Huang He and Jiang Su treated us to dinner. They knew that we wouldn't be able to handle truly spicy Chongqing food, so they looked for a restaurant that specialized in more mild fare. Jiang Su asked me if we ate ge zi, and I was like, "sure!" I had heard that word before, but I couldn't remember what it was…so I pulled out my handy iPod Chinese dictionary, typed in the pinyin, and what do you know, ge zi means "pidgeon or dove." I'm sitting there in the back of the car on the way to the restaurant thinking, "please let it be dove, please let it be dove…please don't tell me we're about to eat some pidgeons…" And sure enough, the restaurant is decorated with white dove icons all over the walls and ceiling. So Jeremy and I have chosen to believe that we ate doves that day, and not the pidgeons that you see running around on the street in Chongqing.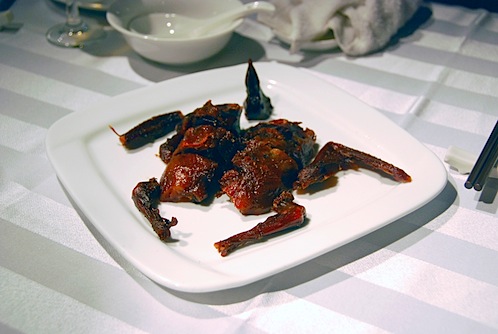 I feel like ge zi tonight!
Ge zi is apparently a Chongqing specialty, and the people here think that it is particularly nutritious and good for your body. And I have to admit, it was good…it just sort of tasted like a cross between a duck and a chicken. Again, just forget for a moment what you're eating…or try to think of it as doves instead of pidgeons.

To complete the trio of scary meals we had in Chongqing, Qing Hong and a bunch of her friends invited us out to hotpot the following night. As you can imagine, Chongqing puts the "hot" in "hotpot." As soon as you walk in the door, the hotpot is an assault on the senses. You can smell the spice. You can feel the spice (it starts stinging your eyes). And you can see the spice (an enormous, boiling vat of liquified peppers).
In spite our wussy American tongues, Jeremy and I put in a pretty good performance at this dinner. We ate almost everything that was put in front of us, without even "washing" the boiled meats in water (as Qing Hong and her friends suggested we do if the food was too spicy). I have to say, this was no small feat for us, especially since about 90% of the stuff they put into the hotpot was intestinal in nature. I'm used to eating hotpot with sliced pork, lamb, tofu, cabbage, and mushrooms. This was no soft, pansy hotpot like the stuff we eat at home…we're talking liver and entrails and pig brains (yes, pig brains!!!) here. The scariest thing for me was the green, hairy cow stomach (you can see it in the photo above on the bottom left). Someone pass the heartburn meds.
I have to admit, Chongqing was the one place so far on the trip that we were too scared to eat the street food (besides Chiang Mai, where we had issues). This had nothing to cleanliness, and everything to do with spiciness. Seriously, the people here eat stuff that would make most Americans' heads explode.
Despite all the scary food, we had a wonderful time in Chongqing. I feel like we really got a sense of the place and it's people. Even though Chongqing is not really a tourist destination, it was super interesting to see all the development here and we had a wonderful time meeting all my aunt's friends. Traveling around China can be really hard and stressful, and it was really nice to be taken care of and to feel like someone was watching your back. Jiang Su even took us to the ghetto pirated DVD store, where we got taken up into the hidden back room so we could check out the newest releases from the States. Now THAT'S what I call care!
But seriously, at a time when I was still feeling disappointed at my peoples for our Yangshuo experience, I was reminded that the best parts of Chinese culture still persist. Chinese people will still display extreme levels of generosity, all the while making you feel like it is something they are happy to do. They still want to show you the wonder and beauty of their hometown (even if that beauty is in the form of a duck's tongue or a pig's brain). And they still bend over backwards to make two vouched-for strangers feel like they have a home away from home.
Some more images from our time in Chongqing:

Hong Ya Dong, a restored "old Chongqing" housing complex, which is now a tourist shopping complex.

Liberation Monument, the cultural center of Chongqing.

Dazu Caves, an 800+ year-old Buddhist sculpture grotto outside of Chongqing. See more of our photos of the Caves here.

Jiang Su, me, J, and Huang He in front of the Yangtzi River.
We hightailed it out of Yangshuo and jumped on the overnight train to Chongqing, in Western China. We got on the train at 1PM and arrived in Chongqing the next morning, so we had plenty of daylight hours to enjoy the view…and what a view it was! Guangxi province has an incredible landscape…full of the same karst formations we saw in Yangshuo.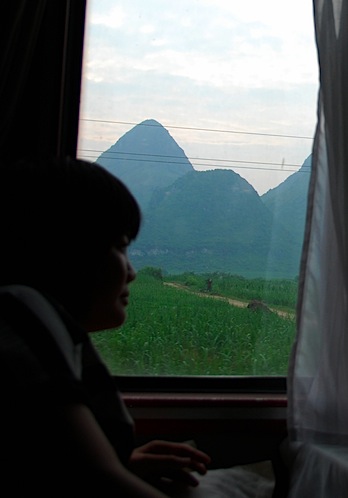 This was our first experience in China traveling "with the people," and we saw many Chinese families en route to their various destinations.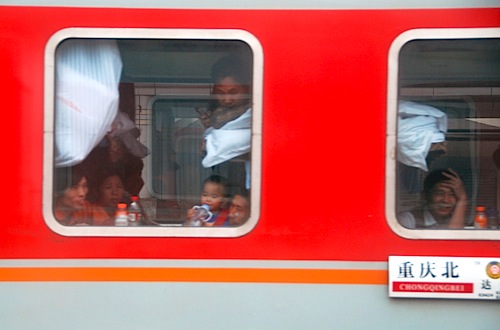 We shared our cabin with a man of 40 or so who was taking his ailing uncle to Chongqing for treatment. His tenderness towards his uncle (who he told me was "like a parent" to him) reminded me of the best aspects of Chinese culture (respect towards the elderly, filial piety, etc.), at a time when I was still stinging from experiencing its worst in Yangshuo.
You've probably never heard of Chongqing, and it's not on most travelers' radars as a destination (other than as the launching point for boat trips down the Yangzi). Actually, we wouldn't have considered Chongqing as a stop on our trip through China, except that my aunt (Xiao Jo Ma) has an apartment there, and she insisted that we take advantage of it.
But hey, World Out There, remember that name, "Chongqing." You will undoubtedly hear about it in the coming years. The Chinese government is pouring tons of money into this city, as an experiment in making the interior of China as successful as it's East Coast. It's also a way to improve the economic situation of millions of rural inhabitants by providing job opportunities. The building boom is on steroids here, a situation that is well documented in this video: http://current.com/items/88938803_city-on-steroids.htm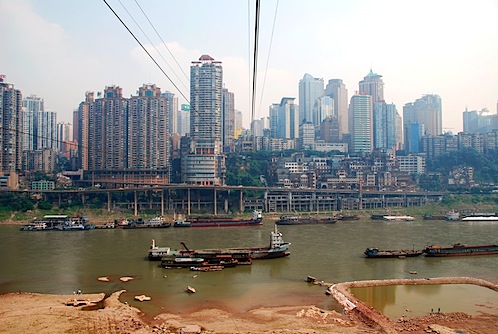 Chongqing's Jiefangbei district, seen from across the Jialing River.
Chongqing is the fastest-growing city in the world, as rural populations flock to the city for job opportunities. Some estimates put the population at 40 million. Let that sink in for a minute: 40 MILLION. For reference, that is almost twice the number of people in the entire country of Australia. There are an estimated 1200 people moving to the city EACH DAY.
Even though my brother is the one in the family interested in urban planning, I couldn't deny that Chongqing is a fascinating place. The scale of the city is hard to grasp, though Chongqing's amazing urban planning museum does a good job of showing you China's ambition: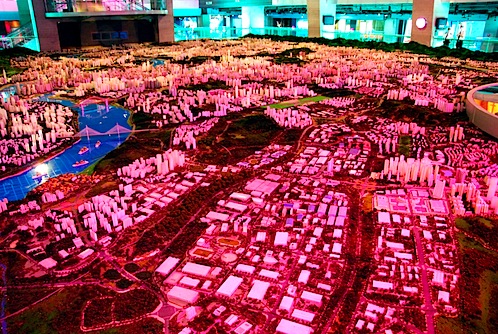 A model of Chongqing in 2010. It is hard to capture the scale here, but for reference, there are two people standing in the upper right hand corner of the photo.
Chongqing's urban planning museum is brand new and super slick, but we couldn't help but notice that many of the interactive computer models were broken, and letters were already falling off the displays…a poetic metaphor for the future of Chongqing.
Indeed, it seems that Chongqing's appetite for the new and bigger is insatiable…we noticed many recently-built buildings that were already starting to fall into disrepair: perhaps poorly and hastily-built, their decay advanced by neglect. The message seems to be: rather than maintain an old building, build a new one.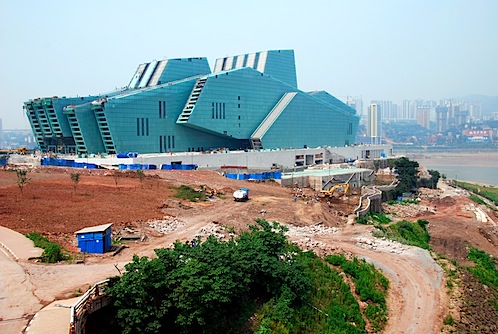 The enormous Opera House under construction in Chongqing. We think it looks like a tank.
Chongqing is a fascinating mix between the old and the new China. "Bang bang men" carry huge loads of goods on their backs up and down multi-level highrises. Former farmers sweep away construction debris with homemade bamboo brooms. These scenes seem incongruous somehow with the rapid modernity that Chongqing is currently experiencing.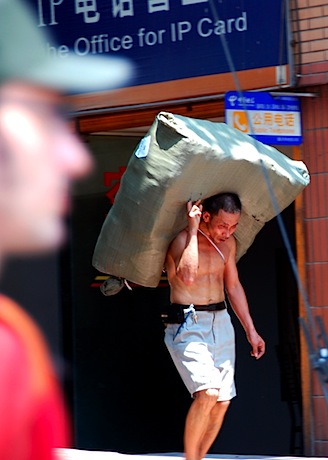 Bang-bang man with a heavy load.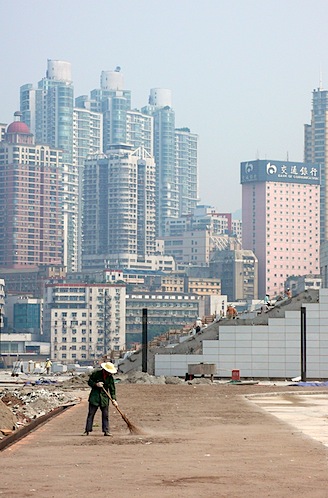 Construction worker sweeping debris with a bamboo-stick broom.
Of course, the price of all this "progress" is reflected in the environment. The air quality in Chongqing is absolutely horrible. We did not see the sun a single day we were here. It is clear that the environment cannot continue to sustain this level of development.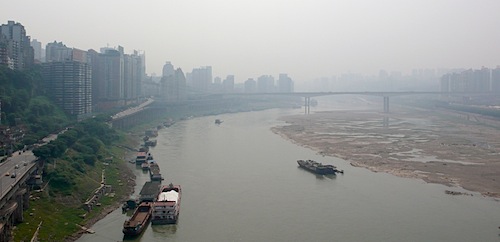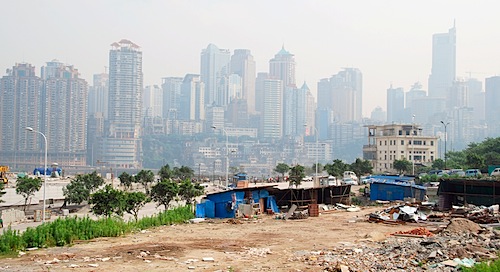 This is Chongqing.
So this is what I mean when I say, "the China we are seeing now may never exist again." With 1200 people moving into the city each day, rapidly leaving their old, rural lives behind…China is forging ahead and not looking back. I say this without nostalgia…there is little doubt that these peoples' lives are improved economically and it is unfair to expect them to preserve some idealized way of life for a Western audience. But as the narrator in the video I linked to above asks, when you look at the effect that this development has on the earth, is this really progress?