Starting in Australia, the country we heard the most negative commentary about was Vietnam. Many travelers we encountered just didn't seem to like the place, and perhaps the people who did like it just weren't as vocal. Plus, the Lonely Planet is filled with warnings about scams, thieves, and pickpockets in the country, so we were understandably being a bit more cautious when we entered the country.
If there is one thing we have learned from traveling SE Asia, it's to expect the unexpected. I can tell you after spending almost three weeks in the country so far (sorry, I'm a little behind on the postings!) that we absolutely love it. We find the people incredibly warm, friendly, open, and curious. It is perhaps our favorite country in SE Asia so far (though we haven't been to Laos or northern Thailand yet). And all those warnings about crime and scams? Well, all prices are negotiable in Vietnam and it's true that most vendors and cab drivers will try to get the most out of you that they can. But pickpocketing? We haven't had any problems whatsoever with that. Maybe we're just lucky, but we really haven't seen what all the fuss is about.
Anyway, I'm getting a bit off topic here. My point was that the Vietnamese people are just incredible. From the moment we crossed the border, we had kids and adults alike falling over themselves, waving at us furiously and yelling, "Hallo!!! Hallo!!!" So when I read that you can arrange to do a homestay in the Mekong Delta town of Vinh Long, I had this whole elaborate fantasy of staying in a rustic riverside home with a large, loud, and loving Vietnamese family. Maybe Jeremy and I would help them cook dinner and we'd eat together, trying to communicate via pantomime or the limited English they knew (because we sure as heck don't know much Vietnamese). Perhaps we'd drink some rice wine before heading to bed, where Jeremy and I would sleep in a back room on straw mats amongst wandering chickens and ducks. We'd wake up a the crack of dawn when the roosters start crowing and help the family make breakfast before we headed back to Saigon on the bus. So when we arrived in Vinh Long (just a short bus ride over from Can Tho), we eagerly signed up for a homestay and took a boat over to the house.
Yeah, not so much.
The surprises started as soon as we stepped off the boat. First of all, Vinh Long is rural, but it's definitely not the deep countryside. There are large and rather elaborate-looking concrete houses mixed it with more simple wooden shacks. Our homestay was actually a large property with a front house (where the family lived), a large outdoor dining area, and a row of connected bungalows, where the guests stay. The bathrooms and showers were in a separate building…they even had western toilets! So much for my rural fantasy.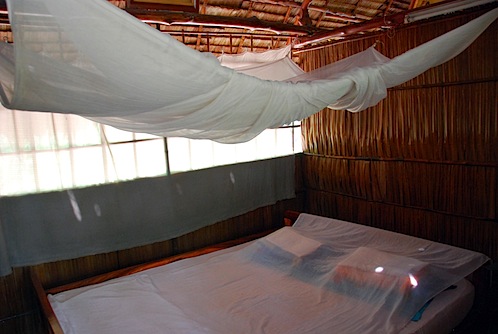 Our bungalow.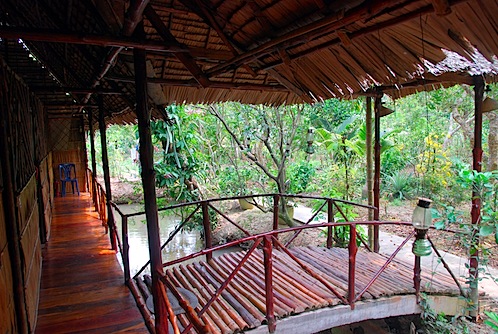 The bridge over to the rooms; the bungalows were built over a fish pond. All night long, we heard "galoop, galoop," as the fish surfaced to eat the mosquitos on the water's surface. Jeremy described this as "the circle of life: the mosquitos eat us and the fish eat them, then we eat the fish." This kinda grossed me out, actually.
So you're not exactly living or eating with a Vietnamese family, and the place is more like a bed and breakfast. You have little interaction with the family other than when they serve the meals. We thought perhaps we had just gone to a more touristy homestay, but other travelers that we met later had the same experience (at a different homestay). Also, we thought it was quite expensive (US$15 per person, not including the boat ride over).
Even though the actual homestay experience was not what we expected, we still had a really nice time exploring the neighboring town. Our homestay had free use of bikes, so we went for a ride around the village. It was pretty hot and we were in full-body sweat two minutes after we started riding, but it was so much fun to ride around and see some of the homes in the neighborhood. We couldn't ride more than two minutes before running into local people shouting and waving at us (especially the kids).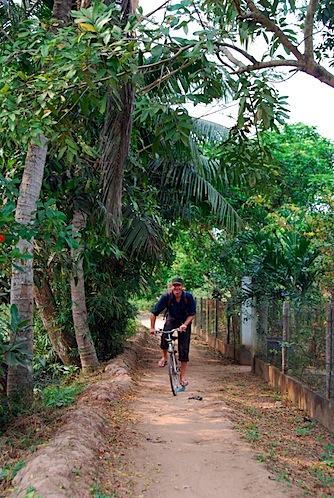 We took a little breather back at the homestay, hanging out in the hammocks for a few hours to cool off before dinner.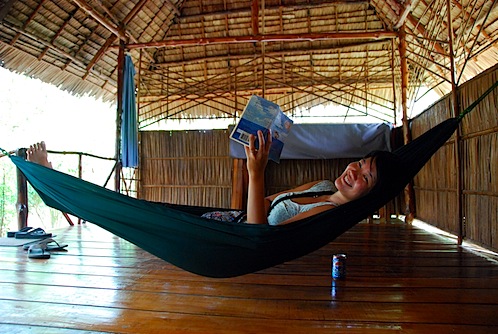 We went for a walk right at sunset and were again rewarded by super friendly people all around town. This little guy was so excited when we saw Jeremy, he tried to climb him!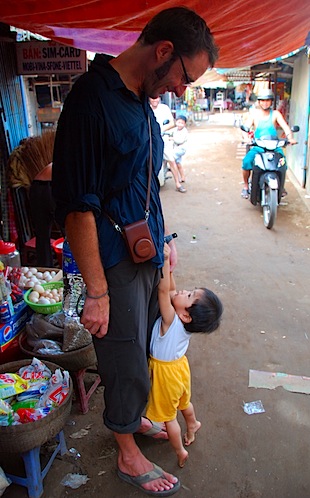 So the homestay wasn't exactly what we expected, but we still had a nice enough time and it was fun to see a more rural part of the Mekong (as opposed to Can Tho). Maybe next time I'll try to keep my imagination in check.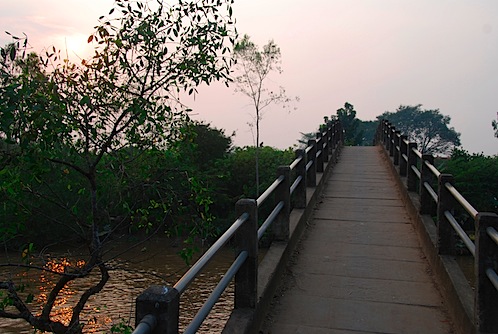 The bridge to the next island.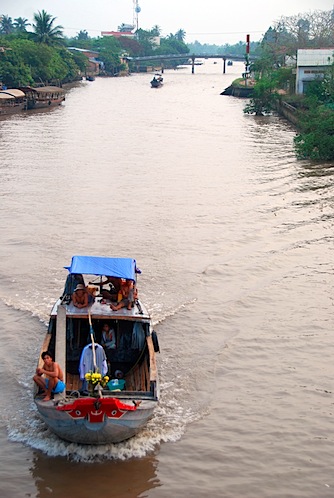 The mighty Mekong.