China
To be clear: It's not that Jeremy and I were hesitant about returning to China, but I wouldn't say that we were excited about it either. It's always a bit of a downer leaving a country you really enjoy, and after our rude transition from magical New Zealand to Australia, we knew we had to prepare ourselves mentally for our return to the People's Republic. So we visualized putting our smog goggles back on, honed our elbow reflexes so we could successfully fend off any would-be line cutters, and dusted off the ear plugs.
And then, we saw this from the plane: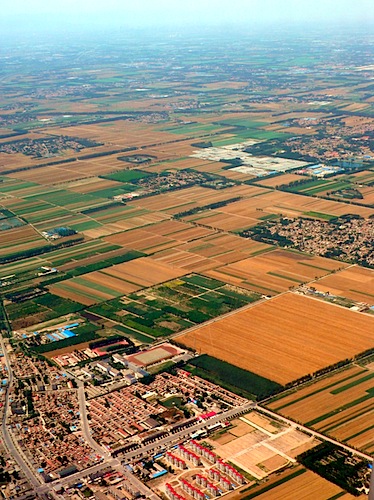 View of the Chinese countryside outside of Beijing.
I told Jeremy, "the airport is really far outside the city, so I bet we're still outside the smog bank." Memories from my visit to Beijing in 2000 are clouded by a thick grey cast over the city and the matching tissues when I blew my nose, so I was understandably a bit skeptical.
As we landed, we were told that the Quarantine Authorities would be coming through to check everyone's temperatures before we deboarded. I tucked in for a long wait at the gate, but true to Chinese efficiency, three QA's in haz-mat suits got on, shot everyone in the face with a temperature gun, and cleared us to deboard faster than you can say "H-yi-N-yi" (that's H1N1 in Mandarin).

A quarantion authomite taking face temps on the plane.
We wandered through Beijing's gorgeous new terminal 3 towards immigration, where the friendly officer spoke to me in perfect English (that was weird…speaking to a Chinese person in English) and marveled at the collection of stamps in my passport.
After quickly clearing immigration, we boarded the comfortable train into town. Less than an hour later, we were headed towards our hotel under gloriously clear skies.
OK, OK. HOLD UP! What is this?!? Nice people, efficient bureaucracy, uncrowded public transport, AND a smogless sky? Did we get off the plane in the wrong country? Is someone playing a really, really mean trick on us?
Well, guess what…all those driving restrictions and factory shut-downs that Beijing put into place for the 2008 Olympics have finally paid off. The sky was crystal clear for our entire 5-day stay in the capital city. I can't tell you what a difference a blue sky in Beijing makes…our hearts soared, our eyes delighted, and we felt more in tune with this city than any other in China.
We ended that first day with a long walk to watch the sunset in Tiananmen Square. There were police guards all around and you couldn't loiter at all at the entrance to the Forbidden City. But hey, we'll trade some subtle military intimidation for a blue sky any day.
Oh Shanghai…sweet, sweet Shanghai. Actually, as a city, we weren't that fond of Shanghai (more on that later), but we were nonetheless relieved to be back. You see, Shanghai was the final stop on the first leg of our China tour. We had been in the country for almost a month, though it felt like much longer since we saw so darn much. We will return to China via to Beijing in the near future, to explore the northern and possibly western side of the country for another 3 weeks. But in the meantime, we've got a two-week stint in Japan. And quite frankly, we're ready for the break.
While it has been incredibly interesting from a cultural perspective, traveling around China isn't exactly what one might call a relaxing experience. Just the day-to-day here requires a huge amount of concentration. Making sure you don't get spit on. Keeping an eye on that lady who is clearly jockeying to cut in front of you and goddamn it, you are not going to let her slide in front because you clearly got there first! Trying to keep calm in the taxi when you're sure the driver is trying to kill you. Trying not to lose your cool when that woman trying to sell you a hotel room just won't stop following you. The constant cigarette smoke. The constant noise. Making sure you don't get robbed or ripped off. And doing it all in a language that is not native to you.
In some ways, I almost think that being able to speak Mandarin doesn't make it any easier for us than it is for someone who doesn't speak a lick of the language (though the challenges are different). At least people will try to speak the little bit of English they know if you look Western. But the thick regional accents, combined with my limited vocabulary, make every conversation a somewhat stressful experience. And of course, the fact that I am the only one who can communicate is not easy on either of us.
On top of all this, I never realized just how much my mood is affected by seeing a blue sky until I didn't see one for weeks. Out of the past 28 days, we could count on one hand the number of days we saw the sun or a blue sky. The quality of the air here is, without a doubt, dreadful. It's clear that the planet cannot continue to support whatever it is that China is doing to it. This is not a joke: if China doesn't shape up it's environmental act, this planet is doomed.

Yet another grey day in China. Taken in Chongqing, looking across the Jialing River from Jiefangbei.
So yeah, we were happy to be back in Shanghai, not only because it meant we might soon see something other than smog in the air, but also because we have family friends in the city, and there ain't nothing more comforting than a familiar face when you need a little perspective. We stayed with my grandparents' (Yeh Yeh and Nai Nai's) goddaughter Vivian Gugu, and once again, we got put up in a sweet apartment in a great location.
We also got to see my Uncle Jack and Aunt Grace, very close family friends of ours. My brother and I grew up playing with Philip and Michael (their sons), and our moms were best friends in Chula Vista. Now Uncle Jack and Aunt Grace are living in Shanghai, and they treated us to a lovely dinner. They haven't changed a bit, and it made me feel right at home to see their smiling faces.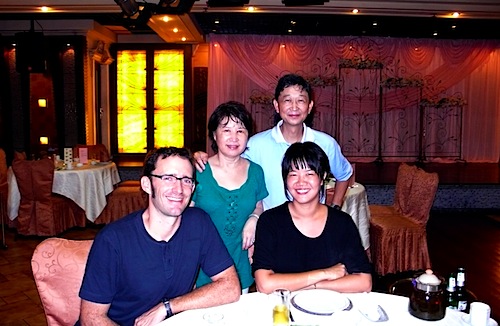 Since we had seen all the major tourist destinations around Shanghai the first time we were in the city, J and I took it easy, taking care of some business (we bought our Japan Rail Passes, which must be purchased before arriving in the country), but otherwise spending most of our time hanging out in cafes or checking out Shanghai's art scene.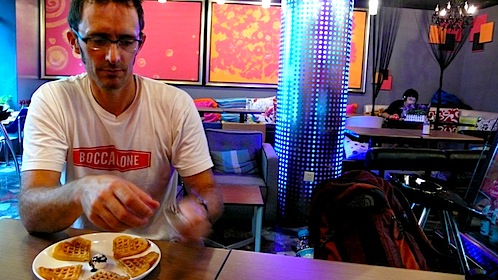 Shanghai has some great cafes, like this cool one in the French Concession area.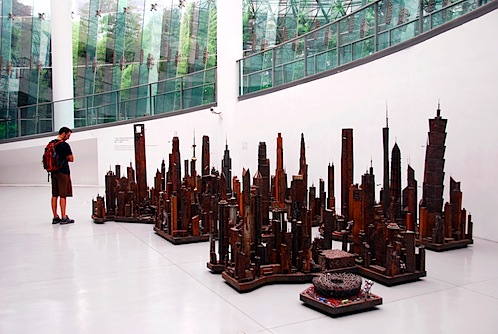 Cool walk-through sculpture consisting of all the major buildings in China, modeled using salvaged mechanical and electrical parts—it's meant to be a commentary on the environmental impact of China's rapid development.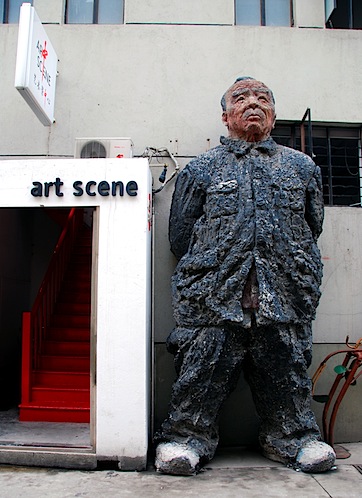 Vignette from Shanghai's 50 Moganshan Road Art Centre, a cluster of art galleries tucked away in a large, industrial complex. One friend described it as a "Disneyland for artists."
It was great to see friends and family in Shanghai, but in general, we weren't too excited about the city itself. It just sort of felt like a big, soulless metropolis to us. At this point we feel pretty adept at picking up on the "vibe" of a place quickly, but Shanghai felt a bit empty to us. It's hard to explain…it was just neither here nor there, neither rooted in the past nor a model of the future. I don't know, plenty of people like Shanghai, so maybe it just didn't gel with our personalities for whatever reason.
And China? Well, my initial reaction still holds true. Of all the countries we've been so far, China is the most relevant—it has been fascinating to witness firsthand this country's shifting economic and politic landscape. And China has definitely the most extreme culturally (at some point on our Yangzi River boat trip, Jeremy turned to me and asked, "Just what exactly IS considered rude in China?!?").
But we're a little worn out. And a little discouraged from having to keep our guards up all the time. Leave it to China to make us want just a little vacation from all this traveling.

"China is kind of gross."
This is what Jeremy said to me after our 64 hours on a Chinese boat followed by 5 hours on a local bus. This is not to say our cruise down the Yangzi River (which, strangely, is actually called Chang Jiang in Mandarin…you'd think it would sound more like "Yangzi") through the Three Gorges wasn't fun. In fact, in some ways it was the most memorable and amusing experience we've had thus far on the China leg of our trip, precisely because it was a crash course in Chinese sociology. It was a hilarious, frustrating, stinky, entertaining, and flat-out "this can only happen in China" kind of experience, and it's one that we won't soon forget (whether we like it or not!).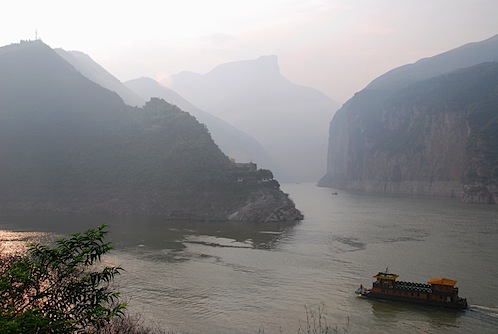 The first gorge: Qutang Gorge.
But let me start from the beginning. While we were in Chongqing, my aunt's friend Huang He helped us arrange our cruise down the Yangzi…and by "helped," I mean "did all the work." So we had even less of a clue than we usually do when it came to logistics: what would our boat look like? Where would we be going? Will there be enough food? All we knew was that we were getting on the boat in Chongqing on a Thursday night, and we'd end up in Yichang on Sunday morning, followed by a bus ride to Wuhan. Little did we know we were in for almost 70 hours of a full immersion Chinese experience.
Boat trips down the Yangzi are not cheap, and given the price we were paying (a little more that 1000 RMB each, or approx. US$150), I knew that we were going to be on a budget boat. The boat itself was not too bad…a little run down, a little grimy in the bathroom, and a lot gross when it came to the carpet, but the sheets were clean, the AC was pumping, and there was a nice sun deck on the top floor of the boat, so we weren't impressed, but we weren't disappointed either. The one thing that would prove to be a problem was that the boat was clearly built for people are about 5′2″…both of us had problems fitting on the bed and Jeremy grew a full inch in the days we spent floating down the Yangzi because he hit his head so often on the doors, the shower head, even the ceiling (repeat: THE CEILING)! For the three days we were on the Chinese boat, we were 12FOOT4.
But for the dozens of other middle class Chinese tourists we were traveling with, the boat trip had very little to do with the boat, or even the Yangzi River. It seemed that the Three Gorges were just something to pass the time in between bouts of chain smoking, playing mahjong, and walking around in their underwear…you know, stuff Chinese people usually do on vacation.
But seriously, China has a way of making you realize just how socialized you are to the Western form of behavior. It challenges your ideas of what right and wrong are on a daily basis. And the country can demand respect—or at the very least, acceptance—of certain Chinese conventions and habits. In other words, China forces you to accept the fact that just because it's different doesn't mean it's bad.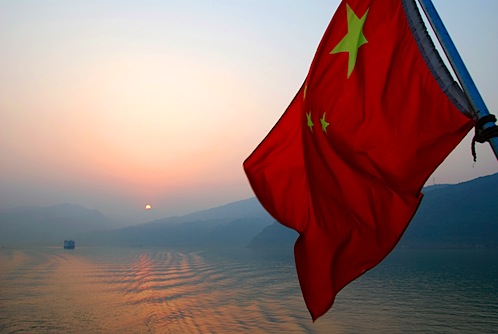 Yeah China! The sun sets on our second night.
On the boat, you can't hide from these quirks of Chinese culture, as we found out our first morning, when we were woken up bright and early by our tour guide…this is a Chinese tour after all, gotta have time to squeeze those 472 events into the day! As we came to find out, we had purchased entry tickets to all the sights along the cruise route (and additional 300 RMB or so, approx. US$44 each), but they weren't mandatory…many people opted to sleep in rather than get up at 6 AM to see this temple or that ghost town. Of course, those who didn't buy tickets to the morning excursions soon found that they couldn't sleep in anyway, since breakfast in the boat's dining room is announced with an ear-blasting, "GE WEI LU KE, WO MEN CAN TING ZHENG ZAI YU BEI ZAO CAN, WO MEN CAN TING ZHENG ZAI YU BEI ZAO CAN!!!," repeated over and over and over again on the loudspeaker (Translation: "GREETINGS GUESTS, OUR DINING ROOM IS NOW PREPARING BREAKFAST, OUR DINING ROOM IS NOW PREPARING BREAKFAST!!!).

Chinese tourists on a mahjong break. One of the many off-boat excursions we had…this one was a hike through a narrow gorge area.
Noise is pretty much a part of any Chinese activity, so that was to be expected. What can I say? Chinese people like a ruckus. Many of them would go nuts in a place like New Zealand, or in the American suburbs. What we didn't expect was so much underwear. Now let me get one thing clear: we got on the boat at 9PM on a Thursday night. By 8AM the next morning, there was already laundry hanging on the top floor sun deck. Yup, there it was: a whole family's underwear, flapping in the Yangzi breeze, on the shared upper deck of the boat. How is it possible that we have been on the boat for less than 12 hours and an entire family of four has already had to wash their underwear? When did they wear this underwear? Did they only bring one pair each? Or did they wait to do their laundry during their vacation? So many questions…and so much underwear! And it kept multiplying as the trip went on—there was underwear hanging in windows, on the railings, and of course…around the hips of many Chinese men with giant Buddha bellies. You gottta hand it to them—the Chinese sure know how to make themselves at home!

Underwear and other assorted laundry hanging on the upper deck of the boat.
Another aspect Chinese life transferred over to the boat as well: spitting. The spitting itself is not so much the issue, but the deep, sonorous snort that precedes it, followed by the hacking up of the fluids in question, culminating in the final (often messy) expulsion of the offending matter. And they spit everywhere, even places that seem like they should be off limits—in nice restaurants, on the carpet, and yes, on the Yangzi River boat.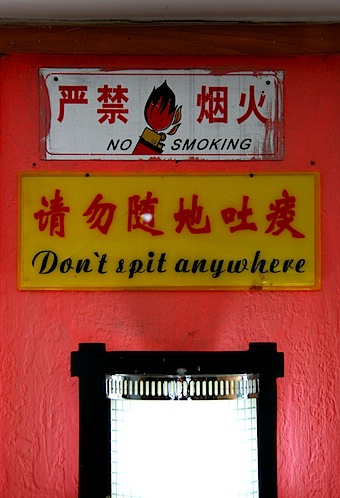 Signs on our Yangzi River boat. Hmm…I'm not sure they really needed to post those in English…
Thankfully, we weren't the only ones amused by the Chinese boat. There were a couple other Westerners on the tour as well…a nice couple from Denmark who were also on a year-long excursion (Michael and Janne), a cute German couple, and an 86-year old American who was backpacking his way through China (Richard)! The Chinese tour guides really wanted us to stay together so that I could translate for them…I think they were a little freaked out by all the Westerners on the Chinese boat, since a lot Westerners opt for the more luxurious cruise lines. We had a wonderful time hearing about Michael and Janne's year-long trip (their second! The took a year off when their kids were young to camper van around he US and Mexico), and Richard's wild adventures (the man has been to 123 countries in his lifetime!).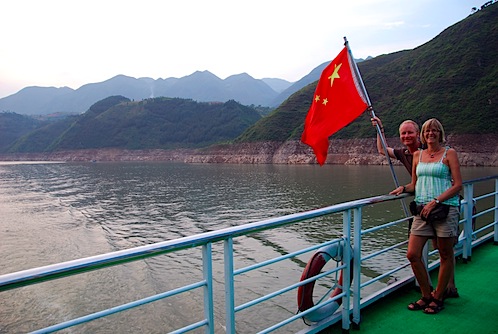 Michael and Janne, around-the-world travelers from Denmark.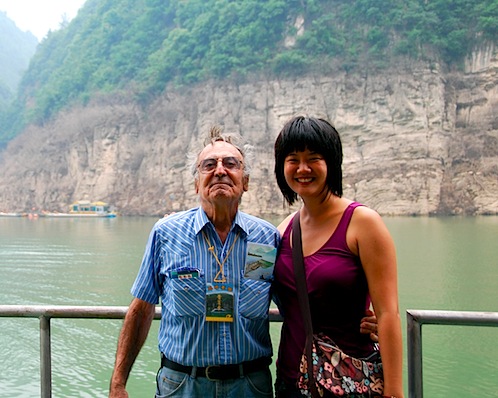 Me with Richard, the spunky 86-year old backpacker!
So many of you are probably wondering: OK, enough about the Chinese (and non-Chinese) people, what about the actual boat trip? Honestly, the Three Gorges became almost secondary for us too, as we soaked up this Chinese immersion experience. But some aspects of the trip are definitely worth mentioning, so here goes.
As you've probably heard, the Three Gorges Dam project was extremely controversial…it basically displaced 1 million Chinese people (which, quite frankly, is a drop in the bucket for a country of 1.3 billion), not to mention the environmental impact. We were really interested to see if the gorges could still be considered stunning, even if they were essentially 500 feet shorter than they used to be.
The short answer? Yes and no. The long answer? Yes, they are still stunning, particularly the Little Three Gorges (despite the copious amounts of litter we observed). But our favorite was Xiling Gorge, the last and longest gorge, even though Lonely Planet describes this as the least impressive of the gorges. I suspect our experience with Xiling had more to do with the fact that the atmosphere was quite clear and the sun was setting as we went through this gorge (cloaking the surrounding mountains in a beautiful, misty light), rather than with the actual topography of this area.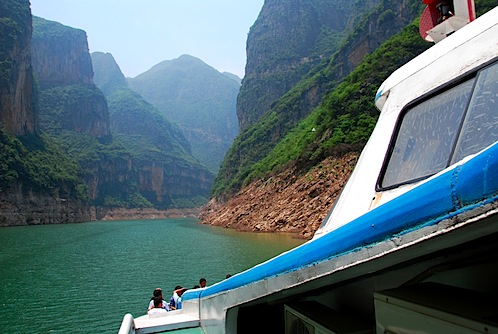 Traveling through the Little Three Gorges.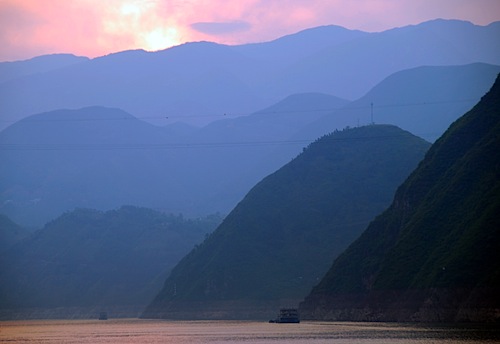 Xiling Gorge at sunset.
Despite the beauty of Xiling and the Little Three Gorges, there were some not-so-beautiful aspects of the trip that you couldn't ignore (besides the underwear). I thought that as we drifter further away from Chongqing and deeper into the countryside that the air quality would improve. Not so. A heavy smog followed us the entire trip, and only lifted for a few brief moments as we passed through Xiling Gorge. And even though the water in the Little Three Gorges was much cleaner than it was elsewhere along the Yangzi, you couldn't ignore the trash floating on the surface, or the dead fish (I am not sure if this was due to pollution, or if a fishing boat had recently passed through the area). There were huge coal repositories on either side of the river, waiting to load up passing barges, and also depositing huge amounts of coal into the river. And lastly, new, generic towns had sprung up all along the Yangzi riverbanks, I guess to replace the villages that were underwater. But it seemed to us that these towns, filled exclusively with bathroom-tiled high rises, were completely empty. Perhaps they were rejected by the Yangzi's previous residents? Or maybe these towns are an "if you build it they will come" type of experiment by the Chinese government? In any case, we found it odd to see so much construction, and yet so few residents.

Trash floating in the (comparatively) clear waters of the Little Three Gorges.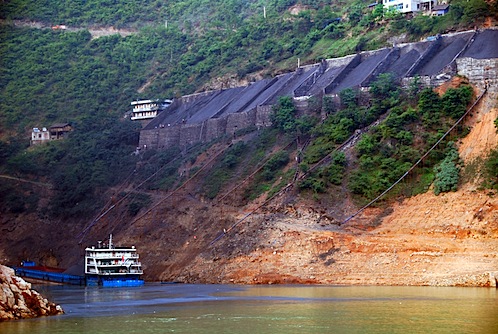 Barge getting filled with coal.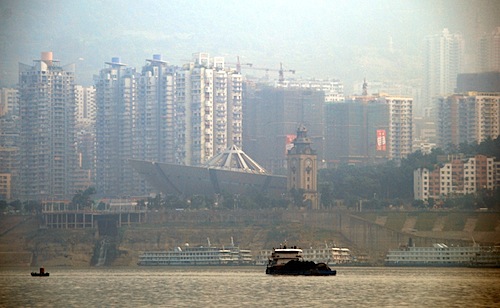 Anonymous town along the Yangzi River.
The Three Gorges river cruise was definitely worth the time and expense for us. We met some wonderful new friends and got a crash-course in Chinese culture. But we did hit our limit…Jeremy on the final morning of our boat trip, when the thick layer of cigarette smoke at 6 AM just got to be too much, and me on the 5 hour bus ride to Wuhan, when the locals kept closing all the windows despite the 90 degree heat…and then coughing without covering their mouths (Hello! Ever hear of a little thing called swine flu?!?). But let's not forget that the highs and the lows are what make any travel experience memorable, and we got more than our fair share of dips and peaks (and spitting and underwear) on this excursion.
A couple more images from our trip: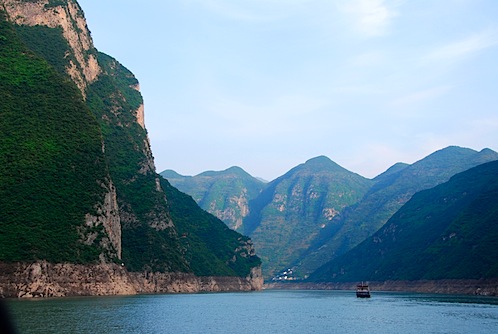 An extremely rare blue-sky moment as we pass through Xiling Gorge. The water level has been quite low recently…you can see how high the water line normally is on the mountains surrounding the river.

Our first off-boat excursion was to a "ghost town," named Fengdu or Gui Cheng. It had an extremely strange set of statutes, like the one pictured above.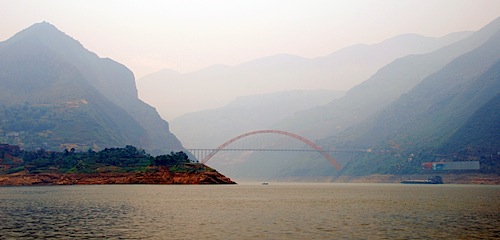 The entrance to the Little Three Gorges.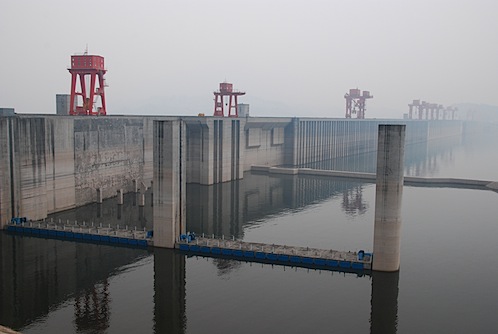 The actual Three Gorges Dam. Somewhat disappointing in person, because you cannot get close to the dam for security reasons. Plus, the smog and fog were extremely thick that day…we couldn't even see the other end of the dam!
As I mentioned in my previous post about Chongqing, we came here for the boat trip, but we stayed here for the people…my aunt's peoples, that is. Not only were we set up at my aunt's sweet apartment (she is currently living in the States with my uncle), but she had at least 3 sets of friends/family watching out for us, taking us out to dinner, paying for everything (as is the Chinese custom) despite numerous protests, and generally bending over backwards to make sure we were comfortable and having a good time. And here we thought our five-star days in China were over once my parents left! Jeremy and I have been amazed time and time again on this trip by (1) the number of extended friends and family we have around this world…who knew?!? We sure didn't!, and (2) the generosity we've been shown by people who have only the most tangential connection to us (In fact, I've only met my aunt twice! She only recently married my uncle). Note to selves: become better hosts when people come visit San Francisco. We have some serious karma to pay back. Thank you, World, for taking such good care of us.

View from my aunt's apartment of the Jialing River.

Same view at night. Chongqing is really spectacular once the sun goes down…you can't see the smog and the lights along the river are sensational.
When my aunt's friends Huang He and Jiang Su came to pick us up at the train station, I figured we'd go out to dinner once, and maybe get a few tips from them on what to do around Chongqing. We quickly came to find out that between Huang He, Jiang Su, and a few other friends/family (Qing Hong and Wan Jian), we had activities planned for each day, we would be treated to dinner every night, and our plans for the Three Gorges Yangzi River cruise would be taken care of for us. Apparently, it takes a village to care for 12FOOT3!
We spent a couple of days under the care of Qing Hong, who coordinated a driver to take us to Ciqikou, a preserved and restored village with a main drag set up with shops and food stalls for tourists. We were there on "Kid's Day," (an national holiday in China), and there were tons of adorable tykes wandering around, reveling in their special day.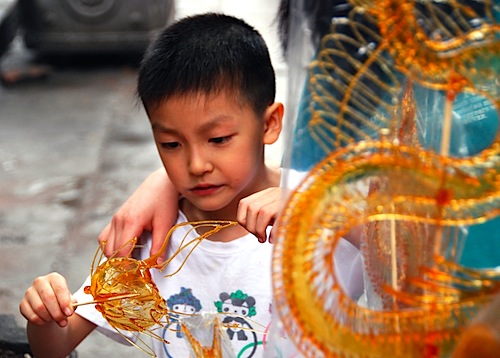 Kid at the candy vendor. You spin a wheel, and whatever animal you land on, the candy man draws that animal out for you in candy glaze. This little guy spun a cuttlefish (I think). Mmmm…cuttlefish candy…
Baolun Si is the only remaining temple in Ciqikou, and we stopped by to pay our respects and light some incense for our ancestors.

Jeremy lighting a candle at Baolun Si in Ciqikou.
For a tourist village, Ciqikou is pretty amusing…we enjoyed ourselves as we walked the main drag, gawking at all the specialty food (rice steamed inside a bamboo pole, cotton candy in the shape of a flower) and random carnival games (sweet little Chinese teenage girls shooting rifles at balloons, little kids riding mechanical elephants). The nicest part of the town, however, is the quiet back streets, where people actually live and Ciqikou is still a functioning village.
The following day, we were accompanied by Wan Jian (my aunt's younger brother), who started off the day by taking us to Chongqing's "Good Eating Street," (Hao Chi Jie) a small pedestrian street full of local food stalls. Chongqing is most famous for one flavor: spicy! In fact, their version of spicy is called ma la, or "numbingly spicy." Interestingly, it is not the chili that makes your tongue numb, but the addition of this small round spice that looks almost like a peppercorn. We weren't crazy about the feeling…imagine eating a bowl full of spicy noodles after your dentist injected your with a local anesthetic. That's pretty much what eating a bowl full of ma la noodles feels like…which is not to say the noodles weren't good, or even spicy, it's just…weird.
Wang Jian was really eager to feed us, and he ran around the food court area collecting different snacks for us to try. At some point, he came back with three skewers, which he told us were duck intestines, duck tongue, and duck heart. Awesome! Just what I was craving…some good ol' roasted duck parts on a stick.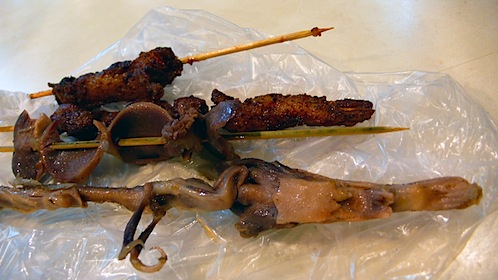 This is duck tongue. On a stick.
The duck intestine and duck heart were fine, as long as you didn't think of what you were eating. But the duck tongue. Oh man, I just…Could. Not. Do. It. The texture was waaay too much for me. I told Jeremy, "I feel like I'm frenching a duck!" But given that Wan Jian was so excited about showing us his hometown's food, we couldn't just leave the tongues sitting there. So Jeremy took it for the team and nibbled down a few tongues while I stuck to the hearts.
That night, Huang He and Jiang Su treated us to dinner. They knew that we wouldn't be able to handle truly spicy Chongqing food, so they looked for a restaurant that specialized in more mild fare. Jiang Su asked me if we ate ge zi, and I was like, "sure!" I had heard that word before, but I couldn't remember what it was…so I pulled out my handy iPod Chinese dictionary, typed in the pinyin, and what do you know, ge zi means "pidgeon or dove." I'm sitting there in the back of the car on the way to the restaurant thinking, "please let it be dove, please let it be dove…please don't tell me we're about to eat some pidgeons…" And sure enough, the restaurant is decorated with white dove icons all over the walls and ceiling. So Jeremy and I have chosen to believe that we ate doves that day, and not the pidgeons that you see running around on the street in Chongqing.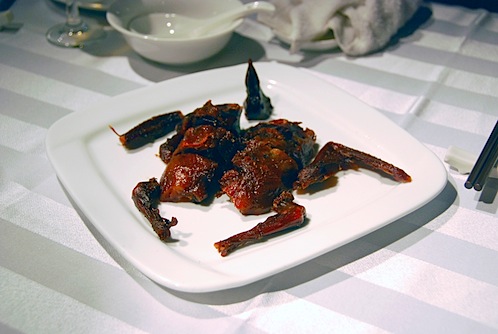 I feel like ge zi tonight!
Ge zi is apparently a Chongqing specialty, and the people here think that it is particularly nutritious and good for your body. And I have to admit, it was good…it just sort of tasted like a cross between a duck and a chicken. Again, just forget for a moment what you're eating…or try to think of it as doves instead of pidgeons.

To complete the trio of scary meals we had in Chongqing, Qing Hong and a bunch of her friends invited us out to hotpot the following night. As you can imagine, Chongqing puts the "hot" in "hotpot." As soon as you walk in the door, the hotpot is an assault on the senses. You can smell the spice. You can feel the spice (it starts stinging your eyes). And you can see the spice (an enormous, boiling vat of liquified peppers).
In spite our wussy American tongues, Jeremy and I put in a pretty good performance at this dinner. We ate almost everything that was put in front of us, without even "washing" the boiled meats in water (as Qing Hong and her friends suggested we do if the food was too spicy). I have to say, this was no small feat for us, especially since about 90% of the stuff they put into the hotpot was intestinal in nature. I'm used to eating hotpot with sliced pork, lamb, tofu, cabbage, and mushrooms. This was no soft, pansy hotpot like the stuff we eat at home…we're talking liver and entrails and pig brains (yes, pig brains!!!) here. The scariest thing for me was the green, hairy cow stomach (you can see it in the photo above on the bottom left). Someone pass the heartburn meds.
I have to admit, Chongqing was the one place so far on the trip that we were too scared to eat the street food (besides Chiang Mai, where we had issues). This had nothing to cleanliness, and everything to do with spiciness. Seriously, the people here eat stuff that would make most Americans' heads explode.
Despite all the scary food, we had a wonderful time in Chongqing. I feel like we really got a sense of the place and it's people. Even though Chongqing is not really a tourist destination, it was super interesting to see all the development here and we had a wonderful time meeting all my aunt's friends. Traveling around China can be really hard and stressful, and it was really nice to be taken care of and to feel like someone was watching your back. Jiang Su even took us to the ghetto pirated DVD store, where we got taken up into the hidden back room so we could check out the newest releases from the States. Now THAT'S what I call care!
But seriously, at a time when I was still feeling disappointed at my peoples for our Yangshuo experience, I was reminded that the best parts of Chinese culture still persist. Chinese people will still display extreme levels of generosity, all the while making you feel like it is something they are happy to do. They still want to show you the wonder and beauty of their hometown (even if that beauty is in the form of a duck's tongue or a pig's brain). And they still bend over backwards to make two vouched-for strangers feel like they have a home away from home.
Some more images from our time in Chongqing:

Hong Ya Dong, a restored "old Chongqing" housing complex, which is now a tourist shopping complex.

Liberation Monument, the cultural center of Chongqing.

Dazu Caves, an 800+ year-old Buddhist sculpture grotto outside of Chongqing. See more of our photos of the Caves here.

Jiang Su, me, J, and Huang He in front of the Yangtzi River.
We hightailed it out of Yangshuo and jumped on the overnight train to Chongqing, in Western China. We got on the train at 1PM and arrived in Chongqing the next morning, so we had plenty of daylight hours to enjoy the view…and what a view it was! Guangxi province has an incredible landscape…full of the same karst formations we saw in Yangshuo.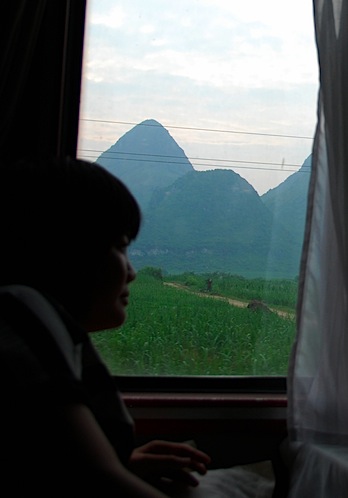 This was our first experience in China traveling "with the people," and we saw many Chinese families en route to their various destinations.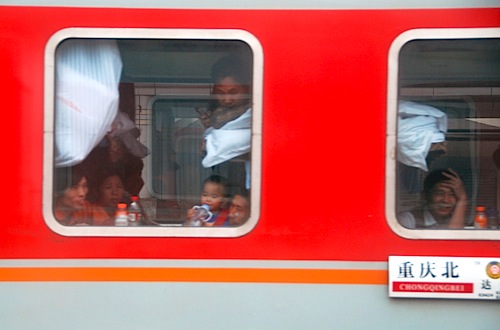 We shared our cabin with a man of 40 or so who was taking his ailing uncle to Chongqing for treatment. His tenderness towards his uncle (who he told me was "like a parent" to him) reminded me of the best aspects of Chinese culture (respect towards the elderly, filial piety, etc.), at a time when I was still stinging from experiencing its worst in Yangshuo.
You've probably never heard of Chongqing, and it's not on most travelers' radars as a destination (other than as the launching point for boat trips down the Yangzi). Actually, we wouldn't have considered Chongqing as a stop on our trip through China, except that my aunt (Xiao Jo Ma) has an apartment there, and she insisted that we take advantage of it.
But hey, World Out There, remember that name, "Chongqing." You will undoubtedly hear about it in the coming years. The Chinese government is pouring tons of money into this city, as an experiment in making the interior of China as successful as it's East Coast. It's also a way to improve the economic situation of millions of rural inhabitants by providing job opportunities. The building boom is on steroids here, a situation that is well documented in this video: http://current.com/items/88938803_city-on-steroids.htm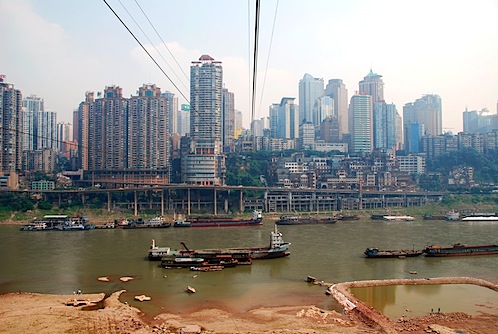 Chongqing's Jiefangbei district, seen from across the Jialing River.
Chongqing is the fastest-growing city in the world, as rural populations flock to the city for job opportunities. Some estimates put the population at 40 million. Let that sink in for a minute: 40 MILLION. For reference, that is almost twice the number of people in the entire country of Australia. There are an estimated 1200 people moving to the city EACH DAY.
Even though my brother is the one in the family interested in urban planning, I couldn't deny that Chongqing is a fascinating place. The scale of the city is hard to grasp, though Chongqing's amazing urban planning museum does a good job of showing you China's ambition: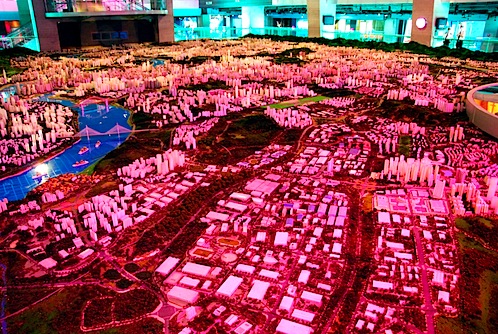 A model of Chongqing in 2010. It is hard to capture the scale here, but for reference, there are two people standing in the upper right hand corner of the photo.
Chongqing's urban planning museum is brand new and super slick, but we couldn't help but notice that many of the interactive computer models were broken, and letters were already falling off the displays…a poetic metaphor for the future of Chongqing.
Indeed, it seems that Chongqing's appetite for the new and bigger is insatiable…we noticed many recently-built buildings that were already starting to fall into disrepair: perhaps poorly and hastily-built, their decay advanced by neglect. The message seems to be: rather than maintain an old building, build a new one.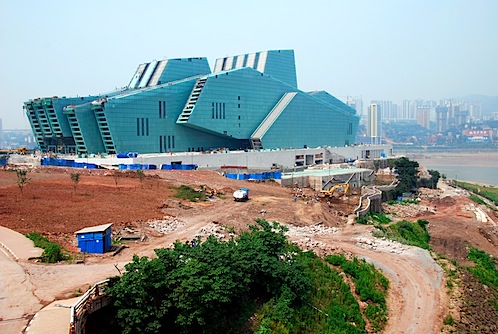 The enormous Opera House under construction in Chongqing. We think it looks like a tank.
Chongqing is a fascinating mix between the old and the new China. "Bang bang men" carry huge loads of goods on their backs up and down multi-level highrises. Former farmers sweep away construction debris with homemade bamboo brooms. These scenes seem incongruous somehow with the rapid modernity that Chongqing is currently experiencing.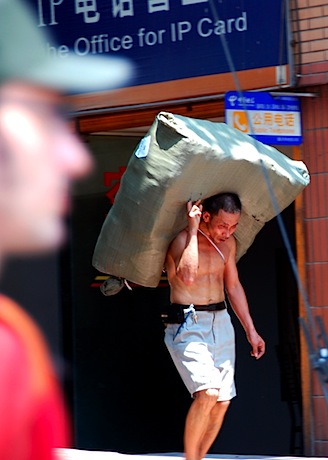 Bang-bang man with a heavy load.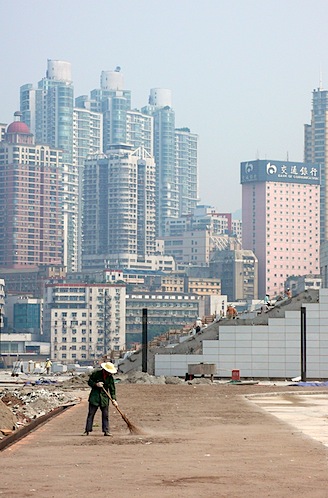 Construction worker sweeping debris with a bamboo-stick broom.
Of course, the price of all this "progress" is reflected in the environment. The air quality in Chongqing is absolutely horrible. We did not see the sun a single day we were here. It is clear that the environment cannot continue to sustain this level of development.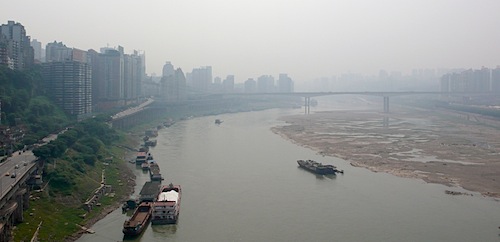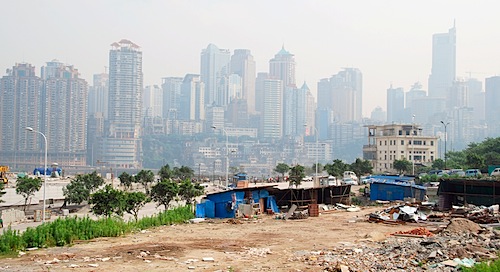 This is Chongqing.
So this is what I mean when I say, "the China we are seeing now may never exist again." With 1200 people moving into the city each day, rapidly leaving their old, rural lives behind…China is forging ahead and not looking back. I say this without nostalgia…there is little doubt that these peoples' lives are improved economically and it is unfair to expect them to preserve some idealized way of life for a Western audience. But as the narrator in the video I linked to above asks, when you look at the effect that this development has on the earth, is this really progress?
J and I are on our own again, and here's where the story really gets interesting. Not that China wasn't interesting before…it's just that we're now no longer on the 5-star hotel circuit. 'Nuff said, right?
Our next destination was Yangshuo, a town near the city of Guilin in Guangxi province, famous for its karst topography. By the way, if you didn't know, "karst" means "limestone formations." Jeremy hates this word…he thinks it sounds ugly and abrupt, which is contrary to the word's meaning. In fact, the karsts are quite beautiful…huge mounds of rock jutting out from the land, like some giant underneath the earth was playing Whack-A-Mole. Yangshuo is very similar to Halong Bay in Vietnam, except that Yangshuo is on land, whereas Halong Bay was in the water.
Thus far, we've only seen this country as part of a tour group, which, quite frankly, is a good way to ease into the chaos that is the People's Republic of China, especially when you are coming from an orderly, polite, and developed society like Taiwan. We've been insulated from much of the logistics of traveling, like figuring out how to get from point A to point B, negotiating with locals trying to sell you tours or various means of transport, or trying to figure out what is OK to eat when you can only read about 35% of the menu. We've also had very little contact with Westerners (besides the ones on the tour), since most of the places that we went with my parents were sites on the local—not international—tourist route.
So imagine our surprise when we arrived in Yangshuo and saw wai guo ren's all over the place! We were gawking at them like the locals gawk at Jeremy…in retrospect it would have been really funny to ask them to take a picture with us (funny to us, they probably wouldn't find it too amusing).
Yangshuo is very much a tourist town on the Western backpacking circuit, but it is very pleasant nonetheless. You can see school kids playing ping-pong at tables set up along the Li River (which borders the busiest part of town).
Our hotel room had a view of a manmade pond where a local fisherman "fished" (I am pretty sure this was just a performance for the tourists) with his cormorants (large pelican-like birds that try to swallow the fish; a ring around their neck prevents them from doing so…allowing the fisherman to extract the fish from the cormorants' mouths).

Local fisherman walking through town with his cormorant.
At night, the main street through town (West Street) becomes a night market, full of the usual trinkets (cell phone charms, fans, fake jade bracelets, backscratchers, etc.) aimed at the tourists. One weird thing we saw for sale were these airbrushed caricature t-shirts of Osama bin Laden next to Yao Ming and Obama…apparently some people in China do not consider Osama in Laden to be "bad," they see him as a rebel, with the accompanying idolization.

Buy your t-shirt of Obama, Harry Potter, Yao Ming, or…Osama bin Laden?
But most people do not come to Yangshuo to shop in town; it's the karsts that are the star of the show. So we headed for Xing Ping, a smaller town a little ways up the Li River, where you can take a bamboo raft down through all those beautiful limestone molehills.
Perhaps our first indication that the day was not on our side was the weather: it was misty and drizzly that day, making our boat ride cold and wet, not to mention unscenic (the fog was too heavy that day for us to see much, though it did add a touch of drama to the events to come).
As soon as we stepped off the bus in Xing Ping, we were accosted by many touts (all women) trying to sell us a bamboo raft ride. As the walk to the pier was quite long, I struck up a conversation with one and we agreed on a price: 100 RMB (about US$15) for the ride. I tried to get her down to 90 RMB, but she then came up with a mythical "park entry fee" of 10 RMB each. If we agreed to pay 100 RMB, she would pay the park entry fee; if we wanted to pay 90 RMB for the ride, the entry fee was our responsibility. Our negotiation was quite genial, and we were laughing and joking as we walked. We settled on 100 RMB, and she and the other two ladies who were walking with us stopped to throw three wads of paper on the ground; whoever picked up the correct piece of paper would get the sale.

Two of the tout ladies in Xing Ping checking their wad of paper to see who won the sale.
Though we had negotiated with the woman on the left, the woman on the right won the sale, and she showed us to the pier, where her husband was waiting with his bamboo raft. When we arrived at the pier, another Chinese couple, who had been on the bus to Xing Ping with us, approached us about sharing their boat for only 60 RMB per couple. Our bamboo raft lady was furious, and we felt that we had given her our word, so we told the couple that we couldn't join them on their boat.
We got on the boat and paid our 100 RMB. Two minutes after we had sailed off, the lady calls her husband and tells him that we forgot to give our extra 20 RMB "park fee." I couldn't believe it…we were being scammed! And by my own peoples! Now it was MY turn to be furious…not only was she increasing the price on us, but had we turned down a better deal with the bus couple to stay faithful to her! Needless to say, the ride down the river was not pleasant or interesting…the old bamboo raft man pointed out not a single point of interest (he even neglected to mention when we arrived at the "20 RMB spot"—on the back of the 20 RMB note, there is an image of Yangshuo…and yes, the irony of the fact that we were disputing over 20 RMB was not lost on us).
After a cold, wet, and uneventful raft ride, we got back to the pier, where we planned to leave without paying the 20 RMB…after I took down the man's name (he wrote a fake name, I am sure). He followed us along the road, yelling and screaming about his 20 RMB. Finally, having had enough of this drama, I took out 20 RMB, threw it on the ground, and yelled at him in Chinese "YOU THROW AWAY YOUR FACE!" (the equivalent of "You should be ashamed of yourself!"), causing a huge scene in front of a bunch of other tourists.
I realize that 20 RMB is not a big deal, but it was the principle of the matter! Later on, we asked a couple of locals to identify the woman in the photo above so that we could report her to the local tourist office, but nobody would tell us her name. By now, my opinion of Xing Ping had been sealed…I did not like this place.
Luckily, our ugly day in Xing Ping was followed by a much nicer day biking around Yangshuo. A couple of scenes from our ride:

Lily pond in front of Yangshuo's karst scenery.

Totally random—at a park built around a 1000-year old Banyan tree, tourists can take photos with monkeys in costumes. We felt terrible for them, as they were clearly confused and terrified.

Us, at the top of Moon Hill, so named for the perfect circle (like a full moon) in the center of the rock.
We had a nice day in Yangshuo—one might even say it was a beautiful day, but I still had the bad taste of the previous day's scam in the back of my mouth. A couple of life lessons we learned from this experience: (1) where there are Westerners in China, there are scams, and (2) just because something is beautiful on the outside, doesn't mean it is the same on the inside. In the big scheme of things, 20 RMB was a very small price to pay to learn these lessons. But for me, Yangshuo had thrown away it's face, and though there was much more to see in the greater Guilin area, we scurried out of there as fast as we could, eager to get the bad taste of Yangshuo out of our mouths.
* Yes, that's really what our tour was called.
In 1986 I went to China to see my grandmother with my mom. My grandma was 90 years old and it had been 38 years since we left China to Taiwan. When I was 2 years old she took care of me for a year at Xi-An (where the terra cota statues are). I was thrilled with joy to learn that she was alive after all the hardship happened in China. Thus, my mother and I did not wait and we went to see my bed-ridden yet very sharp grandma. I went there for about 2 weeks and then stopped at Taiwan for 3 days before I came back to S. California, which was my last trip to Taiwan but the first to China as an adult.
In order to keep company with Hope and Jeremy, our whole family planned this trip to go to Taiwan first, then to travel China about 2 weeks with them together. You have seen some of the pictures and read some of the stories while we were there (including the one that I howled like Tarzan in the wild).

P.S. My Dad howled like Tarzan not once, but twice on this trip…the first time shown here, on Huang Shan.
Both China and Taiwan to me seem to be very foreign. Because I can't not find the right place the easiest way. I don't know too many people there at all. However, it didn't take too long for me (us) getting used to the environment and learning the changing situations there. After all, I know the history, the background, the language (dialects), and traditional customs.
For our family, this is the first time for my wife (Wendy), my son (Eddo), my other son (Jeremy) to be in China. And even this is not the first time for Hope being there in China, she really does not know too much about places other than Bei-Jing. I had been to North (Bei-Jing, Shan-Xi), Manchuria (Harbin, Sheng-Yang), Yun-Nan (a beautiful province with many minority tribes), East (Hang-Zhou, Shang-Hai, etc.). But, China is a large country that there are many beautiful places with wonder sceneries and fascinating people too.
While at Huang-Shan, the colliers moved all the daily necessities from the foot of the mountain to the top by using two bamboo boards physically. At Wu-Zheng, boats are used as the main transportation means, so that everyone knows how to handle a boat (of course, now the younger generation leave town to live in the city and they probably drive a sedan now). At Wu-Yi mountain area, all women know how important life is about with tea drinking, while the girl does not tour guide to make some income, she will pick the tea stem from the leaves. Their life was very similar to their ancestors for hundred and maybe thousand years.
Han Chinese (which is the majority) are and have been agricultural for many years (or many dynasties), who are not aggressive to invade other people. But they treasure the land and will protect it with their life. When we went to visit the Hakka Mud Village Home, we felt so much for understanding the reason why they live together as a society.
Together, we spent 17 days with Hope and Jeremy (and with Eddo, 6 days). This trip has been a very rare opportunity for our family get-together. And I personally was very happy on this trip. After I got home and went to develop the pictures (over 1,000 of them), I have noticed that all the pictures I am in, I am with a smile. Some of you probably remember my crying with joy at Hope and Jeremy's wedding. I blame the photographers catching me at "wrong time". But on this trip, there simply were no "wrong time". Even it has costed us some fortune for this trip, But I have to say, it definitely is worthy. And I wish there would be another one with my "children" soon.
The final stop on our two-week trip through China with my parents was Xiamen, a city located on the southwest coast of Fujian province. Xiamen is a city, but it's very different from other Chinese cities. First of all, because Xiamen is coastal, the air quality is supposed to be quite good (though it was still pretty hazy when we were there). Second, the Chinese government has made the buses very cheap in order to encourage public transport, so there are hardly any motorcycles or bikes on the road. And finally, Xiamen is a mere 2 km away from Jinmen, a Taiwanese island (the one that was bombed throughout the 50s and 60s by the Chinese), so there is much trade and travel between the the two countries. The people of Xiamen even speak the local Taiwanese dialect.
All of this makes Xiamen feel almost like a generic big city in Taiwan, which (in general) was not really that interesting to us…but we did do a few things of note in the city proper. We checked out a memorial to a local merchant who made his fortune in Singapore and came back to his hometown of Xiamen in order to develop the city (many towns in China were developed in this way—through the benevolence of one of it's people).

Memorial to a man who helped build universities and other public institutions in Xiamen.
And we visited the island of Gu Lang Yu, which is Xiamen's main tourist attraction. I think all of us in the group were pretty tired at this point on the tour, so we didn't explore too much of the island. Given more time and energy, I am sure it would have been interesting—Gu Lang Yu has an international past, with many ex-pats living on the island. Today, it is known as "Embassy Island," with something like 100 foreign embassies squeezed onto it's tiny body.
By far the most interesting part of our time in Xiamen was actually our visit to a place about 3 hours outside of the city, a place called Hakka House. The Hakka are an ethnic minority in the region that live in huge, communal, circular houses made out of mud, sticky rice, and stones.

View of Hakka House from above.

View of Hakka House from the inside.
Hakka houses are are built in a circular shape for protection from local bandits and animals. They are really big, but they house only one family…though "one family" can mean up to 4 generations of grandparents, parents, kids, uncles, cousins, etc. The first floor of a Hakka house is all kitchens, with storage on the second floor, and living quarters on the top floor. It can take years to build a Hakka house, since they are made of mud and sticky rice…you have to wait for the first floor to dry before building the next floor.
Though it has become a UNESCO World Heritage site, the Hakka House is still a functioning village. We saw many domestic scenes as we walked through the site:

Little girl getting her hair washed by her grandmother. She was screaming and carrying on as her grandma tried to comb the tangles out of her hair.

Woman with amazing hands wrapping zong zi.
Before we went to Hakka House, we stopped by a local village for lunch that was having it's market day. We had some free time before lunch to wander around and check out all the stuff for sale: live chickens, strange vegetables, intestines hanging on meat hooks…

My mom with some sort of mushroom.

I don't know why, but I LOVE this photo of an old lady in the market.
I really enjoyed our time at Hakka House and this local village, but our visit was far too short. Because it was a 3 hour drive from Xiamen each way, we had to hurry back for our special goodbye dinner, where we played a Xiamen dice game and ate something called "sea worm." I have to admit, it was fun to do this eating tour with Frank, but I am not sure how much more crazy stuff we could have eaten!
In Xiamen, we said goodbye to my parents as we prepared to head our separate ways (us to Yangshuo, and my parents back to Taiwan via Jinmen). We had an incredible time traveling together with Eddo as a family, and it was truly a special experience to be with my mom on her first visit to China and with my Dad on his first visit back to Taiwan in 26 years. I feel that through this trip, I understand so much more about my parents than I did before. As I told Jeremy, "In the US, I feel like my parents are so Chinese. In Taiwan, I felt like they were Americans, and in China, I feel like they are Taiwanese!" The truth is, they are all three of those things, as am I, as is my brother. I see my parents in a new light now…I never thought of them as "international" before, but traveling through Asia with them, I see that they really are the embodiment of that word. I learned so much more about my heritage and I understand more deeply my responsibility to transmit the lessons I've learned from my parents and my grandparents to the next generation.
In an email, my parents described this leg of our journey as "the trip of a lifetime." Indeed, it was a trip of many lifetimes, and of many lives convening to lead us to this place, together, as a family. Thank you, Mommy, Daddy, and Eddo for coming out to travel with us, sharing your stories, and discovering this land that is both familiar and unfamiliar to us all. We will treasure this time together for many more lifetimes to come.
After saying goodbye to Eddo in Shanghai, we headed off to Wuyi Shan (Wuyi Mountain), in Fujian province. Our introduction to Wuyi Shan was kicked off quite ceremoniously by The Scariest Dinner We've Had So Far. We were taken to a restaurant specializing in "local delicacies", if by "local" you mean "scary" and by "delicacies" you mean "all breed of mountain animals." We ate wild boar and snake and mountain toad and turtle and wild pheasant and and…the list goes on. By the end of the meal we didn't know if we should be more scared of what dish was coming next or of ourselves!

This is what snake soup looks like.
After sleeping off our scary meal, we started the next day off with a ride on a bamboo raft.
Our bamboo raft man told us many, many jokes in Chinese (of which I understood exactly NONE). My parents had a good time, though, so that's all that matters. Of course, Bamboo Raft Man is no match for my Dad when it comes to getting attention…as we passed through a narrow channel, my Pops made like Tarzan and howled mightily, his voice bouncing off the rocks from one end of the river to the other.

Um, is this REALLY my father-in-law?!?
As you're floating down the river, you can see a bunch of people climbing the mountain; they look like little ants scrambling up the steep rock face.
Later on that afternoon, we did a little role reversal and WE were those little ants on the mountainside! The view from up top is stupendous, and despite the super steep climb on slippery wet rock, we all made it to the top! I was extra proud of my mom for pushing hard to make it up the mountain!
The following day, we did some more hiking near the Blue Dragon Waterfall area, which was also quite pretty.
But to me, the most interesting part of the Wuyi Shan area was the little run-down village (Xiamei) that the rest of the tour group wasn't interested in at all. In fact, only my family walked through the entire village—the rest of the tour group turned around halfway through and waited on the bus. I guess they thought it was TOO run down and dirty, but I felt it was refreshing to see a place that wasn't cleaned up and commercialized and polished for the tourist market.
The main drag in the village was filled with old ladies sorting tea leaves. Tea is a big cash crop for rural China, so cultivating tea is one of the major ways you can make a livable wage outside of the cities. Apparently tea sorters get paid for the number of bad leaves they pick out of the batch (not the number of good leaves they leave in!).
I liked observing the people—young and old—who lived in this town, and wondering what their lives were like: what makes them laugh? Where do they brush their teeth? What do they want to be when they grow up? Silly yet intimate questions, I guess.

Two boys playing Chinese checkers.

Old man on the main drag in Xiamei village.
Xiamei seems a world apart from places like Shanghai. It makes you wonder…as the government puts more and more effort into improving (economically) the lives of its poorer rural residents, how long before the people of Xiamei decide to move to the cities, where they can make more money hauling loads of laundry up a multi-story building than they can sorting tea leaves? How much longer before places like Xiamei are simply a relic?
Our looooong day in Hangzhou was followed by a much more leisurely morning exploring a floating village called Wu Zhen. The tour group arranged a boat trip through the village for us, which was quite picturesque and relaxing. As we floated down the canal, we saw many old homes that are still inhabited by families (as evidenced by their underwear and other laundry hanging out to dry—Chinese people are definitely not afraid of other people seeing their underthings).
As it turns out, this picturesque little village has a sad story. Wu Zhen was turned into a tourist attraction by the Chinese government, and even though visitors must pay an entrance fee, the residents do not receive any payment for the inconvenience of having hundreds of tourists filtering through their hometown on a daily basis. In fact, the people of Wu Zhen are not even allowed to vend until 4PM (when all the tour buses leave). I felt really bad for the village residents, because it was clear that their hometown had been turned into a zoo, and you could see in their faces that they were annoyed and frustrated by the constant stream of visitors coming to gawk at their "old" ways of living. As a result, I didn't take too many photos here; I didn't want to disturb these poor people anymore than we already were. Our tour guide explained that most of the young people had already moved out of the village; only the elderly (i.e., the people who could not afford to buy new homes) were still around. China's incredible economic rise has brought a huge amount of prosperity to a huge amount of people, but the people of Wu Zhen have definitely been left out of that…unable to cash in on tourism even as their homes get turned into a modern-day Chinese Disneyland. China, as we are finding out, is many things, but it is almost never solely what you see on the surface.
We left for the town of Suzhou after our Wu Zhen tour, but before I get to that, I wanted to mention something else about our Hangzhou experience. This was Jeremy and I's first time on a Chinese tour, and that in itself is an experience. Independent travel is not a big thing for Chinese—they prefer to travel in big groups, and they like the ease of a tour group; they don't want to think about where to go next, or how to get there. You can see a Chinese tour group coming a mile away—they all (willingly) wear matching hats. Seriously, our tour guide told us that if he was taking a Chinese group around and they didn't give them hats, everyone would change to a different tour service, saying "this crappy tour doesn't even give you a free hat!"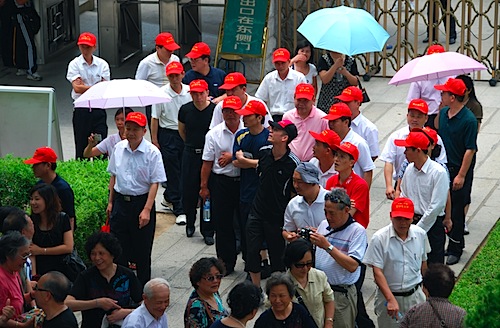 Not only can you SEE a tour group coming from a mile away, but you can HEAR them too. The matching hats are usually following a tour guide who carries a flag (usually yellow) and is screaming into a megaphone. You could be in the most serene, peaceful, natural setting, but the tour guide will be blabbering away on his/her megaphone. It's almost like the Chinese feel they won't get their money's worth unless the tour guide is talking the entire time.
Our Chinese tour guides made some slight changes to accommodate our "American" group: we didn't get hats, for example. But they still talk an awful lot (sometimes they even sing for you)—they even talk when we are sitting on the bus, in transit from sight to sight. Luckily, most of what our Hangzhou tour guide had to say was quite interesting…we found out, for example, that men in Hangzhou area of China do all the housework, in addition to earning all the household's money. This is very unusual in China, as the country is an extremely patriarchal society. On top of that, in order to attract a bride, the man must own a home, which can cost at least 1 million RMB in Hangzhou (about US$150,000). This is not a small amount of money in China, and usually the parents help their sons buy their first house so that they have a chance attracting a desirable wife. As a result, Hangzhou is the one area in China where having a daughter is more desirable than having a son. I am not really sure what women in Hangzhou do, since they don't work and their husbands do all the cooking, cleaning, grocery shopping, and laundry. I guess they just shop all day? As you might imagine, Hangzhou men are extremely desirable husbands in China.

OK, switching gears now to Suzhou, the garden city. Unlike the gardens in Beijing, which were built for emperors, Suzhou's gardens were built for private citizens, so they are smaller and more intimate. We toured The Garden to Linger In the first day:
and a much larger garden (I can't remember the name of it) the following day:

View of Leifeng Pagoda in the background. This is a feature of Suzhou gardens: incorporating background elements into the garden's design.
My two favorite things about Suzhou's gardens were (1) the amazing windows…each one has a different pattern, and there are hundreds of them!
And (2) Suzhou's amazing Chinglish signs!
BTW, here's a link to an amazing Chinglish brochure from our hotel…not to be missed!
That evening, we celebrated our final meal in China with Eddo, who was returning to Shanghai, while we went on to Wuyi Mountain. It was a lovely dinner, at a table that had to contain the world's largest lazy susan:
The restaurant overlooked a large lake, and we got to see the huge amount of redevelopment that has gone on in Suzhou. Apparently Suzhou is following in Shanghai's footsteps and building a large number of high rises as the Chinese economy booms.
Frank told us that he felt Suzhou has lost its charm…and it's hard to disagree. I mean, the gardens are still there (many of them are UNESCO World Heritage sights, so they are protected), but it's hard to imagine how that ancient way of life is going to coexist with a population that has an ever-growing appetite for the new and shiny. And if the old way of life does persist, will it just be an act? A show put on for tourists who want to come and visit "ancient" China?
Once again, if you just look a little bit deeper, you can see all the issues that China has to grapple with as they move full-steam towards modernity. China is a fascinating place at a fascinating time in its history, and it's easy to see that the journey ahead for this huge country will involve some difficult choices…many of which are being put off for the short-term pleasure of economic prosperity.