What comes to mind when you hear the word "Mediterranean?" Heat. Blue. Yachts. Olives. And…Turkey? Yup, Turkey shares that same incredible blue sea…the same glorious shining sun…that same fresh, delicious cuisine…and all at about a quarter the price of those Western European countries.
When we were in Istanbul, J and I met a really nice Finnish guy who told us about his favorite places in Turkey, and Patara (a small town with a 20 km beach and ancient ruins right past the sandy shore) was high on the list. So to Patara we went! It was our first stop on Turkey's Mediterranean coast, and our Finnish friend was right…it's a nice frickin' beach!
A beach like Patara can hold any traveler hostage for several days, but what really stood out about our stay in Patara was our pension. Once again, we went with the hotel touts at the "bus station" (if by "bus station" you mean "random spot on the highway"), and once again, we weren't disappointed. J and I ended up in a room at Rose Pension, which is a warm, family-run place that felt like a home away from home…if yo momma is Turkish. For a few days, we felt like we were part of one big, happy Turkish family, with other travelers from Italy, Russia, and Belgium as our siblings.

The Rose Pension family: Mehmet, Hope, Mesut, our Turkish momma, and Jeremy.
One day, some of our Belgian and Turkish "brothers and sisters" invited us on a boat trip with them from nearby Kalkan. By the end of the day, we were HOOKED.
What a incredible way to spend a day…motoring from island to island, swimmin' hole to swimmin' hole. And at 35 lira (approx. US$20) each, including a yummy buffet lunch, we thought it was the best deal in Turkey!
We planned to stay in Patara for several days to relax and swim in the ocean (an activity that has really captivated us since our visit to Ko Lipe), but we ended up moving on after a few days because:
The beach is pretty far from town. We were told that it was a 1 km walk, but we didn't realize that it was actually a "Turkish kilometer" (i.e., anywhere from 2 blocks to 4 km).
The beach is indeed big, but there is nowhere to hide from the overpowering sun, unless you pay to use some umbrellas and loungers crowded together on one small plot of beach. The result? A very crowded 0.5 km of sand, with 19.5 km completely void of people.
Mosquitos. 'Nuff said.
So, after a few days hanging out in Patara and enjoying our temporary Turkish momma's amazing cooking, we hopped on a bus towards another town along the Mediterranean called Olimpos. On the way there, we got a bit sidetracked when we met a really nice Dutch guy who lives in Patara part of the year. He recommended we check out a town called Kaş, so at the last minute, we hopped off the bus before our intended destination. Once again, taking the advice of a fellow traveler was the right move. Kaş had everything we wanted: good food, a view of the water, and more boat trips! There are also some nice ruins in town, where you can watch the sunset.
Our Dutch friend also supplied us with one of our favorite quotes of the trip. I was asking him about the British travelers who come in for the weekend and fry themselves to a crisp before returning to the rainy UK, when he exclaimed, "I know! They come in looking like a glass of milk, and they leave looking like a bottle of rose!" Thank you for the comedic interlude, funny Dutch guy!
And another thank you to our funny Dutch traveler for convincing us to check out Kaş. We loved it there! Day after day was spent enjoying the sea…either via boat (where you can explore sunken ruins), or by lounging on one of the "beaches" in town (a lot of the Mediterranean coast in Turkey is rocky, so restaurants will set up a bunch of loungers on a rocky outcropping, and you can use the beds for free, with the implicit agreement that if you want something to drink, you buy it from them).

View of the rock "beach" restaurants in Kaş.
Each night, we dined at one of the many delicious open-air restaurants in Kaş. Turkish food can be pretty repetitive—kebap with cucumber, tomato and olive is really delicious for the first week, but the same meal for lunch and diner every day gets pretty boring. Luckily, Kaş has a pretty developed culinary scene, and we happily dined on freshly caught fish and homestyle Turkish casseroles.

A cute street full of outdoor dining options in Kaş.
Each night after dinner, we'd ask each other "should we stay one more day?" And the answer was invariably "YUP!" But eventually, we had to tear ourselves away from Kaş. Our final stop on Turkey's Mediterranean coast was Antalya, mostly because it is a major transport hub, but it turns out the Kaleiçi (Old Quarter) in Antalya is quite charming!

Street scene from Antalya's Kaleiçi.
Antalya's also got some surprisingly nice beaches for such a big, bustling city, though you do have to pay to use them (8 lira for this beach, or about US$5…which is pretty steep by Turkish standards, but we were desperately hot).
Though we only spent one night in Antalya, we managed to cover it all in this city—our single day was spent exploring the Old Quarter, topped off with just a little more time enjoying that incredible blue sea.

Our last evening on the Mediterranean.
And with that, the sun set on our Mediterranean excursion.

Transportation from Pamukkale to Patara (and Kaş and Antalya): There are no direct buses from Pamukkale to Patara. You must take a bus from Pamukkale to Fethiye (16 lira each, approx. US$10) and catch a bus that drives the Fethiye to Antalya route, where you can hop off on the main highway near Patara (10 lira or US$6 each). From there, you have to catch another bus that will take you down the hill into town.
From Patara to Kaş and then to Antalya, you have to catch that same highway bus that runs between Fethiye and Antalya. It cost us 7 lira (US$4.50) from Patara to Kaş and 16 lira (US$10) from Kaş to Antalya.
Bus prices along this route can be pretty arbitrary, and tourists invariably get charged more than locals. There doesn't seem to be a system for when you pay: you can hand over your hard-earned lira at the beginning, end, or middle of the ride. Miraculously, the driver somehow keeps track of who has paid and who hasn't, making change while driving the windy roads. Turkish multi-tasking at its finest.
Where we slept in Patara, Kaş, and Antalya: Though the rooms at Rose Pension in Patara (double ensuite with AC and deck for 45 lira, or approx. US$30) are pretty standard, the homey feeling makes it a total standout. We even received a couple emails from Mesut asking about our travels and wishing us a Merry Christmas! Plus, our Turkish momma is an absolutely incredible cook. Rose Pension MADE our Patara experience.
In Kaş, we stayed at Hilal Pension in a double ensuite with AC and deck for for 65 lira (approx. US$42). Our room was comfortable, the buffet dinner was cheap and tasty (though nothing compares to Rose Pension's home cooking), and this was the view from the roof deck:

View from the roof deck of Hilal Pension in Kaş.
The only accommodation homerun we failed to hit was in Antalya. Unfortunately, I didn't write down the name of the place in my notes, but it is the pension that the Lonely Planet says is "for the homesick," due to its motherly owner. The room was fine and the view was spectacular, but there was no wi-fi and at 60 lira (approx. US$40), we thought it a little overpriced.
Check out all our photos from the Turkish Mediterranean:
Note: This post is dedicated to Sharon, who showed us incredible photos of Pamukkale waaay back in August of 2008. They were so incredible, in fact, that we said, "Holy crap! We have to go there!"
OK, remember that thing I said about us not being "ruins people"? I take that back. It turns out that we're just not "Ephesus people." In my last post, I alluded to the fact that we don't really get excited by ruins unless there's an incredible landscape to go along with it…and the reason why we know that to be true is because of our visit to Hierapolis and Pamukkale.
First things first: Hierapolis is another set of Greek ruins set in the hills above a site named Pamukkale. And what exactly is Pamukkale? Only the coolest travertines (white limestone made of calcium carbonate) we've ever seen! OK, maybe the only travertines we've ever seen. It looks like snow but it's really rock.

A bird's eye view of the Pamukkale complex, with the town of Pamukkale in the background.

Tourists in the travertine pools.
J and I stuck to our usual M.O. and headed up to the Pamukkale/Hierapolis complex late in the afternoon, around 3PM. Unlike Ephesus, this time our plan worked—the huge crowds of Russian tourists in Speedos that flock to Pamukkale had already started filtering out of the complex, though a couple of them stuck around to pose for our photographs.

In order to get to Hierapolis, you must walk through Pamukkale's travertine pools (barefoot, which can be pretty tough on your dogs, unless you have tough Aussie feet).
We couldn't have timed our visit more perfectly! As we arrived in the Hierapolis area, the sun started going down, illuminating the dry grasses in the hills and creating the perfect golden light that plays a major role in every photographers' wild, sordid fantasy.

An interesting view of the travertines from the hills of Hierapolis.
This time around, we had a fabulous experience exploring Hierapolis. We got to see the remnants of an old city, including their main ceremonial street and the men's toilet.

The Domitian Gate, entrance to the city of Hierapolis' main ceremonial thoroughfare.
In fact, we were so entranced with Hierapolis' HUGE ruins site that we almost missed the sunset! We scurried over to the travertine pools just in time to watch the sun dip below the horizon.

Sunset over Pamukkale's travertine pools.
We've seen a LOT of really, really gorgeous sunsets on this trip, and—dare I say it? The sunset we watched from Pamukkale might be the best one of the trip thus far. This vistas from the top of the travertines and the golden light shining reflecting off the pools…INCREDIBLE!!! It as so awesome that we were feeling sorry for all the Speedo'ed Russians who missed this stunningly beautiful sight. We're sensitive like that.
Since the sun had already gone down, we made our way back to town in the dark. But don't worry—they light up the Pamukkale complex so you can still find your way down (though it was a rather painful descent with that rock).
We almost didn't come to Pamukkale—it is a heavily touristed site and after our experience with the crowds in Ephesus, we were worried that we would be turned off. But as is the case in most situations, timing here in Pamukkale is everything.
How we got from Selcuk to Pamukkale: Paid 20 lira each for a "direct" bus from Selcuk to Pamukkale. And by "direct," I mean we stopped in Denizli and changed to a minibus. We still haven't quite figured out what "direct" in Turkey means…we've had "direct" buses that stop in every major town along the route and "direct" buses that make you transfer to a different bus. So as far as we can tell, as long as you work under the assumption that "direct" in Turkish means "indirect," you won't be disappointed.
Where we stayed in Pamukkale: As in Ephesus, we went with the hotel touts at the bus station and ended up at a place hilariously called The Four Seasons, also known by its Turkish name, Dort Mevsim (I say hilarious because on the way to the hotel, the owner kept passing backpackers and asking, "Are you going to The Four Seasons?" And these backpackers would look at him like, "Our clothes are riddles with holes and I haven't brushed my hair in a month. Do I LOOK like I'm going to The Four Seasons?" Of course, little did they realize that "The Four Seasons" was actually an unfortunately-named backpacker hostel.
First of all, a note on the hotel touts: Turkish hotel touts are some of the most civilized we've ever met. They seem to have some sort of system, where each tout gets his turn to pitch the newly arrived travelers. No Vietnam-style crowding of the bus here! In Selcuk, the first guy who approached us named a price that was waaay too high for us. So he said, "meet my friend, he has a cheaper hotel for you." Which is how we ended up at the Canberra Hotel. So gentlemanly!
Anyway, back to Pamukkale: we originally wanted to stay at a place called Venus Pension. The owner of The Four Seasons offered us a free ride on the promise that if we didn't like that hotel, we would check out his place next. Classy!!! When Venus Pension turned out to be way overpriced, we went over to The Four Seasons (which was directly across the street) and agreed to stay there for 40 lira per night (US$25).
The rooms at the brightly-painted Dort Mevsim are very comfortable, and there is a nice pool (which we didn't end up using) and a shady terrace where you eat breakfast. All in all, a great place, and if you book ahead online, it's even cheaper!
Check out all our photos from Pamukkale and Hierapolis:
Selçuk is a very common stop on the Turkish backpacker route and it's not hard to see why: it's located on the Aegean but it's pretty much the midpoint between Istanbul and the Mediterranean coast (located 9 hours from Istanbul and about the same from Fethiye), and it boasts some of the best-preserved Greco-Roman ruins this side of, well, Rome! We didn't realize how many modern-day Turkish cities have a Greek or Roman history, but it makes sense, given Turkey's location and the fact that the Roman empire pretty much dominated most of the lands around the Mediterranean at one point.
In fact, there are some pretty cool ruins right in town: the Selçuk Citadel and St. John's Basilica.

View of the Selçuk Citadel, with St. John's Basilica ruins in the foreground.
The coolest thing we learned from wandering these ruins is the fact that Romans often repurposed old construction materials (like columns) to build their cities. Romans—ancient architectural refashionistas!

Bits of columns reused to construct the walls of St. John's Basilica.
But the star of the ruins show is Ephesus, which is located right outside of Selçuk. It's a neat place, with lots of major landmarks, and it allows you to imagine what life must have been like under the Roman empire.

The Great Theater in Ephesus, where plays were acted out and gladiator battles fought!

Detail, the Temple of Hadrian.
The crown jewel of Ephesus is the Library of Celsus, an imposing structure where the Romans stored thousands of "books" (i.e. scrolls). Like many classical structures (ex. the Parthenon), the design of the Library of Celsus employed some ingenious optical illusions to make the building appear more grand—the central entrance is larger than the other two flanking it, and the columns in the center are slightly bigger than the columns used on the outside of the building. The detail of the carvings on the library's facade are really impressive.

The crown jewel of Ephesus: the Library of Celsus, where the Romans stored thousands of "books" (i.e. scrolls).

Detail, the Library of Celsus.
Our usual M.O. when visiting a major tourist site is to show up either right after opening or right before closing to avoid the masses, and we did the same with our visit to Ephesus—arriving only 2 hours before the park closes at 6pm. Unfortunately, it seems a tour group consisting of a bunch of very loud Italians had the same idea. So our experience of the ruins wasn't that great—it felt kind of busy and loud and honestly a bit claustrophobic…but I guess that's a pretty close approximation of what it would have been like to live in a bustling Roman city!
Most travelers stay in Selçuk for a day or two to see Ephesus before moving on. Since Selçuk was a pleasant enough town, we decided to stick around for another day and head into the countryside. A medium-sized town called Tire was having their local market on Tuesday, and though it wasn't quite what we expected—lots of "made in China" clothing and goods—it put us within spitting distance of a town called Kaplan, where you can have lunch on the hill overlooking the town of Tire. Though the taxi ride to Kaplan made it kind of an expensive excursion just for a meal, the food was worth it! Turkey is one of the few countries in the world right now that supports its own food requirements—which is really awesome until you realize that means tomatoes, cucumbers, and olives are going to constitute the entirety of your vegetable diet. So we were understandably very excited when this beautiful little restaurant in Kaplan served us stuffed squash flowers, homemade yogurt, and a salad! With lettuce! And it was cheap (if you don't count the taxi ride)!

A salad worth a smile—lettuce! In Turkey! And not just some cheap iceberg—we're talkin' about dark green leaves in this salad!

We drank this stuff all day long while we were in Turkey—Turkish tea.
Our next excursion wasn't as successful—we heard that a town called Sirinçe was really beautiful, so we hopped the local bus (called a dolmuş) and headed for the hills. Unfortunately, it turned out to be a really lame town which was centered around a street full of shops selling tourist souvenirs. Some people are probably charmed by the whitewashed buildings, but this place was not for us.
We had a nice enough time in Selçuk, and if you're really into ruins, then this is the place for you. I think that was the major lesson of our time in Selçuk—we're not really "ruins people"…unless there is a really interesting landscape to go along with those ruins.

How we got from Istanbul to Selçuk: We showed up at Istanbul's massive bus station and walked around to a few bus company offices until we found the lowest price (35 lira each from Istanbul to Izmir, where you can catch a van to Selçuk for an additional 7 lira). This was our first experience with Turkish buses—which have an excellent reputation—and the trip didn't disappoint! A bus attendant wearing a bow tie, vest, and cummerbund (which matched the bus company's colors!) serving us Turkish tea, cakes, and spring water on our 9 hour ride.

Turkish bus attendant serving tea and cakes on the drive from Istanbul to Izmir.
How we got from Selçuk to Tire, Kaplan, and Sirinçe: Took the local bus (basically a large van) from Selçuk to Tire for 6 lira and then a taxi from Tire to Kaplan (there is no public transport for this route). We also took the local bus to Sirinçe.
Where we slept in Selçuk: Turkish people are so amazing that we finally let down our guards, and for the first time on the trip, we went with the hotel touts at the bus station…and we weren't disappointed! We stayed in a double ensuite at the Canberra Hotel for 50 lira (US$32). The room was very comfortable (and colorful!) and the views from the rooftop restaurant (where you have breakfast) were excellent. The hotel offers free rides to Ephesus, and since it is staffed by an enormous Kurdish family, inevitably some cousin or nephew will end up taking you to the ruins.
…but we fly back to the US in a week and we're busy eating up every last morsel of our travel pie. So, this means postings might be light in the next week as we hike our way through Patagonia. If you want to know exactly where we're headed in the next 7 days (and the following few months, as we continue our travels in the US!), check out our map.
For those who haven't quite noticed yet, we're about 4 months behind on the blog. We're in Argentina right now, but we've only gotten as far as Turkey on 12FOOT3. Never fear, we'll catch up…there are some great travel stories ahead so stay with us! It will be worth it!
And since you've been so patient, here's a sneak preview of where we are RIGHT NOW (in Bariloche, a medium-size town in Argentina's Lake District):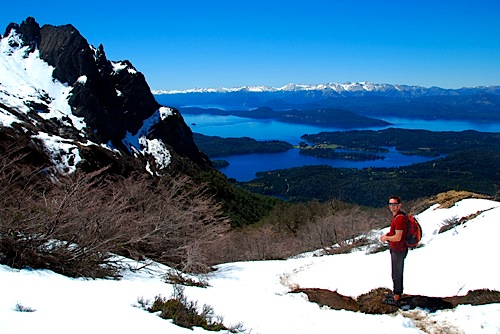 Jeremy hiking through snow on Cerro Lopez, with fabulous views of the Lake District!
Ask any traveler about their experiences abroad and you'll invariably get responses citing the opening of eyes, hearts, or minds. Travel IS the process of opening—exposing yourself to the influence of The Other, seeing great beauty through the eyes of another, and allowing yourself to be altered irreversibly by it.

Talk about great beauty! The humbling interior of the Aya Sophia (Haghia Sophia).

Less frequently do you hear about the process of closing. I imagine it happens to most travelers at one time or another…take any open-minded person and subject them to constant touting and the less frequent but ever-threatening possibility of getting scammed or robbed, and most would end up with at least a bit of a shell—at best a wary eye, at worst a complete shut-down towards all interactions.

The Grand Bazaar in Istanbul. As a tourist, going to a market always opens you up to the possibility of an unpleasant interaction as all parties try to adhere to the old adage: buy low, sell high.

I'll admit it: Jeremy and I grew a shell. After six months in Asia, we expected that any local who approached us on the street was trying to sell us something. We were most skeptical of those who didn't lead with a sales pitch, but instead opened by asking where we were from or how long we had been in the country. We recognized the tactic for what it usually was—a lead to make us feel comfortable before the hard sell.
A week in Istanbul broke through that shell and smashed it into a million little pieces. Sure, there were people of the "Hello my friend, come into my carpet shop" variety, but the vast majority of our interactions with the locals here were surprisingly, I dunno, personal. If someone tried to sell us something and we politely declined, they still wanted to know where we were from, how long we would be in Turkey, and whether or not we were having a good time. It seemed like the Turkish people wanted to know all about us—even after we rejected their sales advance!

After months of Asians asking to take photos with Jeremy, in Istanbul, *I* was the celebrity. I guess they don't see many 6 foot Chinese girls around here…

We were walking on the same sidewalk as these two when Dad proudly asked if we would like to take a picture of his mini-Sultan. Adorable!
Even in the Grand Bazaar, Istanbul's most famous tourist market, it seemed like the selling was secondary to the bantering. To be fair, we met another traveler (who has been to Istanbul 8 times) who swears that the salesmen used to hassle you a lot more at the Grand Bazaar (he thinks that they government has instructed the sellers to back off). And, even though it's off topic, it's worth mentioning that we weren't too impressed with the goods on display there (J and I walked through about 3 aisles before turning to each other and saying, "How much of this stuff do you think was made in China?"). But despite stall after stall of identical souvenirs for sale, our wanderings through this 500-year-old market were fascinating. Again, it was because of the people. One Turkish vendor in the spice market even engaged me in competent (though heavily accented) conversational Mandarin.

Spices in the (surprise!) spice bazaar.
Turkey is a stunning country. The landscape is incredible and the architecture can knock you off your feet. But despite all of this physical beauty, it's the people—so full of love and graciousness that they could pierce through a 12FOOT3 shell—that will really get to you.
Last year, we were in New Zealand looking forward to the year ahead. This year, we're in Buenos Aires (with Martina!), immensely thankful for the year we were given.
We are thankful for this experience, we are thankful for our friends and family that supported us throughout this trip, we are thankful for the technology that enabled us to keep in touch with those we love, and we are thankful for your emails and the comments you have written on this blog that make us feel like home really isn't so far away. We are thankful for this world and the people that make it such an amazing place to inhabit (that's you!).
Happy Thanksgiving!

We're also thankful for Argentinian beef! Our Thanksgiving dinner, 2009.
After 3 years of art school and 2 years working at a boutique graphic design studio, there is one rule that emerges: a rule so highly regarded in the industry that ignoring it would be like asking Thomas Keller to pair his fine steak with Two Buck Chuck. That rule is:
OBEY THE WHITE SPACE.
Any accomplished designer will tell you that the white space on a page is as important—sometimes even more so—than the text or graphical elements. It lets the eye rest, or gives it direction. It can create balance between the other elements on the page. In the best designs, it can create meaning.
Istanbul laughs in the face of white space. It thumbs its nose at white space. Indeed, Istanbul ran that white space right outta town.
The results are insanely beautiful.

The ceiling of Sultanahmet (The Blue Mosque).
We spent most of our days with our necks craned up and our jaws open in awe. When I was in Oaxaca a few years ago, I was obsessed with all the beautiful patterned tiles. But THIS…this takes it to another level entirely.
Every surface that can be covered with a pattern, is.

Mother-of-pearl inlaid door at the Blue Mosque.

Stone floors at Topkapi Palace.

Painted ceiling in the upper gallery, Haghia Sophia (Aya Sofya).


Byzantine arches and pillars at the Haghia Sophia (Aya Sofya).

Stained-glass window, Topkapi Palace.
And what is in between those patterns layered on patterns? Is it enough to execute patterns in stone, tile, glass, wood, and paint? Of course not! Let's throw some mosaics in there while we're at it.

Virgin mother and child mosaic in the half-dome, Haghia Sophia (Aya Sofya).

The Deësis mosaic in the Haghia Sophia (Aya Sofya).
Screw white space.
12FOOT3 POP QUIZ
Q. Turkey is:
A. amazing
B. magical
C. some synonym for "amazing" or "magical"
D. all of the above
If you answered "D", then you agree with 99.99% of the people we encountered before and during our trip. To put it mildly, Turkey was hyped. And despite our attempts to stifle our excitement (there's nothing worse than having expectations so wild that they can only lead to disappointment), we caught the fever. And it wasn't for more cowbell.
So we were off our rockers about our month-long stay in Turkey, and first impressions of Istanbul did not disappoint. The brilliantly patterned head scarves! The elaborate mosques! The intricate mosaics! The fragrant spices! Mind you, we experienced all of this within 10 minutes of getting into the city, BEFORE we actually saw anything. If there's such a thing as love at first sight, then we fell knee-deep into it.

A typical Istanbul uniform (for the ladies, of course): colorful headscarf atop beige overcoat.

Sultanahmet (The Blue Mosque).
Of course, we had to stop for a moment to give ourselves a pat on the back for adding the UK and Ireland to the itinerary. Not only did those countries seem exotic after China, but our appreciation of Turkey's Ottoman heritage was heightened after 3 weeks in those English-speaking countries. Go us!
We ended our first evening in Istanbul on a rooftop restaurant with a kebab meal (the first of so, so many), a cold pint of Efes (ditto), the Haghia Sophia on one side, and a view of the sunset over the Bosphorus on the other. [Insert reference to "C. some synonym for 'amazing' or 'magical'" here.]

Jeremy enjoying our first kebab on a rooftop restaurant in Sultanahmet.
And then…this is the point in the post where that music would play. You know, that music. The music that goes: DUN DUN DUN!
Before we arrived in Istanbul, we booked 4 nights in Best Island Hostel. Don't ask me why we booked ahead—when arriving in a new city, we typically do the "backpacker dance" of dragging our bags from one hostel to the other until we find one that we can work with. I think we were worried about it being the busy season before Ramazan and perhaps we were still in the pre-booking mode from the UK and Ireland. Anyway, we settled into our room at Best Island for a good night's sleep…if by "good," you mean "tossing, turning, and fitfully trying to tune out the bathroom noises that echoed in our bedroom ALL NIGHT LONG despite the fact that we were wearing earplugs." Yeah, if by "good" you mean THAT. People, we've slept on Vietnamese buses with dirty backpackers' feet in our faces and mosquito-filled rooms in the middle of the Southeast Asian jungle. There was no worse night's sleep than the one we had in Best Island.
It's hard to even find words to describe how cranky we were the next day. The city that was the historic seat of power for the Ottoman Empire? Whatever. 1000+ year old mosque? Pshaw. The crystal-blue waters of the strait that separates Europe and Asia? Yeah, show me something I haven't seen. Not even the beautiful weather could cheer us up.

We were so sleep deprived that THIS seemed unimpressive to us.
We quickly realized that if we "slept" another night in Best Island Hostel, we would end up hating Istanbul. So we spent our first day in this beautiful city going from hostel to hostel looking at rooms until we found Hotel Umay. At a hefty €45 per night, plus US$30 for Best Island—we ended up having to double pay for 2 nights because we couldn't get a hold of the owner for a refund request)—we were blowing the budget two days after we landed in Turkey. But our new room was blissfully quiet, the boys who worked at the hotel promised to give us a discount if I taught them some American pickup lines (example: "Your father must have been an astronaut because he put the stars in your eyes." Seriously.), and this was our view:

View of the Bosphorus from our room at Hotel Umay.
It was worth every penny.
How we got to Istanbul: We used one of our around-the-world (RTW) flights to get from London to Istanbul.
Where we slept in Istanbul: See the above story for a full explanation, but here's our advice if you want to enjoy Istanbul: NEVER EVER stay in Best Island Hostel.
On the other hand, we loved Hotel Umay. Friendly service, a beautiful view on a quiet street, and a decent Turkish breakfast. Thank you, Hotel Umay, for saving us from the horrors of Best Island!
Once again, we've updated our map! Gone is the dumb timeline thingy—Jeremy has replaced it with a much more user-friendly list, including information on our dates and length of stay, as well as links to our blog posts and photos (on Flickr) from each destination. If you don't see blog and photo links for a certain location, it's because we haven't posted them yet…yes, we're very behind but we're committed to telling you all our travel stories so just hold your horses, Bronco!
Check out the map and let us know what you think!