Note: A few days before we left on our China tour, my parents flew to Taiwan to meet up with us. My Dad has (unbelievably) not been back for 23 years!!! Their social schedule immediately filled up, and we were whisked from restaurant to restaurant, invited by various shu-shu's and a-yi's that have known my parents since they were in college…junior high…even elementary school! Taipei is a completely different place now, and it was really fun to wander around with my parents and hear their stories about places they used to hang out, their old neighborhoods, and how things have changed. Here are some additional thoughts from my Dad on the country where he grew up.
Wendy and I have planned for quite a while to join Hope and Jeremy in the middle of their around-the-world journey. We got to Taipei on May 11 and left on May 15 for China, where our family (including Eddo) will tour some of the historical and famously beautiful sceneries. I am pleased to be a guest blogger to say a few words about our Taipei staying.
Taiwan, especially Taipei, is the place like our root where we grew up and had our education through college. I finished my college in 1968. Right after I graduated, I served the Navy as a navigation officer (rank: 2nd Lieutenant). Then, in 1970, I got admission to went to New York studying oceanography and marine science. Two years later, I came back to Taipei to visit my parents and to "cure" my "homesickness." I met a beautiful Cathay Pacific Airlines ticketing agent and asked for a date. Eventually, she married me two years later and went to New York in 1974 to be with me.

The Xindian River. In my parent's time, this used to be "Lover's Lane." Now there is a boardwalk with upscale eateries lining the waterfront.
Therefore, both Wendy and I have tons of bygones here in Taiwan. In the last 26 years, however, I have only set foot in Taiwan twice: once in '83 (for shorter than 2 weeks), and again in '86 for only three days. Therefore, after I landed at Taoyuan International Airport, this place looks different and actually foreign to me. My feeling of "homecoming" is like the story of Rip Van Winkle's coming home after a dream in the forest.
Some of my friends invite us to a dinner. Mr. Liu Hui Sheng and I were neighbors in 1955, but we have not seen each other for over 35 years. Mr. Chang Er Liew was my best friend at the time before I left Taiwan. there were many, many nights I slept over at his little "den" and got up late next morning for school. We did many silly things together and never hurt each other. Those were my "Bohemian youth buddies." Si-wei, who is Mr. Chang's elder brother, last time saw me before 1981. And both of us are in our 60s now, Can "time flies like an arrow" describe our feelings?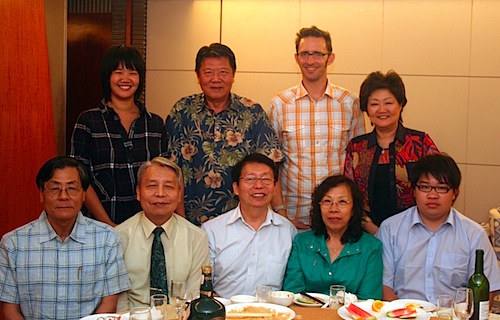 Out to dinner with my Dad's old buddies. Top row: me, Dad, Jeremy, Mom. Bottom row: Liu Hui Sheng, Chang Si Wei, Chang Er Liew, his wife, and son.
Jack Chia and Edgar Chang are two of my Navy friends. Oh well, the three of us were handsome Naval officers before and now either baldy or with grey hair. And, both of them have been "promoted" to be "grandpa" (OK, Hope and Jeremy, no pressure or any implication here from me, all right?).
On the second day of our arrival, I got hold with my cousin, whom I have also not seen since 1981. I had heard my aunt who is 95 years old and in her last stage of life. She has been bed-ridden and unconscious for some time already. I went to the hospital to see her. She laid in bed with all kinds of tubes connected to her nose and veins. Cousin Kuo-Ching announced my presence to her left ear, and I bent down next to say "Auntie, here I am to see you, please take care." She had no response whatsoever, yet she looked so content and peaceful. She was a beautiful woman in her heyday, and to be honest, even at this stage, her skin looks very smooth with her short hair in silver grey. My tears came down to my cheeks. But, I believe, even in her deep sleep, she knows I am with her and also I love her dearly.
Well, Taipei's weather is too hot for me. It's been in the 80s, and this is only early May. Transportation, it has transit system which is convenient. Buses are confusing for me, because there are quite many bus routes run by several bus companies. But, they are all air-conditioned and not like the "sardine can" that I remember.

View of our neighborhood from Taipei 101 (click on the photo and you will be taken to the photo's Flickr page, where I point out our building). Apparently this entire region of Taipei used to be rice fields.
Streets, roads, buildings, have changed too much. I still can find the old neighborhoods, but I do not recognize any new environment anymore. Taipei, my home for 22 years, looks like a strange place. My home now has to be Chula Vista, CA.