After a whirlwind 4 days in Taipei with my parents involving a lot of eating, packing up our stuff and feeling sad, and getting our faces lasered (seriously—me, Momma, and Poppa Meng all had moles removed), the Mengs & Menghermanns boarded a plane for Shanghai! My parents graciously helped organize a tour with Frank, the owner of China Stix, who you may know as The Guy Who Catered Our Wedding. Frank takes tour groups over to China on EATING tours, which is not really that different than joining a normal tour group, except that you gorge yourself on local, gourmet foods at every meal. The Meng(hermann)s will be touring Shanghai and Huangshan on our own before meeting up with the rest of the tour group in Hangzhou.
Our first indication that the family would be traveling together in a different style than Jeremy and I are used to happened as soon as we stepped off the plane. There was someone there to pick us up. I repeat: someone came to pick us up. No wandering around asking where the bus is, no fending off touts trying to sell us overpriced private car rides, no lugging our bags to the curbside to hail a taxi. Now this is the life.

The second indication that this tour was a whole new ball game happened when we got to the hotel. Our tour guide mentioned that it was a Ramada, so I didn't think much of it, but when we got there…WOW! As Jeremy said later, "Five stars are definitely better than one." Apparently, American hotel chains are the cream of the crop in China, even chains that you wouldn't normally associate with "5 stars" (like Howard Johnson, aka "The HoJo").
We were in Shanghai for only 24 hours this first time around—Jeremy and I will be returning for a longer stay since we fly out to Japan from Shanghai. J and I like to travel at a moderate pace, and I thought that we weren't going to see much in 24 hours. But again, this is not your typical Hope and Jeremy tour. We had a tour guide and a driver that whisked us from sight to sight, and darn if we didn't visit all of the major Shanghai tourist locations (albeit for a short amount of time).
For our first night in town, we went to a Chinese acrobatic show called ERA. Imagine Cirque du Soleil, only more bendy. The feats of flexibility and balance were incredible! Unfortunately, we couldn't take photos at the show, but suffice to say we were sufficiently astounded by the guy who used his feet to throw bowls onto his head while balancing on a board that was rolling on top of a soup can (yeah, it sounds weird, and it kinda was), the women who could place their butts on top of their heads, and the somersaulting acrobats who could leap 15 feet in the air and backflip through tiny rings. If you're ever in Shanghai, it's definitely worth a visit.
The next day, we got up bright and early to hit the town. First stop: our tour guide took us to Nanjing East Road, which is basically a huge shopping street. Jeremy and I didn't find this very interesting, but I think it does offer a glimpse into the new China. People here like to get their shop on, and they like to do it with big name Western brands. Strangely, luxury brands are more expensive in China than they are in the States, even though everything is made here. Chinese people buy up a storm when they visit the US because everything is so relatively cheap.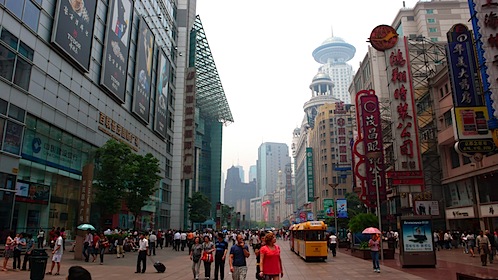 Shanghai's famous shopping street, Nanjing East Road.
Our next two stops were at "museums" that double as "gift shops." It seems like the government encourages tour guides to take you to these locations, and the people who run these "gift museums" can be terribly good at the hard sell. We saw some amazing Chinese embroidery, and some Chinese jade carvings. Below is a pixiu, a mythical animal that does not have an anus, so it can take in all the good fortune but never poop it out (I can't make this stuff up). You are supposed to rub it's nostrils for good luck, which my Dad is doing here: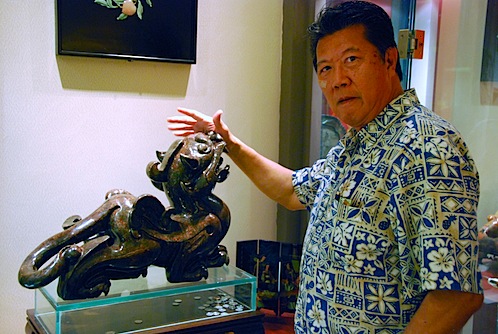 Next, we made our way over to Yuyuan Gardens, a large garden complex that offers a more historical glimpse into Shanghai than Nanjing East Road. Yuyuan is basically a large garden complex packed to the gills with Chinese architecture, koi ponds, famous Chinese rock formations (more on this below), and tourists.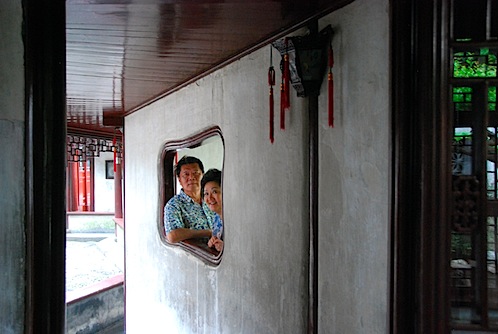 My parents looking cute in Yuyuan Gardens.
Chinese people take their rocks seriously. We learned that in order to be considered "beautiful" to Chinese people, a rock needs to be have four features: shou (it has to be skinny), tou (it has to be transparent), lou (it has to have a bunch of holes), and zhou (it has to be all wrinkled). And it all rhymes! There is one rock in particular in Yuyuan Gardens that everybody freaks out over; shown in this photo: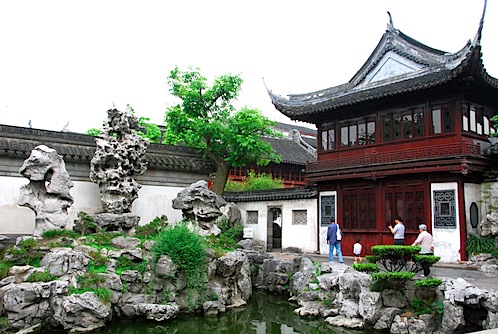 The tallest rock in the photo (second from the left) is know for it's shou, tou, lou, and zhou qualities.
Yuyuan Gardens also has a huge shopping area with food stalls. We tried Shanghai's famous xiao long tang bao (soup XLB), which is so big you can drink the soup out of the bun with a straw!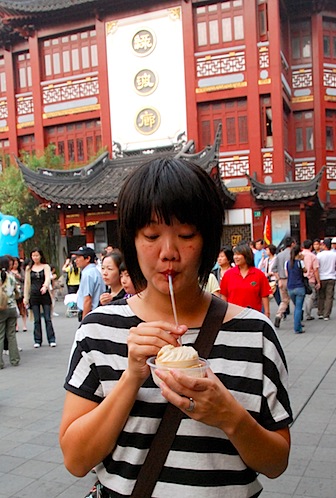 Me trying the famous xiao long tang bao.
We ended our stay in Shanghai with a quick visit to the Bund, a waterfront boardwalk where you can enjoy Shanghai's famous skyline.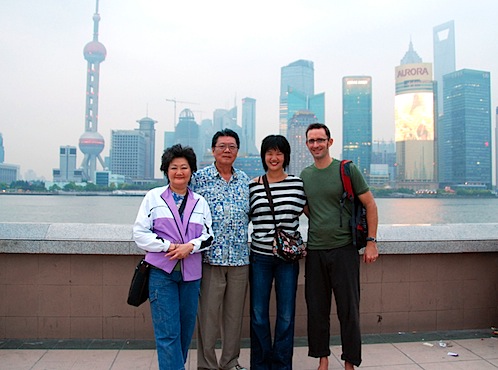 Mengs and Menghermanns Bund'ing it up.
Our stay in Shanghai was brief, but we sure did (and learned) a lot. We'll see you again soon, Shanghai!