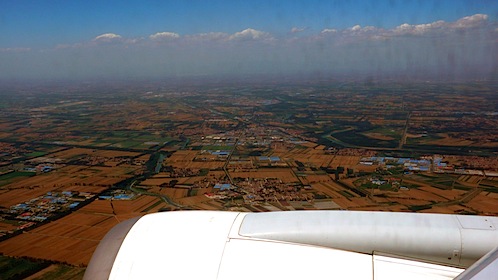 View as we fly into Beijing from Tokyo. Apologies for the dirty window!
Hiya! Just a quick note to let y'alls know that we've updated our route map! Our original plan was to fly to Jordan after China, but we just discovered that it's going to be "capital H" Hot there right now. So we've added London as a destination, mostly because we have friends there (and we've had such an amazing time visiting places where we know peeps!), but also to kill sometime while this planet cools down a bit (at least in the northern hemisphere).
Note that for all future destinations on our map, we've only added our flight points…for instance, when we're in London, we will actually be visiting Ireland and…some other mystery country (possibly Sweden because we have family there, but we are open to other suggestions if you've got 'em!), even though our map only shows that we will be in London for 3 weeks. Also, we show Madrid as a destination, but we won't be staying there long (if at all). Due to restrictions with our around-the-world tickets, we are just using Madrid as a jumping-off point to go to northern Africa (Morocco, possibly Tunisia). Our plans have been rather fluid as of late, and it feels right to make decisions as we go, so we just don't want to jump the gun and say we are going to be somewhere and then disappoint you later.

As a general guideline, here is our future travel schedule:
July 16 to August 10: London, Ireland, mystery country (possibly Sweden or Denmark)
August 10 to September 7: Turkey
September 7 to September 16: Jordan
September 16 to October 2: Egypt
October 2 to October 16: Morocco or Tunisia (via Madrid)
October 16 to October 30: Peru
October 30 to November 29: Argentina
November 29 to December 12: Chile
December 13, 2009: Home to San Francisco!
Also, we've added all our stops in Asia to the map so you can see all the places we've been so far! Enjoy!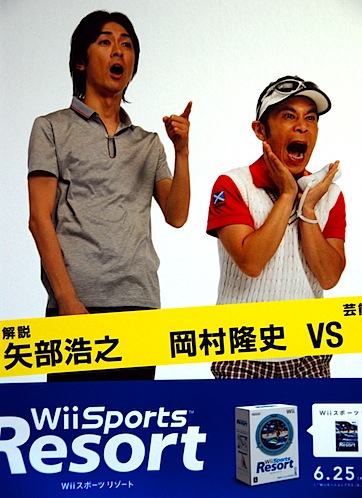 This photo has absolutely nothing to do with any of this, it's just a really funny ad we saw in Japan. Totally made my day…hopefully it will bring a smile to your face too!