Oh Shanghai…sweet, sweet Shanghai. Actually, as a city, we weren't that fond of Shanghai (more on that later), but we were nonetheless relieved to be back. You see, Shanghai was the final stop on the first leg of our China tour. We had been in the country for almost a month, though it felt like much longer since we saw so darn much. We will return to China via to Beijing in the near future, to explore the northern and possibly western side of the country for another 3 weeks. But in the meantime, we've got a two-week stint in Japan. And quite frankly, we're ready for the break.
While it has been incredibly interesting from a cultural perspective, traveling around China isn't exactly what one might call a relaxing experience. Just the day-to-day here requires a huge amount of concentration. Making sure you don't get spit on. Keeping an eye on that lady who is clearly jockeying to cut in front of you and goddamn it, you are not going to let her slide in front because you clearly got there first! Trying to keep calm in the taxi when you're sure the driver is trying to kill you. Trying not to lose your cool when that woman trying to sell you a hotel room just won't stop following you. The constant cigarette smoke. The constant noise. Making sure you don't get robbed or ripped off. And doing it all in a language that is not native to you.
In some ways, I almost think that being able to speak Mandarin doesn't make it any easier for us than it is for someone who doesn't speak a lick of the language (though the challenges are different). At least people will try to speak the little bit of English they know if you look Western. But the thick regional accents, combined with my limited vocabulary, make every conversation a somewhat stressful experience. And of course, the fact that I am the only one who can communicate is not easy on either of us.
On top of all this, I never realized just how much my mood is affected by seeing a blue sky until I didn't see one for weeks. Out of the past 28 days, we could count on one hand the number of days we saw the sun or a blue sky. The quality of the air here is, without a doubt, dreadful. It's clear that the planet cannot continue to support whatever it is that China is doing to it. This is not a joke: if China doesn't shape up it's environmental act, this planet is doomed.

Yet another grey day in China. Taken in Chongqing, looking across the Jialing River from Jiefangbei.
So yeah, we were happy to be back in Shanghai, not only because it meant we might soon see something other than smog in the air, but also because we have family friends in the city, and there ain't nothing more comforting than a familiar face when you need a little perspective. We stayed with my grandparents' (Yeh Yeh and Nai Nai's) goddaughter Vivian Gugu, and once again, we got put up in a sweet apartment in a great location.
We also got to see my Uncle Jack and Aunt Grace, very close family friends of ours. My brother and I grew up playing with Philip and Michael (their sons), and our moms were best friends in Chula Vista. Now Uncle Jack and Aunt Grace are living in Shanghai, and they treated us to a lovely dinner. They haven't changed a bit, and it made me feel right at home to see their smiling faces.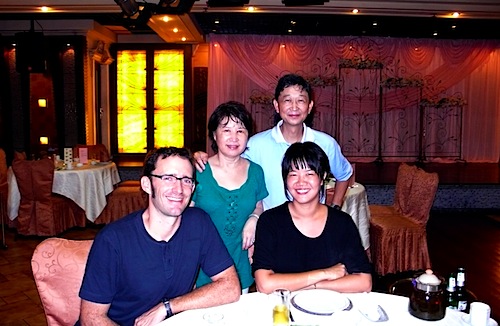 Since we had seen all the major tourist destinations around Shanghai the first time we were in the city, J and I took it easy, taking care of some business (we bought our Japan Rail Passes, which must be purchased before arriving in the country), but otherwise spending most of our time hanging out in cafes or checking out Shanghai's art scene.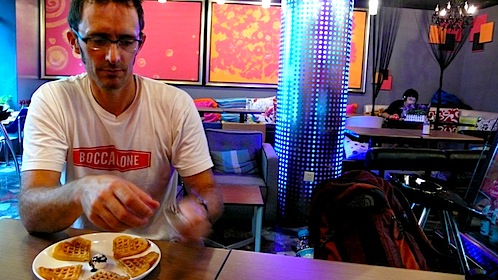 Shanghai has some great cafes, like this cool one in the French Concession area.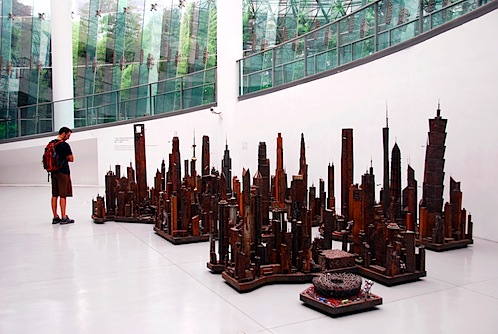 Cool walk-through sculpture consisting of all the major buildings in China, modeled using salvaged mechanical and electrical parts—it's meant to be a commentary on the environmental impact of China's rapid development.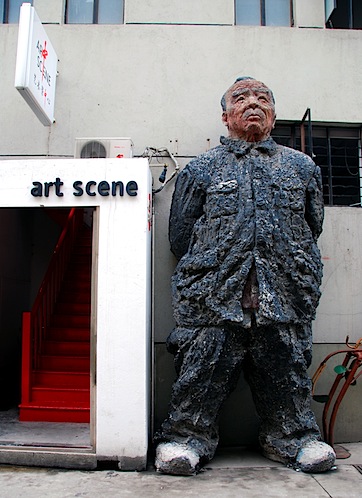 Vignette from Shanghai's 50 Moganshan Road Art Centre, a cluster of art galleries tucked away in a large, industrial complex. One friend described it as a "Disneyland for artists."
It was great to see friends and family in Shanghai, but in general, we weren't too excited about the city itself. It just sort of felt like a big, soulless metropolis to us. At this point we feel pretty adept at picking up on the "vibe" of a place quickly, but Shanghai felt a bit empty to us. It's hard to explain…it was just neither here nor there, neither rooted in the past nor a model of the future. I don't know, plenty of people like Shanghai, so maybe it just didn't gel with our personalities for whatever reason.
And China? Well, my initial reaction still holds true. Of all the countries we've been so far, China is the most relevant—it has been fascinating to witness firsthand this country's shifting economic and politic landscape. And China has definitely the most extreme culturally (at some point on our Yangzi River boat trip, Jeremy turned to me and asked, "Just what exactly IS considered rude in China?!?").
But we're a little worn out. And a little discouraged from having to keep our guards up all the time. Leave it to China to make us want just a little vacation from all this traveling.