Here's a convoluted statement for you: there are many reasons why Kyoto is amazing, and one of those reasons is simply because there are so many reasons! To clarify: the variety of things to do and environments to explore in this city is just astonishing. Urban life? Check. Temples? We covered that in the last post. Gardens? Yessiree. Markets? You betcha. Castles? Heck Yeah. Public parks? Yup. Good food? Well, of course, it's Japan!
One of the (many) cool things we saw in Kyoto was Nijo-jo Castle. There really is something ancient about the place, and walking through the castle and grounds makes you feel like you've traveled back through time as an old Shogun.
Nijo-jo is famous for one thing: creaky floors. Seriously, they've actually engineered the floorboards to squeak so that bandits and perhaps a bitter feudal lord couldn't sneak in to attack the Shogun housed within. It's quite interesting to be walking along the palace interior in your socks (you have to take off your shoes whenever you enter any interior space in Japan), and having the ground sing underneath your feet. In fact, they've dubbed it "The Nightingale Floor," and here's how it works:
After experiencing Kyoto of the past, you can check out it's present. Nishiki food market is a fun place to wile away an afternoon, checking out all the amazing foodstuffs that Japan has to offer. We ate tofu donuts (good!), saw hundreds of different types of Japanese pickles, and gawked at knives that cost more than some peoples' monthly rent in San Francisco.

The many faces of squash. Taken in Kyoto's Nishiki food market.

OK, this particular photo was taken in Tokyo, but we saw similar knives in Kyoto. These bad boys are specifically made to cut noodles. And at 84,000 yen a pop (about US$840), you'd have to cut a LOT of noodles to make this purchase worthwhile.
For an already green city, Kyoto also has some beautiful parks, where you can enjoy even more greenery. I can only imagine how jaw-droppingly beautiful Kyoto would be when the leaves are turning in the fall. Jeremy and I have already decided that we need to come back in the autumn (when all the Japanese maple leaves turn red), in the spring (when the cherry blossoms go off), and in the winter (when everything is covered in a blanket of white).

Strolling through the Imperial Palace Park.

There are ravens all over Japan. This one was perched at the top of a famous cherry tree in the middle of Maruyama Park—a tree that is apparently so beautiful when it blossoms that you have to view it from the hills in the back of the park because there are so many visitors mobbing the area. Unfortunately, the tree was looking kind of sad when we were there (in the summer).
Since we no longer had the benefit of a place to stay in Kyoto, we had to watch our budget a little more closely when it came to food. This turned out not to be too much of a problem, since there are some incredible (and affordable) ramen joints in Kyoto. Our favorite was a place called Santoka, which had a surprisingly hip and modern interior. But it wasn't the decor that kept us coming back for more…it was the pork cheeks. Behold this bowl full of fatty, delicious beauty!!!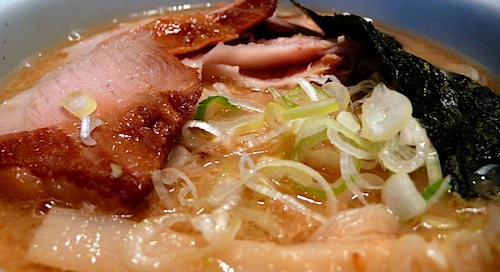 Even with the wealth of attractions in Kyoto, our favorite thing to do was just to walk. There is so much to see in the city's narrow pedestrian alleyways…

Pontocho Street, where Geisha often entertain at night in the exclusive clubs.
…or when you're strolling by the river…

The Kamo River…look at those mountains in the background!
…or wandering in and out of temples.
In short, we love Kyoto. Maybe we'll see you here next fall…or winter…or spring…or…?