Note: There is a LOT to see and do in Beijing. I mean, it's almost ridiculous. Not only are there incredible modern and historical buildings to tour, but the culture in China's capital city is rich and full of life. So for this special city, we'll be taking a different approach. In a 3-part series, we'll be sharing the sights, the people, and the food of Beijing with you. We'll go heavy on the photos and light(er) on the commentary.
If China had a motto, it would be "Go big or go home!" So it makes sense that the sights around China's capital city are massive. Parks, palaces, walls…you name it, they are share one thing in common: they're Big (that's capital "B" Big).
The Forbidden City did not fail to impress, even the second time around (for me, it was the first time for Jeremy). Unfortunately, we showed up at about 10:30AM, which is when most of the tour groups arrive, so our visit was characterized by pushing crowds and tour guides with microphones turned up to "11″ (no fun for my noise- and crowd-averse husband). Here's a tip: if you ever visit the Forbidden City, go around noon when the tour buses take the masses off to lunch. When we were through checking out the palace grounds, we happened to walk back through the compound (instead of exiting the north side) and NO ONE was around.
Beijing is another city (along with Chongqing and Shanghai) where we have family, and after dinner of Peking duck with my aunt and uncle one night (more on this in the next post), they drove us out Olympic Park. It was really exhilarating to see these gorgeous buildings in real life, especially since Jeremy and I got chills watching the Opening Ceremonies last year on TV. We got really lucky and happened to go on an event night, when the lights were on (apparently the Bird's Nest and Water Cube are not usually this colorful).

The Water Cube during a rainbow moment. The building's "skin" is constantly changing color.
When my uncle heard that we planned to visit Simatai (a remote part of the Great Wall) the following day, he arranged for his driver to take us, which was really fortunate for Jeremy and I because it would have taken a LONG time to get there on public transport. Last time I went to the Great Wall, I only saw Badaling, a very touristed part of the wall. Simatai was virtually empty, and we had glorious weather out there: blue sky, fluffy clouds, and a light breeze to cut the summer humidity. Seriously folks, it looked like New Zealand out there!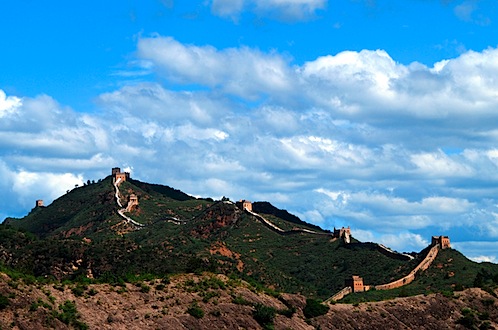 Yes, we had amazing blue skies while we were in Beijing, but Oh. My. God. Was it Hot. So Hot I'm using a capital "H" to describe how Hot it was. The day we visited the Summer Palace (the place where the Empress hung out when it got too scorching in the city), we couldn't make it more than 10 minutes before taking a break to suck down some water or eat an "Old Beijing popsicle." They don't sound that appetizing, but they are cold, sweet, and only cost 1 RMB. We must have eaten at least 6 of those while we were at the Summer Palace.
As for the Palace itself? Impressively large, but a bit over-restored for my tastes. Call me nostalgic, but I like my old things to look old.

Before and after restoration photos of the paintings around the Summer Palace.
The sprawling Temple of Heaven Park (Tian Tan) was a love/hate thing for us. We adored all the locals hanging out in the park dancing, singing, playing games, and practicing calligraphy, but once we got to the actual tourist destinations (like the Temple of Heaven itself), the tourist crush started up again. Unless you're really into Chinese architecture, just hang out in the park and soak up the ambience, and skip the actual temples.
Beijing has some wonderful outdoor public spaces. Our hotel was located right next to Jing Shan Park, so we walked through a couple of times to enjoy the fading light over the capital city.
When we weren't touring "sights" or hiding under the air conditioning of our hotel room, J and I just wandered: in and out of Beijing hutongs, around the shops and restaurants of Houhai or Qianhai lakes, and up and down main thoroughfares, taking in this city of perpetual movement.

Walking to dinner in the fading light of a Beijing hutong.

Evening boat jam in Houhai Lake.

How many Chinese people does it take to change a light bulb?