Posts Tagged 'Koyasan'
If you like your culture with a dash of comfort, or your peace with a little quiet, then Japan is the name of your travel game. Japan felt like an oasis in the middle of crazy, chaotic Asia, and we found a lot of similarities between the culture here and the one we fell in love with in Taiwan.
Over here at 12FOOT3, Jeremy is the nature lover and I'm the culture vulture, and Japan has got enough to keep us both happy. From fashion, art, style, and design in Tokyo to forests, flowers, and bamboo in Koyasan, (or the intersection of nature and culture in Naoshima), Japan has got it all. Go, and let us know what you think. We're pretty sure you'll love it too.

View of Tokyo Tower from the Mori building.

The Japanese countryside, somewhere between Osaka and Naoshima.

Days spent here: 19
Highlights: There wasn't a place we didn't like: Tokyo, Kyoto, Koyasan, Naoshima, Takayama—each big city or little town was fabulous in its* own way. Shirahama was a bit resort-y for our tastes, but since we were there before the start of the "official" beach season, it was empty and quiet. That, and the fabulous onsen on the beach, made it worth the trip.
* Hi Adam!

Sakino-yu onsen in Shirahama. The Pacific Ocean crashes over the wall into the cold pool.
Places we would like to visit next time: For us, it's less about where we'll go next time and more about when we'll go. We'll gladly return to Japan in spring (cherry blossom season), autumn (fall colors painting the Japanese maples), or winter (snow sitting on temple rooftops).

A taste of what autumn in Japan might look like. Taken in Okunoin cemetery, Koyasan.
Average daily expenditures: US$240 (Ouch! Though a good US$50 a day was due to our JR Rail passes.)
Prices: Yup, Japan is expensive. Food is expensive, accommodation is expensive (see the accommodation section below to find out why), and public transport is…guess what? Expensive. In return for parting with your hard-earned cash, you get fabulous food, a high level of comfort and cleanliness in the guest houses, and some of the fastest, easiest, and most convenient transport experiences you can find in this world. In other words, you get what you pay for in Japan. But be prepared to pay a lot.
Weather: We were traveling in Japan during the supposed "rainy season" (June), though it only rained hard twice (and then boy did it rain!). Most days were overcast, humid, but not too hot (maybe mid-70s to 80s?).
Language: Hey you out there! Yeah, you…the one who thinks all Asians look alike and wouldn't be able to tell a Beijing babe from a Tokyo Tomo. Well, guess what? You're off the hook for cultural insensitivity, because apparently Asians think all Asians look alike too. EVERYONE in Japan thought I was Japanese and would rattle on to me for several minutes before they caught on to my blank stare. I would have the following conversation with at least one Japanese person every day:
Japanese Person: Irashaimase! Tekka tekka tekka tekka tekka HAI! Tekka HAI! Tekka tekka tekka HAI!
Hope: Uh, watashi wa…
JP: [waiting patiently]
H: …nihongo ga…
JP: [still waiting patiently]
H: …wakari masen*. (Translation: "Um…I don't understand Japanese")
JP: Oooaawwaahh**! HAI!
* I had to learn this phrase immediately upon leaving Tokyo.
** Japanese people make the most amazing sound effects.
Food: Yo, it's good.
One thing I forgot to mention in my food post—some of you are probably wondering what the deal is with the $40 melon or the $60 grapes you hear so much about. It's not like Japanese people have to take out a second mortgage in order to eat fruit. Rather, these are gift items—a $40 melon is a token that shows your appreciation for the receiver of said fruit. See, everyone knows that THAT is the $40 melon, and the receiver will know it too.
Accommodation: A big chunk of your travel budget in Japan will go towards accommodation. Why? Well, in Japan, rather than paying for a room, you pay by the person. So if you are a single person traveling, you might get a room to yourself for ¥4000 (about US$40). But a couple staying in a similar room will have to pay ¥8000. That's just the way they do things in Japan. Them's the breaks.
Budget places tend to run between ¥3000 to ¥4000 (US$30-40) per person per night. So even a budget hotel will cost a couple US$80 per night. For that reason, Tokyo and Kyoto are a good place to try to use miles on hotels if your mileage program will let you do so, because housing is extra expensive in the big cities. You can also try JAPANiCAN, which often has great deals on accommodation.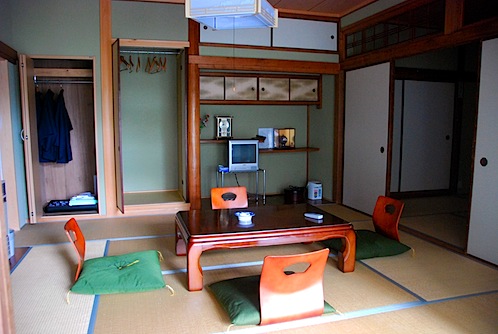 A typical Japanese-style room (though this one is quite spacious).

If you're traveling on a budget, you'll want to look for shukubo (temple lodgings), kokumin shukusha ("people's lodges"), and minshuku (the Japanese version of bed and breakfast, downmarket from the fabulous ryokan). Sometimes a minshuku will offer you a choice of Western or Japanese-style room. We always opted for the Japanese-style accommodation, which means your room will have tatami mats, a small coffee table surrounded by cushions or chairs (like the one pictured above), your bed will be a futon mattress stored in the closet and brought out at night, and your pillow will be stuffed with buckwheat.
Again, despite the high costs, you will get quality from Japanese hotels and guest houses—your room will come with a cute kimono-style robe, a tea set and hot water heater, and (if you stay in the Super Hotel in Kyoto) your choice of pillows (buckwheat, memory foam, or feather, of different densities and thicknesses). Plus a little Japanese atmosphere to boot if you choose the local style accommodation.
Transit: Japan's national rail system is really, really amazing. You can get to every corner of the country…and often at no additional cost if you spring for the JR Rail Pass. Granted, the pass is not cheap, but you definitely get what you pay for. The trains are super fast, efficient, ultra clean, and comfortable.


On the train from Takayama to Tokyo.
I know that Tokyo's Metro is supposedly a transit lover's dream come true, but we found it hard to navigate at times (seriously, the maps look like a pile of multi-colored noodles!).
Internet: As we've come to find on our travels so far, Japan adheres to the unwritten international commandment of "developed countries shall be stingy with their wifi." If our guest house did not have wifi, we could sometimes find an unlocked connection on the street. Of course, my iPod Touch chose to break down in this country, which made it even harder to keep up with friends and family back home. I ended up buying a new iTouch in Tokyo (interestingly, one of the cheapest places in the world to get one…but only by a little bit).
Culture: What you've heard about Japan is true—people are exceedingly polite. But Japan is also a rules-based society, and as our hosts Joy and Alex explained, you can ask a person for directions and they are so polite that they walk you to your destination—but ask them to do anything (ANYTHING!) that is against the rules or the process, and you're in for a long struggle. Put the mustard on the side? Substitute lettuce for tomato? I don't think so, Mr. Big Shot Rule-Breaker Man! The problem is, again, Japanese people are so polite that they won't just come right out and say "no." Instead, they'll talk around it…you'll get answers like: "that might be difficult" or "um, I will need to ask if that is possible." This cultural trait generally does not affect visitors much, but I imagine if you are a Westerner working in Japan (as Joy and Alex are), this can be really frustrating.

Schoolkids in Koyasan. Don't they already look like good citizens?

The other insight our ex-pat friends shared with us: you don't want to be around when a repressed Japanese person finally goes postal. Japan is exceedingly safe, but Joy admitted that the one time she ever feels scared in Japan is when someone is losing it. We saw a guy in Tokyo try to run another guy over at least 3 times (they were having some sort of argument).
The following video is really only tangentially related to the above topic, but it's pretty funny so I thought I'd share:

The point of this "game" is to pop the other kids' balloons mounted on their side of their helmet. WITH A STICK. About 12 seconds into the video, you can see one kid fall down and then all all the other kids start wailing on him/her.
The other well-documented aspect of Japanese culture is their obsession with the absurd. You've probably seen many examples of this, from Japanese game shows to useless inventions, etc. But the cutest example of Japanese weirdness has to be the raccoon dog. These little statues are everywhere, and they are called tanuki, a mythical creature that is jolly and mischievous. Our campsite in Naoshima even had a sign telling the raccoon dogs not to eat shoes or steal food (wish I took a picture of that)
Tanuki are characterized by their big pot bellies and get this—their humorously large testicles. I am not joking—there is even a schoolyard song about them:
Tan Tan Tanuki no kintama wa,
Kaze mo nai no ni,
Bura bura
Roughly translated, this means "Tan-tan-tanuki's testicles, there isn't even any wind but still go swing-swing-swing."
I got all this from the Wiki entry so it MUST be true.
In short: It's really, really lovely in Japan.
It's 6 o'clock in the AM, it's cold, I'm hungry, and my hips are sore from sitting Indian style for an hour first thing in the morning. Why am I doing this to myself? Because we're staying at Haryoin Buddhist Temple in Koyasan, a holy mountain retreat area in Japan, and we've decided to drag ourselves out of bed at the crack of dawn to witness the temple's morning prayer. Buddhism is all about suffering, isn't it?

Located south of Osaka, Koyasan has 117 subtemples stuffed into 10 square kilometers. If you think that sounds amazing, you'd be right. I have no idea if Koyasan is on the typical Japan tourist route (we heard about it from a Japanese friend—thanks Tomo!!!), but we didn't see that many other Western tourists while we were here—but we did see loads of Japanese pilgrims, dressed all in white (some wearing bells), wandering from temple to temple and chanting prayers at each stop along the way.

Japanese pilgrims praying at a temple in Koyasan.
And my goodness, what temples they are! Even more stunning than Kyoto, possibly. Even if you don't know the first thing about Buddhism, the gorgeous natural surroundings, the awe-inspiring temples and pagodas, and the peaceful disposition of the place will conspire to adjust even the most distracted psyche into a state of mindful consciousness.

Konpo Daito in Dai Gaan temple complex. There were 5 giant golden Buddhas inside, but unfortunately, you are not allowed to take photos inside Japanese temples. To get an idea of the scale of this thing, look on the steps in front of the temple—yes, that's Jeremy.

This is Jeremy's favorite pagoda. Also located within the Dai Garan temple complex. Didn't I mention that the Japanese can do amazing things with natural wood?


Unfortunately, I don't remember what this temple is called! We wandered in off the main street through Koyasan.
Up until 1916, women pilgrims were not allowed into Koyasan, so devout females had to hike a 10 km circuit around the holy mountain area with the hope of glimpsing some of it's gorgeous temples. Jeremy and I hiked the circuit, which climbs up and down three different 3000 foot mountains and includes many small shrines along the way. It was not a super tough hike, but it was no walk in the park either, and you had to respect these women pilgrims for heir tenacity and devotion. Buddhism is also about mental and physical discipline, right?


J hiking by a small shrine on Mt. Mani (the first mountain on the Women's Pilgrim route).
Today, the women's pilgrim route begins in Okunoin, the most amazing cemetery Jeremy and I have ever seen. Wandering through a cemetery may sound creepy, but it wasn't at all. Perhaps it's because Buddhists see death differently than we do in the West…or perhaps it was just the incredible forest growing in and around and over all the gravestones. With over half a million (!!!) tombs in this cemetery, that's no small feat for this forest.

Jeremy wandering part of Okunoin's 2km-long sando (entry path).

Okunoin's Torodo (Lantern Hall). There were literlally thousands of lanterns in this room organized in tall shelves with narrow walkways. It felt like a library full of souls.
There's something very comforting about seeing nature swallow up these gravestones and markers. Again, even if you didn't know the first thing about Buddhism, Okunoin is enough to convince even the most morbid mind that death can be a thing of beauty.
As I mentioned above, Jeremy and I were staying in Haryoin Temple on Koyasan, and one of the common things to do in shukubo (temple lodging) is to eat shojin ryori, a vegetarian meal that is prepared in the temple. It was tasty, though at 2100 yen (US$21) per person, it was definitely not in the budget for both nights.

Our shojin ryori dinner at Haryoin.
Our room at Haryoin was the first traditional Japanese style room we stayed in, with a tatami mat floor and futons stored in the closet, to be brought out when you are ready for bed. Though it can be a pain to put your bed away in the morning and take it out at night, we did like how versatile it made the space.
The one thing Jeremy could not deal with at all was the shoe thing. See, Japanese people do not wear their outdoor shoes inside…instead, they take off their shoes and step onto a slatted wood mat to put on their inside slippers. Most places don't mind if you just walk around in your socks, but Haryoin sort of insisted that we wear the inside slippers. But of course, you cannot wear the slippers on the tatami mat, so you have to take the slippers off before entering your room. To top it all off, there is a separate pair of slippers that you wear in the bathroom. So if you came back to your room from a day of wandering around Koyasan and then went to the bathroom, you would have to take off your outdoor shoes, put on your slippers, go to your room, take off the slippers, put the slippers on again when you leave your room, walk down the hall to the bathroom, take the slippers off, and then put on the bathroom slippers. The Japanese put the "orient" in "process oriented."
And what can I say about that morning prayer ceremony? Well, it's not what we expected, that's for sure. We sort of thought that there would be some bell-ringing and some interactive chanting involved, but Haryoin's morning prayer involves none of that. Rather, two monks pray out loud for about 30 minutes and then light various candles, eventually culminating in a roaring fire in a metal bowl (which required one monk to get up and turn on the air vent to suck the smoke out of the room). We didn't understand a word, since it was all in Japanese, and unfortunately, we couldn't see much either, since we were seated on tatami mats and the altar was raised up on a stage of sorts behind tall screens. Quite frankly, we're still sort of baffled by the whole thing.
It's ironic that the spoken ceremony did little to reveal any further insight into Buddhism, but walking around Dai Garan and Okunoin communicated volumes to us. Or…perhaps it's not ironic at all to learn about Buddhism through observation and experience rather than through the spoken? Buddhism is also about silent meditation, is it not?