Posts Tagged 'London'
Color me humbled. Here I was thinking the UK wasn't exotic enough for two around-the-world travelers who just spent 6 months in Asia. But the beauty of cosmopolitan London, the romanticism of the English countryside, and the history and general awesomeness of North Wales did a lot to change my mind. Just goes to show, you can find whatever it is you're looking for in any country, as long as you remember to keep your mind open and your curiosity healthy.

We don't know what this building in the background is (we even asked some Londoners and they didn't know either), but it's pretty isn't it? Taken in Hyde Park, London.
Days spent here: 16 (July 16-August 1, 2009)
Highlights: hanging out with friends in beautiful London, storming castles in North Wales.
Places we would like to visit next time: Scotland, especially Edinburgh
Average daily expenditures (for two people): US$95/day in London (note that we did not pay for housing because we stayed with a friend); US$200 the rest of the time we were in the UK (including our rental car)
Guidebooks we used: Eyewitness London and Rick Steves' Great Britain. Honestly, we probably wouldn't have chosen these books for ourselves, but our generous host in London (Chi-Chi) had them sitting on her bookshelf so we were able to borrow them for free. Up until now, we have primarily used Lonely Planet guidebooks, and I guess we've grown accustomed to the LP's format, because we found all the photos and illustrations in Eyewitness London distracting. Just give us the quick and dirty info we need, Eyewitness! Rick Steves' book was much more useful, but it is obviously slanted towards older travelers. In one case, he recommended making a hotel reservation via phone, fax, or letter. Letter?!? Who writes letters?!?
Prices: No bones about it, the UK (and especially London) is expensive. Even with the sterling pound down in the currency markets, it still reigns over the crappy dollar. In particular, dining out will really hurt your pocketbook, with a pub meal in London running at minimum £10 (US$15). In London, you can keep costs down by (1) going to museums (which are free) and avoiding outrageously expensive tourist sights like the London Tower, and (2) making friends with someone who has a spare couch.

The excellent (and gorgeous!) Natural History Museum in London.
Accommodation can also hurt the budget. We spent between £55-60 (approx. US$90-100) for double rooms with bathroom ensuite.
Surprisingly, renting a car in the UK is quite cheap. Our week driving around England and Wales set us back a reasonable US$34 per day.
Weather: We were in the UK during summer, which we found quite pleasant! Of course, bear in mind that we came from China, where the heat and humidity pretty much defeated us, so we found the cooler temps in the UK quite refreshing. We had some rain but also some gloriously clear weather, and the days were nice and long (we imagine that winter in the UK might be a bit depressing, with darkness starting at 4PM and all).
Food: Nobody seems to believe us, but we swear it's true: British food is good now! It is still the case that walking into any old sandwich shop is not going to get you the best grub, but there are really excellent restaurants out there now (at all price ranges) that serve food on par with any other cosmopolitan city. In fact, we had some of the best salmon we've ever tasted at Chi-Chi's local pub in Chiswick (The Roebuck) for only £5 (about US7.50)!
And of course, despite the UK's bad culinary reputation, the English breakfast has always reigned supreme:

The glorious English breakfast: ham, sausage, fried eggs, fried mushroom, fried tomatoes, and beans.
Accommodation: We can't comment on accommodation in London, since we stayed with a friend, but it seems that B&Bs are the best value in the English and Welsh countryside. We stayed in a youth hostel in Wales and had to pay extra for breakfast and towels, which would have been included in the price if we stayed at a B&B.

Little Broom, our cute B&B in Maugersbury, near Stow-in-the-Wold, the Cotswolds.
Transit: In London, we got around on the Tube, and we generally found it to be excellent, with good coverage and easy transfers. Our one complaint: there seems to be no ventilation in the cars other than tiny windows at the beginning and end of each car. I know London's weather is typically pretty dreary, but we found the Tube stifling on days when the mercury barely busted 70 degrees!
For the rest of our week exploring England and Wales, we rented a car, which, at only US$34 per day, was quite reasonable considering how much everything else costs in the UK.
Internet: Like most developed countries, wi-fi is either locked or expensive, and sometimes both.
Culture: We only visited England and Wales, but there are pretty big cultural differences between the two home nations. In general, people in London tend to be like people in most big cities: rushed and at times dismissive (though Londoners have the added joy of being aggressive drunks). We also noticed that Londoners tend to think of everyone north of London as backcountry hicks. In general, we found the people in the English countryside and Wales nicer and friendlier than the people in London…but I don't mean to give Londoners a bad name. Our friend-of-a-friend Jonah and his girlfriend were really, really cool and they took us out to all these excellent off-the-beaten-path bars and clubs the night we went out with them. So while the average Londoner on the street might not strike you as overly friendly, they are excellent hosts and their distance might just be a function of the big city.

The ladies with the big hats going to a function at Buckingham Palace.
In short: Incredible architecture, historic sites, beautiful countryside, AND good food (yes, really)! We had a wonderful time in the UK!
I was mistaken when I thought that London wasn't exotic enough. Though after 6 months in Asia, I suppose even white bread and vanilla ice cream can seem like curiosities. I just couldn't get over the diversity—Europeans, Africans, Russians, people from the Middle East…all of them rushing around in this busy city. One of our most fascinating outings in London was our visit to Harrods (the famous department store), where we watched women in full burka shopping for designer threads and expensive lingerie (which begs the question…why bother spending $500 on a shirt if no one is going to see it?).
In fact, our friends in London are a mini-United Nations in and of themselves: Chi-Chi (our fabulous and generous Chinese American host), Conall and Mariam (Irish and French-Caribbean), Brendan and Eela (American and Persian), and Corre Marie and Matt (Japanese American and Irish/English). And we made new friends with an English/Argentinian couple.

Brendan, Jeremy, Conall, Mariam, Chi-Chi, and Hope enjoying pints at The Cow.

Matt, Jeremy, Corre Marie, and me.
Most of our buddies just moved to London in the past year, but Corre Marie (who Jeremy has known since she was in diapers) and her boyfriend Matt have lived in London for a while, so they helped explain all that confusing passive aggressiveness to us (Matt: "The English, man, they're dour! They're dour!). Matt's opinion was confirmed after a late night out with the English/Argentinian couple: some guy tried to pick a fight with Jeremy after the two accidentally collided, despite the fact that he was a head shorter than either of us (he threatened both of us with "I punch you in the face!"). I'm sure the pint or ten he threw back at the pub didn't help matters. Hey, Americans may be annoying tourists, but at least we're loving drunks.
But I suppose any big city is going to have its share of cranky people, and luckily, we didn't have any further run-ins with drunken killjoys. In fact, we had a great time enjoying this fabulous city…wandering around different neighborhoods by day and going out with friends at night.

Street performer, Piccadilly circus.
Many of the sights around London charge exorbitant entry fees, which can be as high as £20 or almost US$32 per person! So we didn't do a lot of the "typical" London sightseeing like the London Tower, Westminster Abbey, or London Eye. We did, however, visit Buckingham Palace, even though the Queen charges a royal fee for the privilege (£16.50 or US$26 per person)! The audio tour is narrated by members of the royal family, and it was a good thing to do once in our lives, though if/when we return to London, we'll probably save our pounds for a pint.
Luckily, all the of the museums in London are free, and very impressive. I adored the V&A and its fascinating display of the historic and the futuristic. I was particularly enamored with the fashion and footwear collection (is anyone surprised?), which had 18th century corsets on display next to work by current student designers at the Royal Academy of Art. The V&A also had a fabulous temporary exhibition called Telling Tales, which was all about the role of fairy tales in contemporary industrial design. AWESOME.
Surprisingly, I was a bit disappointed with the Tate Modern. Mostly because the curation seemed a bit chaotic to me, and the pieces seemed too close to each other. Let the art breathe, Tate Modern!
Both Jeremy and I loved the Natural History Museum, though mostly for the stunning building, with its Romanesque archway entry and the collection of stone animal sculptures decorating the exterior of the building.

Exterior of the Natural History Museum.

A skeletal scene inside the museum.
The parks in London are also a budget-friendly way to pass the time. Richmond Park is by far the biggest and most fabulous in the city. With deer!

The spotted deer in Richmond Park.
We also wandered around some of the markets. Spitalfields, billed as a market for up-and-coming fashion designers, actually has a bunch of cheap made-in-China clothing for a sale. Needless to say, it was a disappointment. Portabello Market was a bit more "English authentic", but so crowded that it was not enjoyable (unless you like that sort of thing).
Speaking of crowds, the Tube is fabulous, but can someone please do something about the ventilation in there?
We spent 10 days in London, enjoying the cool weather, eating fun Western foods that we hadn't eaten in six months (like hamburgers and bacon), and going out with friends. London is a gorgeous city with fabulous things to do and see. Just try not to bump into any drunk English blokes.


Gordon's (London's oldest wine bar), housed in an underground cave.
Did you know?
The UK ≠ Great Britain ≠ England. The United Kingdom is made up of three distinct "home nations": England, Scotland, Wales, and Northern Ireland. Note that England is only one "home nation" within the United Kingdom. Great Britain consists of the "continental" home nations of England, Scotland, and Wales. Therefore, Great Britain + Northern Ireland = United Kingdom.
The queen "owns" all the animals in London's parks. So if you accidentally kill a duck or a deer, you can be tried for treason. Really.
Brits do not pronounce the "ce" or "w" in the middle of a sentence. So "Chiswick" becomes "Chizzick" and "Worcester" becomes "Wurster."
English food is good now. No really. Seriously. No, I mean it. I know it will be hard for most people to believe, but I swear it's true. No, you're not going to get good grub if you walk into the average sandwich shop on the street. But the rise of gastropubs means that most of the time, you can get a good meal with your pint without even looking that hard for it.
Check out our photos from London:
I didn't want to go to London.

Can this photo scream "London" any louder?
It's not that I wasn't interested—I've never been there (Jeremy has) and I was curious about the place, but just not now. I didn't feel like it was very exotic—the UK is a place we could travel with kids later on in life, and I was gung ho to continue roughing it.
Two months in China changed my mind.
More accurately, two months of intense heat in China changed my mind. Originally, our around-the-world tickets had us flying from Beijing to Amman, Jordan. Call that poor research on our part—flying to the middle of the desert in July? Not smart. We needed to kill some time while the planet cooled down a bit before heading to the Middle East, and we had a friend offer us her place in London (which is the only way it would have been affordable for us to visit). So why not? We chose Qingdao based on the climate, why not London?

Ominous-looking clouds over the National Gallery. If you ever feel like complaining about the miserable weather in the UK, just spend two months in the oppressive heat of China. Then London will feel like heaven on earth. A nice, cool, sometimes rainy heaven on earth.
Plus, China was tough, and we were kind of over it by the end (it's worth noting, however, that the misery has diminished with time—we think of China fondly now). As London loomed closer in our calendars, I started positively salivating at the thought of indulging in Western "comforts" like throwing toilet paper in the toilet and drinking tap water. And, I felt there was a kinship between Americans and Brits. I imagined landing at the airport and feeling like I was in a home away from home. They'll welcome us with open arms and we'll all make jokes in English and maybe they'll offer us a spot of tea and crumpet. Right?
Not so much.
Of all the immigration checkpoints we've been through, I've never been grilled as hard as I was entering London. Why was I here? (Tourism.) Where am I staying? (With a friend.) How long am I planning on staying? (Three weeks.) What was I planning on doing? (I don't know yet.) You are going to be here for 3 weeks and you don't know yet? (Um, I guess I'll go see Buckingham Palace?) After about 5 minutes of rapid questioning, the immigration officer was finally satisfied and let me through. I found out later that they go through this whole rigamarole to see if there are any inconsistencies in your story. You know, just in case your occupation starts with the letter "T." And rhymes with "herrorist."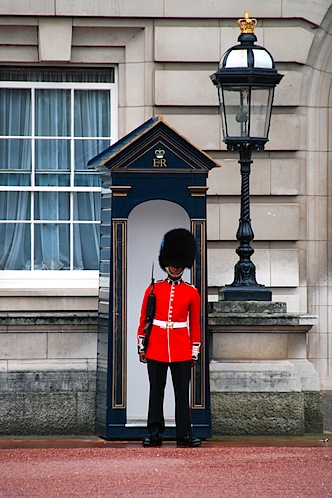 Um, excuse me, but I think your hat is a little crooked.
I quickly found out that Jeremy too got yelled at by the immigration officer for not going up to the window with me (I guess families are supposed to go through together). And then some lady bumped into me and said "Watch where you're going." Suddenly the chaos of China isn't looking so bad…
Despite the shaky start, we ended up having a great time in London. It didn't hurt that we have a lot of friends here (and made new ones). Our friend Chi-Chi generously let us crash in her guest room for a whopping 10 days, so we felt right at home. Minus the passive aggression.