Posts Tagged 'camper van'
To help keep costs down and because we love cooking (and eating!), we prepared as many of our own meals as possible while traveling around New Zealand and Australia in our camper vans. It turned out to be a great decision, as the meat and produce were fresh and delicious almost everywhere we stopped and many of the smaller towns didn't have appealing (or in some cases, any) restaurants. For the price of a mediocre meal out, we could prepare something more extravagant ourselves.

Rack of lamb, cucumber salad, and green salad
Our favorite meals revolved around the great meat and produce that both countries had to offer. In both New Zealand and Australia, the beef and lamb appears to be grass fed by default. There is plenty of pastureland and no subsidized corn industry, so the the sheep and cows spend their days in the gorgeous open pastures munching on grass. Happy grass fed animals made yummy meat. (Interestingly, we did just notice a restaurant in Sydney that advertised "grain fed rump steak". Apparently some prefer the fatty taste of grain fed beef. Not us!)
It did take a little while to figure out and get used to the way that meat is butchered down here. The most common cut of beef is the "Scotch fillet," which we eventually figured out is the same as an American "ribeye", although it tends to be cut thinner. We preferred the Porterhouse steaks because because they have less marbled fat and gristle, and were able to find them most places except for the really small towns.

Brown rice and steak salad at the beach.
We tried a few different cuts of lamb, but rack is far and away the best (and most expensive). The loin chops were quite good too, but they tended to have a lot of bone and fat so are a little more difficult to deal with. We tried the leg chops once and didn't like it as much: tougher meat with more fat and connective tissue makes the leg a better candidate for roasting or braising.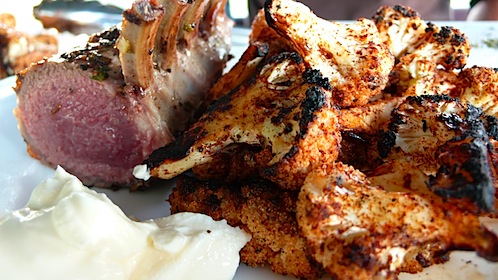 Rack of lamb with roasted cauliflower.
It was more difficult to find cuts of pork that we liked; but when we did they were always great. The Kiwis, at least, seem to prefer loin chops with lots of bone, fat and skin. Yes, they leave the skin on the meat ("with rind")! Maybe the skin fries up nicely, but it made us squeamish and we always cut it off. Not surprisingly, we loved the bacon, and in New Zealand the bacon section in the market was often as big and varied as the sections for lamb and beef.

Pork chops, mushrooms and peppers, green salad.


Christmas dinner: fried ham, mashed potatoes, sauerkraut, and broccolini.
Although we ate less seafood, the Atlantic Salmon (farmed raised in New Zealand and Tasmania) and the green lipped mussels from New Zealand were really yummy.

New Zealand green lipped mussels in a white whine and garlic cream sauce.

Pan-fried Salmon with paprika, green salad, and broccolini.
Most places we stopped had great produce, although it was expensive at times and there was typically less variety than in the US (probably because it was all local rather than shipped in from around the world). Avocados, onions, cucumbers, green beans, asparagus, broccoli and broccolini, cauliflower, and lettuce were all very good. We were surprised at how was difficult to find good garlic: it all seemed to be imported from China and was often old and sprouting. Whenever possible, we stopped at some of the local farms or veggie stands for our produce, as the prices were lower and the selection fresher.
In New Zealand, there was some very good (but also very expensive) cheese. Apparently, parts of Asia are developing a taste for cheese and as a result it has become a big New Zealand export, and to the dismay of the Kiwis, this is driving up the price at home. (I think I heard that the price has tripled in the last few years). The eggs in New Zealand are also amazing…the yolks are a bright orange color and they are super fresh and delicious.
Both of the vans that we rented came equipped with stove, fridge, sink, pots and pans and utensils. It was actually quite liberating to cook and eat with one pan, two plates, two forks, and two cups (Hope's comment: especially for Jeremy, the "use-every-utensil-in-the-kitchen" type of chef!). We became masters of the "one pot" meals. All holiday parks in New Zealand come equipped with a fully-stocked kitchen, though this is not the case in Australia. Typically, Aussie "caravan parks" only have a barbie (though their barbecues are simply large outdoor metal pans with a hole in the center for drainage). Even in New Zealand, we preferred to cook over our little propane stove, as our camp views were typically much nicer that the inside of a kitchen.

The fridge and storage space were limited in the van, so we shopped every day at times. We bought a few staples to stock our pantry, but overall tried to keep things simple.
Sea salt flakes
Black pepper grinder
Olive oil
Red wine vinegar
Red pepper flakes
Smoked paprika
Fresh rosemary and thyme
Garlic
As mentioned in my previous post, it took us a few days to find our new Aussie rhythm. It's funny…our two weeks on the beach is exactly the type of vacation I would normally prefer: warm weather, swimming in the ocean, relaxing on the beach, and generally getting away from it all. But what I learned from this experience is that when you don't have anything to "get away" from—when your life is not that stressful on a daily basis (save those moments when we're lost in a big city or really hangry)—relaxing on the beach can be really boring. Like, "counting-down-the-days-until-we-return-the-van" boring. You need something to occupy your mind and feed your curiosity when it's just miles and miles of "sun-drenched sands and crystal-clear waters with the constant soundtrack of rolling surf," however nice that sounds. It took me a couple of days, but I finally realized that I needed to chuck my boring non-fiction book and start reading something that I was really engaged in. Once I did that, our new routine fell into place, I started enjoying the uneventful nature of the beach, and didn't even mind the hippie camper. It's interesting how simple the solution can be sometimes.
Another simple solution that helped solve our issues with the creepy flesh-colored vinyl curtains and general ugliness of the hippie camper's interior: we rigged up our travel mosquito net! Not only did this allow us to sleep in peace with the windows open, but it added some ambience to our dreary camper interior. It was a total McGuyver job—we set this puppy up with dental floss and duct tape (no joke):

Back view of the Hippie camper with mosquito net in the cab.
Our NSW routine consisted pretty much of the following:
1. Drive somewhere nice. Or not.
2. Yoga or run on the beach (Hope) or surf (Jeremy) in the morning, followed by swimming in the ocean, or any combination of the above.
3. Hide from the sun when it gets too hot.
4. Buy groceries (we shop on a daily basis since the camper fridge is tiny).
5. Make food.
6. Clean up from making food.
Just a few photos of the places along the coast we really liked:

Our camp spot on a river than leads into the Tasman Sea in Crescent Head. Yes, we were living in a van down by the river.

Kangaroos by the river in Southwest Rocks.


Yamba, where we stayed on Christmas Eve.

Taken during our walk on Valla Beach while the sun was setting on Christmas day.
We got as far north as Byron Bay, which is a big beach destination in NSW. We heard and read a lot about this area, but I think our timing was unfortunate…we showed up the day before Christmas Eve and the place was a madhouse: very scene-y, very busy, lots of posers. We were there about 45 minutes before we decided to get back in the car and drive back to some of the more secluded beaches that we saw on the way there. It's funny, many people drive from Sydney to Byron Bay in a single day…it took us about a week and a half.

Our sluggishness could have been a reaction to our more "motivated" pace in New Zealand, but I prefer to think that we were just responding to our environment. In NZ, the scenery changed dramatically every half hour and we were engaged in both the activities and the new sights around every corner. In Australia, where you just take your pick of beautiful beaches, we slowed it down a lot and just moved when we wanted to (we averaged less than 100 km a day during that first week and a half). So, in hindsight, some of the original anxiety I had about moving too fast was unfounded, I think…we were moving as fast (or as slow) as felt right according to the environs.
One last thing I do want to mention about the NSW coast during this time…about a week into our drive, the school holidays began, and entire families moved out to the beach for 3 or more weeks to celebrate Christmas and the new year. This is a big thing in Australia and it was so cute watching all the families open presents on Christmas morning. What a great environment for kids!

Taken near the Trial Bay Gaol (that's how Aussies spell the word "jail") campgrounds.
After a shaky start, it turned out it wasn't a bad environment for our Christmas, either.


Jeremy heading out for a surf at Pippie Beach in Yamba on Christmas Eve.
We arrived in Australia on a Saturday afternoon, a little sad to say goodbye to amazing New Zealand, but nonetheless excited to start a new chapter in our adventure. We saw and did so much in NZ…our camper van rental peeps were shocked at the amount of mileage we put on the van given the amount of time we were in the country. They said they expected (for a 28 day rental) around 2000 km—we drove over 5000 km. But instead of feeling proud of how much we were able to squeeze into our month-long trek in NZ, I grew contemplative. Wasn't the point of this trip to try and slow down? Did we just transfer all of our anxieties from daily life in SF over to our trip? Was I still living too fast, just with a prettier view?
These thoughts were in my mind as our plane approached Sydney. OK, first things first: Sydney is HUGE. And flat. And beautiful. And HUGE. I turned to Jeremy and said, "we're not in New Zealand anymore."
It's funny…I would totally expect a huge culture shock when traveling from an English-speaking country to Asia, for instance. I didn't expect any difficult transition from New Zealand to Australia. And perhaps that's precisely why we had such a hard time adjusting the first few days. We were so focused on trying to squeeze every last experience out of NZ that we completely forgot to prepare ourselves mentally for a new country, a new routine, and a new (much smaller) van. A van that, quite honestly, looks pretty ridiculous:

Yes, that says "Hippie Camper."
We got off to a pretty rocky start in Australia. Because we changed our flight to a later time, we ended up getting in later and were charged AUD$75 by the rental van company because we showed up 10 minutes after closing time. Then we headed out of the city and both of us were WAY past the point of hangry and bonking before we finally got something in our stomachs. And when we rolled up to the holiday park, the place was bigger than most of the cities in New Zealand and cost AUD$45 per night. That's right…we're not in New Zealand anymore. And on top of all that…the van. Jeremy wasn't sure we were going to make it the full two weeks in that tiny van. We were too tall to sit up straight in it and it had flesh-colored vinyl curtains. I repeat: FLESH COLORED VINYL CURTAINS. He even suggested trading the van in for a bigger one after our first night in the car.
Before you all get too concerned, I'm happy to report that we worked all of these issues out. I think we were both on edge the first few days driving up the coast of New South Wales (NSW), and we didn't really like the areas directly north of Sydney (too scene-y for our tastes). But once we got about 3 hours out of Sydney, we started to find our new groove and settle in to this new, bigger, hotter, and still-beautiful-but-in-a-different-way-than-New-Zealand country.

Jeremy walking on deserted Back Beach in Blackhead.
I think the biggest adjustment we had to make was to get used to the fact that in Australia, the natural beauty is much more focused towards the beach. Once we accepted this fact, we were able to open our hearts to this land they call Oz. And now I'm going to lift a line directly from one of our guidebooks because it so perfectly and accurately describes the experience of driving the coast of NSW that I wouldn't be able to find better words myself:
"The north coast of NSW stretches almost 900 km from Sydney to Tweed Heads, a seemingly endless string of beautiful beaches, bays and headlands, crystal clear waters and national parks. There are so many stunning natural features that, after a while, they all seem to merge into one golden memory of sun-drenched sands and crystal-clear waters with the constant soundtrack of rolling surf."

View of Lighthouse Beach near Seal Rocks. BTW, you can rent this cottage overlooking the beach.
Indeed, I can't remember anything from the two weeks we traveled the coast of NSW. That is, I remember that we saw this lighthouse and that incredible sunset, and we walked on those rocks and swam in that cove, but I can't remember where we were when we did those things. Compare this to New Zealand, where I could remember the name of every podunk little town we passed through, even if it was some crazy Maori name. I kept having to ask Jeremy, "where did we do that again?"
Still, a few things do stand out, and I think it's best to say it in pictures:

Incredible clouds over Nelson Bay.

Hiking some sand dunes near Nelson Bay.

Watching the sunset from the lighthouse in Seal Rocks.

Another incredible sunset while freedom camping on Back Beach near Blackhead.
to be continued…
Note: We're in Australia!…living in a MUCH smaller van for the next two weeks. This should be interesting…

Please bear with us while we figure out our new routine!
The next stop on our visit to the south island was Dunedin and its surroundings. Dunedin is pronounced dun-ee-den (not doon-uh-din, as I originally thought) and I remembered this by repeating to myself: "Ma! I'm done eatin'!" For some reason this really cracked me up. Lucky Jeremy, he got to hear me say this sentence every time the city name came up.
The weather was still pretty poor when we got to Dunedin so Jeremy and I headed for the local theater to watch Quantum of Solace, the new Bond film. Our review: not nearly as good as Casino Royale, but Daniel Craig still looks good. OK, maybe that's MY review.
Anyway, that's pretty much the only thing we did in the city of Dunedin. Actually, it's a pretty cool city architecturally…many of the buildings are Victorian or Edwardian, remnants from NZ's Scottish heritage. But, as we've learned in NZ, even if the cities are cool, the natural surroundings are where it's at.
So, the following day, when the sun finally showed its glorious self again, we headed straight for the Otago Peninsula, which is a body of land directly to the southeast of Dunedin. The very tip of the peninsula is a albatross breeding ground, which is pretty heavily touristed. It was incredibly windy there and it smelled like bird poop. Still, it was pretty:
We did two pretty easy hikes here: the first one to Victoria Beach, via a trail that passed by "the Pyramids." We didn't know what "the Pyramids" were, but they sounded cool! Once you get to the trail head, you can figure out pretty quickly what they are:

The trail to Victoria Beach, with the Pyramids in the distance.
The beach was deserted (I know, shocking), except for some penguins and a sleepy sea lion.

Penguins make really funny land animals. That waddle is hilarious!
Our next hike was a loop that stopped at 3 different sights. First, something called The Chasm. It's basically a really giant cliff.

Now that's what I call a chasm
Next stop was Lover's Leap. You could just see some Montagues and Capulets jumping off of this one:
And finally, a place called Sandfly Bay. Yes, we willingly went to a beach called "Sandfly Bay." Not sure what it is with these Kiwis…maybe they title their gorgeous sites with awful names to keep people away? Anyway, there weren't any sandflies here, but there were a bunch of sea lions. These guys are HUGE!!! You are supposed to stay far away from them because they will attack if threatened. Also, be sure not to pass between where they are on the beach and the ocean since this is their only escape route.
The hike down into the bay was really incredible…you pass down a steep walkway through sand dunes and tropical flowers.
But conversely, the hike back out wasn't so great…hiking up steep sand dunes in the hot sun = not so fun. Still, the effort was worth it, as it always is here in NZ.
On the Otago peninsula, even the car parks are stunning!
That night, we freedom camped in a lovely rural spot and watched the sun set on another stunning day in New Zealand.
The Ferry
Wellington is not only a cool city with a vibrant art scene, but the place where you catch the ferry (The Interislander: www.interislander.co.nz/ ) to get shuttled from the North Island to the South (you get dropped off in Picton). For the privilege, you pay about NZ$220 (currently about US$130)—about NZ$55 per person and NZ$116 for the car, so it's not cheap! For some reason I totally dorked out on this and was incredibly excited about the idea of driving our van onto a ginormous boat.

Driving our van onto the Interislander.
They loaded us onto the lower deck of the boat along with other cars, camper vans, and even semis! And they really pack you in there…we were shocked by how accurately they could determine how many cars and trucks could fit on the lower deck since they don't really know what you're driving until you show up.
The boat is very large and luxurious (actually, for no particular reason, it reminded me a lot of the huge spaceship in Wall-E, even though there weren't hovercrafts or anything). There is a large sitting room, where televisions were playing the Ellen Degeneres show (incidentally, I wonder how it is for Kiwis…all the major movies that they see are in another accent), and they even have a theater where they show movies (though we were advised by Patty not to watch this because it makes you seasick). We were actually quite surprised by how calm the ride was, especially since it was storming outside. But then again, neither of us really get seasick so we're not reliable sources of information on this front. On the way to the South Island, you meander through a number of bays around several little islands and peninsulas. It takes you 3 hours to get across and all in all it was a very nice way to spend the afternoon, especially since the weather was bad out.
The Storm
When we arrived in Picton, we drove our van off the boat into…an incredible storm. I mean, it was really coming down. Our plan was to drive from Picton to Nelson that night, where Bob lives. Bob is a friend that we met on the plane from LAX to Fiji (and he was on our flight from Nadi to Auckland too). He is an ex-pat of sorts; he lives part of the year in Colorado, part of the year in Maine, and part of the year in New Zealand. Not too bad a program, if you ask me! He invited us to visit him when we passed through Nelson, and we readily agreed.
There was just one problem: it is about 2 hours from Picton to Nelson, and though the boat effectively sheltered us from the weather, once we got off the boat, we realized it was bad—really bad. This is the worst weather Jeremy or I have ever driven in. Not sure if you will be able to see in these photos, but there were entire fields that were flooded over. Out the window there? Yeah, that's normally all GRASS, not water.
We were really relieved once we made it to Bob's house. It took a little longer than expected and we considered pulling over a few times, but we made it. The best part? Apparently this is a normal-sized storm for Kiwis. I guess that's why they are such hearty folk.
We made it!
We arrived in Auckland about 24 hours after we shoved the last of our items in our carry-on bags, locked the door to our house for the last time, and headed to the airport chauffeured by my brother (thanks Eddo!). Twenty-four hours of travel sounds a lot worse than it actually felt, since we stopped in LAX for a drink with Erika, Karl, and Dan (which, btw was a HUGE treat, thank you guys!!!), scored emergency exit row seats on the flight to Fiji, and then, somehow, with the gods of travel smiling down upon us in all their aviation glory, ended up with business class seats from Nadi to Auckland. Let me tell you a secret: business class does not suck. A very auspicious beginning to our trip indeed!
Nevertheless, we were tired when we arrived in Auckland, though it is quite easy to acclimate to New Zealand time. NZ is a mere 3 hours behind CA (on the following day), so it wasn't like we arrived at 2AM or something ridiculous like that. We made our way from the airport to our hostel via taxi. Apparently taxi fares in New Zealand are not equivalent from taxi to taxi, and we unfortunately ended up with one that had a higher tariff than usual. Oh well, lesson learned.
We dropped our stuff off at Aspen House (www.aspenhouse.co.nz; 09 379 6633), which is a perfectly clean and affordable hostel in Centre City. If you are staying in Auckland for a while, I am not sure I would recommend it since the rooms are pretty bare bones (a bed and a desk and some lighting), but for one night it was totally sufficient. We then headed out for a walk to the Parnell District, which is a cute street with lots of cafes, casual restaurants, and pubs. This is where I had my first English-to-English "lost in translation" moment with the counter girl at a cute cafe and wine bar.
Hope: "Can I have a coffee?"
Counter Girl: "Yes!"
Hope: "…"
Counter Girl: "…"
Hope: "Um, with milk?"
Apparently in New Zealand coffee is organized into the following categories:
Short Black= What we know as espresso
Long Black= Regular black coffee (or an Americano, as some would call it)
Flat White= Similar to a cappuccino but they also have cappuccinos here and we don't know what the difference is
What I wanted was the Flat White, but I ended up with a Short Black. Oh well, again, lesson learned.
From the Parnell district, we walked along the water to the Ferry Building and then the Princes Wharf. Along the way we walked through a pretty ritzy neighborhood with big houses that had beautiful ocean views. Many of these houses were either for sale or foreclosed, so it does indeed seem that the global financial crisis is, well, global. Now, at this point I was feeling quite tired and possibly hallucinating, but this area of Auckland is so similar to the Embarcadero area in San Francisco that I told Jeremy, "If we turn this corner and there are seals, I am going to feel like we never left San Francisco!" Seriously, the Ferry Building looks very similar to the one in SF, and they even had a Blue & Gold Fleet that takes tourists on boat trips to the local islands surrounding Auckland.
Despite the similarities to SF's Pier 39, Auckland's Princes Wharf was actually quite pleasant…the sun was shining, the people were nice, and we stopped for a glass of wine and some nibbles at one of the many restaurants along the wharf. Despite my skepticism, the food was quite good, and we filled our bellies before heading back to the hostel after the sun went down. It was a long day and we were tired!
The next morning we picked up our van from Jucy Rentals (jucy.co.nz, 0800 399 736). We chose the "Cruiza" model, which we booked about 3 weeks before we arrived. A couple of tips: as you head into high season, van rental prices increase, so it is to your advantage to book early. We reserved the van at a price of NZ$73/day, but by the time we arrived in Auckland, the price had risen to over NZ$100. Jucy has one of the lowest rental prices, lots of info on their website, and really excellent customer service. Unfortunately, in our excitement in meeting our new home for the month, we weren't as diligent at quality checking the van as we should have been. Our van did not include a DVD (as advertised), the safe did not work, it was a missing a gas cap, and for a while, we thought the power didn't work either (turns out it was a blown fuse and a faulty plug). We called Jucy when we were on the road and they talked us through fixing all of these problems, so ultimately, for the price and the service, they can't be beat. Also, we really love the way the van is set up (there are many other van rental companies and each one builds out their vans differently) and the bed is super comfortable. You can pick up and drop off in different cities (though we are returning our van in Auckland). Just be sure to check your van before you leave the lot!
Auckland is a great city, but it is very similar to San Francisco, and as such we were pretty eager to leave since we didn't come to New Zealand to get more of home. In a total "travel moment," we decided to try to find a cord to connect our iPod into the car stereo on the way out of town and we ended up in the bustling Newmarket district of Auckland for 3 hours…while Jeremy was trying to learn how to drive on the other side of the road…and I was hangry. For our first stressful travel experience, it wasn't so bad. But we were pretty happy when we finally got on highway 1 to drive south down the west coast.