Posts Tagged 'New Zealand'
To help keep costs down and because we love cooking (and eating!), we prepared as many of our own meals as possible while traveling around New Zealand and Australia in our camper vans. It turned out to be a great decision, as the meat and produce were fresh and delicious almost everywhere we stopped and many of the smaller towns didn't have appealing (or in some cases, any) restaurants. For the price of a mediocre meal out, we could prepare something more extravagant ourselves.

Rack of lamb, cucumber salad, and green salad
Our favorite meals revolved around the great meat and produce that both countries had to offer. In both New Zealand and Australia, the beef and lamb appears to be grass fed by default. There is plenty of pastureland and no subsidized corn industry, so the the sheep and cows spend their days in the gorgeous open pastures munching on grass. Happy grass fed animals made yummy meat. (Interestingly, we did just notice a restaurant in Sydney that advertised "grain fed rump steak". Apparently some prefer the fatty taste of grain fed beef. Not us!)
It did take a little while to figure out and get used to the way that meat is butchered down here. The most common cut of beef is the "Scotch fillet," which we eventually figured out is the same as an American "ribeye", although it tends to be cut thinner. We preferred the Porterhouse steaks because because they have less marbled fat and gristle, and were able to find them most places except for the really small towns.

Brown rice and steak salad at the beach.
We tried a few different cuts of lamb, but rack is far and away the best (and most expensive). The loin chops were quite good too, but they tended to have a lot of bone and fat so are a little more difficult to deal with. We tried the leg chops once and didn't like it as much: tougher meat with more fat and connective tissue makes the leg a better candidate for roasting or braising.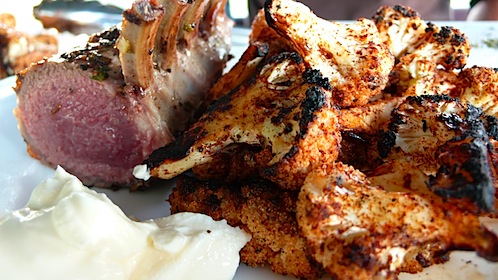 Rack of lamb with roasted cauliflower.
It was more difficult to find cuts of pork that we liked; but when we did they were always great. The Kiwis, at least, seem to prefer loin chops with lots of bone, fat and skin. Yes, they leave the skin on the meat ("with rind")! Maybe the skin fries up nicely, but it made us squeamish and we always cut it off. Not surprisingly, we loved the bacon, and in New Zealand the bacon section in the market was often as big and varied as the sections for lamb and beef.

Pork chops, mushrooms and peppers, green salad.


Christmas dinner: fried ham, mashed potatoes, sauerkraut, and broccolini.
Although we ate less seafood, the Atlantic Salmon (farmed raised in New Zealand and Tasmania) and the green lipped mussels from New Zealand were really yummy.

New Zealand green lipped mussels in a white whine and garlic cream sauce.

Pan-fried Salmon with paprika, green salad, and broccolini.
Most places we stopped had great produce, although it was expensive at times and there was typically less variety than in the US (probably because it was all local rather than shipped in from around the world). Avocados, onions, cucumbers, green beans, asparagus, broccoli and broccolini, cauliflower, and lettuce were all very good. We were surprised at how was difficult to find good garlic: it all seemed to be imported from China and was often old and sprouting. Whenever possible, we stopped at some of the local farms or veggie stands for our produce, as the prices were lower and the selection fresher.
In New Zealand, there was some very good (but also very expensive) cheese. Apparently, parts of Asia are developing a taste for cheese and as a result it has become a big New Zealand export, and to the dismay of the Kiwis, this is driving up the price at home. (I think I heard that the price has tripled in the last few years). The eggs in New Zealand are also amazing…the yolks are a bright orange color and they are super fresh and delicious.
Both of the vans that we rented came equipped with stove, fridge, sink, pots and pans and utensils. It was actually quite liberating to cook and eat with one pan, two plates, two forks, and two cups (Hope's comment: especially for Jeremy, the "use-every-utensil-in-the-kitchen" type of chef!). We became masters of the "one pot" meals. All holiday parks in New Zealand come equipped with a fully-stocked kitchen, though this is not the case in Australia. Typically, Aussie "caravan parks" only have a barbie (though their barbecues are simply large outdoor metal pans with a hole in the center for drainage). Even in New Zealand, we preferred to cook over our little propane stove, as our camp views were typically much nicer that the inside of a kitchen.

The fridge and storage space were limited in the van, so we shopped every day at times. We bought a few staples to stock our pantry, but overall tried to keep things simple.
Sea salt flakes
Black pepper grinder
Olive oil
Red wine vinegar
Red pepper flakes
Smoked paprika
Fresh rosemary and thyme
Garlic

The NZ flag on the back of our Milford Sound cruise boat.
New Zealand is, quite simply, magical. For any person who appreciates nature or the bounties of this planet, NZ is where it's at! We've never been to any place that has been so consistently beautiful. There are only 4 million people on this island (3 million on the north island and 1 million on the south), so you will often have entire beaches, holiday parks, or hiking trails all to yourself.
Traveling in a camper van is the way we did it, and definitely the way we would do it again…though it may be just as nice (and cheaper) traveling in a rental car with a tent (you'll have to cross your fingers for good weather). Driving long distances in NZ is not hard, because the scenery is so beautiful and the sights so different and engaging around each bend that you stay interested throughout the drive.

A typically beautiful NZ drive: on the Otago Peninsula.
Traveling here is incredibly easy. The staff at local i-Sites (NZ tourist information centers) are super nice and helpful. Road signage is quite good and we recommend you pick up a New Zealand Traveler's Road Atlas by kiwimaps (costs around NZ$25) at a local supermarket or i-Site. Even if your car comes with a touring map or you have a guide book, it's worth it. They are super easy to use and labeled with icons that tell you what the local activities are (ex. fishing, surfing, etc.) and what towns have holiday parks where you can camp.
We don't have the same bias towards the south island that a lot of our friends have…we truly love them both equally. If we had to do it over again, we would stay here an extra week or two so we could spend a bit more time in some places.
Days spent here: 28
Number of Kilometers Traveled: 5000+
Average Daily Expenditures: US$140 (sorry, did some bad accounting…the total was actually:) US$120; the van was approx. USD$43 per day, so additional expenses were on holiday park fees, gas, internet access, food, ferries, clothing, etc. (Note: towards the beginning of the trip, we were not as careful and were averaging $170/day. We made a few changes and significantly reduced our daily average, see below for details.)
Prices: A bit cheaper overall than US prices, though not as cheap as you might hope.
Weather: It can get quite cold in NZ, and very windy (Hope was quite happy she brought her lightweight down jacket). Weather tends to be pretty extreme: either full sun and blue skies or cloud cover with rain. It's best to prepare for all conditions.

Beautiful, sunny Pohara Beach.

Cold and rainy near the Rob Roy glacier.
North Island Highlights: Driving around Mt. Tanaki/Egmont (SH45—the "surf highway"), east coast of Coromandel Peninsula, Wellington
South Island Highlights: Nelson (esp. Whariki Beach), Wanaka, Milford Sound, Otago Peninsula
Places we wish we could have visited: Stewart Island, Mount Cook, Bay of Islands
What we would do the same: Travel in a camper van.
What we will do differently next time: Stay a week or two or ten longer; skip the west coast of the south island (which is a sand fly convention) and explore the middle of the island more; charter a boat and explore Fiordland; see the areas north of Auckland; multi-day hut-to-hut hikes near Wanaka and Milford; watch the extended version of the Lord of the Rings trilogy while traveling around NZ.
How we kept the costs down:

We cooked A LOT…we only ate out 11 times in the 28 days (x 3 meals) we were here. Partly this is because the food here is so similar to food in Northern CA, so we didn't feel like we were missing out by cooking so much.

Freedom camped every other night instead of staying in holiday parks.

Avoided touristy experiences: For example, we decided not to pay the NZ$31 to go into Orakei Korako.

Ate less meat: even though it is cheaper here, it is still a large portion of the grocery costs, so we started using it more as a flavoring and less as a main part of the dish.

Took advantage of free wi-fi in the libraries of major cities.

Used our fuel vouchers (see below).
Internet: Surprisingly, not a great internet situation here. Virtually every holiday park has wireless access, so it is widely available, but it can be expensive—up to NZ$10 per hour. Maybe this isn't outrageous, but we were expecting it to be cheaper. Also, internet access can often be limited not just by time, but by the amount of data transfered (ex. 50 MB max). A few times, we purchased 2 hour access, only to reach our data limit within 30 minutes. According to a tech guy we corresponded with, this is because NZ is one of the only first-world countries that still has data restrictions. (Note: After traveling Australia, where internet access at holiday parks is not a given, we are amending our opinion of NZ's internet situation in a positive direction).
Favorite Grocery Store: New World—They have the best and highest quality selection, by far.
Least Favorite Grocery Store: Fresh Choice—we found a worm wriggling out of a slice of ham we bought from the deli counter there. 'Nuff said.
Food: Super fresh meat and veggies. Obviously, lamb is extremely top-quality here, but so is beef and pork. Jeremy has some beef (ha ha) with the way meat is butchered here, however. Often a pork chop or cut of steak will include a lot of fat and the "rind" (the skin). A little creepy for us Americans.
The grocery store sells about 17 million different varieties of bacon. Animal products like cheese and eggs are also amazing. Most grocery stores do not sell beyond lamb, beef, chicken, and pork (i.e., no turkey).

The bacon selection in a tiny little grocery store…this was probably equal to their entire produce section.

Veggies here are also super fresh and for some reason, asparagus was super cheap while we were here. However, garlic was often really bad (wilting and sprouting). The best part of grocery shopping in NZ is that there are often little farms along the road and you can just pull over and buy ultra fresh veggies, fruit, or eggs from the residents.
Holiday Parks: Holiday parks are large campgrounds that offer powered sites (for camper vans like ours that can plug in) and non-powered sites (for tents), hostel-like accommodations, or "self-contained" units (rooms with kitchen and bath included). Obviously, we only used the power sites in holiday parks so we can't vouch for the self-contained or bunk units. All power sites come with power hookup and a water spout, as well as access to communal kitchens (the nicer holiday parks have soap, sponges, pots, pans, etc…others don't, but our van came with all of that), bathroom and showers (sometimes you have to pay for the showers, sometimes you don't), and access to other amenities like a TV room (free), playgrounds and trampolines for the kids, laundry (prices differ), or, in the case of the last holiday park we stayed in, a hot mineral pool. To stay at a power site in a holiday park generally costs between NZ$24 and $36 per night. The fancier parks near the big cities are more expensive and have nicer amenities, but we tend to like the ones out in the middle of nowhere since they are quieter and usually family-run. It seems like all holiday parks in NZ have wireless internet access (cheaper in the big cities).

Cool clouds behind the holiday park in Peketa.
Most holiday parks are located on incredibly beautiful plots of land with sensational views. Some holiday parks seem to allow long-term residents, so it is a cheap way for Kiwis to have a vacation home in a prime location.
Gas/Petrol: While we were in NZ, the price fluctuated between NZ$1.16 and NZ$1.23 per liter for diesel (approx. US$2.71 per gallon). It seems that gas prices are kept at a pretty consistent rate from station to station (unlike in the US where the prices can vary from block to block). The one exception is in hard-to-get-to places, like a town at the end of a peninsula or something similar (where gas can be more expensive).
Also, important note: if you spend more than a certain amount (I think it is NZ$25) at some of the bigger grocery stores, you will get a coupon for 4 cents off every liter of fuel you purchase. For example, New World gives you a discount at BP; Woolworth's gives you a discount at Shell, etc. Be sure to keep these coupons! The savings really add up.
Surf: The surf was a little disappointing for us (or for Jeremy anyway). There are so many deserted beaches, rocky points, and river mouths which must product amazing waves with the right swell and tide. But we were there in the spring which, it seems, has less consistent swell than other times of the year. The swells that did come through tended to only produce waves for a few hours or half a day. On the flip side, no waves meant that we were free to explore everything else that New Zealand had to offer, which is plenty.

Nice-looking "rooster tails" at Waihi Beach.
We did meet up with a good swell our last few days in New Zealand in the Coromandel region of the North Island. There were fun waves at an empty beach break (Jeremy was the only one in the water) at Waihi. And there were exceptional waves (overhead, endless lefts; 10 waves per set) at a very crowded point break at Whangamata. Other areas that looked promising for a future trip: Raglan (of course), "The Surf Highway" to the south of New Plymouth, the Otago Peninsula (near Dunedin) and the Banks Peninsula (near Christchurch).
The water is cold on the South Island; Jeremy brought his 4/3 wetsuit, booties and hood and would have needed them all if he got in the water. It is quite a bit warmer around the North Island; Jeremy surfed a few times in shorts and a neoprene rash guard (not quite warm enough) and a few times in his wetsuit (way too warm). A shorty would have been better.
Hiking: The hiking in New Zealand is superb. There are endless beaches, rolling pasture land, sub-tropical rain forests, mountains and glaciers to explore. The i-Sites typically have good regional maps and recommendations for hikes of varying length and difficulty. As we have mentioned a few times already, we were surprised again and again at how accurate the estimated hiking times are. Each time we (or Jeremy) would say "there is no way that hike is going to take us 5-6 hours!" But sure enough, even at a strenuous pace and few rest stops, that hike would take us 5.5 hours.
In addition to day hikes, New Zealand has an extensive network on wilderness huts that you can reserve for multi-day trips. The ones we saw were basic but they are plenty to protect you from a storm or cold weather and let you leave the tent behind. We will definitely need to take advantage of these next time.
In Short: We LOVE New Zealand! We have a hard time even thinking of one spot that was not incredibly beautiful. NZ is definitely a country we will return to for an extended trip or maybe to live?

This will be the last post about what we did in New Zealand…makes me kind of sad all over again to say goodbye to our Kiwi adventure!
Our final stop in New Zealand was the Coromandel Peninsula, which is about 1 hour east of Auckland. But before that, we boarded the ferry in Picton and once we got dropped off in Wellington, we drove up the west coast a ways looking for a freedom camp spot for the night. We found it in a place called Hokio Beach, where you are allowed to drive straight onto the shore…there are speed limits and everything.
It turned out to be quite a scene as the night wore on…lots of teenagers doing donuts on the beach and people driving super fast just because they can. I guess Kiwis are just as excited about driving on the beach as we were!
The following day we drove to Lake Taupo, which is right in the middle of the north island. It was raining pretty hard when we got there so we needed a bad-weather activity for the day. Luckily this entire region is known for its hot springs. We ended up in a town called Tokaanu, though we just hung out in a hot pool and not in the mineral waters because we got a little freaked out by all the signs warning us not to put our faces in the water due to amoebic meningitis. I can attest that on a rainy day, the hot pool felt just as nice.

Steam coming off the pools in Tokaanu.
Lake Taupo is very pretty, but also very touristed. Everything was really expensive here. We read about a cool place called Orakei Korako, which is a geothermal mineral formation with spectacular colors. However, when we got there, the entrance fee to the park was NZ$31 per person. This was more expensive than our Milford Sound cruise! So instead of hanging around Lake Taupo, we opted to head straight for Coromandel and spend a more relaxed few days exploring that area.
We hadn't quite gotten to the peninsula yet when we stopped at deserted Waihi beach to discover…a swell! Finally! Jeremy was so excited he ran straight for the water.
And immediately caught several waves…
…and then came back, exhausted after 20 minutes.

He said, "all those flat days, I should have been out there paddling, getting in shape!" A surfer's hindsight is always 20/20.
Actually, it was a good thing he didn't stay out there too long, because we drove further north that day, and the waves were even better…so out Jeremy went again.

Jeremy heading out for the second surf of the day.
And the following morning, another session off a point break at Whangamata.
After J got his fill of surf, we headed for Hahei Beach (not sure how this is really pronounced, but a nice German couple we met in Lake Taupo was calling this "Hey! Hey!" so that's how we pronounced it). Hahei is an incredible beach…we took a walk at sunset and found a tree swing, and then spent about 20 minutes trying to take silly pictures on it.
Hahei is close to two major sights: Cathedral Cove (it's easy to see why they gave it this name)…
…and Hot Water Beach, where you can dig yourself a natural hot spring on the beach +/- 2 hours on either side of low tide. There were a lot of people doing this and we tested the waters…it really was hot!
We headed straight from Coromandel Peninsula to the airport…we wanted to squeeze the most we could out of this incredible landscape before we hopped on a plane for Sydney.
And that concludes our tour of New Zealand. What a magical country! Stay tuned for our NZ wrap-up…
After our stint in Dunedin (Ma, I'm done eatin'!), we were pretty tired…after all, we had been on the go pretty aggressively for 3 weeks in order to fully experience all that New Zealand has to offer. So, for the next several days, we took it easy as we drove up the east coast of the south island…instead of doing a big hike in the morning and driving 4 hours in the afternoon, we chilled, checked out some sights, found some wireless hotspots, and were generally less motivated about the entire thing. But we did do and see some things I want to mention (and quite frankly, I want to remember, so I'm recording them here!).
Our next major stop after Dunedin was Christchurch. On the way there, we stopped at a place called Moreki Boulders. They are basically some large geodes on the beach. Not that exciting, but they are almost perfectly circular and people seem to have a strange fascination with them.
Christchurch town has a similar feel as Dunedin: lots of Victorian buildings…
…with a peninsula to the south of the town center. The difference is that the Banks Peninsula to the south of Christchurch is much bigger…HUGE, in fact.
We camped in a cute little town called Duvauchelle. Jeremy and I seem to prefer the holiday parks that are off the beaten path…their amenities may not be as nice, but they are generally cheaper, family-run, and they feel a little more quaint. We were one of maybe 5 camper vans in the Duvauchelle Holiday Park, and we had a spectacular view of the sunset.
The next day, we headed for Akaroa, which is a French settlement in New Zealand. Basically, some French guy sailed to New Zealand, signed a treaty with some local Maoris for the land, sailed all the way back to France with news of his conquest, and by the time he returned (with about 40 Frenchies in tow) to settle the land, he found out that the English had already beat him to it with the Treaty of Waitangi, which granted the Brits all of New Zealand. The Frenchies made a deal with the Brits to stay on the land and now it is Akaroa, New Zealand's only French settlement and a big holiday destination, especially for Christchurch residents. We had fish and chips at a cute place right on the waterfront.
After spending a few hours in Akaroa, we checked out one of several bays on this peninsula: Le Bons Bay. We were there just long enough to have the bejeezus scared out of us. As we were walking towards the end of the beach, we heard a weird noise and turned around to see a sea lion heading straight for us! There are many signs around the beaches in this area telling you to leave them alone because they will attack. In particular, the signs warn you not to get between a sea lion and the ocean. Well, that's exactly where we were. These guys actually move pretty fast for basically being giant inchworms. Luckily, we still outran him.

Our next stop after Christchurch was Kaikora, a place that is known mostly for dolphin and whale watching. We didn't see either, but we were very impressed with the place anyway since it featured snow-capped mountains meeting the sea. It seems like every time we think we've seen all there is to see in New Zealand, this amazing country throws you another incredibly sight to behold.
And that concludes our tour of the south island. <Sniff> We will definitely be coming back here one day…
Note: We're in Australia!…living in a MUCH smaller van for the next two weeks. This should be interesting…

Please bear with us while we figure out our new routine!
The next stop on our visit to the south island was Dunedin and its surroundings. Dunedin is pronounced dun-ee-den (not doon-uh-din, as I originally thought) and I remembered this by repeating to myself: "Ma! I'm done eatin'!" For some reason this really cracked me up. Lucky Jeremy, he got to hear me say this sentence every time the city name came up.
The weather was still pretty poor when we got to Dunedin so Jeremy and I headed for the local theater to watch Quantum of Solace, the new Bond film. Our review: not nearly as good as Casino Royale, but Daniel Craig still looks good. OK, maybe that's MY review.
Anyway, that's pretty much the only thing we did in the city of Dunedin. Actually, it's a pretty cool city architecturally…many of the buildings are Victorian or Edwardian, remnants from NZ's Scottish heritage. But, as we've learned in NZ, even if the cities are cool, the natural surroundings are where it's at.
So, the following day, when the sun finally showed its glorious self again, we headed straight for the Otago Peninsula, which is a body of land directly to the southeast of Dunedin. The very tip of the peninsula is a albatross breeding ground, which is pretty heavily touristed. It was incredibly windy there and it smelled like bird poop. Still, it was pretty:
We did two pretty easy hikes here: the first one to Victoria Beach, via a trail that passed by "the Pyramids." We didn't know what "the Pyramids" were, but they sounded cool! Once you get to the trail head, you can figure out pretty quickly what they are:

The trail to Victoria Beach, with the Pyramids in the distance.
The beach was deserted (I know, shocking), except for some penguins and a sleepy sea lion.

Penguins make really funny land animals. That waddle is hilarious!
Our next hike was a loop that stopped at 3 different sights. First, something called The Chasm. It's basically a really giant cliff.

Now that's what I call a chasm
Next stop was Lover's Leap. You could just see some Montagues and Capulets jumping off of this one:
And finally, a place called Sandfly Bay. Yes, we willingly went to a beach called "Sandfly Bay." Not sure what it is with these Kiwis…maybe they title their gorgeous sites with awful names to keep people away? Anyway, there weren't any sandflies here, but there were a bunch of sea lions. These guys are HUGE!!! You are supposed to stay far away from them because they will attack if threatened. Also, be sure not to pass between where they are on the beach and the ocean since this is their only escape route.
The hike down into the bay was really incredible…you pass down a steep walkway through sand dunes and tropical flowers.
But conversely, the hike back out wasn't so great…hiking up steep sand dunes in the hot sun = not so fun. Still, the effort was worth it, as it always is here in NZ.
On the Otago peninsula, even the car parks are stunning!
That night, we freedom camped in a lovely rural spot and watched the sun set on another stunning day in New Zealand.
Jeremy and I had a hard time deciding whether or not we should visit Milford Sound, an area on the southwest side of the south island that is contained within the Fiordland district (the name alone should give you an idea of what the area looks like). On the one hand, a couple of people told us not to miss it (Patty, Bob, some kid we picked up hitchhiking); on the other hand, there is basically one highway that goes out there, the road doesn't connect to anything else (it's pretty much a road built just so people can go out to Milford Sound), and it's a full day's journey (the drive from Te Anau, which is the closest junction to any other town, is about 2.5 hours, so 5 hours drive there and back). We were also a bit worried that it would be really touristy. Ultimately, we decided to do it, and we don't regret it one bit.
The drive into Milford Sound is quite long, but it is also very beautiful (even though it was storming). During our drive in, we saw a field of…something, we couldn't quite figure out what it was. As we got closer, we realized it was a large expanse filled with incredible purple, pink, and yellow wildflowers. We had to stop for a longer look:
As you near Milford Sound, you pass through a tunnel, which is built on downward slope; apparently, if they built it straight through the mountain, you would drop out the other side high above the ground.

Driving through the Milford tunnel.
And finally, we arrived at Milford Sound. There are basically two things you can do in Milford: take a cruise around the Sound, or go on a hike. As I mentioned, it was raining pretty hard so the hike didn't sound that appealing, but we also weren't sure we should even bother with the cruise that day since the visibility might be poor. The nice gal at the info desk talked us into it though…she said, "There are two ways to see Milford Sound: in the bright sunshine and in the rain; and you haven't seen Milford until you've seen it both ways." Pretty good sales pitch because we totally ate it up and purchased our cruise tickets.
We bought our tickets through Cruize Milford (www.cruizemilford.co.nz/) because our Jucy van has a sticker advertising "buy one cruise ticket and get the second one free," and we're suckers for a good deal. It turned out to be a really excellent decision because not only is Cruize Milford the cheapest tour—NZ$55 per person (approx. US$35), so only NZ$55 for the both of us with our discount—but all the boats basically travel the same route so it would have been the same trip no matter what we paid. (Note: some boats that advertise longer cruises just take you into an extra cove). Plus, the Cruize Milford boat was quite intimate: there were were only about 20 people on the boat with us. Some of the other tour boats were absolutely enormous and we were glad we didn't go with them.
Milford Sound is quite stunning in and of itself…I don't think the pictures will do it justice, but these mountains were really tall. As Jeremy put it, "it's like they flooded Yosemite."

The tall peaks of Milford Sound…you can see a boat in the bottom right for scale.
Nerd alert!: we learned that Milford is technically not a sound but a fjord since it was created by glacial activity.
One advantage of seeing Milford while it's raining is that the waterfalls are in full effect.
The other major advantage of touring during a storm (according to the info center lady, who was already very persuasive) is that the animal life is more active during this time. Maybe that was just a line that the i-Site lady fed us, but whatever, she was right. We saw seals:
Dolphins surfed the bow wake of the boat (btw, this was really magical):
And we even saw penguins (apparently somewhat rare)!
The cruise lasted about 1.5 hour and it was exactly the right amount of time and we saw exactly what we wanted to see. Definitely worth the trip out there!
On the way out we decided to camp for the night in a spot along a creek with those gorgeous wildflowers.
Every single one of our friends who has been to New Zealand told us that Wanaka was amazing, and they were right. Though the weather was not ideal when we were in the area, we still fully enjoyed the amazing landscape that we have come to expect from this magical country.
But first…sheep crossing!!!
Wanaka
The Wanaka landscape is dominated by two absolutely enormous lakes: Lake Hawea and Lake Wanaka. We saw Lake Hawea on our drive in, but didn't really spend much time there except to snap a few photos of the view.
Our exploration of this area started with a hike up Mt. Roy, overlooking Lake Wanaka and the city. The hike started off in private farmland where there were sheep nursing their young lambs and the trail was (thankfully) nice and grassy (spongy and easy on the feet!).

I want num-nums!!! Overlooking Lake Wanaka and the town of Wanaka…
Eventually we crossed over into public land where the landscape changed pretty drastically and there were large tufts of mustard-colored native grasses dotting the trail.

Jeremy overlooking Lake Wanaka.
OK, if it looks like we're pretty high up in the above picture, that's because we were. This was the biggest hike we had done in NZ. The trail markers estimated the return hike at 5 hours, and as we've mentioned before, Kiwi trail estimates are extremely accurate. It was a sustained 3 hour hike straight up a steep hill. The ascent wasn't so bad, actually—it was the downhill that really made it's mark. That is a solid 2 hours going downhill…our knees, quads, and booties really paid the price for that little excursion.

At the summit overlooking Diamond Lake.
Mt. Aspiring National Park
The following day we drove into Mt. Aspiring National Park, about an hour from Wanaka. We heard about a nice hike there to Rob Roy glacier (Kiwis and their glaciers!). The hike started off along a beautiful river…
…and then you cross a swing bridge…
…and hike for about 2 hours until you hit this:
Unfortunately, the weather turned kinda sour when we hit the end of the trail, and we were rained on pretty heavily during the return to the car. It wasn't so bad, actually…it was kinda fun! There were a lot of waterfalls in the mountains as a result of the weather and it made for a pretty scenic hike back to the car.
Of course, as soon as we got out of the national park, the sun was shining as bright as could be, which made for a breathtaking drive into Queenstown:
We stayed in Queenstown just long enough to see a bit of the town and buy groceries for the night…this is the most heavily touristed place in the south island we were told by a couple of people to avoid it. Queenstown is known as the "Xtreme sports capital" and there are bungy jump centers all over the town centre. As a result, we had pretty low expectations of the place, but what people failed to mention was how incredibly gorgeous the area is. Nestled at the base of The Remarkables (a mountain range that offers skiing in the winter), Queenstown and it's bordering Lake Wakatipu are absolutely stunning. Still, it does have the feel of a resort town so we didn't mind spending only a few hours in the area.
Wanaka is an amazing place and this is the one area on the south island where we wish we could have stayed a little longer. I guess it will have to wait for our next visit to NZ?
Thanksgiving at Four Rivers
When we finished our tramp through the hills above the Nelson Lakes, we packed up the van and followed the river towards the West coast for a few hours and found a holiday park near Murchison to camp for the night. Surprise, surprise…another gorgeous camp with a cafe overlooking the river.
We shared the camp with a group of teenagers from the US and Canada who are part of a "Kayak Academy". They travel around the world (or at least New Zealand and Chile) with their instructors/coaches, do schoolwork in the morning, and kayak in the afternoon. Not a bad life, if you ask me—and gives me some ideas for how to get more involved with our kids' education. I tried (but probably failed) to impress one of them with stories of growing up kayaking in Idaho. Sheesh, kids these days…
We Skyped Hope's parents from the van to wish them a happy Thanksgiving and then got to work preparing our own celebratory meal. They don't seem to have turkey in New Zealand, so we had to settle for pan-fried lamb chops with fresh thyme, rosemary, and garlic and a cucumber salad with feta cheese. We didn't miss the bird.

Getting ready to Skype Jeremy's parents from the cafe at the Murchison Holiday Park.
Westport and Cape Foulwind
The next morning, we headed west towards the coast. We stopped at the Bay Cafe in Tauranga Bay (one of the recommended stops on Bob's Tour) and had a delicious curried seafood chowder and some fresh baked garlic bread.
Pancake Rocks (at Punakaiki)
On the way down the coast, we stopped for an hour at Pancake Rocks, an area where layered limestone has been exposed and carved away into intricate shapes by the waves. At high tide, there are blowholes that funnel the crashing waves into water spouts. Apparently, geologists don't understand how the unusual layered limestone was formed, but they sure look cool. The New Zealand park service did an excellent job providing access to the site: the trail was lined and camouflaged with limestone bricks meanders through the rock formations, providing safe (for tourists and the rock) and easy access to the sites without making the whole thing feel too packaged. Pancake Rocks probably don't warrant a special trip, but definitely worth a stop if you are driving by. Unfortunately, we arrived too late to try the blueberry pancakes at the nearby cafe.
Franz Josef Glacier
The Franz Joseph and Fox glaciers are one of the big tourist attractions on the West coast. According to one of the signs, they are the only glaciers in the world that descend into rainforest (but I need to check on that because we have subsequently seen other glaciers in New Zealand that also appear to descend into rainforest).
We stopped that the i-Site (nearly every town and tourist destination in New Zealand has one of these typically very useful information centers) in Franz Josef to figure out a hike to do. The woman warned us that the trails to the glacier had been washed away by the recent rain storms and that we would not be able to hike all the way to the glacier. But, like about half the other hikers out that day, we ignored the trail closed signs, hopped from rock to rock across the river and walked up the moraine to the foot of the glacier. We were careful to not get too close: the glacier was clearly "in retreat" (global warming at work) and large chunks of rock and ice were peeling off the front edge every few minutes—we could feel the thud through the ground when they hit. The information center had prominently displayed a recent newspaper story about the "incredibly stupid" tourists who had ventured into some of the caves in the front of the glacier and been trapped by falling ice, nearly killing themselves and the guides that came to rescue them.
As an indicator of the effects of climate change in this area, In 1900, the river bed (or more accurately, glacial moraine) leading up to the glacier was covered by 100 meters of ice. At the trailhead, there was a picture taken in the late 1800's of a couple rowing a boat around the lake that used to form seasonally in front of the glacier.
Haast Pass
Just a couple more hours south is Haast, the last town on the West coast. We had heard horror stories about the sand flies at Haast, so we made just a quick stop before heading inland. A couple of hours later we made it to the pass that separates the West coast from the Wanaka region. We found a camp site near Makarora at dusk and prepared dinner. We mostly finished dinner and were washing up when the flies came out. Several dozen managed to get into the van before we got all the doors and windows closed. Hope spent the next hour on a murderous rampage with the now blood-stained road atlas. She managed to smash every last one and we had a peaceful night sleep. We subsequently discovered a better weapon to against bugs in the van: a wet paper towel. You just need to touch them and their wings stick to the wet fibers: much less work and not nearly as messy. We have heard that the sand flies can be bad all over the South Island, but we only had a problem here and one other place.

Steak and asparagus, mmmmmmmm….

Beautiful, until the sun sets and the sand flies come out to feed.
Ah, Nelson.

Where to start? What a wonderful, varied, interesting part of the country!
Glendaun/Nelson
As mentioned in my previous post, our visit to this northern city on the south island began with a trip to see Bob, a friend we met on the plane from LAX to Fiji. Bob lives in Glendaun, a bedroom community right outside of Nelson city. A great storm blew us into his town, and we took shelter inside his lovely home enjoying a homemade dinner that included green-lipped mussels (a specialty on the south island—YUM!), local fish, and chard (known as silverbeet here) grown in Bob's backyard.
The following day we took a short hike with Bob into the hills behind his home. Just a 30 minute climb or so and we got the following spectacular view:

The view from our hike in Glendaun.

Our new friend Bob with Jeremy.
Bob had some errands to take care of, so Jeremy and I continued up the hill a short ways. Now, as is often the case with hikes around New Zealand, there were sheep grazing all over the trail. Incidentally, I finally understand the origin of the phrase "feeling sheepish." These guys are real scaredy cats! If you get within 25 yards or so of them, they go running. So, it was particularly surprising when the little guy pictured below decided to get tough with us and baaa'd us off his field. He must have followed us for about 10 minutes, baa'ing loudly and continuously. I was imagining he was the big, bad sheep of the field, kinda like the Fonz, getting all the girls and showing the other sheep who was boss. Let's see him try to jump a shark, hmm?
Bob sent us on our way with a page full of notes on places to visit during our stay on the south island. We've pretty much done everything Bob has recommended, including stopping at restaurants he mentioned and hiking trails he's tramped (that's the Kiwi word for hiking). I gotta say, Bob's got a pretty good program! We think he should write a guide book.
Abel Tasman
First stop on "Bob's Tour of the South Island" was Marahau, where we camped for the night so that we could hike in Abel Tasman Park the following day. You can hike into the park from Marahau, which is a long way, or you can take a water taxi and hike only the nicest parts of the park (Torrent to Bark Bay). For NZ$62 (approx. US$37) per person, you get dropped off in Tonga Bay (north of Bark Bay) at 10AM and picked up in Torrent at 4PM. We did the hike in about 3 hours and then hung out on the beach the rest of the afternoon waiting for the taxi. You could probably take a later taxi into the park (they have taxis that can drop you off at 11:45AM) but we thought the hike was going to be more like 5 hours long so we hitched the earliest ride we could.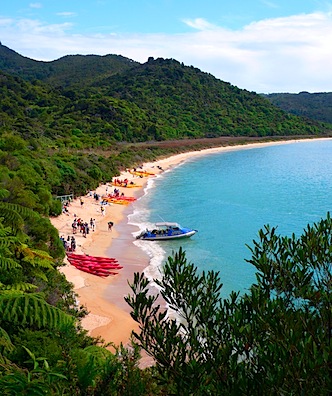 The water taxi drop-off in Tonga Bay.
We heard a lot about Abel Tasman park, but honestly, we weren't that impressed. The bays were really beautiful and it was fun to see some of the native vegetation (ferns galore), but it was by far the busiest hike, er, tramp, we've done. The whole thing felt a bit "packaged" to us. It is quite possible that the coastline was not as stunning as it usually is due to the storm. Our water taxi driver said that the water is usually crystal clear but due to the heavy rainfall the day before, silt and dirt were clouding the water.
Pohara
That night we drove towards Takaka, which is about halfway between Marahau and Cape Farewell, our next destination. As you drive over the hills into Takaka, you pass through the most beautiful valley.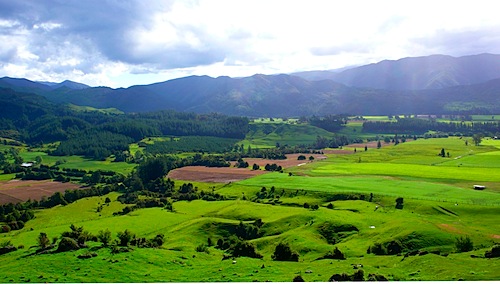 We camped in Pohara (Pohara Beach Top 10: www.pohara.com/paradise), which was a gorgeous campsite on a stunning beach. We highly recommend staying here rather than in Takaka, as it is much more tranquil and only about 10 minutes out of the way.
Cape Farewell/Whariki Beach
The next day we headed out towards Cape Farewell, which is the very northwestern tip of the south island. There is a long "finger" of sand that juts out from the land, creating a bay. The "finger" is known as Cape Farewell Spit and it is a protected bird sanctuary so there is limited access to the area. You can, however, go on tramps to the west of the spit. Second stop on "Bob's Tour of the South Island": Whariki Beach ("wh" is pronounced like an "f" in Maori, so this is actually pronounced "Fah-ree-kee").
This tramp started out as usual, grassy fields and rolling hills covered with grazing sheep.
Then, incredibly, you hike over another hill and it is a vast expanse of gorgeous, deserted white sand beach. Just like that: one minute: rolling hills and sheep; next minute: incredible deserted beach.
We had heard that Whariki Beach could be uncomfortably windy, but we lucked out! There was a very light breeze, the sun was shining, and there were even seals swimming in the ocean and peeking their heads out to observe us.
I mean, I felt like the I was in the group at Burning Man that wandered off and got grilled cheese sandwiches, mojitos, and a cold water head dunk (some of you will know exactly what I mean by this…others, you can figure it out).

Whariki Beach is also known for its caves, and we spent the better half of the afternoon wandering in and out of them. Be careful—there may be some grumpy seals hiding in those caves!
For the life of us, we couldn't understand why Abel Tasman was swarming with people and this place was completely deserted. It is quite a bit of a haul out to get to Whariki, but it is entirely worth it. If you ever find yourself even moderately close to this corner of the world, GO! And cross your fingers that it's not windy.
Nelson Lakes
Next stop on Bob's tour was Nelson Lakes, where he recommended that we hike the Mt. Roberts loop. It's a pretty steep, steady 1 hour climb to the top, and then 2 hours downhill, but each part of it is beautiful and interesting. I know Jeremy said it before, but I will say it again: we can't get over how accurately Kiwis estimate the hiking time, especially since we are usually hiking at an above-average pace (that's what we think, anyway). The nice guy at the information center (known as I-site) told us it would take 3 hours for us to do the hike, and that's exactly the time we clocked. I guess Kiwis are really strong trampers!
The hike up has great views of Lake Rotoiti…
…and then you tramp through an enchanted forest (it's not hard to see why Peter Jackson chose to film The Lord of the Rings in New Zealand after seeing forests like these):
And once you get past the summit, the track opens up onto a wide, grassy field with views of the St. Arnaud mountains:
We did a lot of hiking in the Nelson area, and I think that is a testament to its incredible natural beauty. Nelson, we love you!
The Ferry
Wellington is not only a cool city with a vibrant art scene, but the place where you catch the ferry (The Interislander: www.interislander.co.nz/ ) to get shuttled from the North Island to the South (you get dropped off in Picton). For the privilege, you pay about NZ$220 (currently about US$130)—about NZ$55 per person and NZ$116 for the car, so it's not cheap! For some reason I totally dorked out on this and was incredibly excited about the idea of driving our van onto a ginormous boat.

Driving our van onto the Interislander.
They loaded us onto the lower deck of the boat along with other cars, camper vans, and even semis! And they really pack you in there…we were shocked by how accurately they could determine how many cars and trucks could fit on the lower deck since they don't really know what you're driving until you show up.
The boat is very large and luxurious (actually, for no particular reason, it reminded me a lot of the huge spaceship in Wall-E, even though there weren't hovercrafts or anything). There is a large sitting room, where televisions were playing the Ellen Degeneres show (incidentally, I wonder how it is for Kiwis…all the major movies that they see are in another accent), and they even have a theater where they show movies (though we were advised by Patty not to watch this because it makes you seasick). We were actually quite surprised by how calm the ride was, especially since it was storming outside. But then again, neither of us really get seasick so we're not reliable sources of information on this front. On the way to the South Island, you meander through a number of bays around several little islands and peninsulas. It takes you 3 hours to get across and all in all it was a very nice way to spend the afternoon, especially since the weather was bad out.
The Storm
When we arrived in Picton, we drove our van off the boat into…an incredible storm. I mean, it was really coming down. Our plan was to drive from Picton to Nelson that night, where Bob lives. Bob is a friend that we met on the plane from LAX to Fiji (and he was on our flight from Nadi to Auckland too). He is an ex-pat of sorts; he lives part of the year in Colorado, part of the year in Maine, and part of the year in New Zealand. Not too bad a program, if you ask me! He invited us to visit him when we passed through Nelson, and we readily agreed.
There was just one problem: it is about 2 hours from Picton to Nelson, and though the boat effectively sheltered us from the weather, once we got off the boat, we realized it was bad—really bad. This is the worst weather Jeremy or I have ever driven in. Not sure if you will be able to see in these photos, but there were entire fields that were flooded over. Out the window there? Yeah, that's normally all GRASS, not water.
We were really relieved once we made it to Bob's house. It took a little longer than expected and we considered pulling over a few times, but we made it. The best part? Apparently this is a normal-sized storm for Kiwis. I guess that's why they are such hearty folk.